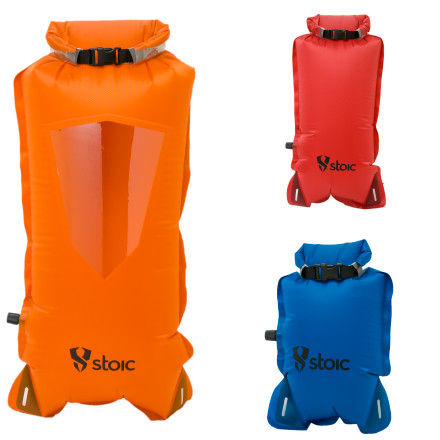 Detail Images

Community Images
Stoic's Waterproof Compression Sack 3-Pack gives you three different ways to ensure that your tech gadgets and other precious cargo make their way unmolested through any wet adventure. Each individual Sack is backed up with tough-but-lightweight nylon, and moisture-shunning TPU lamination. Fill the Sack with your precious cargo, seal the roll-top closure, and open the air valve to remove excess air so have room in your pack for the rest of your gear. Take the Stoic Waterproof Compression sacks along as bad-weather protection, or as a super-condensable extra bag for bringing your vacation purchases home with you.
Share your thoughts
What do you think of the
Stoic
WPF Compression Sack - 3pk
? Share a...
Unanswered Question
Sounds silly, but I can't figure out how...
Sounds silly, but I can't figure out how to use the repair kit included with these bags. Is there a sticky back I haven't been able to peel off? Some sort of heat mechanism I need to use? Def. don't want to use an iron as would melt everything!
Organize your gear!
Familiarity:

I've put it through the wringer
Are you the person on the backpacking trip that needs to unload your whole bag to find your lunch? Then these will be perfect for you. Not only are these a great deal but they pack your food, clothes, etc. as compact as possible. This is one purchase I will never regret in the slightest.
Do you have to roll the top all the way...
Do you have to roll the top all the way down to the colored part like most of the pictures show? This takes about 4 rolls. Would 2 or 3 folds do the job of keeping water out?
I have found with mine that 2 or 3 folds is enough to keep moisture at bay.
What are the two loop holes at the bottom...
What are the two loop holes at the bottom for?
Best Answer
Straps - at least that's how I use them (I've got a bit of a dry bag fetish). You can strap them down to a kayak deck, side of a pack,... and not worry if it will slip out.
Sure, they can be used for strapping the bag down or tying it off to something so you don't loose it. I also use one of these bags for carrying my food in, and have found that the holes are great for clipping a small carabiner too, which attaches to a line I use for hanging the bag away from bears and other critters. The possibilities are endless!
Durable, waterproof, space-saving bags. Get some!
Tent in the orange, clothes in the red and random little ods and ends in the blue. Everything stays dry and compress easily. Buy them!
I bought this 3 pack last year and they are terrific. I use them for everything, camping, river rafting, air travel, cruises. They really help fit everything you need into your carry on luggage. I also use the medium size bag for my sleeping bag and small ones for my clothes which also doubles as my pillow. Cheers!
Used these on my recent backpacking trip.
The best thing about them is the air valve, what a great idea and easy way to get all the air out.
I used the medium for my clothes and the small for my sleeping bag.
Great product. Great quality.
After I was finished with all my winter climate countries I was ready to drop those clothes so I only had to carry around hot climate clothes for the next 3 months in Central America. I shipped home the medium stuff sack full of cold weather clothes and dropped some clothes that fell apart after 3 months in Africa, and this was what I was left with. Yay for downsizing!!
Still Perfect After 1 Year
I bought these off Steep and Cheap for my 11 month, 11 country trek around the world. This trek involved me needing to pack clothes for every season, from a typhoon in the Philippines to record heat in Mozambique to record cold and snow in Romania.

I was able to fit it ALL in these stuff saks. I put socks, underwear and a swimsuit in the small, summer weather clothes in the medium, and winter weather clothes in the large. They've held up impeccably, I've never had to use the repair kit, and they compressed SO much (by my friends and I sitting on them and also sucking the air out of the valve) that they left PLENTY of room for my tent, sleeping bag, sleeping pad, shoes, and much more to all fit INSIDE my 75 liter pack. They are ready to go for another 11 months, I on the other hand need a little break! :)
Grabbed some of these because of the good reviews and excellent price and was thoroughly impressed. I've used these as dry storage when kayak camping and paddling, as a make shift water carry, a pillow, a compression sack (with some straps), and they are holding up excellently for a season of use. Mine did not come with a repair kit. The strap slots at the bottom take a standard one inch nylon strap and come in handy when you are storing them above deck. On sale, they are a good value. At full cost... Not so much . Get Sum,
I have used them on my kayak trip a week ago. I have to mention that the kayak was always dry so I have never tests theme in water. They are not thick so be gentle with them
If you are wanting to stretch your dollar on some great product well, you found it. Just got these and took on a three day river trip down the Grand Ronde. Very solid material and what seems to be quality construction. The air nozzle is great to reduce size as much as possible for packing the boat. Great seal at the top and never had a problem w/ anything getting wet. Excellent Purchase!
Functional & Durable, woot!
I love how compressible these things get my gear! most sleeping bags and tents (minus poles) work well with the medium, smalls are great for ANYTHING, and I've never had any issues with either the valves or seams! I like to set my gear out and try to fold it flat to be about the size of the sack, minus the clear plastic top. then you can work it inside the sack, roll the top nice and tight, and use the valve to get out soooo much air! Once you get the sacks into your pack they may expand a bit, but by then it's irrelevent.

I own 2 smalls and 1 medium and Really want another Medium to round it out! I got them on SnC at crazy discounted prices and haven't looked back. My Stoic compressible sacks have saved me so much room in my pack that I've been using my daypack as a weekender lately and they even keep your stuff dry as a bone (if not entirely submerged for a period of time).

Stoic inculdes large color-coded patches for each and, like others have said, each tag is also a cool black/red stoic logo sticker. Need to get your own adhesive for the patches tho!
I bought these with hesitation-they don't say that they are dry bags. I was headed for a 3-day kayaking trip and really didn't want wet gear. They did not disappoint. These bags are awesome-my stuff stayed dry in the kayak hatch that leaked. I was really impressed. They were also very helpful in that they compressed my stuff down so small-the air valve on the side really helps with that. I have no regrets with this purchase!
Quality and Multi-purpose
I recently took all three dry sacks down to Zions for a multi-day hike and slot that included a couple swims. The group I went with had a variety of dry sacks, and these three proved to be the best of the bunch, with my gear staying dry and protected the whole trip. I also used the biggest of the three (the orange one) as a pillow both nights we were out. The sack retained air the whole night and helped me get the rest I needed. Size-wise, the combination of the three was enough to hold almost everything I took. I highly recommend the set to anyone look for a solid set of dry sacks!
The perfect little stuff sack
I bought the small sack, and its quite perfect. Easy to stuff, it perfectly fits my sleeping bag. The air valve is a lifesaver. Definitely one of the best drybags I've ever used.
Also, might I mention that the tag is secretly a sticker? And a cool one at that.