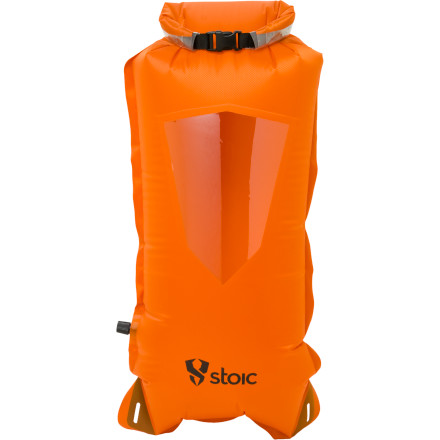 Detail Images

Community Images
The Stoic Waterproof Compression Sack takes care of your finicky gear, granting you peace of mind during your next river, canyoneering, or generally soggy trip. Stoic's Waterproof comes in three different sizes—all backed up with tough-but-lightweight nylon, and moisture-shunning TPU lamination. Fill the Sack with your precious cargo, seal the roll-top closure, and open the air valve to remove excess air from the Sack so you have room in your pack for the rest of your gear. Take the Stoic Waterproof Compression sacks along as bad-weather protection, and as a super-condesable extra bag for bringing your vacation purchases home with you.
Bear Bag
Familiarity:

I've put it through the wringer
I've had this bag for a while now, its kept my stuff dry and more importantly on a recent backpacking trip worked very well as a bear bag. Had a bear come right up to the tent and a mountain lion go by . This bag was placed maybe 25 yards away but neither went even close to this bag full of food and toiletries. Excellent product
Funny story about this sac!
Familiarity:

I've put it through the wringer
I was "on call" at work and there was a big swell. I didn't want to just sit at home when there was waves so I through my iPhone in this bad boy, stuffed it in my wetsuit and hit it up. After surfing for 2 hours (and not getting called in) I went back to the car.

Opening up the dry bag, I noticed there was some condensation on the inside of the bag and my phone was pretty wet but still working. Thank goodness!

When I got home I through my phone in a bag with my scrubs in it to carry everything inside. When I looked in the bag, I found that I had thrown my phone in a yogurt that had blown up from the heat of the car. The yogurt plugged up the headphone jack and the phone stopped working. It survived getting moist in the bag only to get ruined by yogurt! After a week it did start working again!

Summary:

Sack isn't %100 waterproof

It's %99
Dear Stoic, Please make more!
Familiarity:

I've put it through the wringer
These bags - I have two sets of three - are fantastic. I take them everywhere. I use them to squeeze even more air out of my sleeping bag, making my MontBell spiral hugger smaller than a phonebook. You can stuff your clothes in, squeeze the air out, beat on the bag till it's flat and not lumpy, then use it to shape the load in your pack. The valve is great and really the best part about these bags. As one reviewer noted, the bags do tend to let air in after a time from somewhere, but it's easily squeezed out again. Yet they are seriously water proof. Rain, puddles, etc., they keep the water out.



So if they keep the water out, can they also keep the water in?



They did just that on a recent canoe trip. When my nearly empty canoe was getting squirrelly because I didn't have enough weight in it, I pulled out two of the large bags, filled them with water, and put one each in the bow and stern for ballast. Each one held close to 50 lbs of water (almost 6 gallons) and never leaked!



Think about how much wine you could bring on a trip! Anyway, I can't say enough good things about these bags, and I'm hoping Stoic/BC will make more in 2014.
price was right!
Familiarity:

I've used it several times
Great for just not caring about. keeps the water out of my cloths and dry goods.
Great Stuff sacks at a Great price.
Familiarity:

I've put it through the wringer
Why not get 3 for the price of one.
Stuff sacks EVERYWHERE!
Familiarity:

I've put it through the wringer
These things are awesome, hopefully stoic, or bc, continues making and selling them.



Super rugged, great for holding food, clothing, or whatever else you want to keep dry.



They don't stay compressed very well (air leaks in fairly quickly, or out, they unfortunately don't work very well as pillows, I had grand hopes) But they do keep the water out great, as I have left bags of food hanging in trees over night during rain and the inside was perfectly dry the next day.
Perfect dry-stuff sack
Familiarity:

I've put it through the wringer
I have 3 of these sacks and I love them. This stuff sack is awesome because it doubles as a dry bag. Which is great when you have a down sleeping bag and really can't afford to have your stuff get wet. The material is pretty durable, however, I have one that had a few holes poked in the clear plastic when I was using it as a bear bag. A couple of stray twigs in the tree managed to find their way through the plastic. I taped it over with some packing tape, we'll see how that holds. I wouldn't hesitate buying these again.
Is there any chance these or a similar...
Is there any chance these or a similar model with a valve will be in stock? I have yet to find one with the valve and it seems a lot quicker to release the air than the other models/brands.
Hey Majp,

We will not be getting any more of this particular product in stock. I checked our other dry sacks and didn't see anything else equipped with a dump valve. Sorry for the bad news there! Feel free to chat with one of our Gearheads for other suggestions.
Great sack. I've used this on
Great sack. I've used this on the ocean and on canyoneering trips and it has held up wonderfully. I put cameras, cell phones, and dry clothes inside without worry. The valve on the bottom makes it easy to squeeze out excess air when trying to save as much room as possible in a hiking pack. Want to get the other two sizes!
I only bought one just to test it out and see how well it held up. After lots of use, I must say that this sack is incredible. It is very lightweight and a kind of thin material, but it is very very tough. I like the valve on the bottom to squeeze out any excess air.
Must buy more to share!
Gender:

Male

Familiarity:

I've put it through the wringer
I love these dry bags so much! I use them every time I do a slot canyon whether it be dry or wet. I keep all my food and flashlights in one small bag, all my webbing in another small bag, warm cloths in the Medium bag, haven't actually needed to use the large bag yet, but I'm glad I have it for that day when I will need it. I take a lot of new people canyoneering and had to buy some extra dry bags to loan out to those who came unprepared.
This is a good sack. I really like the valve that lets you get all the air out of your bag. I use this bag for food storage. Put all your food in the bag, seal up the top, open the air relief and let all the air out, then hoist up in the trees for a bear proof food hang. Love the bag. Only taken out on a few trips so far.



Not sure how the clear plastic will hold up - so far so good but my first impression was this may be a point of failure. No issues yet just pointing out my observations.
I purchased several of these sacks and have tried them out, but haven't really exposed them to any water, so I'm not sure how waterproof they really are (which is why I only gave them a 4 star rating for now). I was pleased with their capacity and could get more into each size sack then I thought. The largest size is good enough for my sleeping bag which was a nice surprise.
Good quality and cheap in cost, can't ask for more.
Used it on a backpacking trip already and I really liked it. Fit clothes for a week in it with room to spare. Made packing my stuff much easier, and waterproof! The air nozzle is great for letting out all excess air as well!
Real nice dry bag for the price. Seems pretty sturdy in construction. I like the tie down tab features too. It will come in handy when I lash this bag down on my kayak .
I got this specifically to keep some emergency items dry while hiking in the Buckskin Gulch of southern UT. The size small was perfect for my phone, camera (Richoh GRD), a pair of socks, and my Patagonia Ultralight Hooded Down sweater. All of that stayed dry and didn't take up much space. I did test the bag before I put all of that stuff in there by submersion in order to be sure I wasn't going to get hosed (so to speak). Great value for these.
Solid Compression Sack
Gender:

Male

Familiarity:

I've used it several times
Great bang for your buck. Looks good and does what it should.



Picture is the small blue one.