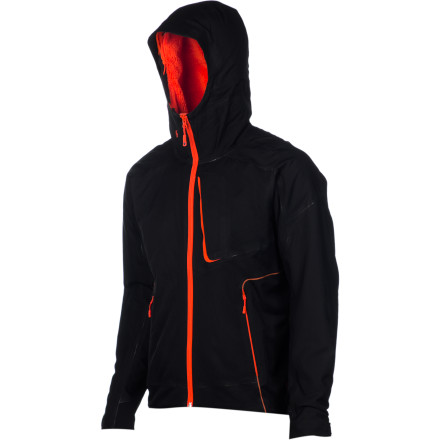 Detail Images
Stoic's dynamic Men's Welder Hi Softshell Jacket serves as your personal bodyguard against cold temps, light precipitation, and windy days. On the outside, this jacket rocks winter-weight Monolith material that breathes easily and flexes durable, fully-welded construction, and on the inside, there's a high-loft lining for additional warmth. Reach for the Welder Jacket for backcountry skiing and cold-weather hiking, and pack it when you can only bring one jacket but might face a wide range of weather outdoors.
Highly water-resistant and highly breathable Monolith softshell material fends off soggy snow while allowing excess heat and sweat to escape from within
Monolith softshell uses a nylon face fabric with a water-resistant laminate and polyester-bonded fleece on the inside for warmth
High-loft fleece insulation means supreme warmth without bulk
Fully-welded construction eliminates areas of chafing at seams, locks out the elements, and gives this shell superior durability
Four-way stretch mobility and the close-fitting, 3-D ergonomic cut dial the fit so you can crush the skin track or tackle an alpine wall with equal resolve
3-D ergonomic fit allows this shell to move with you for maximum mobility
Fully-adjustable hood easily fits over a ski or climbing helmet so you can protect your head and face when a storm rolls in mid-session
Backcountry.com is the exclusive US distributor for Stoic products
Are these ever coming back in stock? An...
Are these ever coming back in stock? An updated version perhaps? I LOVE my welder HI from a few years ago, but it's in need of replacement after a few too many close encounters with trees at speed...
Hey Tom,



While a BC employee will have a better answer, I can tell you that all Stoic products are being discontinued.



Some are being re-branded as Backcountry.com apparel. Seeing as this was a popular item, that's what may happen to this softshell. But again, I am not an official employee.



In summation: Not coming back as Stoic, may come back as Backcountry.com
Thanks for the info, Ben. Hopefully someone from BC will chime in.



Alternatively, does anyone know of a similar product out there by a different manufacturer?
What is the difference between this jacket...
What is the difference between this jacket and the "Stoic Welder Lo Softshell"?? I know the obvious difference is the fact there is a "Lo" in the name. But whats the main differences??
Best Answer
Hey Dan,



The difference, unlike a rose, is in the name. The Welder Hi is made with a high loft fleece which by definition of the name will be more prominent with a high pilled fleece. On the opposite end of the spectrum the Welder Lo is made of a low loft fleece to keep the jacket trimmer.



If you look at the photos of the two you can see the difference inside the hoods.
Thanks bro. I thought as much, but just wanted to make sure.



Now all i gotta do is decide if i go for this, or TNF Tri-Climate!!



Thoughts??
Also, im 6"3, about 215lbs, rugby player build. What size would you suggest?? XXL??
XXL is the way to go for your build. The sleeves will probably be too long, but you'll need the extra girth. I'm a lanky 6' 5" 220 lbs and the XL fits me really well. This jacket has a slim cut with long sleeves. When in doubt about Stoic sizing, I always size up.
definatly get the XXL anything smaller and ul prob hate the tightness of it. im a typical no6. build and the XXL is ALMOST tight around the shoulders , its fine tho, but its not a big cut. ive worn thi s every day since i got it with just a tshirt and its spot on.. it hasnt come apart yet either which im (pleasantly ) surprised about. had loads of comments on it , very positive, 'where can i get this".... so its got some looks, but most importantly.. it does its job of rugging u up in semi cold conds perfectly well. loving it for street ware. not ure if its built for rugged snow
cheap (but not that )nasty
Familiarity:

I've used it several times

Fit:

Runs small
well... the muppets really got takenof tv to make these as pervious poster stated. t he insdie is like being wrapped up as a9 month old again. its rediculously confortable. and jus the loveliest feel ever.

im remebering i payed amost nothing for this jacket. so i cant be hard on it.

its cheap and it JUST, JUST avoids nastyness. JUST. it looks cheap. ,the seams look like they have been glued and will come apart at any second, (although they havnt yet...) which is nice. the fit is a small XXL to say the least a t-shirt only and its perfect , anymore than that and forgetabarrrrrrt it. luckily i got it for strret wear not mountain wear or id be furious. im 6'0 , 215 , and this just suits me. the sleeves are perfecltyok m the cuffs are very good and sleeek which makes riding a bike PERFECT , no excesswind blowing up my arms. the chest pocket is ver ygood and large enough to holda bigger phone or a book or the like. handy without being big. i like it. the hood is excellent and the ability to stop the eind seems pretty good, granted ive only had it a few days and worn it everywhere to test it out, its snowing here today and it styed dry, it rained first and it stayed perfectly dry. beaded off very well. wind hasnt gotten thru yet. only thing is its a heat conductor u need to open the vernts to dump air or ull be cooking! its not very breathable at all.

its NOT a moountain jacket i hope they arnt selling it as one, i didnt even look, bec its appaling if it is, its not suited at all. but to wear around the mountian its awsome , i ogt hte blue yellow one and the colour is great. length is great. its s stylin jacket. just not a robust one,.

FOR 100 bucks............... its good..!!
Super Cozy
Familiarity:

I've used it several times

Fit:

True to size
I sometimes feel guilty when I think about the number of Muppets that had to die to make this jacket, but then I snuggle into the cozy pile fleece lining, dream of backcountry powder, and all my guilty feelings disappear. We recently had a cold snap - windy in the upper 30's - and this jacket performed well over a long sleeve t-shirt. Also wore it on a bluebird ski day in the 40's over only a t-shirt and it breathed well. Construction and materials seem solid, this is my second Stoic product and so far I am pleased.
My 19 year old son absolutely loved this
Familiarity:

I've used it once or twice and have initial impressions

Fit:

Runs small
I gave each of my older sons this same coat for Christmas. My oldest attends college in New York and I thought it would be a nice, lightweight, warm coat for winter. He has not tried it yet, so we'll see when he gets to school. However, my other son had the opportunity to wear his skiing for three days on Mt. Hood and absolutely loved it. Kept him warm and dry all day long and he really loved how lightweight it was for such a warm coat. We are not a skiing family, so I can't really tell others how well it functions as "ski-gear" other than my sons experience. But I hope this is helpful. Also, for sizing reference...my oldest son is 6' 4" and 250lbs. The 2XL fits him nicely. My younger son is 6' 3" and 230 lbs. and the XL works perfectly for him.
definitely worth it
Familiarity:

I've used it several times

Fit:

Runs small
5'8" 165 lbs. medium fits well even with multiple layers underneath. i said it runs small because it is a very slim fit cut especially around the shoulders and arms. the length of the arms a little long, but not bothersome. the vents at the armpits are amazing. i've never used this on anything extreme but it's amazing for someone born and raised in florida going to school in chicago.
Amazing
Familiarity:

I've used it several times

Fit:

True to size
This jacket is incredible, loving the fur. I am one of those people that love amazing sensory feels and this jacket does not disappoint. Quite warm, with just a thin base layer should do 20-30 degrees without much issue. I am 6'0 210 and XL fits great. I've had it for a week now wearing it everyday, in 60 works fine with pit zips open and in 30 keep them closed and you'll be toasty.



P.S. If you buy this jacket you must wear without a shirt....orgasmic.
It is a decent piece for a multi use jacket. It just isn't as refined as the other larger name brand jackets out there. It is like they tried to design a good jacket on the drawing board but things fell apart during the translation of getting the piece made and through production.



What I like about the jacket:



First and foremost.. The sale price.



The fuzzy fleece liner. It is like someone skinned Elmo's green furred cousin and lined the jacket with him.



The welded seems.



The amount of pockets the jacket has both inside and out.



The draw cords in the hood and waist.



What I don't like:



All of the above things that are just a bit clumsy in their execution.



Even in a mens large the jacket would fit someone who has forearms like a small girl. Just to get my hands out of the sleeves my forearms are squeezed tight in the jacket leaving the cuffs a little long on my wrists.



The colors that are available suck.
If you love wearing T-shirts, however still need to fend off natures fury, turn to this softshell! The Hi-loft fleece inside makes the inside of your jacket one temperature, cozy, meaning it breaths when needed but is wind proof and warm when deemed so by winter. Stoic knows how to weld! This fully welded machine operates amongst the top competitors. The pit zips on this jacket are well designed with a mesh covering so this will be used on the slopes as my alpine/backcountry skiing jacket this season. I'm 6'2 180lbs and the Large is a well designed athletic fit. Final word...cozy!!!
Looking for help on sizing. I'm 6' and...
Looking for help on sizing. I'm 6' and about 160# but expect to gain some and get back to about 165-175 range. I have always been between M and L and typically need a L for sleeve/torso length, but an M for girth. If I could find a Medium-long, it would be perfect! I'm likely to layer this jacket with a thin base layer and a medium middle layer. And I hope that the one I get has a hood that fits over a ski helmet!
Hey,

I am 6'3" and wear a size Large in this jacket, that should also allow you space for layering underneath. I have also worn mine with a ski helmet and haven't had any issues there.
Best Answer
The only issue with the jacket is the skinny arms on this thing. There is plenty of length in the body and arms. I am in a large though I am short but need a large for the shoulder and chest width. I can't pull the sleeves up at all. If you have decent sized forearms I just wonder how a medium would fit you there?
The large fits me well, I'm 6'1'' 175 lbs. I have enough room for a fleece hoody under it.
Fit for 5'10" 175lbs Male
While I'm sure I could stand to lose 10lbs, I'm by no means fat. (175lbs, 5' 10") The medium I just purchased is very tight through the mid section and long in the arms. Going up to a size large to fit my mid section would for surely mean the arms were much too long. I'm disappointed, but otherwise I really like the jacket. I think colors could use some improvement too. I personally think your zippers should match the lining in these jacket . The black looks good, but the blue/yellow needs to have a yellow fleece lining.
Just bought this jacket and took it on a trip where the temps got down to around 40 degrees and I felt perfectly warm with just the jacket and a long sleeve. The inside is super soft and even pockets are fleece lined! The pit zips are meshed and were definitely opened when it started to warm up. I have yet to try it in the rain or high wind but I'm hoping that it holds up to my expectations.
For a guy who is 6'3"with pretty long arms...
For a guy who is 6'3"with pretty long arms and swings from 195 up to 210lbs, will a large or XL fit me better? I will be outside and active most likely with a merino, longsleeve baselayer or a t-shirt on underneath.
Best Answer
same height, 190# here with long arms and i grabbed the XL - fits great, especially the sleeve length.....can't see how a L would work.
Great Jacket and Customer Service!!
I decided to give this jacket and Stoic a try last year and Im glad I did.



I agree with many of the other reviewers about the super soft and warm fleece lining. Definitely puts you in a happy place when putting it on. I was concerned about this jacket holding up over time. I hump heavy drum gear 2-3 nights every week...especially my very heavy cymbal bag over my shoulder, and its never shown any sign of wear. I live in the mountains of central PA and wear this over a t-shirt or a mid-weight fleece vest for cold nights walking the dogs or hiking. Its kept me warm on windy nights in the teens as well. It looks great and feels great. I get lots of compliments on it from the students here who mostly wear the same ol black north face jackets.



The one problem I had was the zipper getting impossibly stuck and ended up broken. Called customer service and a replacement jacket will be here in two days. No problems, no questions asked! Very polite and friendly customer service reps! I couldnt be more pleased and will be purchasing more clothing in the future from Stoic.



I am 5'10, 155 with fairly broad shoulders and the medium fits me very nicely with room for base layers underneath, which I rarely need.
Could be great... but it`s not
Gender:

Male

Familiarity:

I've put it through the wringer
If you just want the punchline:



Pros:

very comfortable

fairly water-resistant

warm

good looking



Cons:

NOT windproof!!!



OK, so if you`re interested in the breakdown, here it goes. This is a very nice jacket, it looks great and holly crap it feels cosy! I use it to cycle to and from work every day. Down to mid 30s you only need a T-shirt, around 30 maybe a base layer under the Stoic to stay warm enough. It sheds light rain and snow as expected. Today in 12F I had a light polartec powerstrech fleece underneath. It keeps you warm, kinda, when walking around etc. But on the bike there is wind too, not just the cold! And this jacket is not windproof, not even a bit. Quite honestly you can feel the smallest breeze going through it. How is it possible that a $200 softshell isn`t windproof? It`s 2013, you can get windstopper for half the price these days! Stoic, this is outrageous! If I haven`t taken the label off already this would be going back. Make the exact same jacket with a real windproof shell on the outside and this will be the best winter jacket on the market, right now though, it`s not worth a penny...
Worth the money & not as pricey as other
Gender:

Male

Familiarity:

I've used it once or twice and have initial impressions
I used this jacket out in Breckenridge over the holiday and it was amazing. My first softshell and I will never go back.



Way lighter than a traditional jacket and kept me just as warm (if not warmer). It was pretty cold for a couple days and this held up to the task.



The inner material is very soft and warm and the outer material had snow and other mixtures fall onto it and never leaked through.



Has two front hand pockets on the outside, an inside pocket that's great for phones and such that need to stay warm as well as a ski pass pocket on the left breast side.



I also just washed it after a weeks use and it is completely fine. But I air dried it to be safe.



Everyone always talks about the other more expensive softshell jackets but this one is great for the money (about half the price). I'd recommend it to anyone looking to make the switch.
So what exactly is the difference between...
So what exactly is the difference between this and the Lo Welder? I am looking for a hooded softshell to alpine ski in on days when the weather is nice (otherwise I am in an Arc'Teryx Alpha SV). Not sure which, the Hi or Lo, will better suit this need. Anyone have any input?
Best Answer
The difference is in the inner fleece pile. The inside of the Hi looks like a muppet. The inside of the low is more along the lines of a regular softshell.



If your idea of nice weather is over 30 degrees, the Lo will do you right. For colder days, the Hi is a better choice.
Nice
Gender:

Male

Familiarity:

I've used it once or twice and have initial impressions
It's just as I expected. I haven't used it a lot though. The outer fabric feels very soft and I don't know how is it going to hold up ,I'm a rock climber so I'm always against rough surfaces, so that's the only issue that worries me. It's warm and comfy and It has the looks!
Love this jacket
Familiarity:

I've used it several times
easily my favorite hoodie, period. All the reviews below are true. It's perfect for a casual freezing night out on the town .
Awesome Softshell
Gender:

Male

Familiarity:

I've used it several times
The Welder Hi is taking its place as the insulating layer in my quiver of way too many jackets. My wife's words, not mine.



Sizing -

In comparison to other Stoic products, the Welder Hi fits much smaller. I'm 5'10" and about 200 lbs and I wear a medium Bombshell and Hadron anorak comfortably. The medium Welder was way too small. I looked like an overstuffed green sausage. Not cool. The large fits well in the torso and has a good length. It might be an inch or two long in the sleeves, but it's not a problem.



Performance -

The inner fleece pile looks like Muppet fur. There, I said it. If you wear this jacket inside out and put the hood up, it could be a Halloween costume. Kids would run up to you and want a hug. Especially the Paprika-colored pile. Bam - you're Elmo. Best luck.



The Monolith softshell is a nice fabric. It sheds Colorado snow without thinking about it and stretches enough to provide great mobility. I wore the Welder this weekend over a 150-weight merino base and the 230-weight Stoic Merino Comp Anorak. It kept me toasty in sub-20F weather with 40mph wind gusts. I could feel the fabric breathing well, but it didn't let the wind in.



Features -

The hood sort-of fits over a helmet, but it's not helmet compatible. The sleeves lack the usual velcro cinching flaps and replace those with a stretch material. They fit well under my work gloves and don't let weather in. The inner pocket fits an iPhone perfectly and has a slot for headphones. Stoic somehow managed to weld the pocket onto the inner Muppet pile. I have no idea how, but it works. Handwarmer pockets zip up and down like butter and the pile lining keeps the mitts warm.



The Welder Hi is an awesome outer layer for cold days on the mountain. Throw a shell over it when Mother Nature gets especially nasty. Bob's your uncle.