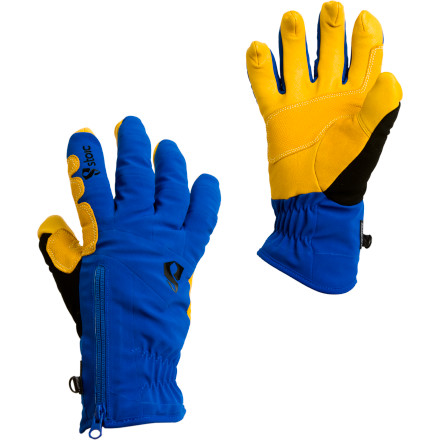 Detail Images
The Stoic Welder Glove's fully welded softshell construction, waterproof Sympatex bladder, and extremely durable goat skin reinforcements have the competition in a cold sweat. The insulated but extremely breathable Welder Glove wants in, whether your aim is set on mid-winter peak bagging, all-day backcountry ski tours, or just a day inbounds at your local mountain. An insulating Merino wool liner manages moisture, keeping your hands dry and comfortable, while a layer of Primaloft synthetic insulation fends off the deep freeze. The Welder's low-profile wrist closure and zipper access fits under your jacket sleeves and won't catch up on ice tools while you're climbing, or get hung up on branches you while you're skiing. Stoic's Talon finger design (grip like eagle!!) offers unparalleled dexterity—say goodbye to removing your gloves on frozen ridgelines—and the goat skin reinforcements stand up to ski edges, rocks, and other glove-tearing nasties.
Stoic Welder Gloves tend to run small. Consider ordering a size larger than normal if you have sizing concerns.
I'm about to buy my second pair of Stoic...
I'm about to buy my second pair of Stoic gloves but have a pair of mittens by them where the the seam came undone. Please see photo for detail. Could you please forward me any thought on how to proceed as I do like these and would like to get them fixed or exchanged. Thank you, Nils
Backcountry has an unlimited return policy. Return anything, at any time, for a full refund. Just go to your order history, find where you first ordered the boots, and click the "return" button.
Dang good glove with nice features
I'm pretty impressed with these gloves. I love the vertical zipper offset on the forehand. It really helps to open this glove up wide and doesn't get caught when trying to use with a narrow cuffed shell. The softshell outer layer definitely helps with dexterity. I've had these in 10 degree days and had no issues staying warm. The Talon finger design is okay and is a non factor either which way for myself. I've had them on during a really wet spring day and didn't have any issues with soak through.

The only gripe I have is that the thumb is a little short but the insulation has stretched enough with use to remedy that and make it a non-issue.

A good buy for me this year.
Like the gloves. Not 5 stars because there's a little extra material on the ends of each finger that slightly reduces dexterity. But, I'm still able to fumble around with my mp3 player, so the loss in dexterity isn't huge. Overall, they keep my hands warm and dry. The wool on the inside is pretty warm. After approx 40 days of use riding/touring this season, they're showing some slight wear on the leather of the fingers, which is mostly caused from unbuckling bindings. Also, the inner lining of my index finger is starting to wear through.
I've had these all season and I really like them. I actually just bought another pair. I've been out in the backcountry on some pretty cold and wet days and these gloves have been awesome. I've had them completely soaked and they still kept my hands plenty warm. The design on the fingers is a little weird, and the one thing I don't really like about them. the fingers have weird seams that feel like little nipples, weird comparison, I know.... Finger nipples aside, they are pretty sweet gloves, super warm, very durable and well made.
Maybe I have bad circulation or something, but every time I've used these gloves, my fingers have been FREEZING. Even if I start off with warm hands and use liner gloves, they still end up getting cold.

The fit was pretty good on my hands, snug, but not too bad. Just go by the measurements in the sizing chart.
The materials and construction are OK, but if your fingers are large this glove will cut off circulation, especially in cold weather. My pair (tan and white, XL) also came stained with black marks, so it was returned.
These are a great glove for a 10+ degree but for days that are colder plan on a good liner. Awesome dexterity. All-in-all happy with these ones.
I'm a fan of Backcountry.com, a fan of the Stoic jackets, and really wanted to like these gloves. As some other people have mentioned however, the sizing is a bit strange (for me, they are oddly tight around my knuckles when I make a fist). I'm hoping that they will pack-out over time. I think they have started to already.

I normally wear size L gloves, but at other reviewers urging I tried XL. XL was too big. Again, sort of odd, but the XL's were about the same fit around the knuckles (tight when I made a fist), but the fingers were extra long. I ended up going with my normal size (Large).

Apparently I hadn't read the description or the reviews much, because when I received them, I was pretty surprised at the "Talon" design. Kudos for trying something new, but all that extra material really makes them hardly more articulate than mittens (rule out zipping zippers, using house keys, adjusting straps, etc. without taking your gloves off first).

Another comment: zip-on style gloves like this can't be adjusted very well. These seem to fit around my wrists right at the same place where the cuff of my jackets lie, which means my jacket will not go under the glove (preferred), or over it. That is to say, there's a gap where you're bare wrists are exposed to the cold world (unless you put your jacket on over your gloves, which is weird). That gap is no good on a powder day. I don't know how, but most of my other gloves have this problem licked.

I fear these gloves are going to sort themselves to the bottom of the drawer, only to be found in a few years when making the Goodwill pile.

Sorry Stoic. I tried.
These are a great glove to wear on the hill and even in the backcountry. For me, they keep my hands warm down to about 15 degrees. Anything above 30ish, they are too warm and I sweat in them. However, these do breath pretty well so sweating isn't a huge deal. They are very functional and seem to be great quality. As other reviews have stated, they do fit a little strange. The thumb is a little too short and tight. I was at the top end of the Medium sizing, so I ordered the large and the other four fingers fit great, but the thumb is a little short. No a huge issue to me though. These also have a 'cool' factor that I like. Overall, these will be a great ski glove for me.
Recommend... with reservations
Overall I like them. The fit is a little odd. My thumb is at the tip but myother fingers are about 3/4 inch short of the ends. I like how they fit under the cuff. They have nice insulation. Biggest gripe is the talon fingertips. Useless in my opinion. Just a bunch of extra leather where you dont want it. I hope they work as my next ski glove. (Had one pair of Hestras for the last 10 years, but these are half the price so we'll see.
Great gloves but the sizing is off. I don't usually wear a large in glove sizes but I ordered a large just in case and they still seem just a little tight (maybe after some use they will fit better??). They are very warm on the inside and provide lots of insulation. The fingers are just a little stubby.. Overall they do as advertised.

-Update April 3rd 2011- I have been using these gloves all winter and I would still give them 4 stars. I have only used them once boarding though, and I would say that they are not as waterproof as I would like them to be but they are still great gloves.
Hi-R thay TOTALY waterproof? can I use...
Hi-R thay TOTALY waterproof? can I use them in HAVY RAIN??
I wish that I could honestly answer this questions for you but I have only worn them in the cold snow so far. That being said, my hands have stayed warm and dry. Hope this helps!
Pretty good but not my fit
The materials are top notch. I really wanted to like them, but there are two problems and I had to return them.

1. Fingertips are too long. While the fit around the palm and wrist was perfect, the fingers were too long so I had an extra half inch of material hanging loose at the fingertips. This is important for climbing, ropes, handling gear, etc...

2. Should have removable liner. These are pretty heavy (9 oz on my scale). For a heavy warm glove like that, you are talking about some pretty aggressive trips in which you would want a removable liner so that you can a) dry overnight in your bag and b) couple up with other gloves for varied conditions. These need a liner system like other gloves in this class (black diamond prodigy).

This may be a good ski glove, but not a climbing/touring glove. And if you just need a ski glove, why not get cheap columbia winter gloves? It is like they made this with top notch materials intended for heavy alpine use, but the fit (on my hand at least) and design do not align with that objective.

Other quick notes:
- The sizing is fine. I'm not sure why everyone says to order up. I got a large, and it basically fit fine (except for long fingers as noted above).
- They seem really warm. I wish that stoic made a lighter weight version as well.
- Not a huge deal, but I don't like the "talon" stitching on the finger tips. It makes for extra fabric between you and your gear (or the rock). If that design was effective, don't you think other manufacturers (black diamond, arcteryx) would be using it too? My guess is this is stoic trying to be 'unique'. I am sure anyone reading this review would just prefer simple gear that works. When you are in a tough situation in the mountains you will too.
- You will want to treat the leather. I stuck them in the sink for 10 seconds and the leather saturates pretty quickly. But the leather seems awesome quality.
Interesting design, Odd fit
So I ordered these, being told that they fit similar to Hestra gloves. I have a size 10 hestra gloves which fit perfectly. These guys have a very odd fit. They are def a very small glove, however circumference wise they seem okay. Where I have the issues is when you go to clench your fist you get a lot of pressure on your knuckles.

It's as if they didn't leave enough room on top of the glove right where the fingers start from the body of the glove.

I got these on a 50% sale so at $50 they make for a nice glove I'll try to see if they give at all ... I'd say go for it and buy them if you fit in a size L glove or smaller ... just buy one size bigger.

Other then that, the design is awesome, I like the short cuff and I really like how it's very snug at the wrist, so they slide under my jacket nicely, since I prefer to put the jacket over the gloves.
How are these for skiing?
How are these for skiing?
Best Answer
they are pretty warm but the fit is a little weird which makes grabbing on to the poles a little more difficult but they are solid and they keep out the weather. I didn't really like that they don't do much in keeping your wrists warm.
Are these as warm as the north face Purr...
Are these as warm as the north face Purr fect gloves? I wish there was a warmth rating available (it is hard to know how warm gloves are by just looking at a picture!). Also the "tan/blue" picture definitely looks like a tan/yellow. Is this yellow or tan? ((if the picture is accurate it should be definitely called yellow not tan). Thanks for help!
Yes the picture color is pretty true, more yellowish tan than just tan. I haven't used them in bitter cold yet but I'd say there pretty warm. I think they run a bit small though so if your on the border between size go for the bigger size
What other brands are these gloves similar...
What other brands are these gloves similar to? I want a warm gloves for inbounds use.
I like the Hestra, great all around glove. I even use mine during hunting season in Montana. The cuff locks down solid, so you will never get unwanted snow down the wrist.

http://www.backcountry.com/hestra-ski-cross-glove
These are very comfortable, mid-weight gloves. They fit a bit on the small side. I usually wear a large (occassionally extra large.) I ordered these in XL, and they are none too big. I have only used for snow shovelling so far, but they allow for excellent mobility, and are adequately warm for -15 celcius days (if active.)
Got this pair as a free gift for getting a TNF jacket... Feels very good... Only problem is I still tend to feel the cold penetrating on prolonged use... Otherwise, it does the job pretty well...
Awesome glove w/ weird fit
Recently purchased the black and red in a size medium. The wool liner is warm, the glove is 100% waterproof, and I have had no issues with cold hands, wet hands, or anything. My issue with the glove is the fit. It has an enormous palm with stubby fingers. This makes the fit a little weird. Once its on its not uncomfortable but you can definitely notice a lack of dexterity. Though this is a "short" it still comes up my wrist/forearm a good 3/4 inches and Id prefer a neoprene closure as opposed to this zip-up design. I guess they are made to keep me warm and dry... and they do that well.