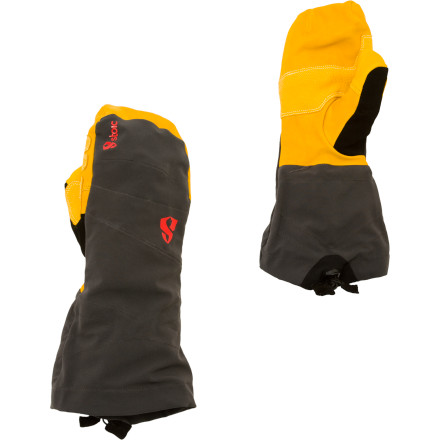 Detail Images
The wool-insulated, waterproof breathable Stoic Welder Gauntlet Mitt signs on for long days in the deepest cold. The Welder Trigger Mitt's low-profile, fully welded softshell construction and Double Helix gauntlet closure work together to stay out of your way, eliminating hang ups on your ice tools on your way up or passing foliage on your way down. Stoic's Talon finger system (grip like eagle!!) offers incomparable dexterity for a mitt, while goat skin reinforcements in the Gauntlet Mitt's palm ensure seasons worth of use. The Gauntlet Mitt's waterproof Sympatex bladder shuns external moisture, while the removable wool liner offers versatility for changing conditions.
• Welded Seam construction eliminates bulk and increases breathable area
• Double Helix Gauntlet cuts down on bulk and bulks up on protection
• Removable wool liner creates insulation options
• Talon finger design: Grip like eagle!
• Sympatex bladder creates waterproof barrier
• Goat skin reinforcements offer long-term durability
I've had these for 2 years now and I keep them in my trunk for emergencies or as loaner gloves. They could be warmer and they also have this weird divider that separates your middle and ring fingers. Why would you want to separate your fingers? That defeats the purpose of wearing a mitten. :(
I bought the XL but these mitts are still too small for my hands. The thumb is too tight, and the split liner sucks.

Quality of construction looked good, but sizing was off..I would love to see a huge mitt by stoic with a down insert.
Haven't had them out in the field yet but initial review out the bag;
- I am normally medium I ordered XL, they fit fine with space to move slightly.
- The inner is 100% Wool, and I find them Itchy & Scratchy!, it is not a nice fleecy liner (performance will probably be great though).
- The thumb is a weird shape and feels too long, you have to give it a shove on to your thumb to fit. No big issue feels weird, have to check if mobility is an issue when I actually get to use them.
- The build quality looks great, they feel a lot lighter than expected. The cords are good quality.
- The outer shell also has the split finger seperater within it, no big deal but wasn't clear this would be inside.
- The inner wool liner tapers slightly in at the wrist slightly, probably helps with heat and movement of the glove - however it makes it a little difficult to quickly pull on the gloves. The inner comes out nice and easy from the glove, a must for drying at the end of a day.

Hope this helps.
Everything about these gloves is sweet except for the finger divider - between middle and ring finger. I thought the point of a mitt was so you had all your fingers together and there fore warmer? It just seemed like it would be uncomfortable so I never wore them out in the elements.

And they were small - size large was tight and I normally wear a medium.
Unanswered Question
how warm are the gloves . my hands always...
how warm are the gloves . my hands always get cold. and i always have two heat packs in .who can help ? i have some many gloves but none of them work
I bought these mitts about two months ago and have been trying them out in the last couple weeks of -20 to -40 degree temps in Fairbanks, AK. These gloves are very warm and the material and stitching of the outer shell are very high quality.

The one funny thing about these gloves is that the inner wool liner is three-finger "lobster" style and the inside of the shell has a fabric divider in the middle between the second and third fingers. This gives little added dexterity and defeats one of the main purposes of a mitt--having all your fingers together.

But it is still overall a great mitt, especially if you can get a great deal on backcountry. The OR Highcamp mitt seems similar if the "lobster" liner is a deal-breaker or if you would prefer a synthetic to a wool liner.
This mittens are wonderful. I picked these up off of steepandcheap.
I'm from the east Coast, and any snowboarding we have is either ice or slush with the occasional powder. They stay dry and warm in all three. Sadly I got them AFTER my trip to the rockies.
I don't have monstrous hands, so I wear a large in most gloves, but these run small. I ordered an XL thinking I'd just stuff another liner inside, but they fit pretty well without. In fact, my only complaint is that the thumb is a bit tight, but this might stretch out over time. Also, a wrist leash would be good to have, I might end up adding one myself.

Over all though, these are gnarly. I can see them lasting a long time. I highly recommend them.
Not yet perfect, but a good value especially on SAC
The lack of idiot straps and clasps are glaring flaws on an otherwise outstanding glove, but I'll give it four stars for doing it's main job quite well.

Warmth: Combine the wool liner as a mid-layer with something like a Black Diamond Polartec liner for bomb-proof warmth on cold days, i.e.: blows away the Goretex Marmot Ultimate Guide.

Dexterity: Even with a three-layer setup, the mitt is surprisingly dexterous, once again surpassing the Marmot which feels like a pressurized moon glove in comparison. The goatskin palms provide amazing, tactile grip; and the main hand pocket has enough room to allow some finger articulation.

Fit: I'm typically a Large, and the glove runs true to size from my observation. The thumb is a tad short as others have said, but the main hand pocket provides plenty of room for most hands + two liner layers.

Overall, Stoic has some refinement work to do including adding colored tabs to differentiate between the gauntlet and wrist drawstrings, but if you can snatch them on SAC, this and the other Welder models are great values for serious gear.
These mittens grip trekking poles, ice tools and snow shovels nicely. The wool liner is soft enough that it does not chafe after two full days of use. The liners did get a bit damp after a full day of ice climbing, but it was not uncomfortable, and my hands stayed warm in low 20 deg temps with windchills in the single digits. The "Talon Finger" design is a bit funky, but I found it easy to tie simple knots with or without the mitten shell on. The nose wipe works great, and didn't leave my nose chafed after multiple uses. The gauntlet shells offer a nice double drawsting system that tightens the mittens at your wrist and further up your forearm, keeping out the elements. However, there is no elastic in the liners, and this allows them to shift around if you are not using the shells. They must run a bit small, as the size XL fits my size L hands perfectly. Overall, four stars for a great multi use mitten.
So I saw a bunch of "too small" reviews. I wear a large in the Burton mitts and bought a large in these. I love them. Took them to Whistler and worked fine in the -16C, 13in of new, and when it started raining. They felt a little tight when I put them on at first, but I thought they packed out well. I liked them. Sloth toe was a little weird, but it's fine.
A mitten deserving of a better liner
These mittens are very well constructed. The leather is very soft/supple out of the package. You don't really have to worry about oiling them and breaking them in to get the leather to move with your fingers. As reported by others the sizes seem to run small. I normally wear a medium or large...size 9 glove. I ordered these in an XL and the fit is almost perfect. Someone with a size 10 hand could wear them. Those with bigger hands are out of luck.

While the mitts are good, the liners suck. I took the factory liner and tossed its less than comfy, scratchy, thin, 2-by-2 awkward finger separated uselessness in the garbage. I had other plans when I bought them anyway [evil grin]. I was just looking for a decent leather-palmed shell that I could stuff other liners into. These mitts were up to the task. After doing a little surgery on the inside of the mittens (the inside of the mitt was sewn in the annoying 2-by-2 as well) I was able to stuff Hestra's primaloft extreme mitten liners in them :-). Look 'em up, they are as warm as they look.

It was 1*F with a slight breeze as I was skiing this evening. My hands were dry and toasty all night. Grip and dexterity were tested as well between holding ski poles and lifting back boards out of toboggans as they arrived at the patrol building.

I think the mitt/shell is a great buy, but I'd definitely invest in a better liner. Thank goodness for sales and deals. I doubt I can find a better looking, warmer mitten for the ~$120 I have invested.
Warm mitt, questionable fit
Have been using these mitts for a month now for all sorts of activities - snowshoeing, walking, shovelling snow and am pleased with the warmth. The split fingers inside the liner take a little getting used to, but keep things toasty. The thumb on the right mitt was cut strangely on the first pair I returned (too small) and is only slightly better on the larger pair I got in exchange. Inside liner doesn't lay flat in that part of the mitt.
Very small fit.
I usually need medium but ordered large because I like larger mitts. Could barley get the things on! Sent them back.
these gloves are super warm! the wool liner is sort of a weird fit and its a bit scratchy, being wool and all. But overall they keep you dry. I think I will upgrade the liner for something that will give me more dexterity with the mitt off. Stoic Rocks!
These look like they're good quality. However, they run VERY small - enough that someone who normally takes an XL glove isn't going to be able to fit into them. My hands are large but not huge (roughly 8 inches from base of wrist to tip of middle finger, not unusually thick or long fingers), and I couldn't even squeeze into the XL. I'm surprised that BC didn't do better sizing of these - the sizing means that anyone who usually wears an XL glove can't wear the Stoic products at all (since you can't size up to XXL). Bummer, they're going back.
Never took them out to use....the shell seemed to withstand anything. Inside is another story....if you don't mind your fingers in a "Sleestack, Nanu-Nanu" split between the finger thing....than these mitts are for you. My paws felt bunched....even when i sized up? Returned for some Dakine mitts, we shall see.
this is what I've been looking for! nice big gauntlet with tough leather and removable wool liner. haven't used them yet but I know these are the bombUPDATE:finally got to use them a couple times. the liners are too small and restrictive for me. I use a merino liner glove inside when it's really cold and that works good. -15 with no probthe thumb is a strange fit and takes some wiggling to get in there properly but it is doable. I do wish they had a wrist leash...overall very very happy! highly recommend them
run a little small but if I upped a size they would be way huge without the liners