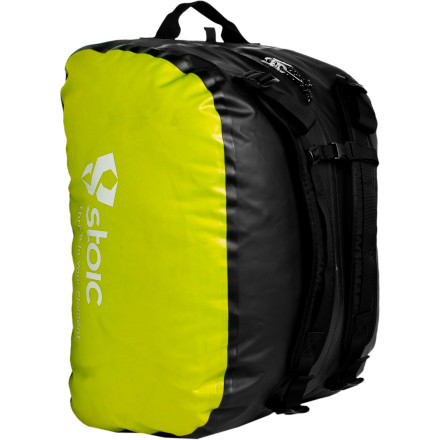 Detail Images

Community Images
From toting gear on cross-ocean expeditions to protecting your goods in the off-season, Stoic's extremely burly, waterproof Welded Haul Duffel knows a thing or more about hauling precious cargo.
The 420D PU-coated nylon in the main body protects your gear on the go
The 840D PU-coated nylon bottom offers Ark-like security from the elements
The Welded Haul Duffel's padded backpack straps make hauling easy
Fully welded seams and reinforced stitching ensure long-term durability
No too tough, not for "hauling gear"
Gender:

Male

Familiarity:

I've used it once or twice and have initial impressions
I took this back on one trip overseas.....it tore in multiple locations making it absolutely worthless for a 2nd trip. It's recommended use is "hauling gear, storage, travel". I would not suggest sending any gear in this bag. It'll just tear open. If you want a bag that looks cool but don't actually plan on using, this will do the job just fine. It might be good for storing clothing under a bed or in a trunk.
great bag , great price.
Familiarity:

I've used it several times
I use this every second day basically. for the past year it has held up well easy to clean and bloody cheap. I would buy again. could use an inside pocket or two.
Great bag
Familiarity:

I've put it through the wringer
Got it from DoG for cheap. It works great for traveling, either as a larger carry on or smaller checked bag. I was a little worried about its durability but its held up great so far. Back pack straps work well and its one large compartment is easy to clean out if you want to use it as a wet gear bag. It has been checked on 4-5 flights including several international flights with transfers and it still looks like new.
Fabric too thin
Familiarity:

I've used it several times
The good is that the bag is big and fairly waterproof. Very water resistant. It really holds a ton.



The bad is that the fabric is way too thin to withstand the abuse of air travel. The bag didn't make it through one leg of a round trip flight without needing multiple duct tape patches. I had to return it.



It's also too big to check in an airline without incurring oversize fees, although I was able to talk my way through it since the bag is compressible. The backpack straps aren't very comfortable, but they do in a pinch.
Burly goodness
Familiarity:

I've used it several times
Got 2 of these in XL and they've held up great after several trips. The XL swallows a ton of gear, so much so you've got to watch what you pack or you can barely lift it. One we use for skiwear and it'll hold 2 sets of boots, pants, jackets, helmets, gloves, etc and still have room. Lash it on a hitch platform behind the jeep and all our gear is dry and clean when we get to the mountain.



Used the other XL to haul 2 sets of dive gear and thought for sure it would be a 1 trip bag after the airline luggage monkeys got through with it. But it came through 4 airports without a tear or rub. Tough enough I think it'll last quite a while as long as I keep the zipper waxed.
Top quality, big on volume
Well built bag. Only one main pocket & small external pocket on Medium size. Runs bigger than I expected - double check what you need... Medium is too big for life jacket, rain jacket, dry clothes & beer. Lightly padded straps make for good short-distance carrying on your back.
Great for storage/organizing
I wouldn't say that this would be the right bag to take on a South American back packing adventure, or to use as gear bags in the Himalayans. But its a great duffle for stuffing loads of gear, clothes, or whatever into for storage or organizing purposes. That's not to say that they wouldn't probably hold up to some abuse or weather, cause I'm sure it could. I just don't think this particular bag would be my pick to sit strapped to the top of a Land Cruiser in the Amazon for weeks. But it has been perfect for moving to a new house, organizing camping gear for off-road trips and storing gear in my closet.
I have the large and I use it to carry my fishing gear.
Decent Product. Would not buy again.
Gender:

Male

Familiarity:

I've used it several times
Got this duffel for a rafting/camping science excursion to Alaska. I wouldn't say that this is the most durable product and would definitely recommend any SealLine pack or duffel over this. This pack got several holes during the flight up to AK, before even getting out into the field. Might chalk it up to the airlines, but I also had two smaller SealLine Packs and they did better in transit. It survived the trip, but it has seen little use since. I have used it several times for car camping and similar activities, but I mainly use it to store all my other outdoor/camping gear in when not in use.



The pack is pretty darn weather resistant, but definitely not waterproof. I have another Stoic duffel which the zipper stopped working after less than a year, so I am doubtful about how long this pack will last.



Overall, I WOULD NOT recommend this pack.


I bought two of these things off of steepandcheap.com before moving to Tanzania a bit over a year ago. They did okay on the planes. Some of the outer coating got worn from something in transit on the airlines. The backpack straps are a life saver when travelling. Sometimes I even wear them both while walking through places. The side zip pocket is also great for stowing the straps when you put it on the airplane and then you can easily find them when you pick up your luggage. The whole design is also great when traveling by car. You can fill the bags up through them on top of the Land Rover and strap them down with their own straps. No need to go digging for rope. And, they're waterproofish. Obviously the zipper isn't but, at least the zipper is on the strap side so when you strap it down the zipper isn't exposed to the rain. Oh, and, they work okay for hauling heavy loads. Its no internal frame pack but doesnt work half bad for hauling weight. Just the other day I went shopping and carried 25kg of flour and 20kg of sugar over a mile with it. The only problem is the chest strap doesn't go where I need it to go but it works great when clipping the straps together and throwing it over your shoulder. I would say that it does everything acceptable to well but nothing great. However, in saying that it is very versatile and I plan on buying a few more because they are better than regular duffels and suitcases.
Nice Bag but..
Gender:

Male

Familiarity:

I've put it through the wringer
This is a sweet bag but the XL is huge! you could fit a full grown adult inside. Wasn't expecting it to be so big. Overall the bag is sweet and it seems pretty tuff
Nice bag
Gender:

Male

Familiarity:

I've used it several times
Although the material isn't as "beefy" as I'd expected, it's been holding up well being tossed around full of my ski stuff ... even surprised the straps in backpack-mode are not only comfortable but, seemingly, durable. My only "dislike" is that the zippers can be hard to use given the bags design and the lighter weight of the bags material/construction. Oh, and watch out on the sizing! The medium got me through a one-week ski trip easy. Heaven only knows what I'll find to fill up the XL (and then I'll probably not be able to lift it!)!
Pretty sweet
Gender:

Male

Familiarity:

I've used it once or twice and have initial impressions
I can't speak to the ultimate durability of this bag because I've only used it a few times, but my initial impressions are good. The bag seems well constructed and is pretty much completely waterproof other than the tiny openings at the end of the zipper openings once they are zipped shut. Other than that the material itself is completely waterproof. The large is pretty big. It can fit all my ski gear, helmet, extra clothes, skins, and even boots. For a carry on bag, I'd go with medium so you're not charged a bag fee.
LOVE THIS BAG
Gender:

Male

Familiarity:

I've put it through the wringer
I love this bag. I have the large size and it's a perfect size for my ski bag. It carries my boots, a number of layers, food, water, etc. I love that I can throw this on my back- the straps are perfect for this. The material and zipper are so bomber that it can sit out in the snow, a muddy/salty parking lot, having dirty boots thrown in it, all without being blinking an eye. Definitely worth the money.
Great Price
Gender:

Female

Familiarity:

I've used it once or twice and have initial impressions
I've used it on a mountain bike trip and it spent most of the time in the back of a pick up truck. Works as it should. I love the color. I do wish the design of the opening was more u-shaped for easy access.
XL is BEAST size and kept things dry
Gender:

Female

Familiarity:

I've used it several times
Drove across snowy Pennsylvania with all of my wrapped Christmas presents and an fancy dress for a friend's wedding stashed inside this bag (probably not what the manufacturer had in mind!) I used two bungee cords to tie the handles to the bed of my truck. Everything inside survived the constant snow fall and road salt/slush with not a drop leaking in. I only wish there was a way to secure the backpack straps down; even with the straps pulled as tight as possible, I ended up pulling over on the side of the highway to add a third bungee cord around the bag to keep them from flapping in the wind. XL is a big bag, not practical for hiking, but we can't wait to bring it car camping this summer.