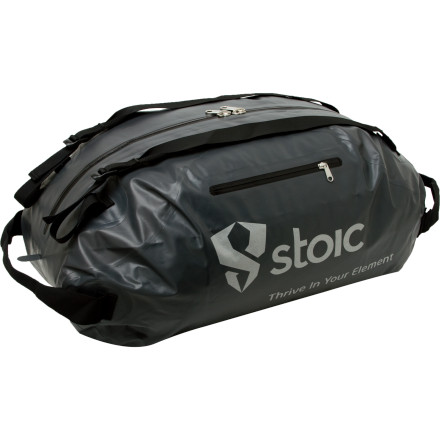 Detail Images

Community Images
The Stoic Welded Duffel cares about your gear as much, if not more, than you do. Believe it. Available in both 83- and 123-liter sizes, the Welder Duffel wants to be your new favorite multi-tasker. The Welder Duffel's fully welded seams say I-dare-you -to-set-me-in-that-puddle, while double-sided TPU lamination and 420D nylon say, don't-worry-seams-we-got-your-back. Welded reinforcements ensure heirloom-like longevity, and the printed Stoic logo increases your core-factor by at least 96%.
All looks and no substance.
So first the good parts:
The large (83L) duffel is pretty roomy.

Welded seams look cool.



Now the bad:
Straight zipper makes it difficult to pack/unpack anything larger than a pair of pants.

If you attempt to pack this bag to capacity, there's no way to compress the contents so the zipper isn't stressed, giving me concerns about its longevity.

Bag material is not durable. At all. One flight (Boston to Miami) of a 4 flight round-trip and I had a dime sized hole in the bag (see picture). By the time I returned home, I had 10-14 noticeable chunks of the outer fabric missing, in addition to the hole from the first flight. Calling BC tomorrow for a refund.

Bottom line: this bag is a total waste of your time and money unless you only plan on keeping it inside to store your gear, and NEVER intend on taking it anywhere.
Unanswered Question
What is the temperature rating for this...
What is the temperature rating for this bag? Will it withstand below zero fahrenheit temperatures?
Holes after the first use.
Drinking coffee one morning before work I saw this duffel on Steepandcheap and nearly bought it just to have around. I mean how often do you need a super big bag to lug around gear to and from travel destinations or to bring all of your laundry back to your girlfriend's moms house during the holiday (no I am not 19 anymore but our machine is currenttly not working so cut me some slack). The bag was on sale and the only reason I didnt scoop one or two up was that I was too late in retrieving my credit card. I thought no worries I don't need it anytime in the foreseeable future so I will just be patient and I will surely see it again. Well as often occurs in life, something came up and the need for a giant bag to transport a giant object from the States to our residence in Germany arose. I cursed myself for my slothness on that morning two weeks prior and set about searching the internet for this bag. I really liked how it looked and it's size was perfect for the duty at hand. Of course it was no where to be found for the super price I had seen previously. This did not change the fact that I "needed it". I made the order and convinced myself that although I had paid more than I would have liked for the duffel, a quality piece of gear was on its way to me. When my girlfriend arrived back home with the duffel and the cargo I inspected each of them, as good practice dictates, for wear or defects. Two small holes were evident in the duffel's rubber layer leaving only a thin fiberous barrier between the inside of the bag and the elements. Although the bag is still useable it will not keep the water out any more. The bag was never checked in during the journey and my girlfriend assures me that she never threw it around or set it down on a rough surface at any time during the trip from D.C. to Munich. Since she was transporting a very nice photo printer I believe her that she was extra careful during handling.
Maybe it was a defective bag and the holes were already there when she unpacked the item in D.C. Maybe she threw it around to test it's durability and did not want admit to this upon me finding the holes. But I speculate based on a previous purchase from Stoic that the bag is simply not made to use but rather to look good.
If you find this bag for a steal and are not planning on using it in any rough or adventerous situations then by all means get one. If you want a duffel that holds up and can take a beating. Buy one from Mtn. Hardware!
I bought this bag to carry some tech equipment around the country. Turns out I ended up using it for everything. I don't even fly with a suitcase anymore. I throw a million things in my stoic and it works! It is so light weight, yet durable. Great zipper that has stood up to a lot of pressure that would have ruined a lesser bag. Easy decision. Great bag!
I took this on a heli trip into BC. Held up great for the week and a half journey. Flights in heli up to the cabin. airline flights to washington.

Held all my clothes and snowboard gear other than my board.

SOLID!
Got this a few weeks ago. Bag seemed solid. Straps are great. I did not have any problems. The xl size is nice and roomy.

I am now in Costa Rica. DEN- ATL-LIB. Two flights and they came off the luggage belt thrashed. I have two of the bags. Clothes in one (soft stuff) and diving gear in the other (hard stuff). The one with the dive gear was in worse shape than the one with clothes, but they both had a dozen or so chunks taken out of the grey outer coating of the back revealing the white fabric of the inner bag.

After inspecting the damage none of them resulted in actual holes in the bag. However if they have sustained this much damage after two flights I have my doubts on how long they will last.

Three stars for now, but if i have a hole in the next couple trips i will be downgrading the review to one star and asking for my money back.
How does this compare to the tnf base camp?...
How does this compare to the tnf base camp? What weight is the large?

Any experience with the zippers, are they smooth or snaggy?
, ☃bcs_badge_alumni_label☃
they are a large #10 waterproof zipper that is pretty smooth. they are a little stiff because of the waterproofness, but i would not say snaggy..
I have both. I have the Stoic in XL and the North Face in Large. I like the North Face better. The straps are better, it is MUCH more durable, daisy chains are nice, the mesh pocket in the inside of the top flap is nice too. But- the Stoic is larger volume, packs down small, and is light. So I travel with both. I end up putting the Stoic inside the North Face to bring back goodies from afar. If you can score the bags on Steep and Cheap or Tramdock, the price makes it well worth picking up. But again, if it were between the two, and the price were the same, thumbs up to the North Face.
NOTE: I just used this bag for air travel for the first time, and the waterproof coating has peeled off on several places. This is the first major trip for this bag, and not a difficult one at that (MT to South America, with 2 stops). After seeing this, I cannot recommend this bag. It still might be OK if you just need an extra duffel for lighter duty, or maybe a spare bag to chuck around, but don't count on it for long term durability or waterproofness. Ger the North Face Basecamp or Patagonia Black Hole bag.
what are the dimensions of this bag?
what are the dimensions of this bag?
, ☃bcs_badge_alumni_label☃
Best Answer
here are some sizes for you...

large is approx 15x15x28 inches

XL is 17x17x36 inches