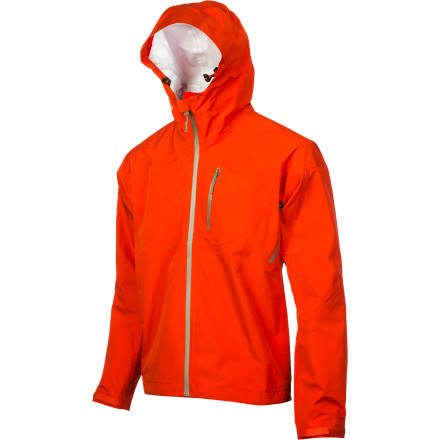 Detail Images

Community Images
Description
Lighter than a vapor.
Never question whether or not to pack a rainshell again—Stoic's Vaporshell Jacket protects like an atmosphere when you wear it, but weighs as much as an apparition when you have it in your pack. This lightweight, waterproof, extremely packable rainshell puts all your past rain gear to shame.
Lightweight VaporShell shuns rain, and vents body heat like none other
3-D Ergonomic fit moves with you, not against you
Extremely compressible—plays nice with other gear in your pack
Stoic Vaporshell fabric's air permeability and vapor permeability is so shocking you'll swear its magic
Share your thoughts
What do you think of the
Stoic
Vaporshell Jacket - Men's
? Share a...
Entry level hard shell for cheap
Familiarity:

I've put it through the wringer

Fit:

True to size
I bought this jacket three years ago for working in NC during the summers as a rock climbing instructor. When I received it, the seams and welds were fantastic, it was a great quality jacket. It handled the torrential rain that Pisgah Natl. Forest put down on us. The factory waterproofing held up for about two years and then gave way to leaks. After the three year mark, the welds and seam tape have started to disapear due to strenuous use. It's a shame, because this is a durable, affordable rain shell. My main zipper just recently broke on it closing the tail end of three years of ownership.

Overall, I wish they still offered STOIC gear, I would have bought another exact one of these.

Pros: durable, affordable, great packability, good factory waterproofing and color.

Cons: wrist velcro wears out, rain shell only (does not insulate well), no longer sold.
Great for the money. Not as waterproof and functional as some out there, but it gets the job done. The straps for the wrist are aren't functional. Luckily the wrists are a little tighter than most jackets so the strap hasn't been necessary for me.
Unanswered Question
If this is being discontinued, will you be announcing something new for next year?
Hello, I'm from italy and I would like to buy one black/charcoal Stoic Vaporshell jacket size L. Can you write to me if you will have in the future? Do you send in Italy? Thanks a lot.
Marco from Genova, Italy
My email is doppiam1@hotmail.it
Hey Marco

Unfortunately we won't be restocking this jacket but to answer your question about shipping this brand internationally - Stoic is not a restricted brand so we would be able to send this brand to Italy. Please keep in mind that shipments outside of the USA may be subject to tariffs, value added tax (VAT), and stuff like that.
Hi Adam!
Thank you very much for your soon response! I unfotunately know that to send items to Italy from USA ther is some taxes. But I'd like to buy this rainshell if the price with taxes are not too expensive...Tell me when you send this brand in Italy! The Stoic's garment are really good from what I see!
Bye
Marco
Did the job!
Familiarity:

I've used it once or twice and have initial impressions

Fit:

True to size
Granted, I have only used this in less than ideal conditions once, but it did its job! I was in Denver for a concert at Red Rocks and it poured... I mean it really poured, for the entire show.

I wasn't the warmest guy there, but I was completely dry, and that's what mattered.
super dry, runs small, needs pockets
Familiarity:

I've put it through the wringer

Fit:

Runs small
Great dry shell and keeps the wind off you. order bigger size if you plan to layer underneath. Velcro at wrists sometime will pop off. Needs pockets at sides to put hands in.
Snap one up before its too late!
Familiarity:

I've used it once or twice and have initial impressions

Fit:

True to size
Finally got a chance to test this out the other day and it was rad! Bone dry from the waist up after being in the rain for a fair while. Cant speak on durability yet but it seems pretty bomber. The velcro cuffs are a bit odd but they work so I cant complain about them. I've been wearing it just as a shell and it works great for that purpose also. Looking forward to testing it out more.
Good shell
Familiarity:

I've used it several times

Fit:

True to size
I wore it when I went to Yellowstone NP, didn't hiking a lot 2 hour at most, good water proof and air breath feature did impress me, if it wasn't too windy the shell plus a thin hoody and tshirt made me feel pretty comfortable, I would love it more if it has more pockets
I am Male about 5'9" and 175lbs, chest is about 105cm, but the median size is still fit for me with some room for another couple thin layer clothes inside, I wear large size Abercrombie tshirt and polo, 15 1/2 regular shirts and 38 regular suits, I hope all these are helpful
Will this work as hard-shell for mountai...
Will this work as hard-shell for mountaineering? I'll be going up to 20k ft and will have a baselayer, soft-shell, and puff jacket beneath it.
Best Answer
As long as you had a big puffy that had some waterproof/ wind proof properties this should work. It might not be as warm as all the other jacket options out there but, you could probably get away with it. Most of the leading alpinists get away with a little more than a windshirt, they are moving fast though.
Initial impression
Familiarity:

I've used it once or twice and have initial impressions

Fit:

Runs small
I'll submit another review after a few field tests, but i just wanted to chime in maybe to help those on the fence here. I'm 6'1, ~200lbs with an athletic build (broader shoulders than waist). I usu wear L for all my gear (TNF, patagonia, MH, etc) and L is usually perfect for me. I got this jacket in a L, and it's a shade tighter than perfect. If you're using it for a hike, you're probably not packing on too much insulation underneath, so it'll be just fine. I would imagine, if you were my size, but slightly heavy set, you'd want to move to an XL. If you are a skinny guy, then this might just be perfect.

The only issue i could imagine is if you want to throw on an insulation layer on underneath while you're hanging around your campsite in drizzle. I tried it with at sweater underneath, It went on fine, but wasn't all that comfortable. Arm length seems comparable to all the other brands, no surprises there. Velco is fine... for now. not sure if the hooks wear after time. Front length, might be a tad shrot, but i have a long torso, and this is a common thing for me. Also not too shocking.

On a side note, i have the vaporshell pants.I've worn them fishing in rough water, hiking in downpours/sleet (even in the amazon), mountain biking in mud.. this material is awesome. Ultra breathable, incredibly waterproof and much less plastic baggy than others(dryq, precip, torrentshell, etc). I hope they havent changed the fabric..
is the blue with yellow trim still...
is the blue with yellow trim still available?

Hey Calencor,

Thanks for your question.

Unfortunately we do not have any more of the Navy color with the yellow trim. The inventory we have on hand to sell at the moment is pictured in the 'select a color' area of this page which is located under the price and item #.

Sorry about that.
Center back length measurement for xl...
Center back length measurement for xl size?
Best Answer
Hey Dan,

I got that jacket measured out at 29 inch center back length.


Nice Shell, but very weird fit
Familiarity:

I've used it once or twice and have initial impressions

Fit:

Runs small
This was the first shell I've ever purchased. I'm 6'0" 215 lbs and I wear a 44 long jacket (suit jacket). As soon as I put it on I knew I was in trouble. The armpits felt like tourniquets while the sleeves came almost to the ends of my fingers. The waist was about right. This means, if I went to a XXL, the sleeves would have been dragging on the ground and the waist would have made me look pregnant (not that I couldn't stand to lose a few lbs anyway). As it was, it might make a decent casual summer rain jacket but there was no room underneath for layers and no way I could do anything active while wearing it. I did put it on with a white t-shirt underneath and go stand in the shower for about 20 minutes and it did a good job keeping me dry. Not a drop got through and the outer layer of the fabric was only wet in a few spots which dried very quickly. Overall, I really wanted to like this but I just can't use it.
how would this compare to an uninsulated...
how would this compare to an uninsulated jacket of Polartech Neoshell? The numbers for this jacket's breathability is off the charts, but I keep hearing about how great Neoshell is even though the numbers don't correlate (I've seen 10k/10k listed). Apples to apples comparison with the 2 fabrics or tough to show with test numbers? thanks
Test numbers are really pretty hard to get meaningful information from in my opinion. I have heard good things about this material, though reviews are a tad mixed about the jacket it self it seems. I have heard amazing things about Neoshell though, and personally will be buying a jacket made from that material when my current shell dies.
Will a medium Stoic Welder High softshell...
Will a medium Stoic Welder High softshell with a hood fit under a medium one of these comfortably and still look good? I'm seeing people complain about the "cut". Are they cut the same? Please advise.
Wearing a softshell under a hardshell is probably going to reduce the amount of "breathability" you have over all a fair amount. I would say that this jacket should be able to fit over the welder, but I wouldn't suggest doing it. Wear a puffy or straight fleece with no softshell under this instead for better performance.
Unfortunate
Familiarity:

I've used it once or twice and have initial impressions

Fit:

Runs small
It kills me to leave a negative review, as I love other Stoic products, but they just missed on this one. For starters the velcro cuffs REALLY are that bad. In fact, they're completely useless. Additionally, the cut was weird. I ordered this and the Stoic Luft 60 vest, intending to use them together for ski touring. I love the vest, it fits great. This jacket, not so much, as it was snug across the shoulders and was about 1/2" shorter in length than the vest. I got the velcro tabs to stay the first time I tried it on, in my house, so I decided I could deal with snug shoulders. However, after 2 days of skiing the tabs are useless. Won't stay in place more than 30 seconds, at the slightest hint of movement they're undone again. Sending this one back.
Does it's job
Gender:

Male

Familiarity:

I've used it several times
I use this as my shell while Backcountry touring. It keeps me dry and breaths really good. Only negative thing is the wrist Velcro. It's not as bad as everyone says but it's not great definitely not a deal breaker.
simple and efficient
Familiarity:

I've used it several times

Fit:

Runs small
I bought this item to have as a 4 seasons water deterrent. I'm confident this will work for what I wanted it for. I biked about a mile and stood out in a medium strength rain shower for about 30 minutes as I fixed my girlfriends bumper on her wrecked car and it kept me super dry. I plan on layering up and using this as a shell when I snowboard next month. For the price I haven't found anything better. The velcro band fasteners are a joke. I read reviews about how terrible they were and I thought... "They can't be that bad." They are. I think the clothing designer should loose their job over it. I'm going to buy some velcro and hack my own version. It does the job and overall I'm happy.
Mixed feelings
Familiarity:

I've used it once or twice and have initial impressions

Fit:

Runs small
The fit is not the most comfortable, the shoulder area is tight and slops forward. I've ordered up one size to large instead of my regular medium and it was still tight. Wore this in the rain and the water smeared on the surface instead beading like my Acteryx gortex jacket. To be fair, there is a big diffrrence in price. Not sure I am keeping this one.