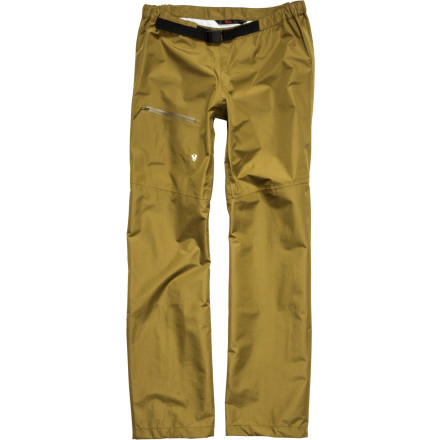 Detail Images

Community Images
Description
A highly breathable rain pant that keeps it simple but sacrifices nothing.
Push through driving rain and torrential downpours while the waterproof and highly breathable fabric of the Men's Vaporshell 3L Pant keeps you bone dry and comfortable. Stoic used fully welded construction in order to improve overall durability and weatherproofing, and this construction allows for smaller seams that won't chafe against your legs. Furthermore, this three-layer rain pant features a gusseted crotch for supreme mobility, and the ergonomic cut keeps this pant close but comfortable—there's enough room underneath for your hiking shorts or long pants.
Vaporshell fabric uses a proprietary waterproof breathable urethane membrane that keeps you dry in wet weather
Membrane breathability allows sweaty vapor to escape from within
Vaporshell fabric has a shockingly high air permeability that allows air to move through the fabric so you fell cool, not hot and stifled
Fully welded construction further improves durability and weatherproofing
3-D Ergonomic fit moves with you while you run, hike, or lug a pack over long trails
Crotch gusset ensures full range of motion when you need to step high
Elastic waist and adjustable waist-belt keep the fit nice and secure
Extremely compressible—plays nice with other gear in your pack
Share your thoughts
What do you think of the
Stoic
Vaporshell 3L Pant - Men's
? Share a...
good rain pants
Familiarity:

I've used it several times

Fit:

True to size
i got these for backpacking in the rain, and they worked great.
I used them turkey hunting this last spring, and it was wet every day, but i stayed dry.
I recently used them on a backpacking trip. When the sky opened up and the rain started to fall, I dug these out and they kept me totally dry.
I had no problems with the wide legs, they fit right over my hiking shoes and were not tight with my other clothing underneath. I wear them for short periods of times, only when its raining, so the wide legs are a non issue for me. My last backpack trip, I wore them for a few hours hiking in the rain, and the legs and fit didnt bother me at all.
Way Way too wide legged!!
Familiarity:

I returned this product before using it

Fit:

Runs large
I just got these in the mail, excited but the dissapointed. I too bought these for backpacking and daily bicycle commute but I don't dare try. These babies seem to be made solid and WP, but there is no way I am going pedal or hike in them. Immediate return. Nice try but come on guys, did these ever get worn before sold? I would keep them if they were more narrow at the bottoms. And a peehole would be nice.
Work great but why so wide?
I use these to commute on my bike to work in the rain. I get a little warm, so I just wear them without pants and change when I get to work. I stay pretty dry (except my shoes). I have a 33 sized waist and the large seems a bit big on me. Only thing I don't like that they are a little long and have a very wide leg. They almost feel like snowboarding pants.
I would fire your designer the cut sucks
Basically I feel like a clown wearing bell bottoms, they don't run large in the waist or length, but are way to wide or baggy, the bottom of the pants drag on the ground, maybe if you were going to use rain pants for snowboarding they would be fine but why wouldn't you just buy snowboard pants? I can't understand why you would design rain pants baggier then snow pants from the 90's . Do you understand what I'm saying? In fact all your designers must be idiots or these were sown in sweat shops. I was looking for casual rain pants to walk around in the rain, but frankly I don't think they exist. Keep up the great work! Peace. Im so sick of crappy designs, I'm sure they are water proof but so are trash bags.
Solid Rain Pant - No Frills Just works
Familiarity:

I've put it through the wringer

Fit:

Runs large
Needed a new pair of rain pants, and to be honest I wanted something super light and not very expensive. I mean I don't like to go backpacking in the rain, but if you have ever been caught when you need a pair of rain pants and don't have them, well you know. So I found these on sale and really I love them. My only complaint is like all stoic the sizing is a bit weird. THey are big in the waist but fit well elsewhere. I will attest to the waterproofing and breathability. They work, I have been in the uintas and wind river range and put these to the test multiple times and I am always happy to have them with me.
Nice...for a bit
Familiarity:

I've used it several times

Fit:

True to size
This pant did fine the first few times out. They were beautiful, comfortable, and promised to be a very good companion in the outdoors. I used them several times for a light, breathable soft-shell pant while back country skiing. They seemed perfect. Then spring came, and I found myself climbing a ridge with heavy winds slinging horizontal wet snow against me. This was the first time their waterproofness was tested. Before long snow had melted and soaked through in spots. I'll grant that April snow in a 40-50 mph relentless wind will test the best of them, but it proved a bit too much for the Vaporshell.

The next time I used the pants I hiked/skinned 6 miles in to a cirque for some skiing, carrying a light pack the whole way, and then skied/hiked back out. What was my surprise when, upon returning home and taking the Vaporshell off, I noticed an enormous hole worn into the pants just below the waistline in the back (roughly two inches in diameter). It's true that I had put three holes in one leg with crampons, on a climb just before the wet-ridge trip, but on this outing I had not fallen, not leaned against anything, not done anything to cause this new hole--other than wear a pack. I was disappointed that such common use could wear a hole that quickly. I sure was excited to get them, and was happy wearing them the first few times in ideal conditions, but I won't be buying anymore.
Wow, Great Value!
Familiarity:

I've put it through the wringer

Fit:

True to size
I have two pairs of these now. These are sweet to keep tucked away in your pack in case there is a chance of rain. Very easy to put on over your boots. I went up to Seattle over spring break and these paired with my vaporshell jacket kept me dry while everyone else was soaked. Very impressed. I sized down due to the extra length in the large.
easy to try on off, waterproof, not really ergonomic, fit nice. good price
good pants
Familiarity:

I've used it once or twice and have initial impressions

Fit:

Runs large
these seem to be WPB so far.
however like others have said, they fit like bell bottoms. i assume to fit over ski boots. not a huge issue, but if your not skiing then they look a bit funny is all
Useful
Familiarity:

I've used it several times

Fit:

True to size
I bought these for riding my bike because bike specific pants like this are usually really expensive. As others mentioned, the cuffs are bell-bottomy but it's nice because it's easy to slip them on with shoes. The wide cuffs are not ideal for biking so I just tuck them into my shoe covers.
I rode a few times in light rain and snow and they kept me dry while breathing enough to keep me from getting swampy.
Sat through a 4+ hour Steelers game in pouring rain and my under layer stayed dry. While the pant stayed dry, it didn't bead and appeared to soak in on the thighs, but as stated, my jeans remained bone dry. I've tried other products in pretty bad conditions at football games and these performed with the best(especially at the sale price).
Excellent ultra lightweight pants
Familiarity:

I've put it through the wringer

Fit:

Runs large
Needed a pair of rain pants as my previous ones someone disappeared. So I didn't want to drop a lot of $ on another pair as I basically only use them for backpacking. Had good luck with the stoic stuff before (Bombshell jacket) and thought I would try. These are great pants, perform as well as pants 3 x the cost. No frills (a fly zip would actually be nice) and will all stoic stuff watch the sizing. But I have had these in cold wet days n nights in the backcountry and they work. Breathe well enough to hike in them and also protect enough to use them as an outer layer for a bit of protection. And they weigh nothing so I take them with me on every backpacking trip now.
Wore these in what I'd call light showers during a 2.5 hr, 8 mile hike under leaved trees, which cut down on the direct exposure to rain. They soaked through and worst of all, the "seam sealed" pocket leaked and ruined my cell phone. I had verified before the start of the hike that the zipper was fully closed, so I certainly wasn't expecting that to happen. Thanks, Stoic. I was wearing a OR Goretex rain jacket during this hike and my GPS and MP3 player stayed dry, for reference. These are going back.
good intentions, poor execution
The outer fabric soaks up water, doesn't leak through, but you're sure as hell not getting any breathability at that point. The cut is atrocious. The hip belt, fully tightened, didn't get close to keeping them up & just bunched up the fabric over the crotch.
Basically Stoic (as I assume this was a fully in house product, not a rebranded piece of gear) has/had not invested in quality R &D up to this point.
Love what the brand represents- quality outdoor gear at an affordable price, but it's hit or miss thus far.
This was a miss.
Can you use these for skiing? Or, why are...
Can you use these for skiing? Or, why are these not ideal for skiing?
Snow blows straight up the cuff into your boot unless you duct tape them tight. The fabric rips when you go for the pop the ski off with the other ski. No usable storage or vents.
Soaked through
Gender:

Male

Familiarity:

I've used it several times
I got these pants to keep me dry. They failed. I got wet. Prepare to be returned.
Terrible, terrible "rain" pants
Gender:

Male

Familiarity:

I've used it once or twice and have initial impressions
The fit is much too tight in the thighs/crotch and restricts movement. It's also ridiculously huge around the ankles. Feels like I'm wearing bell bottoms. But most importantly, they are BARELY WATER RESISTANT! Absolutely not water proof. The factory DWR finish does not repel water at all. I put them on, went outside, turned on the shower nozzle of the garden hose, and was shocked to see the pants instantly wet through and make my legs cold and damp. These pants will be returned ASAP and exchanged for something that is actually water proof, allows for freedom of movement and layering, and doesn't make me feel like a 70's hippy with bell bottoms. Please don't waste your money on these "rain" pants.
Has anybody used these pants for biking?...
Has anybody used these pants for biking? Would they be stretchy/flexible enough to handle that kind of leg movement?
Michael - these would not be my first choice because they are straight leg and will likely get snagged in your chain eventually. If you search "Hincapie Sportswear Elemental Rain Pant" or "Craft Bullet Rain Pant" you'll see a couple of recommended options that are cut for riding and won't break the bank.
Thanks Mark!

I thought the straight leg would be an issue, but I considered using a leg band on my right leg (or both, depending on how big the pants are) to keep them away from the drive system. I try not to ride in the rain too often, and I need a dedicated pair of rain pants for hiking... so I was trying to see if these would cut it every once in a while. The price tag certainly beats any dedicated bike rain pants I have looked at.
I normally wear pants with a 30" waist and...
I normally wear pants with a 30" waist and a 34" inseam, what size would work best for me in these pants? are they trim or more baggy?
Did you buy these pants, what size worked? I am 6'3" and usually wear 32x34, any suggestions?