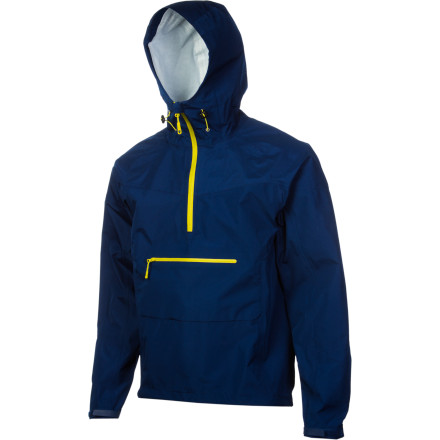 Detail Images
Designed with a clean, anorak-style cut and waterproof breathable fabric, the Men's Vaporshell 3L Anorak eschews bells and whistles in order to offer you simple, effective protection against the elements. Torrential downpours, horrid winds, and turn-back-now conditions don't scare this Stoic jacket. This jacket was made to keep you comfortable while you backpack, hike, and move through the nastiest weather. All that and the Vaporshell Anorak packs down small enough to easily slip into your daypack without requiring you to leave anything behind in trade. Not too shabby, right?
Vaporshell fabric uses a proprietary waterproof breathable urethane membrane that keeps you dry in wet weather
Vaporshell fabric has a shockingly high air permeability that allows air to move through the fabric so you fell cool, not hot and stifled
Fully taped seams further improve weatherproofing
3-D Ergonomic fit moves with you while you run, hike, or lug a pack over long trails
Side zip offers superior venting when needed and makes it easier to pull this anorak-style jacket on and off
Tabs at the cuffs and dual drawcords at the front of the hood give this jacket plenty of adjustability
Extremely compressible—plays nice with other gear in your pack
Drawcord hem
Biodegradable Sack
Gender:

Male

Familiarity:

I've used it several times

Fit:

True to size
The biggest qualm I have with this jacket is it came in a plastic mailing sack, in a sealed plastic sack, and then in a third'biodegradable' plastic sack. A bunch of green friendly print all over the biodegradable drawstring sack. I put everything else in recycling and threw the sack in my worm bin. Let me tell you, that sack has been in my worm bin for MONTHS. It looks brand new and is probably more water resistant than the jacket. What's the deal man? A friend told me you need hot compost to degrade the sack. Who has access to an industrial sized hot compost heap? My simple garden compost can't do the job.


The shell's not the best but good for the price. I like half zips but this one has 2 half zips in different locations on the jacket which seems a little less pragmatic than just a single full zip. The cuff velcro doesn't stick at all, the kangaroo pocket fills up with water, also it weighs a lot. It's an alright about-town jacket. Definitely not something I'd take on a light and fast trip.
Great anorak!
Familiarity:

I've used it once or twice and have initial impressions

Fit:

True to size
I'm tired of having zippers fail on expensive ski parkas and/or other ski gear in the middle of a downhill run. The anorak has always been the best solution for me. With two base layers of fleece and a fleece vest, this anorak was perfect for a windy, wet Mount Mansfield day of alpine skiing (Dec 2014). I'm 5' 10'', 168 lbs, with a big chest and the 3L size fit fine.
Snug!
Familiarity:

I've used it several times

Fit:

True to size
My first impression of this shell was "how the heck do you get it on/off". Opening the side zipper helps - didn't notice that feature at first. Whoops! That being said, it is a snug fit - no extra flappy bits for getting caught up. Being a pull-over-the-head style it's a little less convenient than one that opens fully at the front if you're taking it on and off all day. However, if you just want to wear and go, this is the item for you. The Velcro wrist straps are a little plasticky, but functional.
Works Good!
Familiarity:

I've used it several times

Fit:

True to size
I bought this item for work and play. I work in corn fields and they can get really wet in the mornings and humid and muggy later in the morning. The jacket works really good at keeping the water out and is pretty breathable. It is a little cardboardy and stiff at first and not as packable as i would like. It could also be about an inch longer in the torso. They should have just put regular Velcro on the arms because the straps are very interesting. I really like how it pulls over and has a zipper on the side. I wish it had a pocket on the side along with the kangaroo pocket. Overall this jacket is pretty good and was worth the price I paid for it.
It works. Fits tall and thin build well
Familiarity:

I've used it several times

Fit:

Runs small
This is my day to day jacket...sparing my technical jacket from daily abuse. The runs-small fit works well for me. 148lbs 6'3" wearing size large. Sleeves are long enough and the gut isn't giant like many other (rei) brands.
Bad ass
Familiarity:

I've used it several times

Fit:

True to size
This is a perfect light shell, very breathable. You barely know it's there.



The only downside I have is that it could have more pockets, just has the one front zip. No big deal though, I usually wear pants.
It's worth twice what I paid for it!
Familiarity:

I've used it once or twice and have initial impressions

Fit:

True to size
I usually wear a large, but opted for an XL because I bought it primarily to use as a shell. I'm 6'2", 195lbs. and I think it fits perfectly. I have room underneath for other layers, but it doesn't hang off of me if I wear it by itself. It doesn't let any water in, but stays completely breathable as long as you're moving around. I would recommend it, or buy as a gift for a friend or loved one. As far as the velcro straps around the wrists go, I think they just need to be trimmed a little shorter, no big deal. :)
pleasantly surprised
Familiarity:

I've put it through the wringer

Fit:

Runs small
had this for a few months now. worn it in spring snow it performed admirably wore it in rain, sleet. it was perfect.

i use it to ride to work most days ealry spring , its aboslutely perfect.

rain is just whisked away form it.



fabiric i find is a bit uncomfortable its very "carbordy" not that pleasant to wear, but not that bothered by it after its worn in a bit. the velcro on cuffs isnt perfect but its fine to me. i, sizing t runs small short and tigher than it could be. not a fan of the fit , but its a throw in anywhere jacket, i didnt epxect much and i got a jacket that bats much higher than i imagined.

and for the price, seriosuly its well worth it good litle jacket
Price makes up for the little faults
Gender:

Male

Familiarity:

I've used it several times

Fit:

Runs small
In my opinion, it runs a little small. I'm 6'0" and about 170 lbs, and I thought the large was a little short on the front. It does sit nicely in the back though. I generally love Anoraks and this one didn't change my opinion. Would have loved hand pockets instead of the pouch in the front, but again not a huge deal. As other reviews have mentioned, the velcro wrist straps suck. Pretty easy fix with some store bought velcro pads.



The upside is that this coat cost me $30, is very water resistant, breathable, and lightweight. Used it on multiple hikes and tours and have not gotten wet from rain or sweat. If you are a student like me and need a good spring jacket on the cheap, this is probably your best bet!
good material, waterproof and breathable. Bad wrist velcro, hood not much ergonomic, nice side opening help a lot put o/off. Bad wr finish, not durable.

Great price. Overall 3 star but for the price 4
Great bargain at $48
Familiarity:

I've used it once or twice and have initial impressions

Fit:

True to size
6'0" 155 bought the medium as a light (just in case shell) for climbing. Bump on the comments regarding the wrist velcro, I plan to fix immediately.

+'s: Fabric initially impresses me breathable, durable, water resistance. Lack of pit zips (I prefer the jacket be packable, and pit zips are usually a pain anyway). Breathable! probably no need for pit zips anyway. Price. Cut, fit, and finish.

-'s The zippers and elastic cords are unnervingly small, and the zippers aren't YKK . No stuff pocket to pack this thing away . The wrist "velcros" are total fail.
Returned Immediatly
Familiarity:

I returned this product before using it

Fit:

Runs small
I bought this jacket hoping for a light weight shell, but I immediately returned it when I found out the chest zip pocket was rather small and there was no pitzips, there is an awkward zipper that starts on the bottom of the right side and goes up 2/3 of the way. I have never seen something like that. The fit was small even though I am a pretty skinny guy (normally mediums run a little large for me in turns of fit to my body, but this coat made me feel cramped). Velcro ends were awful, and I never tested this product in the rain. I think you could find a better rain jacket for $50 somewhere else on clearance.


LOVED then liked
Familiarity:

I've used it several times

Fit:

Runs small
Well i loved this jacket at first because it fit great, packed nice, is well made and looks good. Fit all sorts of occasions. But then i took it into the rain and did not have fun with this jacket (seems contrary to other reviews, but I'm just sharing my experience!). I got pummeled in the Ozarks on a fly fishing trip and while camping at a music festival and both times it did not hold up quickly becoming heavy and soaked. Maybe light rain it works well, but i expected more out of this one. Maybe the Ozarks are too tough for it. Still, I like it for wind breaking and light rain! If I'm hiking or fishing I need to be guaranteed bone dry! Guess i need another jacket.



Fit- it is a pretty snug fit around but the side zipper helps. I'd size up if you are going to layer underneath.
$3.00 cuff fix.
Familiarity:

I've used it several times
Bought an industrial adhesive backed velcro kit. Carefully trimmed off a couple inches of the "hook" alternative dots with a razor and cleaned with alcohol. Cut hook to fit and it works great.
How should I go about cleaning mine I just...
How should I go about cleaning mine I just got mine two days ago and got a little oil on it. Would greatly appreciate a suggestion
Best Answer
I can't speak to this jacket specifically, but when oil is involved my go-to answer is dish soap. Something like Dawn dish soap is effective on grease but still really gentle (no joke: it's what they use on sea birds that have been caught in oil spills).



So... I'd probably rub some dawn on it, rinse, and repeat. You may find you need to reapply DWR at some point.



One last note: in a desperate act, I once used Shout on my Arc' Atom SV jacket (after a thanksgiving turkey frying oil incident) and there have been no ill effects... Still, I shoulda used Dawn.
Tiny!
Familiarity:

I returned this product before using it

Fit:

Runs small
So, so small! I'm 5'3" and typically wear small shirts and jackets with a little room to spare, but this jacket in small was so tiny that I couldn't even move my arms forward or come close to zipping it. I felt like Chris Farley
Best rain jacket I have owned
Familiarity:

I've put it through the wringer

Fit:

Runs small
This jacket has an amazing waterproof rating of 28k which means it will keep you dry in very heavy rain, wet snow, and high pressure. The breathability is even better at 48k. This jacket is great for hiking, climbing, touring, etc. I am 5'9 and 143 and I am usually a small in jackets and I got a small in this. I kind of wish I got a M so I had a little room. the chest is a little tight but everything else is perfect. It is great for spring and fall hiking tho with the way it fits now
Good
Familiarity:

I've used it several times

Fit:

True to size
I bought this with the Vaporshell pants to make my winter bike rides weatherproof. This jacket has held up in light rain and snow and the breathability is nice. My only complaint is the "velcro" cuffs. They are pretty flimsy and definitely not Velcro brand.
Decent lightweight jacket
Familiarity:

I've used it once or twice and have initial impressions

Fit:

Runs small
Have only had it out in one real down pour (about five hours nonstop) and it kept me dry. The fit is a bit snug for it's size but works good if you don't need to layer too much. Unzipping the side is a must for taking on/off. Rubber velcro is a nice try but fail. For the price I paid on S&C, it seems to be well worth it. I myself wouldn't pay the outlet price.
Great all around jacket
Familiarity:

I've put it through the wringer

Fit:

True to size
Yesterday I went mountain biking at Snowbasin in a downpour. It made for an awesome ride and I was glad I had this jacket.

The hood fit over my helmet just fine, while the kangaroo pocket kept my iPhone perfectly dry the entire ride. The kangaroo pocket is easy to use even with bike gloves on and is a convenient place to store snacks, trail maps, or your phone.

The trails were pretty muddy and the Vaporshell 3L Anorak repelled both water and mud to keep me dry.

My only complaint about the jacket is the velcro straps on the wrists. They don't stick well at all and only function to annoy you and get in the way. I love the jacket though, and after cutting the velcro straps off with a pair of scissors, this jacket is much more functional and much less annoying.

I have used this in a light rain as well as in heavy rain and it has performed superbly!

I am 6'3" 190lbs and I wear a size Large. It fits me perfectly, not too tight, but an athletic fit perfect for outdoor activities!