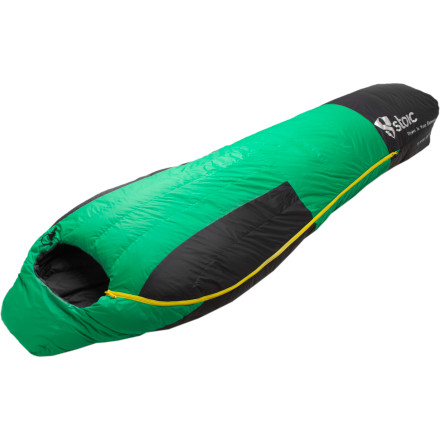 Detail Images

Community Images
When autumn trails beckon, long spring tours call, and summer mountaineering is on the docket, the Stoic Vamp 30-Degree Down Sleeping bag steps up. Bolstered for performance with lightweight Microlight Pertex fabric, the Vamp 30 stands up to seasons of use without backing down.
Rated down to 30F, this bag is best suited for warm spring through fall nights in the mountains or winter nights in mild climates
650-Fill down provides an efficient, packable solution to large, lofty winter bags and vertical baffles in the torso keep the heat-trapping insulation in place
Tough microlight Pertex shell withstands abuse of mountaineering, climbing, and camp extravaganzas
Zipper's draft tube, adjustable hood, and draft collar seal you off from cool spring or summer weather
Zippered pocket in the footbox holds a warm bottle of water to keep your feet warm after long days of climbing
Compression stuff sack packs the bag down to a small 8 x 8in size
Included storage sack lets you keep the down lofty when not in use
Better bag than even pricier ones!
Familiarity:

I've put it through the wringer
It's a shame that the Stoic brand is no more. Hopefully backcountry will continue with more than just apparel under the Backcountry.com brand.



After almost 4 years, my bag has seen at least 150 nights and probably more like 200. After 3 summers in Alaska as well as camping everywhere from the desert to the Sierra this bag comes with me anywhere I go. I will often reach for this over my Marmot Sawtooth 15 even if I know it will be on the cold side at night. The loft is slowly dropping, but not nearly as much as I would have expected after as much use I've put it through and the price I paid.



I still use the stock stuff sack as it will compress down to almost nothing., which is surprising for a 650 fill bag. I hope this bag keeps on kicking for years to come. I keep wanting to pick up either a Western Mountaineering or a Feathered Friends bag as a replacement, but have hard time doing so since this bag just won't die.



If Backcountry is listening, please expand the Backcountry.com line to more than apparel!!
Great Sleeping Bag!
Familiarity:

I've put it through the wringer
Ive used these bag for everything. I love that it is super lightweight, but durable. Its been used on sand, in tents, on concrete, and in grass. I have a Klymit Inertia X-lite and it fits perfectly inside the bag. After backpacking Europe for 2 months with this bag, I can safely say that it will do the job!
I never froze!!! In Yosemite high country near Mt. Conness temps around 18 degrees Fahrenheit and in a 2 man lightwedge Marmot tent, sleeping in my underwear, I was warm in this sleeping bag. I am warm sleeper though. Know your comfort level before degrade a product.
I froze
Gender:

Male

Familiarity:

I've put it through the wringer
I used this in the Uintas in the summer. I think the temps dipped into the upper 30s. I am a cold sleeper. I froze, even with long johns and all my layers on. I was shivering in my bag and I could not sleep. I wish I could return it. Alas, I purchased it on steep and cheap.
the stoic vamp 30 is a great bag for the price and it doesn't weight that much
Bought this bag in an attempt to lightin some backpack weight.I have a Big Agnes that I really like but it's a little heavy for a 5 day trip.This bag did the job .The bag was absolutely warm and comfortable,no need for anything but shorts in 45 degree weather.Backcountry rocked the pr$ce and I would definitely recommend this bag.I shopped for quite some time before deciding on The Vamp!
I used it for the first time and found this to be a great overall purchase. My previous bag was a North Face Cat's Meow 20 degree synthetic bag and I was looking to shed a bit of weight and volume. Compared to my last bag, the Stoic is lighter and packs smaller, plus it's a lot more comfortable. Having a long (without a significant weight penalty) makes it feel much much roomier, and sleeping on down makes it feel more like a real bed, just a tad bit of luxury. I also feel this is warmer than the cat's meow, I used to wake up cold in the morning if it dipped down into the 30's but this past weekend I felt perfectly warm in the new bag.

For the negatives, I'd taking off one star for the compression sack as the seams on one strap ripped the first time I used it. Others have commented on this one too, so although it'll be replaced under warranty I get the feeling I'm going to have to invest in a sturdier one. Also I'm not all that crazy about the green color, but that's not too big of a problem.
I'm 6'5" tall and weigh in at 215lbs so I'm not the littlest guy around. I'm lengthy and have broad shoulders. I bought the long version of this bag and it fits me perfect: head to toe and shoulder to shoulder with just the right amount of space to side-sleep or toss and turn without corkscrewing the bag. I am a bit of a down-snob too. I don't like synthetic as it is much heavier and does not pack down nearly as easily or tightly as down does. I can get away with only using down because I primarily use it in the dry climate of the desert Southwest where prolonged rainy whether and dew build-up is rather rare. I work as a professional hiking guide so I spend several weeks at a time sleeping under the stars in this bag. I have slept in this bag down to 34 degrees in just my boxer shorts and was totally warm. I've also slept in this bag in 90 degree temps which was warm but with the zipper open it was still comfortable. It's super light, and as far as I can tell was well constructed with quality materials and 600-fill down feathers. I really like the way the flap along the zipper has been reinforced so it doesn't get sucked into the zipper. However the zipper itself seems a bit cheap and I am not convinced it will last forever. It hasn't failed me yet but sometimes hesitates to zip up at first which can be slightly annoying. This is why I can only give it 4 stars. Otherwise I would have given it 5, which I rarely do for any of my gear as it is almost never perfect. I would recommend this bag to anyone who does a lot of dry climate camping or just needs a quality down bag at a really great price.
This will be my first "nice" down bag. Is...
This will be my first "nice" down bag. Is it standard practice to apply water repellent to your sleeping bag?
Does anyone recommend applying it or not applying it to this bag in particular?
Nope. I wouldn't apply any water repellant finish or anything, you want it to breathe at least a little. If you'll be camping where it can get wet, I would just camp in a tent/bivvy
I completely agree with Thomas, the less the bag breathes the less comfortable your sleep. Also, some waterproofing eventually flakes off; I would imagine this would happen even quicker with a sleeping bag that is put in a compression sack. I myself have a stoic bag and love it - you will too. Happy Camping! Hope this helps!
This Stoic bag is SICK! So warm and comfy even with temperatures dipping below the twenties. Get a different compression sack and you can easily get it down to even a smaller size. As for weight, I have yet to find a bag for this cheap that weighs less and provides more comfort. Stoic Vamp 30...get it!
I used the stoic 30 degree down sleeping bag this weekend. I loved it. It compressed really small and is super lightweight. It fit perfectly at my bottom of my backpack. It kept me very warm and was comfortable. The only con about this bag is that it sometimes had a hard time zipping up and down. Other than that, this is an amazing sleeping bag and i would highly recommend it.
Great Bags...Especially for the $!
Got two Vamp 30 Bags a few months back on my way out of SLC. One for me and one for my fiancee. We have used them nearly every weekend since then. Bottom line is they are amazing bags for the $. You cant beat it...Plus they look great and they and small and light for backpacking.
Great Bags...Especially for the $!
Got two Vamp 30 Bags a few months back on my way out of SLC. One for me and one for my fiancee. We have used them nearly every weekend since then. Bottom line is they are amazing bags for the $. You cant beat it...Plus they look great and they and small and light for backpacking.
I used this bag on an overnight camping/hiking trip and found it very comfortable.It was early June in North Carolina mountains and I started the night on top of the bag with the bag open for quick entry once the temps dropped. When I got cold and started into the bag the zipper disconnected and I had to find my glasses and light to reconnect the two halves which did not line up correctly. I finally got the zipper back together and drifted off to sleep Lesson learned: Don't unzip the bag all the way down. Lined it up correctly the next morning and all is well. Great bag for the money. Lightweight and small for the backpack. Haven't tested the warmth with a cold night yet but feel with the sea to summit liner it will do well.
I thought I was rolling the dice when I paid so little for this bag. It turned out to be a good gamble. This bag is warm, light, and very compressible. The price made my ultralight transition much easier.
Really Good Bag for ridiculously low price
I've had this bag for over a year now and bought it on SAC for around $80. I'm a huge fan of down and if it means spending a bit more for better quality, lower weight, and higher compressibility, I'm all about it. I use this bag for most of the year and has never let me down. I can get it down to the size of a softball in my Sea to Summit dry sac and it lofts up in a few minutes. There are lighter options out there but I don't think i'm ready to plunk down an extra $100 to save on a few ounces, especially for a summer bag. (This is a different story in the winter, where compressibility comes into play). The pertex material is great as it can shed the occassional spill pretty easily. I've taken this bag into the high 30's and 40's with no problems whatsoever, but I usually use a silk liner but still I've never gotten cold in this bag. The previous reviewer mentioned the water bottle bag and I agree completely that its useless, I'd rather have it in the bag with me. I also like the fact that it's a full length zipper because in the summer, i like to sleep with it open and that wouldn't be an option in the half zip varieties. One negative comment, I recently noticed a small tear in the seams where the zipper is, but it doens't seem like it's where the down is so no leakage so far. Overall great bag for the price. Again if you have the cash you could buy a better bag, however for me it's not enough of a difference to justify it.
I am concerned about the circumference of...
I am concerned about the circumference of this bag. shoulder at 66" is great but the waste at 57" and foot at 30" seems small. I am 6" tall and 220#. Should I be concerned about the 30" circumference at the feet. Just how tapering is this bag?
I have to admit I like this bag, it's great quality for the price. But, the foot space is a bit confining. It's fine for a mummy bag but if your like me, it takes some getting used to.
Warm, light, and super packable. I naturally run pretty hot and with long johns and a wool baselayer, I was comfy all night sleeping in the desert last month.
WOW! Very impressed with everything about this beautiful bag. Couldn't wait to get out and put it to the test on The Foot Hills Trail. It stuffs and packs down just as it says. It's clean looks match its awesome silky feel and attention to detail quality. Best zipper I've ever seen! And this bag weighs nothing!! I am 6' and went with the long. With as much room as there is, I imagine the regular would have been fine but I'm loving the extra wiggle room. SO comfortable! Did not get cold enough to utilize the foot box warmer (bottom zipper) but in the upper 40's it regulated perfectly wearing just about nothing. I am very happy with this bag!