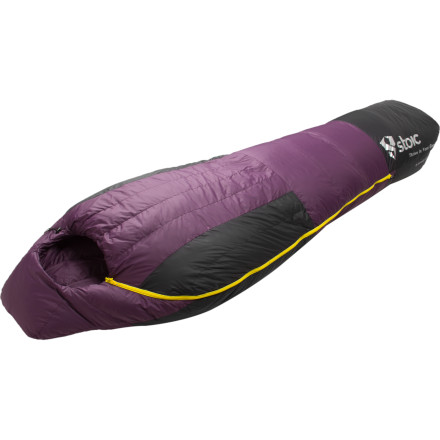 Detail Images
Once late spring hits the mountains, your ambitions shift to the high alpine reaches; toss the 15-degree down Stoic Vamp 15 Sleeping Bag in your pack to ensure a good night's sleep above 10,000 feet. The 650-fill down locks in your body heat in bivvies, tents, and drafty shelters without adding too much weight or taking up too much space in your pack. And since it's made with tough Pertex Microlight fabric, it endures through the challenges of your ambitious expeditions as well as your spontaneous escapes to the desert.
Rated down to 15F, this bag is best suited for spring through fall nights in the mountains or winter nights in milder climates
Tough microlight Pertex shell withstands abuse of mountaineering, climbing, and quick camp extravaganzas
The 650-fill down provides an efficient, packable solution to large, lofty winter bags that take up too much space
The zipper's draft tube, adjustable hood, and draft collar seal you off from exceptionally cold spring or summer weather
Zippered pocket in the footbox holds a warm bottle of water to keep your feet warm after long days of climbing
Compression stuff sack packs the bag down to a small 8 x 8in size
Included storage sack lets you keep the down lofty when not in use
best bag ever!
Familiarity:

I've put it through the wringer
This sleeping bag has squashed into the size of a small purse for backpacking and canoeing adventures in Ontario, Korea, Europe, Pacific Northwest, and the back yard of many Ohio camping trips. It wears well, washes well, doesn't hold the smell, and weighs nothing. Seriously. My boots weigh more. We now own 4 of them, and give them as gifts to college grads. So worth the cost.
Excellent Choice!
Gender:

Male

Familiarity:

I've put it through the wringer
This bag is warm and packs down SMALL! I have taken it with me on trips all over the US and to South America and it keeps going strong.
This bag is warm, has held up to many nights with very little down coming out, packs down very small, and is light! The materials are quality and the stuff sack that comes with the bag works great.
Love this sleeping bag, especially for the price. The down has stayed nice and fluffy after many compressions and nights in the woods. Stayed perfectly warm on a few nights around 30 degrees. I have not tested it below that temperature or in wet conditions yet. Light weight and fairly compressible for 650fill, you really cant get a better bag for the money.
I took this bag out in the Tetons backpacking for 2 weeks and I loved it. It kept it's loft very well, I was always very warm ( it got into the thirtys there), it even did not retain my nasty body odor. I did not test its water resistance so I can't say much about that. Since it's 650 down, it does not compress super small but it is small enough. Comes with a great stuff sack also. The only little problem I had was that the zipper kept sticking.
Love this sleeping bag. It is the first sleeping bag that I have ever bought and found Backcountry to be a great place to get advice.

Here is what I have learned about sleeping bags:

1. Buy something that is down. So that it is not bulky.

2. Buy something that keeps you warm based on the rating e.g. this one is 15 degrees and good enough for pretty cold outdoor settings.

Overall this is a great sleeping bag and I am very happy with it.
very lite weight and easy to store
This is one highly compressible sleeping bag. I mean I have had about 5 sleeping bags and used 30 so fare this is the best one I have ever even been within the vicinity of. Let alone its light weight and great for trail running.
very lite weight and easy to store
This is one highly compressible sleeping bag. I mean I have had about 5 sleeping bags and used 30 so fare this is the best one I have ever even been within the vicinity of. Let alone its light weight and great for trail running.
Great bag, especially for shoulder season backpacking
I am a cold sleeper (OK, I am just plain cold all the time), so I was looking for a bag that would keep me warm, especially in the shoulder seasons where the temp can drop considerably at night. I had a 0 deg synthetic bag, which worked great, but was way too heavy and bulky. I knew down was the way to go and figured going with a temp rating a bit below what I might normally encounter should work (like 10-15 deg). I think I found just that bag in the Stoic Vamp. I cut 2# off my bag weight and it compresses to about 1/3 the size (large cantaloupe size). I tested it on my deck during a night where it dropped to the 30's and I was toasty. I have only had it out once this season, and it only dipped to around 40, but the fact that I had to open up the bag in the middle of the night to stop from sweating is a pretty good sign that it will do the trick in colder weather. I am impressed with the features (even has a hot water bottle pouch in the foot box) and it fits me (160#, 6'0") very comfortably. This is my first go with a Stoic product, but seeing how many times this brand shows up with high ratings in Backpacker and Outside reviews, I doubt there is much risk.
I've seen that this bag often dips well...
I've seen that this bag often dips well below its (current) 200$ retail price. When might that happen again, or did I miss my chance?
Best Answer
You can find it occasionally on www.Steepandcheap.com for very cheap, I would hold out for a deal. (warning, you might wait a while looking for it on steep.) If you need a bag very soon, maybe rent or borrow one.
This bag is everything I wanted in a sleeping bag. The down makes it lightweight for the amount of warmth it provides. I spent two nights in the desert in Early May where temperatures can get fairly low, and this thing did its job! I slept like a baby in this thing. Writing this review makes me want to take a cat nap in the vamp right now. I haven't been able to test this bag in more damp environments, but the material is visibly water resistant and good quality. Overall, I love this thing and recommend it to anyone looking for a dependable down bag!
Do these bags work well to to zip together...
Do these bags work well to to zip together with eachother? It looks like the zipper curves inward toward the top, I'm wondering if this affects the connection??
To be honest I don't think these do at all. If you want a bag that will zip together well a mummy style probably won't be the most comfortable. Go with more of a rectangular style bag. These are definitely solid bags either way though!
This bag is baller. The pertex it's built with is far burlier than I expected, yet the bag maintains a nice light weight (not ultra-light, but light enough) the verticle baffles (new to this year's version of the vamp) keep the down in all the right places while you sleep. For the money, this cannot be beat. Its the perfect bag option for those looking to get the good warmth of down, without breaking the bank.
While a 15 degree down bag seems aggressive for desert camping, I am so glad I went with this Stoic one. Camping in 20 degree temps in early April this bag kept me warm, and the hood helps keep the heat in. Stuffs down to a nice small size, and comes with the storage sack too so you can air it out while at home. Great price on a 15 Degree bag that is as good as, or better other $300-$400 bags I have used.
What is Insulator? Goose Down or Duck...
What is Insulator? Goose Down or Duck Down?
It is gray goose down. The Vamp is a 85/15 ratio of down to feathers.
The vamp worked great. I don't think the stuff size at 8x8 is accurate as the stuff sack it comes with is actually quite large but you can easily fit it into a sack half the size of the one they give you. I'm 6'2" and the large seem to have enough room for me. I did have it partially open most the night because at 25 degrees outside I was too hot in the bag wearing only my boxers. Looking forward to using it again in even colder temps!
What is the intended difference between...
What is the intended difference between the Stoic Vamp and the Stoic Somnus?

Just from the specs it looks like the Somnus has a much higher fill factor (850 vs. 650) and is a bit lighter, but the Vamp is much larger (over twice the hip circumference of the Somnus) and yet somehow manages to pack down smaller than the Somnus despite its fill factor. What would be the big reasons for getting one vs. the other?
Thanks!
First - the Somnus measurements are wrong. There is no way the bag has a 33" shoulder circumference and 24" hip circumference. A 5 year old wouldn't fit in it.

Second - 9 oz is a big weight difference in a sleeping bag.

Third - Don't believe manufacturer stuff sizes.

Fourth - The main difference you'll immediately notice between the bags is the zipper placement. The Somnus has a short, center zip and the Vamp has a longer side zip. Personal preference rules there.

In summary, the Somnus is a lighter bag with better down that only costs $40-50 more right now. I'd jump on the Somnus unless you absolutely hate center zips.