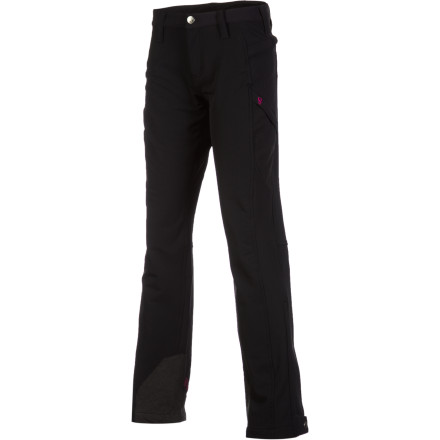 Detail Images

Community Images
The highly-breathable, four-way stretch Stoic Tour Softshell Pant puts an end to sweltering skin tracks and restricted motion. Stoic's winter-weight softshell fabric stands up to storms while the 3-D ergonomic fit ensures an effortless, un-inhibited range movement and the Keprotech cuff reinforcements protect the Tour Pant from ski edges, crampons, and nasty rocks. Extremely breathable and ridiculously comfortable, the Tour Pant wants to be your new touring buddy.
Monolith softshell material features high-breathability and water-resistance for comfort and protection from the elements, and four-way stretch for mobility
Monolith softshell uses a nylon face fabric with a water-resistant laminate and on the inside a polyester bonded fleece for warmth
Backcountry.com is the exclusive US distributor for Stoic products
-I am 5'10", 145 lbs, and size 6 or 8 in hips. I got a Large and it fits well. Little loose on hips, but they stay on. Medium might have fit too.

-Length is amazing (VERY LONG, maybe 32-34 in inseam?), and the softness inside feels so good (flannel lined waist).

-I haven't used them yet, but they are EXTREMELY comfortable and look great.

-Definitely a fitted style & low rise

- seem thick enough to wear with layers for colder weather.
Why haven't I owned this softshell sooner? They are great for splitboarding. They fit well over my boots because the sides zip/velcro/snap around them. They are very flexible and allow leg freedom for quick climbing. My resort pants are baggier, not soft-shell, and not very comfortable to skin up in. I agree with Dayana, more colors!
This might be my favorite pants I own for any kind of cold activity. Took them skiing, hiking and last week rock climbing. They are warm, water resistant and very flexible AND look good. I got an XS and 5'4", 110lb. The one thing I wish in had is side pockets... but that is a minor thing. It does have back pockets with zippers. I hope they make more of these pants in different colors!
Love these pants
Gender:

Female

Familiarity:

I've used it several times
I bought these pants for cold/snowy winters in the Poconos. These pants are comfortable, but warm. The pants are wide at the bottom so that they fit perfectly over ski/snow boots. The waist is low, and super flattering.
Comfortable and versatile
Ordered these on spec having tried a few other brands such as Patagonia and Swix.The Stoic craftmanship is excellent, the material abrasion resistant, and it is quite windproof. Not sure of how waterproof they are yet as they have been only used in cold dry conditions down to 0 F, only requiring a thin pair of lycra tights underneath at the lower temperatures..The material has enough stretch to allow lots of movement.They have been used for snowshoeing, skitouring and dog walking and they are quite breathable despite having no leg ventilation available.

I normally wear an 8 or 10 ,an athletic build,5'5" not too curvy ,leg 32"and went with the large after other reviews. The thighs are narrow but comfy. The waist band is quite low and requires a belt. The legs would fit a much longer leg but they can be done up around boots and work fine.

The pockets are not too functional, as the front leg is small and can't even carry a small pocket camera (an energy bar will fit in though.)

The back pockets are on the shaping seams and not too convenient to reach.I still like the pants as when they are worn it is cold enough that removing gloves and reaching into pant pockets is not a priority.

Overall they are a great deal for the money and quite slimming.


I wore these pants for trekking and climbing and sleeping in Nepal. They are wind and water proof and they can breath. You can also do lots of skiing and snowshoeing in them. Best pants ever... I got a small and im 5'6, 120lbs
I just got these so I can't review the performance yet, but I can say that these are a near perfect fit for my body. I have a 24" waist, 33" hips, and ordered the XS. Slight gaping in the back, but a belt will easily bring that under control. And I still have a bit of room for leggings for extra warmth.

I am 5'5" and wish I had about 1/2" more in length, but it still covers the top of my boots so I really shouldn't complain.
Good enough
Gender:

Female

Familiarity:

I've used it several times
These are great quality, and the material is water repellent, comfortable and moves with you. My only complaint is the overall fit through the waist. These do ride low, are tight around the waist and gap in the back....sort of like how a lot of jeans are styled these days. The low rise and gapping in back allows cold air to blow in, but this seems to be ok if I keep my shirt tucked in. I would like these even more if they weren't so low and weirdly tight yet gapping in the waist...since these are an outdoor pant meant to keep you warm. I decided to keep these, because they are a great value for the money and they have worked well for intended use...walking dogs in the snow/cold, shoveling snow, cross country skiing. FYI, for those who wonder about base layer...they were perfect for skiing. I could have used a next to skin base-layer to stay a little warmer for non-aerobic activities/walking in 20-30 deg weather.
These pants look like they are fairly low...
These pants look like they are fairly low rise. Is that true? I worry my top will come untucked and leave a gap for cold air to enter.
Sandy,



These pants are actually rather high-rise. They hit me about two finger's width beneath my navel. I generally tuck my base layer shirt into my pants and have never experienced any untucked gappage over the course of the day.
These are actually quite low on me and they do gap in the back. Cold air does enter in if I don't keep my shirt tucked in, but my shirts are long enough that they stay tucked. This is my only complaint about these pants, otherwise, they have worked well for their intended use and are a good value for the money.
Awesome pants
Gender:

Female

Familiarity:

I've used it several times
I bought these pants about a month ago for winter hiking, and they are already my favorites. Warm on their own to 30 degrees, warm with base layer below 30. They move well, are water resistant, and comfortable. I'm 5'2" and 95 lbs, normally an XS, but needed an S because the waist was tight. I have two complaints: If there are two hand pockets in these pants, I have yet to find them (assuming hand pockets are on the front or sides, and not in back); and I paid full price for them and now see they are on sale for 40% off. (I'm tempted to get a second pair!)
Awesome pants!
Gender:

Female

Familiarity:

I've put it through the wringer
These are one-of-a-kind in the sense that they fit my non-average built. Normally, women's pants are too short for me (without exception); these Stoic pants are long and straight. They're made for the taller, athletic, small-hip woman. I'm 5'9/130lbs. I got a Medium and they fit superbly. They're warm (but not bulky or heavy); they're very stylish (I got them in grey) and they make me look like I actually have a behind :) The material is somewhat stretchy so they are very comfortable--even after wearing them for hours. I wear them typically for winter hiking, snowshoeing, walking the dog on cold evenings, and backcountry skiing. When it's not super cold, I wear just the pants. In very cold temperatures, I wear a pair of tights or a base layer under them. They're not exactly waterproof but will keep you dry for two or three hours when it snows. I've had mine for about a year, have worn them A LOT and they're still looking brand-new. Seriously--if you're tall and skinny and have small hips, these pants will fit well and will perform well.
Great, warm pants for winter sports
Gender:

Female

Familiarity:

I've put it through the wringer
LOVE these pants. Just got my 2nd pair. Great performance while managing to look great. Nice lean cut.The material is thicker and softer than normal soft shells. The inside is fleecy. They keep me warm hiking or cross-country/skate skiiing in the cold Alaska winter. Wear them by themselves for high cardio activities like xc skiing, even in single-digit temps. Wear them with long underwear for hiking. Awesome. Best of all, they look great. Not bulky or puffy. I'm 5'9" and ~130 lbs.
These are great!
Gender:

Female

Familiarity:

I've used it several times
I've worn these quite a few times since I got them, and they've held up well. It is very cold, damp, and windy where I live. These pants are perfect for that weather. They're the only ones that have consistently kept the wind and the wet out, and the warmth in. They're super comfortable. My only problems with them would be the small gap in the waist, the lack of front hand pockets, and the size of the cargo pocket (it's pretty small) - but the pants are great enough that I don't mind it that much.

All in all, these are wonderful pants . I'd recommend them to anyone who wants to stay warm and dry, as well as to freely move around.
In LOVE - but glad I sized up
Gender:

Female

Familiarity:

I've used it once or twice and have initial impressions
Super comfy, stretchy and flexible. I can bend and move in these pants, and I find them very warm and comfortable for aerobic activities in the cold (just hiking/snowshoeing so far). I am 5'8, 34" inseam, athletic size 10 with small hips for my height/size, and not much of a waist. Very glad I sized up to L as suggested. The waist would have been unbearable in M. But I do LOVE them and they are super comfy, but unless you have a tiny, tiny waist like my besty, size UP.
2 snags after 1 wear
Gender:

Female

Familiarity:

I've used it once or twice and have initial impressions
This material is not reliable for the job! I wore these out once and had 2 snags when I returned. Unless you plan on being gentle out in the back country, try something else!



Also, they run really long.
I am a dude, and I love these pants. Hopefully my experience helps some poor guy out there who has as much trouble finding pants as I have.

I've been kicking around the idea of buying women's pants for a few years. I am an athletic 5'7" and 175 lbs. 40S suit, anywhere from 32-34 pants. The kicker is 40" at the hips and only reach a 30" inseam on a good day. All of the women's reviews here commenting on the relatively narrow hip/large waist sizing on the pants convinced me they might actually be thick-guy pants rather than chick pants. Turns out the size L fit pretty great, snug in the waist and hips, nice aerodynamic fit through the knees and below.

With men's pants, particularly outdoors designed pants, it's impossible for me to get waist, hips, and inseam measurements anywhere close to in sync. Fit the hips and thighs means hugely baggy through the legs and generally 6" too long. Solved! The shaping through the hips shows off my awesome booty while the fit stays trim through the legs. Thank you, bc, for making me pants that fit and hiding them as a pair of funny shaped women's pants.

Four stars for more pocket space and false measurements--inseam measures at 33, still way too long, and there isn't enough pocket space for even a small point and shoot camera.
Like these pants
Gender:

Female

Familiarity:

I've put it through the wringer
The amount of time I spent obsessing over these pants before I bought them was probably unwarranted but overall I am happy with them. Fit isn't absolutely perfect - a little gappage in the back of the waistband and a weird pulling at the snap closure in the front (almost like my hips are angled differently than the model the pants were based off) - but the legs fit great and these pants feel like fleecy tights. Great for skinning and backcountry skiing. The rise isn't as low as I was expecting, they hit a finger or so below my belly button. The legs are a smidgen long for use with my ski boots, but the extra length is great for hiking. As has been said, there's no inner lining/snow cuff, but the cuff fits nice and snug around the tops of my ski boots (I pull them down to the ankle and fold up the back a little bit to expose the walk mode switch). On the plus side, the teal zipper details in the shale/ceramic color matches my Niagra Arc'teryx shell PERFECTLY.



I bought an XS - 5'3" 115lbs. Generally wear a 0/25 in pants. My guy friends like skinning behind me when I wear them, which can only mean that my primary goal of looking good in the woods has been achieved with these pants.
I am 5'7" and usually wear between a 6 or 8 in pants. The medium is snug fitting but very comfortable. I bought a large so that I can wear long johns for extreme cold. So far I have hiked in dry cold conditions of above 20. And I have been warm and comfy. There is plenty of stretch allowing great range of motion. Def a recommendation pair of pants to own for hiking!!
Are these warm enough to cross-country and...
Are these warm enough to cross-country and snow shoe in--with no additional layers?
That question is a bit difficult to answer, because it depends on the temperature. Both Cross Country skiing and snowshoeing are active sports, or at least stop/start sports. So, the more you are moving, the warmer you will be. The pants have a light fleece lining so they will be warm. So, unless it is really cold (i don't know, say 15 degrees), then you may be OK with just these pants alone, as long as you are moving. But, I usually like to recommend a light baselayer for managing perspiration for active winter sports when it is 20 or below. Again, the temperature is a moving target and alot depends on your threshold and comfort in the cold.
I agree with Jeff. I use them for hiking and use a light base layer for temps under 30 F.