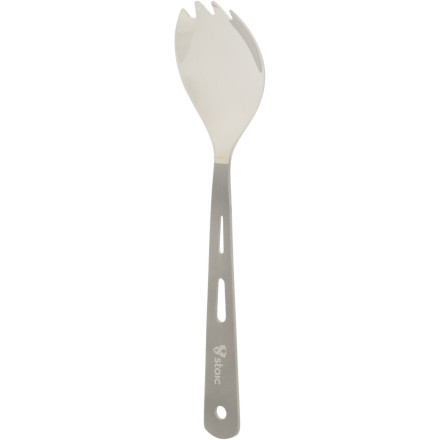 Community Images
The secret of life is knowing how to get more out of less. The Stoic Ti Spork is a perfect example of this phenomenon with its half-ounce titanium design that can move anything meaty, soupy, or somewhat edible to your mouth.
perfect for trout
Familiarity:

I've put it through the wringer
i was fairly impressed at how quickly you can get meat off the bone of a campfire cooked trout with this thing. def saved me some energy and frustration
Sporks are a must buy
Familiarity:

I've put it through the wringer
Sporks should be the tool of choice for eating! I just regret not being able to buy one with the Backcountry.com Goat on it.
The Stoic Ti Spork is lightweight, strong as an ape and perfect for just about any meal. Don't just use it for camping, or buy two if you want to keep one reserved for your pack, because you will use this every day.
This spork is the most utilized piece of camping gear in my arsenal. Good for everyday use.



Extremely light and highly resistant.
Greatest utensil ever.

I have literally used this Spork everyday for the past 3 and a half years. It hardly shows any wear. They are extremely easily to clean, and don't retain any tastes from previous foods. And no metallic taste!

I wish I could give this four thousand eight hundred and seventy two stars.
The little spork that could.
These things are great, as have been pointed out by many other commenters before. I use mine daily to eat lunch while I'm on campus, and for all my outdoor adventures.

I have had zero problems with stuff getting stuck in the handle cutouts, and personally feel that they provide a nice place to clip the spork on to something if you're worried about it falling and getting lost.

I love that the 'eating' part of the spork is polished, as I had a snow peak spork before this that was all 'rough' titanium. It took me a month of use before I got use to the feel of rough titanium in my mouth while using that spork, but now with this one it feels exactly like regular silverware. Best of both worlds!

Buy one now, better yet, buy two! you won't be disappointed.
Best Answer
Hi again bob.



To the best of my knowledge, Stoic began as a brand specific to Backcountry.com. Beginning with apparel, it's now obviously branched out into other gear. I've seen some in use, read reviews...and it is generally quality at a good price. I can't say for certain, but just like some generic or proprietary products offered, they are actually made by manufacturers and rebranded (it's not like Stoic or others have their own factories in most cases). For example: there are some pieces of cookware that are strikingly similar to Evernew (the classic Ti cookware maker that also makes the REI branded stuff in many cases). I wouldn't worry about it at all. Besides, BC's return policy is second to none...anywhere, any time!. "Lifetime" and "unconditional" are something that they take very seriously, and that I have never had a problem with personally.
After looking around, they seem to be made in china, like most TI products.
The Spork of your dreams!
Awesome price, awesome product. It's a spoon, it's a fork, it's lightweight and basically indestructible; what else do you want? Stop thinking about it and add it to your cart already!
Spork
Gender:

Male

Familiarity:

I've used it several times
Great spork. Airline safe - and so far the TSA has not confiscated it (because they are not supposed to!). I, like many others, ordered several... I see they are on sale again. I also will be getting a long spoon from the same company.
Can't go wrong
Familiarity:

I've put it through the wringer
These are worth far more than they cost! You use them in the house, backpacking, and camping. You can't go wrong. I bought one for a trip, then ordered three more for the entire family. Titanium is great, but expect it to bend a little. You just have to bend it back.
great price on great eating tool
Gender:

Male

Familiarity:

I've used it several times
i like it so much, i ordered four more. brushed roughish handle with polished end. best of both worlds. i've seen the all brush variety, and i like this much better. great for ice cream and mashed potatoes. for many foods, the eating implement of choice. incredible sale price. i think i should get more.
We love our sporks!
Gender:

Female

Familiarity:

I've used it several times
My son has been asking for a spork for years. Occasionally I've been able to get disposable plastic ones from take-out restaurants and have kept them in use at home for as long as I could, but I was looking for one that would last. We bought 4 so that each member of the family would have one, and we're getting great use out of them already. They're perfect for certain kinds of pasta, (especially mini ziti or elbow macaroni with cottage cheese), chunky stews and chilis, and other foods for which you're never sure whether you'd prefer a fork or a spoon. I looked online for a reusable spork and found your company. Even though we are using these at home and not for camping, we love the functionality, design, durability and light weight of this item.
Just picked this up for an upcoming trip, and it was exactly what I was looking for. Super, super light, multi-functional, and will not take up space in my pack. Even though it is so light, it still feels really sturdy and didn't bend easily.
Radical Spork
Gender:

Male

Familiarity:

I've used it several times
Pros:

? Invincible

? Lightweight

? Fairly priced



Cons:

? It's a little long, but that's not an issue for me.



Seriously guys, this the spork for you if you're looking for something ultralight, titanium, and you're sick of your collapsable one pouring soup in your lap mid bite as it randomly folds in your hand.
I use it everyday. It could only be better if it had a knife on one side.
You can never go wrong with a Spork!
Gender:

Male

Familiarity:

I've put it through the wringer
Was looking for a do it all. Needed something to mix beverages (adult kind), eat lunch and stab off the people trying to steal your food at the camp site!



The lightest and most durable one out there.
The best of both worlds
Gender:

Male

Familiarity:

I've put it through the wringer
I needed something small that I could keep in my desk at work to eat both burritos and soup with.

Behold, the mighty spork, the answer to my dilema!
Best Spork
Familiarity:

I've put it through the wringer
Light, strong, top quality Ti spork.