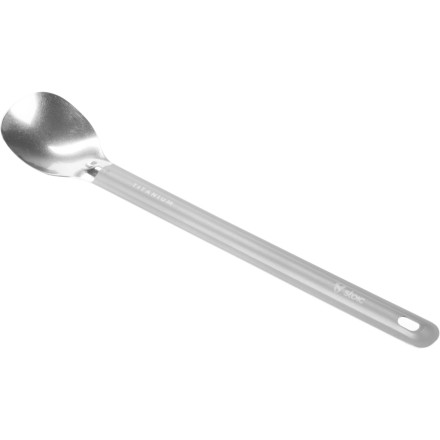 Community Images
The last bite of a tasty meal in the backcountry goes to whoever can reach it in the bottom of the pouch. That lucky person could be you with the long Stoic Ti Spoon. Weighing in at a half-ounce 8.5-inches long, this featherlight utensil stirs big hot pots and scrapes the bottom of dinner pouches clean.
Like dehydrated meals???
Familiarity:

I've put it through the wringer
GET THIS SPOON. seriously, no more sticky knuckles and crying over spilt dehydrated milk, this thang is perfect
Miss this spoon...
Familiarity:

I've put it through the wringer
This little ti wonder has fed me many a meal on the trail. Light, sturdy, and full of awesome. It recently met a thieving demise in the hands of who knows but I'm sure whomever took it will get a lifetime of use from it. I know the Stoic brand is pretty much toast, but please source out this spoon again or something close. The current offerings are...well lets say I think the spork thing is dumb. Give me a spoon and a fork, not something that never works well like either.
Good, long, light spoon for backpacking
Familiarity:

I've used it once or twice and have initial impressions
Haven't used it in the field yet, but it's sturdy and light and long enough to dig down to the bottom of freeze-dried pouches. Not for those who still imagine they see value in trimming the handles of utensils or tags, but there's room in the handle to drill a slew of holes, if you're so inclined. I wish the spoon bowl was a little bigger, and the shape seemed odd at first, but it's nicely polished and looks like it'll do great scraping food out of the corners of bags. And the Backcountry.com price is fantastic!
Who needs a short plastic spork?
Familiarity:

I've used it several times
We just returned from a 5 day trip in the Bighorn mountains of Wyoming, and these spoons were AWESOME! The extra long handle makes it easy to get into the corners of the Mountain House food bags, and keeps your fingers and hands clean. Far better than the more common lexan spork combos that seem to be so popular.
Long Handle, Ultralight
Familiarity:

I've used it once or twice and have initial impressions
Picked up this spoon for one reason - to keep my paws clean when digging deep into pouches of dehydrated meals. Does the job.
Good Spoon
Familiarity:

I've used it several times
Long enough to reach the bottom of pouches and really light.
Great Spoon!
Familiarity:

I've used it several times
What can I say? A good, light, long spoon to get to the bottom of those pouches!
Backpacking must have.
Familiarity:

I've used it several times
Takes up no room, weighs virtually nothing. Essential if you are eating backpacking meals from a pouch, keeps your hand nice and clean and gets food into your mouth.
I mean it's a long spoon... and it works great in my jet boil!
A long spoon is definitely a necessity if you are going to be consistently eating freeze dried meals and this one is great. I used it every day for over a month while on a trip and I am really glad I made the purchase. It is long enough to reach to the bottom of a Backpacker's Pantry meal without really getting your fingers messy.
Awesome TI spoon at an unbeatable price point. I have several of these and love them. Great for backpacking or camp kitchen, gets the job done in any area. Highly recommend.
Not as long as I had expected
It's a great spoon that serves it's function well (mainly spooning large servings of food into my fat mouth), but I have to say that I was expecting it to be a little longer. I purposely bought this one over a shorter smaller one thinking that it would read down to the bottom of my backpackers meal without getting food all up my hand but still had a similar issue despite the longer handle.
Quality spoon/fantastic value!
Like other reviewers noted, this spoon is the perfect length for freeze dried commercial meal packets that are offered to backpackers.I particularly like how the bowl of the spoon is polished (nice touch for mouth feel). All this in lightweight titanium! You'd be hard pressed to find another spoon like this on the internet or retail store for that matter for such a fantastic price.

Kudos to Backcountry.com for hitting a home run on this item!
I have not had the chance (yet) to use this spoon on a trip, but have been using it for most of my meals at home and it does it all from stirring deep pots or mugs of boiling water, to being a good spoon/ fork replacement for soups or regular meals. It is a very solid spoon and does not bend, while the angle of the spoon is perfect for use and the size of the spoon is just right. As a bonus it does not scratch or leave marks on plates or bowls like some titanium ware does.



Assuming it does not get lost or broken this spoon and a decent knife (and maybe a spatula) are all you really need for utensils when out and about.
Spoon showed up this morning and was everything I was expecting. I especially like how long the spoon is (see pictures below). It is the perfect length for the freeze dried meals (i.e. Backpacker Pantry, etc) and is super lightweight. Also, there is just the right amount of bend on the spoon. Highly recommend
Great addition to any camp cook set.
I purchased this spoon because I was sick of getting food on my hands by using a smaller spoon when eating dehydrated food packets. Now, I can scrape the bottom of the packet worry-free.

It's incredibly light, versatile, durable, and a good value. If you're looking for an all-purpose spoon at a great price, look no further.
Wow, what a great spoon. It has a long handle, has a deep spoony-diggy bit, and man, I don't often eat those freeze drieds but let me tell you - does it ever take the top 3mm of crud off my soup! This thing really is sensational for getting bits right off the very top of your soup bowl or stirring tea! Such a functional spoon! I never knew such a simple design could be so life changing!!
At first I thought it was stupid to bring such a long spoon on a backpacking trip, but I'm now a convert. It's perfect for getting to the bottom of the dehydrated food packs and doubles as a nice utensil to stir food when cooking. And it's super light!