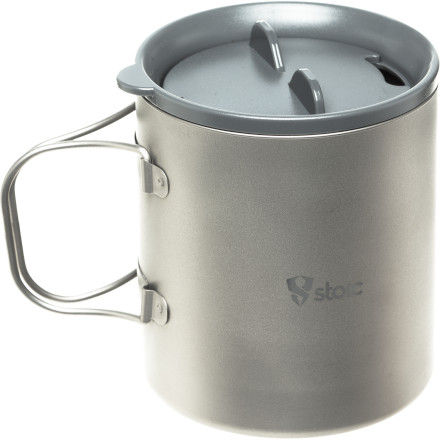 For camping or backpacking, the Stoic Ti Double Wall Mug with Lid is unquestionably superior to your favorite ceramic mug. Titanium means that this little beauty is more durable, more lightweight, and more capable of keeping your hot morning beverage hot (what a concept!).

Titanium material makes the walls of this mug nigh indestructible
Titanium material is extremely lightweight so weight is kept low
Double-wall mug design retains the heat of hot liquids so your coffee won't go cold immediately after you pour it from the pot
Plastic lid is easy to sip from, highly durable, and it pops in and out of the top of the mug for easy cleaning
Lid has drinking hole which can be opened or closed by rotating a tab on the top of the lid
Flip-out handles match the curve of the mug so they lie flat against the exterior wall when packed
What happened to this mug? I bought two of them few years ago, and I used them heavily during my backpacking trips. They're the perfect size for cooking dehydrated meals inside. I wanted to buy two more, but they seem to be out of stock. The SnowPeak equivalent mug is 50% more and doesn't come with a lid.

Any updates on the availability of these mugs?

Hey Ovidiu! Thanks for your question.



We unfortunately don't have any of these mugs on order. Like you said, the closest thing we have on the site now are the SnowPeak version and one MSR Titanim Mug.



Feel free to chat or call in with any other questions!
Great ti thermal mug for gear geeks!
Familiarity:

I've used it several times
Got mine and love it. Actually took it to work to pour my coffee in, just to maximize how much I use it. Plus, the Stoic ti stuff on sale is hard to beat. Actually all the Stoic stuff on sale is hard to beat, but this mug is a flagship product.
Cool mug
Familiarity:

I've used it once or twice and have initial impressions
I really like this mug. It's great as a backpacking or camping mug. The only downfall I see is if you want to use it for an everyday mug, it won't fit in a standard car cup holder
Stoic 600 ml Double Wall Cup
Familiarity:

I've used it several times
This is a nice cup. The cover and the double wall keeps your drink warmer longer. I wish the handle was larger. I can only fit three fingers in the handle . Four would be more comfortable.
As good as Snowpeak's overpriced mugs
Familiarity:

I've put it through the wringer
This is my new favorite mug, used every day, and an equal if not superior to Snowpeak when price is considered. I love the 600ml/20 oz. size, which makes servings of liquids and foods decent instead of snack-like. Very light and comfortable to use. The only complaint is that the otherwise handy included closeable top broke at the pivot-clasp after a few cleanings, so now I just use the lower part with the silicon seal until I figure out a repair. If you want to avoid this potential problem, don't think about all the crud that builds-up between thr two parts of the lid...
Great for Bighorn Mountains!
Familiarity:

I've used it several times
Just returned from a 5 day trip into the Bighorn Mountains and this mug was awesome. Made my coffee and poured it into this mug every morning, and it stayed hot (and tasty) for a long time. I almost left the included lid at home to try and save weight, but I am glad that I didn't because it really helped keep the coffee hot, and made it really easy to drink. When I was finished, I would rinse out my cup, dry it and use it to store my towel and a sponge/scrubber.
Great Mug for any occasion.
Gender:

Male

Familiarity:

I've used it several times
This mug is worth it's weight in gold! I purchased one for my wife and I and tried it out before heading into the wild....It now has a permanent spot in the kitchen.. Keeps beverages HOT and COLD. We love that the lid stays put. Being made of Titanium it feels structurally sound and therefore should provide years of service..Stoic got this one right on the money!!!! Gotta Love it get yourself one or two you wont be dissapointed
Love it so much I bought 3!
I bought one of the 600 ml double wall Ti cups with the grey plastic lid, enjoyed it so much I bought 2 more, one for work and one for my wife. The lid fits very snugly, thanks to the silicone seal, and the rotating closure helps prevent big spills and keeps debris out. Not a water-tight closure, but not intended to be. Great for tea and coffee, or cocktails!
Unanswered Question
Does this mug have the same "loose lid"...
Does this mug have the same "loose lid" issue that others have reported for the smaller version?
Does this nest inside the Stoic 700ml pot?...
Does this nest inside the Stoic 700ml pot? Is the inside large enough to fit a standard size cat food can stove?
Not sure about the can but my Snow Peak GigaPower fit's inside it with room left over for matches, coffee and tea, and some folded tin foil.
The hot/cold thermal propertys of this cup seem to be much better than a regular household cup. But even better, it's colapsable handles fold out of the way for compactness, and are perfect to use with gloves. The other insulated cups of this size I have used are too big to comfortably hold on to. One of the best features is the lid. It fits tight, and stays on. If the cup tips over, only a few drops leak out. Much better than other hiking cups. Because I use it both at home, and on the trail, and it is bomb-proof, it's a good value, not likely to ever be replaced.
Does anyone know the exact diameter...
Does anyone know the exact diameter measurement? I'm wondering if a small fuel canister will fit inside of it.
This has the same outer dimensions of the 700ml pot. I only have have the 700ml pot and given the second wall, I can not see it fitting a fuel canister. Someone confirmed that it doesn't fit a nalgene, below.
Does the double wall make it difficult to...
Does the double wall make it difficult to boil water in; as is it significantly slower than boiling water in a standard titanium cup?
Best Answer
Moxtr,

The Stoic mug is not designed to be placed over a stove, since it is a mug, not a pot. The double wall is designed to insulate hot liquid for a longer period of time and keep the liquid from being as easily affected by outside temps.
Double wall mugs must not be used for cooking. Not only would it be incredibly inefficiency, but you run the risk of damaging (possibly catastrophically) the mug.
Is the internal diameter able to accommodate...
Is the internal diameter able to accommodate a 1.0 L Nalgen bottle? Or better said can you put a 1.0L Nalgen Bottle inside the cup?
Best Answer
While I unfortunately don't have the exact measurement on the diameter, I do know that it is not wide enough to fit a 1.0L Nalgen bottle.
Great Price for a great product
This is a great value for the conscious consumer. This is practically an everynew mug with a lid. Very light and the lid comes in very handy. Store it all inside and your ready to go. A very compact cooking system. You get the same titanium as everybody else for a better price, its a no brainer.