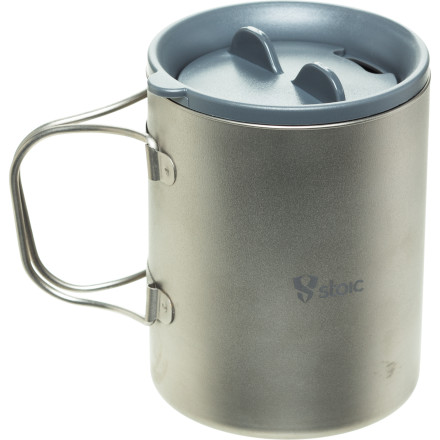 For backpackers or campers, the Stoic Ti Double Wall Mug with Lid is an indispensable piece of a mess kit for living comfortably in the wild. Titanium wall material makes this mug incredibly lightweight, strong as a bull, and capable of keeping hot beverages hot longer. Pour some tea or coffee in this compact mug, flip out the lie-flat handles, slide open the drinking hole, and enjoy a little bit of liquid paradise.
Titanium material makes the walls of this mug nigh indestructible
Titanium material is extremely lightweight so weight is kept low
Double-wall mug design retains the heat of hot liquids so your coffee won't go cold immediately after you pour it from the pot
Plastic lid is easy to sip from, highly durable, and it pops in and out of the top of the mug for easy cleaning
Lid has drinking hole which can be opened or closed by rotating a tab on the top of the lid
Flip-out handles match the curve of the mug so they lie flat against the exterior wall when packed
Really worth it!!!
Familiarity:

I've used it several times
I've had a lot of lightweight mugs over the years and this is the holy grail! It's ultralight, strong, has sturdy folding handles, well fitting lid with slide drink opening, and keeps hot beverage toasty for a long time. I used it in campground and loved it but will also take backpacking in cold weather. Size is perfect for larger mug. Double wall really makes a difference in heat retention. I love all things titanium for camp cookware. But don't put it directly on cook flame. I find Stoic to be great brand of various outdoor products. Get this one quick at sale price. Don't waste your time/$ on cheaper. It will be worth it in the long run.
Unanswered Question
Do they make one of these with a press?...
Do they make one of these with a press? Or can I buy a press that would fit?
Even on snow. And it's light too. My wife took it on a winter backpack ski trip and it rocks.
Can you boil hot water directly on an...
Can you boil hot water directly on an alcohol or propane stove in this cup or will the double wallbburst a seam or worse
Any double wall insulated mug/cup is not meant to have heat directly applied for boiling or cooking purposes. The walls will deform and burst/burn out.
It has turned into my at home mug
I pulled it out of my gear bag and started using it at home. It is hard to go back to using a porcelain mug and a lukewarm beverage after enjoying using this mug. My only complaint is that the lid pops up and won't stay down when the liquid is still hot. I purchased one to see how it was and I think I will be getting a few more along with the larger 600 .
Does this nest inside the Stoic 700ml pot?...
Does this nest inside the Stoic 700ml pot? Is the inside large enough to fit a standard size cat food can stove?
Best Answer
Yes, it fits inside the Stoic 700ml pot. However, the pot lid won't sit flush if the plastic lid is on the mug. I have a Zelph alcohol SuperStove that fits inside with plenty of room to spare.. I'm not sure on the size of the cat food stove.
Since its double wall the handles aren't...
Since its double wall the handles aren't totally necessary. Anybody cut/grind them off? Weight savings?
I have found that the outside can still get uncomfortably warm initially when I brew my tea in it. I think the handles are nice to have and they really don't add any bulk or weight to the overall package.
Bushy... you're the sort that cuts the handles off his toothbrush aren't you? :-)


who needs a tooth brush when out? :)

ended up w lightest single handleless titanium cup i could find. 1.6 oz!
Nice mug
Gender:

Male

Familiarity:

I've put it through the wringer
I have this one and the 600.

I love the size of the 450 and the insulation is great. I use this mug every day at home and for the price it can't be beat. The only issue I have, is the lid had become too losse and does not form a tight seal so I don't use the lid anymore. I would of gave it five stars if the lid was not losse.

Even with the issue with the lid it's a great buy.
that's a lot heavier than the Snow Peak. any point getting this one then?
I just got two of these and like the size/capacity. I went hiking on Christmas Day, when I got to the top of an overlook, I made a cup of Via coffee with a jet boil to heat the water, and this cup to drink from. The outside air temperature was 43 degrees, and the wind was really whipping it up past me. I could place my hands round the cup without discomfort and the water had just been boiling. So the cup has good insulating qualities. I like the lid too, nice to sip from the adjustable opening or could seal it up to retain heat. The cup and lid together weigh 163 grams/5.75 oz, the cup alone weighs 126 gr/4.40 oz, and the lid itself weighs 37 gr/1.30 oz. I'd recommend it.
The Stoic 450 without the lid is 4.5oz.

Thats the same as the Snow Peak