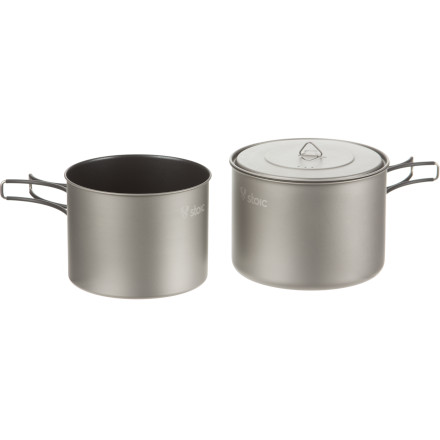 Videos
Dinner while you're perched on a precarious ledge or deep in a roadless wilderness always tastes good, but with the 318-gram Stoic Ti 1.6L + 1.3L Pot Set, you can actually cook more than one course and you won't even notice the weight in your pack or haul bag.
Titanium construction stands up to lots of drops and abuse while in your pack and doesn't corrode or burn easily on your backpacking stove
Non-stick surfaces help prevent food from sticking and burning during cooking, which makes clean-up easier
Two pot sizes lets you cook enough food for a couple of backcountry companions and lets you cook different courses when it's just you
One lid for both pots saves weight while shortening cooking or boiling times
Nylon mesh storage sack holds the pots, lid, and maybe some cleverly packed noodles together in your expedition pack
Not bad
Familiarity:

I've used it several times
I got these as a lightweight option for ski-touring & mountaineering. Small enough to not take up too much room in the pack and super light so you don't even notice they'r e in there. They can also hold extra canisters, utensils, or food inside.



I have to say that the non-stick coating is not that great. If you're boiling water or reheating dehydrated or cooked meals, they are awesome but they are not designed for cooking. That said I have used them quite a lot and other than having to watch the heat so they don't burn, they are a pretty good pot set. Not sure whether I would get another set at full price (I got mine on sale) but overall not bad.
Good but be careful
Familiarity:

I've used it once or twice and have initial impressions
At first, I wasn't looking for pots, but I got them on sale for less than $40, so I couldn't pass them up. They are really light, and I was able to fit one exactly to the ramen biscuits I was going to cook winter camping, so it held them nicely as well as being just the right size. The tops work well, the material transferred the heat exceptionally like I would expect, and boiled much faster than my friend's jetboil in 17 degrees. The handles are ling enough that they don't get hot, and the top has a neat side notch to either hold the top loop up or let it lay flat. It's a great little pot. However, the next morning, I used for a while over really low heat, as low as my litemax can go to heat some sausage and pita with some water to steam, and the teflon burned off some of the bottom. I think the pot is great, and I would de teflon them if I could.
Do you think you could sand off the non-stick...
Do you think you could sand off the non-stick coating? I agree with David that the non-stick doesn't make much sense.
Best Answer
Honestly, I think it would be more trouble than it was worth to even make such an attempt, aside from the fact that you could permanently mar the interior cook surfaces depending on what approach you took in your attempt to remove it. Instead, I think it would save you a lot of time and energy to simply look at other options that don't have a manufacturer-applied non-stick coating - I personally have Snow Peak cookware, which has been bombproof and came without a non-stick coating!

I would look into their line of kitchenware before you consider purchasing this set.

However, I notice that other reviewers have stated that the non-stick coating is "not durable," so it may wear off rather quickly, though for me, the thought of ingesting that junk is frightening.
Non-stick coating is not durable
Found that Non-stick coating is not durable.
Bargain
Familiarity:

I've used it several times
I picked this pot set up on steepandcheap for $40, amazing price considering what you're getting relative to other similar products on the market. Similar Snow Peak and MSR 2-pot sets would cost at least $100, and probably wouldn't have the non-stick coating.



First, the build quality of this set is pretty great. I picked the pots because of the simplicity. I like the wrap-around folding handles more than a removable pot holder, I like the simple shape, no plastics, no-frills design. Titanium and non-stick are a bonus.



The set seems very well constructed, the 1.3L pot nests inside the 1.6L pot, and they share a lid, which fits well on both, and includes several drain holes for draining ramen or whatever. Nice touch found on MSR pots. The non-stick seems durable enough, and I plan on not using metal utensils on the finish. The 1.6L pot is a bit more rigid than the 1.3L, but both seem strong enough.



Perfomance-wise, they are similar to any titanium pot. Not as even heating as aluminum, but light, strong, corrosion resistant. Nothing out of the ordinary.



The set comes with the two pots, one lid, a small mesh bag that covers the 1.3L pot, and an outer mesh back for the whole set. The 1.3L pot will fit in the 1.6 with the small mesh bag on, in order to protect the finish of the larger pot. A nice touch.

If I'm just boiling water for meals, I obviously just take one pot with me, works great, and a roll of toilet paper fits perfectly in the larger pot.
Stoic Ti 1.6L Pot + 1.3L Pot Set
It's like carrying an empty can!
Gender:

Male

Familiarity:

I've used it several times
You can't get any lighter than titanium and metal taste in your mouth,forget it.With a lifetime warranty,this is a no-brainer.Two pots,means you're getting feed even faster and forget warpage unless you're using a welding torch and even then it's iffy.
Simple and cost effective
Gender:

Male

Familiarity:

I've used it several times
Used it for a few weeks at home before heading up to Mount Huangshan in China. Will comfortably cook 2 cups of rice (max 3 cups but with spills). Will also easily accommodate 2 packs of instant noodles. Non-stick coating doesn't seem too durable but effective nonetheless. Also love the fact that the pot isn't too big and will sit on top of a jetboil without much problems. Love it!
Cani fit the MSR Wisperlite International...
Cani fit the MSR Wisperlite International in it?
Yes it will fit into the 1.6L pot, barely. The fuel line makes for a tight fit but with the included storage sack (20.6 grams) you can get the lid to stay put with the whisperlite inside. Your out of luck if you want to nest the stove in the 1.3 and put that in the 1.6.
Maybe an Optimus Crux foldable and fuel canister would condense your cooking needs and be able to nest the 1.3 in the 1.6!
NonStick - I can't use metal spoon with...
NonStick - I can't use metal spoon with it?
No, you will want to use silicon or plastic to preserve the coating.
Best Answer
The non-stick coating doesn't make sense because the heat from your stove or fire would burn it away on the bottom of the pan due to the thin metal. So, yes, you may use a metal spoon because the coating will burn off in a short time.
I agree with Arthur,on the plastic spoon what with all the foldable utensils out there.
Yes, the handles do fold in
Yes, they fold outward against the pan.