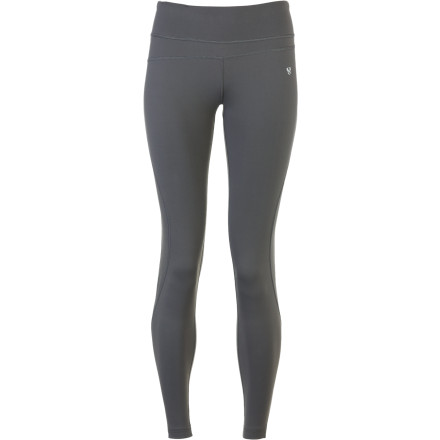 Detail Images

Community Images
Description
Enhances runs without or without your four-legged friend.
Your alarm clock has four legs and a wet nose, and never fails to go off at 6:12 a.m. As you head out in the pre-dawn chill with your pooch, your Stoic Women's Thrive Spark Tight's stretchy, heavyweight fabric keeps your legs from freezing; as you start to wake up and warm up, it supports your muscles and keeps you comfortable by breathing and wicking moisture. You lengthen your stride on the running trail, inspired by the blazing sunrise and the need to keep up with your energetic pup before he runs afoul of the local skunks … again.
Wide, comfortable waistband includes two pockets: a back zip security pocket and a front hip slip-in pocket big enough for a gel pack\
No-roll covered elastic in waist and plush flat elastic drawcord ensure a smooth, comfortable fit
Mid-rise waist and gusseted crotch enhance unrestricted athletic movement
DWR finish repels light precipitation
Antimicrobial treatment prevents the accumulation of odors
Flat-lock seams rule out chafing on long runs
Nice pant, weird fit!
Familiarity:

I've used it several times

Fit:

Runs small
These pants are definitely high quality and well made. That said, the fit is just weird. I find them to be a bit baggy in the knees, and way too long! I ordered the medium, which is what I typically wear. I couldn't size down to fix the fit/length issue because then the waist would have been too small. Despite the odd fit, I did keep them and I mostly wear them around the house, as a base layer under other pants, or to sleep in while camping. If the fit was adequate I'd likely never take these pants off! They are very soft and comfortable, and the back pocket at the waist is great.
Great all around legging
Familiarity:

I've put it through the wringer

Fit:

True to size
I got these initially as a base layer legging, but have since worn them for just about everything. They're great for running, biking, hiking, and just hanging around the house. They have a nice high waist and a few small pockets around the top as well. Great for sleeping in while camping. They are a bit snug in the waist but I just crank em up to the smaller part of my waist and they're more comfortable. I dont want to be hiking up leggings that are too loose anyways.
Perfect tights for running
Familiarity:

I've put it through the wringer

Fit:

True to size
These are my go to full length tights for when the weather is a little cooler. When it gets hot (80+) they're definitely a little too warm. They fit perfectly and are flattering. I haven't had any problems with it being baggy in the knees. I can't fit my phone (iPhone 5) in the back pocket, but that's not a huge deal. I can still fit my keys or small gu pack.
Great Material that Doesn't Quit
Familiarity:

I've put it through the wringer

Fit:

True to size
When I got these I was amazed how soft the fabric is, and how flattering the fit is. I have athletic, muscular legs and often don't like tights, but these look great! I've used these for just about every activity...road-cycling, skiing (base layer), hiking, camp...and taken some major spills. A couple of days ago I had a derp moment breaking down wood for a campfire and ended up with a 4" gash on my leg, but the fabric did not rip! They do great as protection and as a base layer in the winter. I wear them year-round.
Backcountry should reconsider discontinuing these if possible. I understand that you buy one pair and don't need to replace because they hold up so well so maybe thats why they don't sell enough!
Amazing tights for the price!
Familiarity:

I've used it several times

Fit:

True to size
I got these tights for running. They fit well and are comfortable to wear. Warm for cold weather (~37 F) and not too hot for warmer weather (>50 F). Also good for doing acro yoga in with the matte (non-slippery) material.
The zipper pocket in the back fits my phone (4"x2"x.25") with head phones. A huge plus!
The seams along the legs are flattering and it fits my butt great (I got a medium and am usually a medium or 6/8 in pants). They are also long enough for running tights for my preferred 32" inseam.
The back of the knees are a little baggy, which is a bummer. But without the zipper ankle and the great fit everywhere else, I will take the baggy knees!

Got Hips? Then these won't work.
Familiarity:

I returned this product before using it

Fit:

Runs small
I'm 5'5", 120lbs - purchased a size M to be on the safe side. Super bummed when I put them on and somehow developed a muffin-top that doesn't even exist? Super tight in the waist and pretty long in the leg. I don't recommend this pant if you have hips - otherwise, definitely GET THE LARGE! I just returned them....the hunt for the perfect base layer is still on!
Definitely Warm
Familiarity:

I've used it several times

Fit:

True to size
I was surprised by how warm these pants keep me. I was expecting to only be able to wear them as a base layer, but they hold up pretty well for outdoor activities on their own (I've worn them to shovel the driveway and for park excursions in temps as low as 0 degree Fahrenheit). The knee pockets are pretty loose, but I really don't mind it. The only thing is, they got thrown in the dryer on delicate and the elastic waist band shrank incredibly. I'm hoping they loosen up a bit with more wear.
Perfect running tight!!
Familiarity:

I've used it several times
I just love these...didn't have a problem with fit at all. 5 ft 10 and 155 lbs. Not too long or too short. Bought a Medium. When I pulled them from the box I thought "oh there's no way I'll fit in these" but they're compression and once they're on I could live in these! I didn't notice the baggy knees until the second time wearing them, but they're just a little wrinkled there, not really what I would say is "baggy". These aren't low rise pants, which I appreciate, because it keeps all the muffin tops in place. I plan on ordering another pair :)
Awesome pant, but WAY too long!
Familiarity:

I returned this product before using it

Fit:

Runs small
These pants feel GREAT while on, but man, they are about 5 inches too long for me. I am 5'5 and ordered a Medium. The small would have been too tight around my waist, and the Medium was even pushing it, but according to the sizing chart, it should have fit. Wish they made them in different lengths- if so, I would own a few pairs!
They fit me pretty weird....
Gender:

Female

Familiarity:

I've used it once or twice and have initial impressions

Fit:

Runs small
I'm 5'5", 150lbs, usually a size 8-10 pant. I first ordered a M, but they were way too small in the hips. Reordered in L. Still a little tighter than I would like in the hips, and like other reviewers said they're weirdly loose around the knees. I'm going to keep them because they're high quality material. But I'll most likely just use them as a base layer for winter hiking because they look a little strange on me to be wearing them out and about running in public. So I'm not totally thrilled by them, but I got them on super sale and can't really complain too much.
Perfect
Familiarity:

I've put it through the wringer

Fit:

True to size
These are my favorite running tights, and the cheapest I've bought. I'm 5'4", 125 and bought them in a medium. I could have done a small, but in northern MN winters I never know if I'll need another layer underneath. These are perfect for that! Highly recommend, bummed they're discontinuing.
Sad these are being discontinued
Familiarity:

I've used it several times

Fit:

True to size
Glad I got some of the last smalls in charcoal/charcoal! These are a great baselayer. Very comfortable, with great length and a gusseted crotch. I'm not a runner, but these serve me well through vigorous yoga and will be my winter baselayer for snowshoeing and XC skiing. Nice thick fabric. Seem well made, almost as good as my praNa Lolita pants. The only quibble I have is with the inside "drawstring." As some of the other reviewers have suggested, I simply cut it out and they fit perfectly. I'm 5'6", 124#, 26" waist and normally wear a size 2-4 in TNF and Mountain Hardwear; the small fits me wonderfully.
Great running tights
Familiarity:

I've put it through the wringer

Fit:

True to size
For the price, I have nothing but positive things to say about these tights. They fit great, they are the perfect thickness (not too thin, not too thick), and the back zipper pocket is great. I live in Colorado and wear these to run in 20-45 degree weather. Perfect. I especially like the waistband, which is not too tight, and doesn't have an annoying drawstring that requires tying. Other reviewers mentioned the baggy knees - I suppose these are not skintight on the knees (but VERY close), but if they were, the material probably wouldn't be warm enough to wear alone in the cold. I am 5'8, 150 lb, and the medium fits perfectly, even in length. I spent $30 on these, and my $100+ Patagonia running tights haven't left my drawer in months.
My girlfriend loves these enough to see a bargain and ordered another pair in black, after having fallen in love with the grey pair.



They stay in place while running, a feature not many competitors can boast. While not normally a fan of Stoic products (its like the IKEA of outdoor gear), these have been great. Perhaps a diamond in the rough?!?!



Great product from a company that normally falls apart. 4 of 5 stars remain after a lot of use!




Not as great quality as I had hoped
Familiarity:

I've used it once or twice and have initial impressions

Fit:

True to size
The seams picked the first time I wore them -- like created little fuzz balls that I had to cut off! This made me incredibly nervous because I hope the seams don't unravel. I figured since I wore them once I could not return them...so, I washed them, and the second time I wore them I had no problem. I expected these tights to be tighter and more supportive than they are. I do feel the space in the knees other people mentioned which is nice especially for bike riding. They are thicker than normal leggings which is what I wanted for outdoor cold weather sports. This is my first experience with cold weather supportive tights like this, and I hope they will last. I'm sure there are better ones out there though.
They changed the fit. Now it's awful.
Familiarity:

I've used it several times

Fit:

Runs small
I've got a couple of pairs of these pants from 2012/2013. They fit perfectly from top to bottom, true to size. I was excited to see them back in stock in more colors, so I bought another pair...

Yeah, these ones are totally different. The knees fit baggy! The waist goes up really high, and it pinches. All the extra seams around that area create rolls that don't exist otherwise. Horribly unflattering even if you're skin and bones (which I am). They'll still perform as an underlayer but they're not very comfortable because the fit is so weird.
Great versatile tights
Familiarity:

I've put it through the wringer

Fit:

Runs small
I love these tights! I wear them so much that I am thinking about getting another pair. They are comfortable, great for hiking or lounging around the house. They are even cute with a pair of boots! They do have extra fabric at the knees but it doesn't bother me at all and actually I feel like it helps them stay up better. The only thing I would say is the waist band of these tights is not true to size. I ordered a medium, which I always am, and the waist was so uncomfortably tight because they have an extra elastic band in them. But! I cut the band out and now they fit perfectly. Seems like others have been doing that, too!
Perfect Fall Weather Tights
Familiarity:

I've used it several times

Fit:

True to size
These tights are great!! Fit true to size and I did not have any bunching in the back of the knee as some others have described. I'm 5'11 185 lbs with very muscular legs which may have helped filled out the knee area more than others. I ordered a size large and the fit perfectly in the waist and I didn't find it super tight like other people had mentioned in their reviews. These are thicker tights and not at all see through. They have been a great weight for fall in Michigan, allowing some warmth but are also very breathable. I have worn them out running with my dog in the woods, for Pilates and just running errands around town. I have never owned any other products by Stoic but am impressed with these so far. I have washed them several times and not had any problems with them piling or snagging.
Love them!!
Familiarity:

I've used it several times

Fit:

True to size
I am 5'5", 128lbs, waist: 25-26in, hips: 35-36in. I ordered a size small in the grey and they fit perfectly!! Just as everyone said, they do have a little extra room in the back of the knee, but I actually like it because it's not restricting when I bend my legs. Sometimes the folds in the fabric of my other leggings that are tight behind the knees start to irritate my skin if my legs are bent for a long time, so I'm really glad there is a little room behind the knee of these! It doesn't irritate my skin when I sit for a long time. Again, as everyone said, the waistband is pretty tight. I thought about taking it out but I like how it keeps them up. At first it felt too tight but I lost a little bit of weight, and I think it stretches out a bit with some use, so now it actually fits perfectly (unless I eat or drink too much, which I shouldn't be doing anyway!). The length is a tiny bit long but if I start stretching or hiking and the pants "settle in" then there is no extra fabric at the bottom. I was worried that the butt and thigh areas would be too tight because that's where I carry my extra weight, but they are stretchy and not too tight at all! These pants are so soft!! I love how soft they are! And thick! They kept me warm when it got cold and when I run they breathe so they aren't too hot either! I have used them for hiking, biking, walking, running, yoga, pilates, a base layer for camping, and just lounging around. I love them so much! If I had the money, I'd buy a ton of these!
Great Pants
Familiarity:

I've used it once or twice and have initial impressions

Fit:

True to size
I wore these pants kayaking. The waistband stayed flat and in place as promised, and the little bit of extra knee room that others mentioned was great because knees need to be slightly bent at all times in a kayak to prevent your legs from falling asleep. Any drops of water that got on me dried very quickly, and I was one of the few people who came out totally dry. The sizing was right, I wear a size 10 jean and I ordered the medium. I was so impressed with these pants that I just ordered the Aurora as well