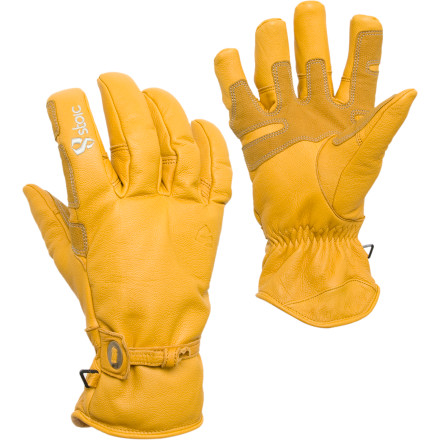 Detail Images

Community Images
Sharing a heritage similar to your favorite leather work gloves, the Duke rocks a tough, goat-leather palm and shell and a toasty fleece backing for supreme warmth. A DWR coating fends off wet precipitation and wet snow when you're digging a quick snow pit, and the leather drawstring closure cinches around your wrist to lock out the cold. Leave that insanely puffy, down-insulated mitt in your pack until your sitting out a storm at the summit; the Duke has you covered for everything before that point.
Backcountry.com is the exclusive US distributor for Stoic products
Sweeeeet Gloves
Familiarity:

I've put it through the wringer

Fit:

True to size
Got these gloves in Jan 2013 for my BF because of all the great reviews. They are awesome gloves, keep his fingers warm riding in 7*F days here in PC in December and January this season. Waterproof holds up good so far, I use Nikkwax on them once last season and once beginning of this season, there's no issue with water penetration. Even on the wetter/heavier snow days like last weekend, gloves weren't wet. The cuffs are shorter, which makes them easier to tuck under jacket sleeves.
Great glove for the price
Familiarity:

I've put it through the wringer

Fit:

True to size
Got these for $40. They are great for skinning and after a year of use, everything is holding up very well. They are not for the coldest of days except on the uphills but that is to be expected for relatively light weight gloves.
Great so far.
Familiarity:

I've used it several times

Fit:

True to size
Used at the end of the last season and beginning of this season. So far they have done their job. Will have to wait and see as the season goes on if they retain their warmth.
Mediocre
Familiarity:

I've put it through the wringer

Fit:

True to size
These gloves are really comfortable and are pretty warm on the cold days. However after about 2-3 months of wearing them occasionally they lost a loft of warmth. They also lost there waterproofness very quickly. I re-waterproofed them and that only lasted a couple weeks. All-in-all I probably won't put them on this season.
Great gloves.
Familiarity:

I've put it through the wringer
Super durable, all leather construction even down to the draw string. I love these gloves they are not super warm so when it gets below 10F or so its nice to have a thicker pair. But day in and day out these are great I have worn these more than 200 days and I have loved them.
These fit weird. Fingers are too short. Also a pretty thin glove, ideal for slightly warmer temps. Don't waste your time with these or the Forge, GET THE PARAGON GLOVE!!



http://www.backcountry.com/stoic-paragon-glove
I've beat these gloves up for two seasons and they look as good today as they did new. Well, that's not quite true. They're stained and shaped to my hand now, but they're still bomber.

Last season (11/12) I used them regularly for skiing except on the coldest days. They were excellent. Gave me plenty of dexterity and sensitivity for adjusting helmet cam and working poles, boots and bindings.

This year I grabbed them to go ice climbing one day early in the season and they stayed in my kit. They offer enough dexterity to manipulate screws and I have been able to clip/unclip even smaller 'biners without too much difficulty. I have a good pair of OR mixed climbing gloves, but when it's really cold, I opt for the Dukes.

Caveat: they are pretty resilient, but do need a little TLC to preserve them. I use mink oil on them semi-regularly (read: not as often as i should). They stay soft and pretty water resistant (unless you get snow inside them) so long as they're oiled more than once a season. Keep mink oil on hand and these will last forever - no cracks in the leather.

Also, no blown stitching yet! that's excellent. Most anything will blow a seam after a season or two.
I really like the way these gloves look but the seem in between the middle and ring finger hits your hand first before the gloves are all the way on. I just gave them to a friend with bigger hands and they fit him great so I am going to try to find some in a smaller size to see if they work better
I have only used these a handful of times but so far I really like them, especially for the price. The fit is great, I really like the lining and the exterior stitching looks pretty good. I wouldn't wear these at the resort on a really cold day but in the back country or nicer days at the resort they are perfect.
Great gloves!
Familiarity:

I've put it through the wringer
I've been skiing in VT every weekend for the last two months with these gloves and they haven't let me down yet. They fit and feel really nice when you put them on. The gloves give plenty of dexterity for opening pockets, adjusting bindings, etc. The waterproofing is good unless the snow is slushy, but that's what I expect of leather gloves. Overall, I love them!
Ordered this as well as the Forge. This one has more dexterity than the Forge, but doesn't feel like it'd be as warm. Fits true to size guide provided. As Finley stated in his Cons of the glove, it does seem like the lining should be a little longer to allow for more movement when the palm is open but it's not something that I considered a deal breaker.
Fit like a glove
Gender:

Male

Familiarity:

I've put it through the wringer
I bought these bad boys one account of they look super bada$$. And wouldn't you know it - they turned out to be fully functional, super awesome gloves! I ski in them all the time and look all tough because I'm wearing "work gloves". Downside - don't try to pee while wearing these gloves. I'll spare you the details.
Bomber glove
Gender:

Male

Familiarity:

I've put it through the wringer
Best leather insulated glove I have owned. Baked in some snoseal, they just work.
the duke
Familiarity:

I've put it through the wringer
I really like this glove, built super well and crazy durable. However, they seem to be a bit chilly when the weather hits 10's or lower. Size up and get a liner and I bet theyll perform better.
best all-around use
Gender:

Male

Familiarity:

I've put it through the wringer
these are awesome. these are my go-to gloves for 80% of my ski days, even wet snow days. for the most frigid days i switch to a dakine titan but these are so much better in feel & dexterity. water has never gotten through the membrane but that may be because i dry them by the fireplace apres-ski. i have a feeling that they might be uncomfortably still wet the next morning if i was backcountry skiing in a tent or forgot to put them by the fire.
Awesome Work Gloves/Everyday Use
Gender:

Male

Familiarity:

I've put it through the wringer
I got these as an in-between work glove. By that I mean when I am not using my Stoic Gauntlet gloves patrolling, and need something for work around the house, in my car, chairlift evacuation, or anything else where a full on ski glove isn't warranted. They have worked out awesome. I usually keep them in my car, or in my ski patrol pack as backup gloves. While they aren't 100% waterproof per-say, they are very resilient for a leather glove. But most notably, they are the most comfortable thing you could put on your hands. The wool inside is incredibly soft, and like most Stoic stuff, have and very natural, comfortable fit. They are super warm and natural feeling. I have very big hands, and the XL size fit me perfectly. If you need cold-weather work gloves, you can't do much better than these. I have beat the hell out of mine, and they haven't frayed or come apart at all. I ended up ordering another pair for my wife because she liked mine so much. I got mine on S&C for $30. Can't beat that.
Simplicity is key.
Gender:

Male

Familiarity:

I've used it once or twice and have initial impressions
These gloves are great. Every bit as good as my Hestra's at fraction of the price. The best part is that they are completely leather, no nonsense "waterproof" fabric and extra stitching to fall apart. One recommendation for beginners: balm, balm, balm. These are LEATHER. Put on a couple coats before you wear them the first time and another one after every session.
First Impressions...
Gender:

Male

Familiarity:

I've used it once or twice and have initial impressions
Look-

The gloves looks pretty awesome. Every time I put them on I feel like I should start up a motorcycle club. The subtle orange stitching provides good contrast. Orange logo is only on right pointer finger, which provides just enough pop.



Feel-

Hands feel slightly constricted in their movement. They great at gripping ski poles, but other stuff not so much. Not as warm as I would like, but also consider that my hands get cold very easily.



Price-

Awesome! Dang solid glove for this price.



Exclusivity-

I love knowing that these are pretty exclusive (only sold on Backcountry.com). Makes me feel like I'm in-the-know, ya know?






Doin' work
Gender:

Male

Familiarity:

I've used it once or twice and have initial impressions
These gloves are great as a cold weather work/ ski glove. I teach adaptive skiing, so I'm pretty rough on gloves when I'm teaching (carrying/ adjusting equipment pretty frequently), and these gloves have stood up really well so far, and they seem to be bomber. I've been pleasantly surprised with how warm and water resistant these gloves are. It hasn't gotten super cold yet, but they have been fine for clearing off my car in the low 20s and skiing in the 20s/ low 30s. I've noticed the finger tips soak up a bit of moisture in super slushy snow, but I haven't gotten cold/ wet fingers yet. I doubt that they would hold up to a rain storm, but seem to be plenty weather resistant for a typical day.



These won't replace my goretex lined storm gloves, but seem to be an awesome daily driver for bluebird days and working on the mountain in the cold