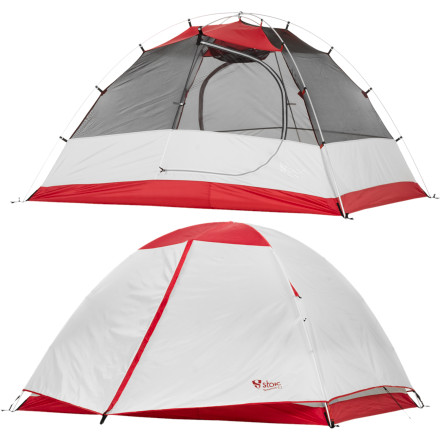 Stoic Templum 3.1 Tent: 3-Person 3-Season with Footprint and Gearloft
View Larger Image
Detail Images

Community Images
As they say, three is the magic number, and it's precisely the number of people you can comfortably fit inside the Stoic Templum 3.1 Tent. This is a three season, three person tent you can take backpacking on the long trail, or use for car camping when you want a little extra space but a family tent would be overkill. Two doors and vestibules split the burden of entry and storage space between the two sides of the tent, fully waterproof construction fends off the elements, and the included ground sheet and gear loft mean that you won't have to spend a fortune on extras before you're ready to go. Cleverly, Stoic's engineers added a horizontal brow pole to ensure that you get all the headroom you need, a nice touch when you need to change or sit up in the morning. Versatility and room to breathe are the hallmarks of this tent, and it has a price that won't leave you sobbing over an empty wallet at the trailhead.
Waterproof fly, bathtub floor, and full seam taping
Mesh body and top
Three poles with quick clip setup
Sleeps two campers or hikers
Color coded webbing for setup cues
Dual D-shape doors with vestibules
Ground sheet, hanging gear loft, and drawstring storage bag included
Good little tent
Familiarity:

I've used it once or twice and have initial impressions
This tent is a very good buy for the price. I took it out and went through some pretty heavy rainstorms and not a drop of moisture made it to me. Has some nice little features and the seams being taped is a great plus. Doors are easy to get in and out of and the aluminum poles are great. It packs down fairly well.
Stoic Templum 3.1 Tent
Familiarity:

I've used it several times
Stoic Templum 3.1 Tent so goood
Great tent, not so great service
Familiarity:

I've used it once or twice and have initial impressions
I'm torn on how to review this item. I purchased this tent fom Backcountry's flash sale site - whiskeymilitia.com.



Shipping was extremely fast and I couldn't wait for the next Boy Scout camp out.



The tent is a great size for someone like me who likes his cot and all his stuff in the tent with him. I am concerned that I may be too warm as the temps begin to rise since there are NO VENTS in the rain fly. I live in Oregon so the rain fly is necessary.



I did set the tent up in my yard prior to our camp out. Everything set up smoothly without problems. I also like that one of the webbing tabs is a different color on both the footprint and tent. Helps to get the pieces lined up correctly.



For the bad, while setting up on the camp out, the fly kept unclipping from the tent. Apparently, one of the buckles split along the mold seam and I didn't notice when I first set t up (guess I didn't snug down the fly on the first setup).



When I called the 800 number included in the tent bag, the guy didn't know what Stoic was. He said he was unable to help me, but to check REI for a replacement buckle.



Hopefully future experiences are better than the first.
I saw a review of another stoic tent and...
I saw a review of another stoic tent and they said the bathtub sides were included in the floor measurements. I'm wondering if this is the case for this tent as well. I am 6'1" and don't want my head or feet touching the sides.
Great for Boy Scouts!
Familiarity:

I've used it several times
Love everything about this tent! As a new Scoutmaster for Troop 192 of Davisburg Michigan - I was given the task of tracking down the perfect tent for Summer Camp and Backpacking. Summer Camp rules state boys should each have at least 30 sq ft of space - this tent qualifies if two boys tent with their gear. It also serves as a backpacking tent for three (just over 2.5 lbs for each boy). The dual vestibules and entrances are great. Much better than the one entrance of our Coleman tents. The zippers are high quality. Love aluminum poles vs fiberglass and the overhead brow pole adds some extra room. Nice touch. Hoping the included footprint adds some life to these tents. We bought five tents and weathered some storms with no sign of water or leakage. Looking to purchase 10 more for the troop.
Perfect Car Camping Tent
Familiarity:

I've used it several times
Bought this for a 10 day camping road trip through California for my fiance and I, worked great! We wanted a tent for car camping that was bigger than our small 2-person backpacking tent, and this was perfect. Feels like a palace inside. Great vestibule space as well, and got it for a steal with the footprint & gearloft. Great airy mesh design allows lots of ventilation and great view of the night sky. You could easily fit 4 people in this tent. Couldn't imagine taking it backpacking, unless you split up the weight between 3 or 4 people, its not the lightest tent around. But its perfect for car camping! And a great deal with the footprint and gear loft!
Great tent!
Familiarity:

I've used it once or twice and have initial impressions
Setup and breakdown was easy, and it is a very roomy tent that is relatively light and for a great price!! Very pleased with my purchase!
More like a 4 person then a 3. Great!
Familiarity:

I've used it several times
Great tent for the price. I have used it several times in the desert around Moab and so far so good. Its resonably light weight for the size tent that is is. Its listed as a 3 person tent but its huge inside. If you aren't worried about being near somebody at night you can easily fit 4 in side. I haven't had the opportunity to test the water proof coating on the tent but it seems to hold up fine on dewy mornings. The gear loft is great and it has a loop in the top of the tent that is perfect for a black diamond orbit lantern. It also has a place to stow gear on the inside side of the tent (things like glasses and a book or head lamp.) While its not the lights tent you can buy if you broke up the weight between 3 people it would be try manageable.
I am very happy with the purchase of this tent. Was not sure what to expect as I am not familiar with Stoic, but glad I made the purchase. Have not used it for camping yet, but was able to set it up inside. Quality seems great. It does come with a footprint. Easy set up; only 3 poles involved. I'm used to cheaper tents with poles that easily break, but these appear to be MUCH better quality. We have a queen air mattress that easily fits inside. The air mattress will take up a good amount of space, so having two doors is wonderful! Best part is it comes with a drawstring bag, so no more worrying about folding things exactly perfectly so you can zip the bag shut. Was even dog approved as my dog would not get out so we could tear it down.
Super huge
Familiarity:

I've used it once or twice and have initial impressions
This is a great tent it says three person but you could definitely fit four. Awesome for the price. Buy it.
In the past, I had a MSR Hubba Hubba tent...
In the past, I had a MSR Hubba Hubba tent and was very happy with the fully mesh body as most of my camping is in extremely hot temperatures and the mesh makes all the difference with how long my camping season can last. I do not have the budget for another now and this Stoic tent looks like it will meet my needs. My main concern is that the mesh doesn't seem to go down as far and won't provide as much ventilation as I need. At what distance from the ground does the mesh begin? How close to the ground can one get the rainfly? Also, what is the denier measurement of the different fabrics? Thanks so much for your help!
Best Answer
Hey isk8r, think might not be related because i dont know very much about Stoic but I had a North Face Rock 22 BX and it sounds like it would suit your needs perfectly, lots of mesh, low fabric walls so lots of needed ventilation, light weight, packable (dont pack the poles with the tent and you can compress the whole thing down to about the size of a pair of sneakers. then just stash the poles somewhere else in you pack). I've used mine for years. Very happy with it.
Perfect for Car Camping!
Familiarity:

I've used it once or twice and have initial impressions
I was suspicious of this brand - never heard of them plus couldn't find any reviews on this model. Very heavy - almost 8 lbs - BUT it has an above average interior - 49 sq ft whereas most 3 person tents are 38-44 sq ft. Definitely a comfortable 3 person tent - and if need be - you could squeeze in 4. It'll work for backpacking but I bought it for car camping for 2 of us and it'll do us well this summer. Palace for 2 people - extra brow pole creates vertical side doors plus the high headroom - we can store lots of gear inside and still have plenty of room to move around. Great price for a tent with all the features it comes with - highly recommended for car camping.
the title says w/footprint but the...
the title says w/footprint but the description says groundsheet. which is it and how would you describe the difference between and footprint and ground sheet?
Best Answer
They almost certainly mean the same thing. I would go ahead and order it assuming it includes the footprint... and just return it at BC cost if it doesn't. Title of the item clearly indicates that it is included.



If it isn't included, unfortunately you won't find it anywhere since BC is the only seller of Stoic and most Stoic products have been discontinued.
What size does this pack down to?
What size does this pack down to?
The Stoic Templum 3.1 Tent: 3-Person 3-Season Tent has a 20 x 8 x 5 inches packed size.