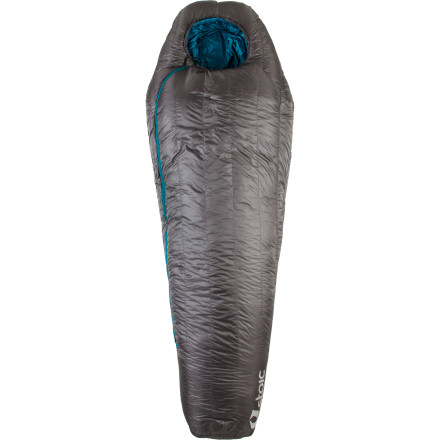 Detail Images

Community Images
After two seasons in the hands of customers and outdoor enthusiasts, the popular Stoic Somnus down sleeping bag returns with a new, redesigned zipper opening. The Somnus SZ 15 Sleeping Bag features a side-zip opening that now runs the entire length of the bag, from the hood opening down to just above the toe box. Now that it's even easier for campers to climb in and out of this bag (the previous seasons' front opening was designed for climbers), you'll have more time to notice the finer touches like the Pertex shell that keeps pack weight low and the 850-fill goose down that provides ultimate warmth in cold weather.
Redesigned main zipper is now located on the side of the bag to give this a more traditional opening that's easier for campers to climb in and out of
Longer main zipper runs to within 16 inches of the base of the foot box, almost the full length of the bag
850-fill down insulation provides supreme warmth without weighing down your bag and is highly compressible to make packing a cinch
Pertex shell material creates a durable outer shell without a nasty weight penalty
Vertical baffles ensure that the down insulation stays put even if you sleep on your side
Draft tubes prevent chilly air from entering around the neck so your heat stays inside your bag
Zippered pocket at the footbox holds a hot water bottle to keep your toes toasty on frigid nights
I love it
Familiarity:

I've used it several times
I used this bag on an overnight adventure in the Australian winter. I was camping in a hammock with no other insulation but this bag and it was a very windy night. I was really cold when I hopped in and was praying that the bag was going to be as good as I hoped. It took a little while for me to warm up as I was very cold. The next thing I knew I woke up sweating and had to undo the bag to cool off. I got a wonderful nights sleep despite the very cold and windy conditions. I love this bag and the waterproof stuff sack is great. I even got up to watch the sun rise and sat with my bag directly on some sharp rocks (not a terribly smart idea) but the bag held up well with no signs of pulled threads or tears.
Great Bag, but not perfect
Familiarity:

I returned this product before using it
I am 6.2 ordered the long and it is needed. The bag runs little tighter than the marmot pinnacle. I kept the marmot even though it was not water proof. They have the same rating.

Goods: waterproof, very soft pertex material outside and inside is really lovely. Very comfortable better than the marmot. Great colors. Best zipper design I have seen, it never snags. Tight fit so it is warm because it wraps you around.

Bad: no insulation around the neck and shoulder. You can tighten the neck with one adjustment loop, but as you move cold air can get in. The marmot has twice the insulation there and two adjusting loops one above the neck to seal any cold air entering below and one around your noes to really wrap your head around. Plus enough room to fit a pillow in the hood. The stoic is lacking these features and the hood is probably not quite as warm and so I returned it. The bag felt smaller the marmot too once opened for a whole day so it may have less fill too.
Light and fluffy
Familiarity:

I've used it once or twice and have initial impressions
Have only used for 2 nights backcountry, but initially im impressed.

Its REALLY light and easy to pack.

Its REALLY warm. Maybe too warm for my personal needs, may have to get a second bag for summer months. I bought the 15.

The stuff sack it comes with kind of blows. Its cheap, and the bag can clearly be compressed further than the sack allows.

I have zero complaints so far! For the price its a great buy, especially if you are looking to cut down weight on the longer trecks.
Stoic Somnus SZ 15 Sleeping
Familiarity:

I've used it once or twice and have initial impressions
After lugging around a synthetic sleeping bag around for a few years, a friend let me burrow his down sleeping bag and I absolutely loved it. So I bought my first down sleeping bag: the Stoic Somnus SZ 15. I was excited and proud of my purchase until..... I tried it out and ughhhh, the smell was literally foul!!!



I can not live with the smell of that bag. Here is how it happened: Went on the AT in Northern GA, slept in it the first night got up early the next morning put in the stuff sack hiked all day and when I took it out to bed down the smell hit me like freight train... it was awful. I lived with it for another night, barely.



I called Backcountry as soon as I got back, explained the smell and they told me that the reason it smelled was because it was duck down as opposed to goose down. That if I aired it out the smell would go away... I did just that and they were right, the smell did go away. But it will come back if there is enough moisture [fog] in the air. Mind you, the bag did not leave the tent. It wasn't like it was exposed to the elements.



Customer service was ok, they were willing to take it back but will not refund my money!!! They will instead give me store credit. It is not my preference but at least I don't have to live with that awful smell.



Buyer beware. Apparently you have to ask if the down is duck or goose. And if you buy from Backcountry and you need to return you have to know that you will not get your money back.
It is light and warm.Haven't taken it out yet. The price is great. I bought this bag at $261. 2 weeks later it was on sale 60% off. I contacted Backcountry and they price adjusted!!! Great customer service!!! I will be shopping here for sure!!!
When will the regular size be available?
When will the regular size be available?
Unfortunately we do not have any more Regular length bags on order in this style.
What are the shoulder/hip/foot box...
What are the shoulder/hip/foot box measurements for the regular bag please?
Best Answer
Should be 58 in. circumference at the hip, 40 in. at the feet, and 66 in. at the shoulder.
The Somnus 15 is a great bag. The material is very soft, yet durable, and is very light. The down is an 850 fill, meaning you're getting a light bag without compromising warmth. The zipper on this is great and has never snagged on me. This bag runs a little long. I'm 6'1"and ordered the long. I probably would have been fine with the regular. That being said, I don't mind the longer bag. The only thing I wish this bag had was a stash pocket near the top. I've just gotten used to those with my other bags. Down is the way to go and if you can snag this bag on SAC or on sale here, do it! You won't regret it.
Does it come with left and right zippers?...
Does it come with left and right zippers? I am thinking of buying two for my girlfriend and I, and I was thinking if I could zip them together.
Only right zip, unfortunately...


Love Stoic!
Familiarity:

I returned this product before using it
Love this bag! I was checking out this bag and was a big fan! The only thing I didn't like was that I couldn't really move in it. I am a bigger dude. 6 foot about 295. I passed on this bag, but the craftsmanship is superb! The stats do not list the packability-- It will stuff to 8.5"x12.5"
Thank you for answer to question about...
Thank you for answer to question about weight of the Stoic Somnus SZ 15. Next question: To what does the 15 deg F refer? Is it the "upper limit", "comfort rating", "lower limit" or "extreme". I need warmth.

Victoria
Best Answer
A sleeping bag's temperature rating identifies the lowest temperature at which a bag is intended to keep the average sleeper warm. When a bag is described as a "20 degree bag," it means that most users should remain comfortable if the air temperature drops no lower than 20F. These ratings assume that the sleeper is wearing a layer of long underwear and using a sleeping pad under the bag.

People and sleeping bag temperature ratings vary from one manufacturer to the next. So use these ratings as a guide, not a guarantee.

Here's a general rule of thumb on temperature ratings:

Bag Type: Temperature Rating (F)

Summer Season: +35 and higher

3-Season Bag: +10 to +35

Cold Weather: -10 to +10

Winter/Extreme: -10 and lower

Hope this helps!
What is the weight (lbs oz) of the Stoic...
What is the weight (lbs oz) of the Stoic Somnus SZ 15, including its stuff sack if possible?

Victoria
Victoria, the total weight is 2 lbs 1 oz.
Great bag!
Familiarity:

I've used it several times
I'm in Alaska an I've had the bag for awhile now. Its a great bag for backing. It packs small, not heavy at all an keeps me warm. I sleep in a hammock in the summer time, when I do this with this bag I don't need to put my sleeping pad it the hammock. This bag works just fine. I got it at the end of last winter an was only able to use it once in the snow, but it kept me warm. My feet even stayed warm because of how tight the bag is.
Great bag so far
Gender:

Male

Familiarity:

I've used it several times
Have used twice and it's been a fantastic bag so far. Once in the San Gabriels and the other at the Mt. Whitney portal. Compresses really small and is very warm. I wish the zipper was on the opposite side though as my bivy opens from the left and this opens from the right. Really great bag and the compartment to stuff a shirt in to make it into a pillow is really cool. I have yet to use the zippered pocket at the footbox but will use if ever needed.
im a cold sleeper! its so warm i have to unzip it, its too hot! but its super cushy and plush. its like sleeping in a cloud!
I recently replaced two stoic vamp sleeping bags with 2 of these and I must say I am very glad I did. I have found them to be very warm and light. The zippers are almost impossible to snag and a huge improvement over the Vamp which would snag every time. The down seems to be distributed exceptionally well as I was unable to find any areas without down or any cold spots. The regular weighs exactly 2 pounds without a stuff sack and the stuff sack weighs another 3-4 ounces. The regular fits me perfectly even though I am 6ft 2. If you are under 6ft 3 don't purchase a long buy a regular. I made that mistake once and I was very displeased with my decision and those who had told me to get a long. Anyway love the sleeping bag and I highly recommend it
When you are not using the Stoic Somnus...
When you are not using the Stoic Somnus SZ 15 Degree Down sleeping bag how should it be stored for long periods of time?
It should be stored in the bigger storage sack that came with it or hanging up. Try not to keep it in the stuff sack more than you have to. It'll last longer and perform better.
Best Answer
The storage sack will allow it to expand and keep the down intact. If you store it for long periods of time in the stuff sack, it'll compress the insulation and over long durations will cause it to break down. I have a Stoic bag from 3 years ago and still is in great shape. I will use a compression sack when I'm backpacking however after I'm done, I air it out and store it the large cotton sack. Works very well for me because I don't have the space to store my sleeping bags hanging upside down, which is really the most ideal.
It's not listed in the specs , so here they are:

Pack Size: 8.5x12inches

Fill Weight: 21 oz of down

Total bag weight: 32oz


Unanswered Question
How heavy is the long version?
How heavy is the long version?
Mine just arrived today. It was between this bag, a Feathered Friends option ($365) and the GoLite Z10 ($349) and I chose to save $150. Am I ever happy I made this decision. There's no way that those bags are worth nearly twice the price of this bag.



Here are the weights:

Bag alone: 34.3 oz

Down weight: 19 oz

Stuff sack alone: 4.7 oz

Total weight: 39 oz

Stuff sack dimensions: 17x9 (uncompressed bag in it), 12x10 (bag compressed)



I'll have to agree with the other posters that I'm not overly thrilled with the quality of the stuff sack. I'll upgrade it more than likely. Other than that everything about this bag is a win. I can't wait to give it a try! If it performs as advertised I'll upgrade this to 5 stars.