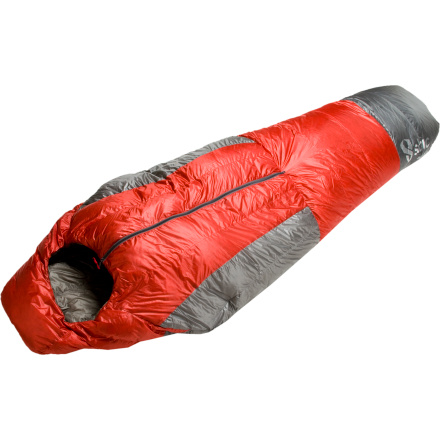 Detail Images
Description
A great companion for the shoulder seasons.
Stoic's Somnus 30-Degree Down Sleeping Bag packs up for high alpine trips in the summer, Technicolor tours in the autumn, spring backpacking jaunts, and any other time you need a warm but lightweight haven come nightfall. The Somnus' center-zip design puts an end to the midnight where's-my-zipper scrambles, while the vertical torso baffles ensure the Somnus' down insulation stays put even when you sleep on your side. The Somnus 30's lightweight Quantum Pertex material cuts weight in your pack, and stands up to seasons of abuse. Toss a hot water bottle in the Somnus 30's zippered footbox pocket on those really chilly nights.
Share your thoughts
What do you think of the
Stoic
Somnus 30 Sleeping Bag: 30 Degree Down
? Share a...
Admitted Side-Sleeper - Loved it!
Used the Somnus 30 in Eastern Idaho/Western Wyoming recently. Temps were right around 40F. I'd typically consider myself a cold sleeper - can never keep my feet warm, but had a great night's sleep in the Somnus 30. There are many, many factors that affect the comfort of and temperature rating of a bag. A couple factors that I believe contributed to my good night's sleep:

* I had a good meal before bed - went to sleep with plenty of fuel for my body to burn/metabolize during the night.
* I had a plush pad (Stoic MDWT Sleeping pad) - typically sacrifice comfort for weight, but could afford some extra weight as this was a car-assisted camping campaign.
* I slept inside a tent (Stoic Arx XL3) without fly - plenty of ventilation, but no bugs.
* Slept in comfortable clothing - shorts and a shirt. Usually dress warmer

As mentioned slept very well - woke up once feeling a little too warm. My only complaint with this bag is the zipper - for some reason couldn't get it open in the night. I remember attempting to unzip a couple times to lose some heat, but was too tired, and ended up just falling back asleep. Don't know if the lining was caught in the zipper or not, but seemed to work fine in the morning when I woke up. On the other hand, I liked the center zip configuration because I sleep on my side quite a bit, and found it comfortable not sleeping directly on top of a zipper.
I was almost too warm in temperatures around 40F - I'd extrapolate that to being just right for temps down to 30F (assuming use of a good pad). If you're using a thin pad or no pad with no tent at 30F, the Somnus 30 might be pushing it at temps of 30F. Overall, I'd recommend this bag as a solid lightweight, 3-season bag. Great value.
I am very happy with mine. I have (had) two concerns. One was the foot room...do not like restriction. Two the half zip..again a movement issue. Well I put my rat dog into the bag with me and he migrated to the foot..plenty of room. Two the half zip did not restrict my nightly pee break at all. I was plenty warm in the upper 30s. Felt like I had several degrees to go. Light, warm, roomy. A very good value in my opinion.
What a great bag... and I'm a big guy!
This is by far the greatest bag I've had in a long time. It's really light weight, super warm, and breathes extremely well. The front chest zipper is awesome. This is my first down bag, and I have no thoughts of going back.
Stoic?s Somnus 30-Degree Down Sleeping Bag
The Stoic's Somnus 30-Degree Down Sleeping Bag is an awesome sleeping bag. For an early spring camping trip I was expecting to be cold with an open bivy but I was hot the entire night. I highly recommend this bag.
since I haven't taken it out on the trail yet, this review will be a little dry. First off I am 6 feet tall, about 210. The fit of the bag was very comfortable, and I had plenty of space in the shoulder area. Looking at the bag in the sun, you definitely have gaps where you see missing feather, but fluffing it around did pretty good. I opened my window in our guest room to get the room as cold as possible, but really only got down to 55 degrees, so I wasn't able to get a true rating on the temperature. My first hike is in July so I hope to have a follow up. Only thing that raised concerns, was I thought I zipped myself up all the way, but when i awoke the zipper was halfway down...so there is some concern that it isn't staying up.

Weight was like some of the other reviewers stated. 1lb 9oz, not the advertised 1lb 7oz. With the enclosed bag, it was at 1lb 13oz. I purchased a sea to summit ultralight drybag, and the weight in the sack ran about 1lb 10oz.
Excellent bag for the dollar and Backcountry.com were excellent in delivering my order (Tent / sleeping bag). However, Canadian buyers beware! The Canadian border may hit you hard with tariffs, taxes and anything else they feel discourages cross border shopping.
So far this sleeping bag has been worth every penny i spent. it is very warm in fact i had to slep on top of it last weekend and it was in the mid 40's at night. it is light compact and comfortable. i have had it all the way down to 40 degrees and i was sleeping in nothing more than boxers and a t-shirt and it was toasty!
nice, warm, and comfy sleeping bag. tried it a couple of times when lows were 40ish. I was defintely warm if not too warm early evening. i'm 6'3" and the long is long enough for my height which is awesome. the center zip is cool but doesn't go all the way down so if your feet are too warm you can't really have them air out a bit although the zipper is bidirectional so you can air out a bit below waist level.
is the stuff sack waterproof?
does anyone know?
Hammockers and Bivy Users Don't Purchase
Just returned from the first and final use of this back for a long weekend in Joshua Tree National Park.

The style of zipper on this bag makes it virtually unusable for hammock or bivy sleeping. If you are like me and prefer a hammock, then don't get a bag with this center zipper design.

Bummer, because I really wanted this bag. I'd definitely purchase another Stoic sleeping bag.
Unanswered Question
Can anyone comment on the water resistance...
Can anyone comment on the water resistance of the shell material, Quantum Pertex? The company's website gives a very subjective answer suggesting more geared towards breathability than water resistance (well so is cotton). Owners out there - any complaints about the material? compared to dwr coatings?
Thanks
I got this bag at a huge deal, only to see when I got it that a few baffles were virtually devoid of fill. I mushed it around with my hands, and I threw it in the dryer with tennis balls, but these did not fix the problem. Perhaps it would have been okay, but I still returned it. Other than that though, great construction, water bottle pocket is a nice feature, included compression stuff sack is great. Maybe I was just unlucky...
I just bought this bag because my old one is to bulky. After ordering it I bought a Sea to Summit compression drysack size extra small. I do mostly Summer hikes but just did a fall trip in the white mountains. i slept the night before in my buddies house which was 55 degrees, i slept in this bag and wasn't to hot. The next night up in the Presidentials it got below 30 degrees and I was perfectly comfortable sleeping in a t-shirt and shorts. Not only does this thing work great but with the Sea to Summit sack it compresses down to smaller than a football. If you are thinking of buying a 3 season bag...buy this one!!!..never mind the fact that it is cheap and comes with a lifetime guarantee!
Great coustomer service, man for the money 800 fill and good construction. Light weight SAC baby.
Nice bag... very well constructed.
Great design. (copy of golite bags, not too sure how they got permission to do that)

real world weight is one pound 12 oz. (with stuffsack.)

stuffsack weighs 3 oz.... so bag weight is 1 lb. 9 oz.
How many oz. of down fill?
How many oz. of down fill?
I contacted BC but they didn't have that info. Here is a backpacking light thread regarding the bag. A few people have it coming to them and they should be able to answer the question. Looks like a pretty promising bag if the down fill weight is adequate. http://tinyurl.com/29gh8rd
Best Answer
This bag is 800 fill, and has 11 oz of fill.
I am 6 foot 6.5 inches tall. Will this bag...
I am 6 foot 6.5 inches tall. Will this bag fit me?
It might be tight. I'm 6'4", and if I point my toes they hit the end, I'd say it would either fit you perfectly, or be an inch too short
Are Stoic bags EN 13537 tested like other...
Are Stoic bags EN 13537 tested like other manufacturers? This seems to be the most trustworthy rating system for sleeping bags, and although I do trust the quality of Stoic products, I would love to know the upper and lower limits for this bag.
These bags are not EN rated. EN rated bags end up being heavier. Other comparable bags will be around 9oz heavier. This bag has 11 oz of 800 fill down. Our rating are for average adults, if you tend to sleep colder, I would recommend getting the 15 degree bag.
Best Answer
EN bags are heavier because they are accurately rated.
That doesn't make any sense- EN rating doesn't make it magically any heavier, unless it'd get heavier because it'd actually be good at 30F not 45F... Hrmm. Enough to scare me off of this bag for the time being- I ended up getting a used Montbell UL Super Stretch #3 for the next season until I find something worth getting.