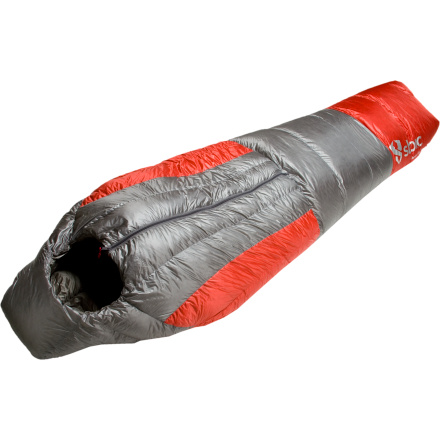 Detail Images
Description
Tell the shivers where to go.
Opt for the lightweight, super-durable Stoic Somnus 15-Degree Down Sleeping Bag when cold temps are in the forecast. This winter-weight down bag puts the zipper right along the center so you won't have to struggle to get out of your bag at o-dark-thirty for a trip to the bathroom, and the Somnus' vertical torso baffles ensure the down insulation stays put even when you sleep on your side. 800-Fill down eliminates the shivers during cold nights in the backcountry, and the Somnus 15's draft tubes help to hold your body heat close throughout the night. Quantum Pertex fabric cuts down on weight, but bulks up on durability, and the zippered footbox pocket begs for hot water bottles on chilly nights.
Share your thoughts
What do you think of the
Stoic
Somnus 15 Sleeping Bag: 15 Degree Down
? Share a...
Good 15 deg bag.
Zipper is convenient for sitting up.
Not good in rain but I would not use down in the rain.
Where else can you find 800 fill for less than $200.
Yes, I'd rec to a freind
Yes, I'll probably buy another.
Used it on my first trip out in Wyoming Wind River range for 7 days. It was light and small, although it felt liked it could have packed into a smaller bag without much work so I don't know why they didn't give it one. It was plenty warm for the weather at high altitudes although we never tested it below 32 degrees F. Was fairly comfortable but the zipper only going down part-way gets a little anoying sometimes.
I got it on sale at 40% off so it looked like a steal and I'm glad I went for it.
Spent the weekend in the mountains in this bag. Temps got down to 20F and I was more than warm with little clothing on. I do have an issue with the zipper and pull strings hanging in my face while sleeping, but not a big issue. I loved the zipper in the middle for access and comfort. Made it easy to unzip in the night to cool off and the bag didn't seem to twist around while sleeping. I would highly recommend this bag especially for the price offered here or SAC.
What is the comfort rating onthis bag? Is...
What is the comfort rating onthis bag? Is the 15 degree rating for comfort or survival?
Comfort is going to be around 20-50°F, depending on if you sleep warm or cold. At 15° you will likely start to feel slightly uncomfortable.
Nice Bag, Slept great - might want to read review further
I love the size.

I am 5'5, I have sleep apnia, so I am a tummy sleeper when backpacking. With the zipper in the middle, it allowed me good access. I was also able to put my hands up above my head when I sleep on my tummy, without them being cramped or outside the bag. I didn't notice myself waking up in the middle of the night except for one time. I used it while in Yellowstone. I slept in Capeline 3 midweight bottoms, and a midweight smartwool top, and columbia sock liners. The temp got to about 28 and I was snug as a bug. not sure I would trust the bag to 15*F though. I used the bag in conjunction with a Neoair, so there was plenty of insulation while sleeping on the snowy ground. We were also inside a tarptent cloudburst, so there was littler wind.
Is the outer fabric on this bag waterpro...
Is the outer fabric on this bag waterproof?
No. Not even a little bit.
Anyone have a picture of this bag in the...
Anyone have a picture of this bag in the stuff sack compared to a nalgene or something similar? Pictures without something to compare the size to are pretty useless.
Great bag for above freezing temps
This bag is a very good deal at the SAC price however it's not worth the full price or even the 20% off price. It is very light weight and comfortable which is what stoic seems to be going for with this bag. Some items on it are cheaply put together such as the draw cord, and lack of draft collar. I like the side zipper found on most bags is better because you can unzip them and still be covered. With this bag unzipped your skin is exposed to the cold air. I think I am an average temp sleeper ( I don't get cold easily however I'm not super human in the cold) and I got cold at about 28 degrees in light base layers. It seams the feathers are thin in the chest area. Overall you can't beat this bag for the SAC price as long as you don't plan on sleeping in weather below freezing.
Very warm, compact stuff size, lightweight, annoying zipper
It's comfortable, plenty warm for a 40 degree Fahrenheit night, and the stuff size and weight are just right. However, the zipper needs some kind of cover because it rests right on top of you face/mouth when completely zipped up. That's really annoying, so unless they improve that design I would recommend a different bag unless you can get a good deal.
Huge, Warm, Light, Compact
I love this bag. The only thing I think I would want to improve upon it is at least the option of having some sort of membrane material on the top instead of just the Pertex, as I like to sleep with the tent unvented and have had to buy a BD Winter Bivy to keep the bag dry from condensation.

I'm 5'10" and 155lbs, and this bag is huge! It's good because I only plan on using it in winter when the extra space at my feet means I can stuff clothes and boot liners inside to stay warm and dry out. It is also pretty girthy so you can roll around in it if you're a restless sleeper. There's actually enough room for me to put my 40degree down bag I use in summer inside and still get a lot of loft from both bags, making 0 degrees no problem. I pair this with a liner and it is super comfortable.

I love the center zip. It makes getting into the bag while there's a sleeper to either side a cinch, it's almost like diving in. Getting out is even easier, just start the zipper down and it peels open easy peesy. The foot box zipper is a little small and has gotten caught on the fabric but I don't really use it anyway.
Love this bag, used it in the desert where it got down to about 25deg and was super warm, almost too warm for this human furnace.

The center zip is great but yes the zipper will fall into your mouth if you move around in your sleep. I also found that leaving it slightly unzipped alleviated this problem, but am looking into fashioning a Velcro tab to the bag and zipper pull tab to fix this.

Super soft bag inside, does leak feathers but only slightly, only time will tell if its a major issue. For the price i payed on SAC, it's more than worth it.

Stuff sack is great, can also fit more gear in with the bag as some have stated below. Storage sack is large and if you're unable to store the bag hanging or laying out in a dry place, is a great alternative.
Good bag, but the zipper needs to stop hanging out
This looks to be an excellent all-around sleeping bag. It's a long (the only size currently offered) and with the included compression stuff sack weighs 36 ounces. The stuff sack appears to be made of Pertex Quantum (the same as the shell fabric) and comes in at 3.8 ounces. Subtract that from the combined weight and the Somnus 15 weighs 32.2 ounces. This is less than the advertised weight of 33 ounces and is refreshing to see in a day and age where many manufacturers will inflate (or in the case of camping gear, deflate) the weight to appear more competitive.

The Somnus 15's zipper is centered on top, runs approximately half the length of the bag, and is of the two-way variety with a small length of cord attached to the top zipper pull tab. There is no flap with which to secure the top zipper tab when the Somnus 15 is zipped closed. A draft tube underlies the zipper to prevent drafts. The hood contains two substantial drawstrings with large spring-loaded cord locks. Each drawstring cinches down half the hood. It is possible to get the hole small enough to only have your nose and mouth exposed to the outside. A small zippered compartment at the foot of the Somnus 15 allows the use of heats packs or a hot water bottle to help keep feet warm on especially cold outings.

The advertised shoulder/hip/foot circumferences are 66/52/30 inches, respectively. The length is said to accommodate a person up to 6 feet 6 inches tall. This is longer than I need (I am 5 feet 11 inches tall and run around 165 pounds), but I occasionally lend gear out to family and friends. I have some family who are around 6 feet 3 inches tall who will find the extra length a welcome feature.

This is my first piece of equipment with a Pertex Quantum shell. The fabric feels very soft, is slightly translucent, and has a slight crackle to it when handled. It's not noisy, per se, but it caught my attention. I don't know if the noise will subside with use. The lining appears to be light weight nylon taffeta, though Stoic doesn't specify what they use for the lining.

Due to the translucent nature of the shell fabric, I can see, with some degree of clarity, the down inside the Somnus 15. Stoic gives a fill weight of 19 ounces of 800 fill down and I have no reason to doubt this. The tag states the mixture is 90% down and 10% feathers. I have not experienced any down poking through the shell or lining as in some other down sleeping bags I own. The overall weight appears to agree with the specified amount of down fill. The Somnus 15 is not as 'puffy' as my REI Halo 10 or my Sierra Designs Nitro 30.

The baffles on the Somnus 15 are vertical on the top half and horizontal on the bottom half. Stoic claims the "vertical torso baffles ensure the down insulation stays put even when you sleep on your side." Personally, I've never had any trouble keeping down insulation in place in similar sleeping bags with all horizontal baffles.

I've spent about 10 nights in this Somnus 15 in temperatures ranging from 30 to 55 degrees F. Each night has been spent sleeping out under the stars. I use a rectangular Big Agnes Insulated Air Core air mattress for all my camping/backpacking needs. I typically sleep in a light-weight base layer with medium-weight cotton sleeping socks (I tend to get cold feet). I've not had any trouble staying warm at the lowest temperatures I've encountered.

I'm a side sleeper but will typically wake up on my back only to roll onto my side to fall asleep again. There is plenty of room in the Somnus 15 for me to sleep on my side while the top remains oriented up. However, this can be slightly uncomfortable as the hole in the hood is not lined up with my face. Because of this I like the Somnus 15 to roll with me. This is one situation in which the front zipper makes for a more comfortable night's sleep…there is no zipper under my body. However, being that there is no way to secure the top zipper pull tab, it will fall into my face when lying on my back. This is quite irritating and uncomfortable. The pull tab is rather cold on my warm face. This is a situation that requires a remedy with future versions. The drawstrings also tend to fall near my face though they don't bother me nearly as much as the zipper pull tab.

The Somnus 15 breathes quite well and the shell fabric appears to be quite water resistant. Each morning I wake up with condensation beaded on the exterior while the interior is completely dry. Additionally, the exterior dries quickly with a bit of sun on it.

Overall the Somnus is a good value (I got it for about $180 on SAC) and a worthy addition to my equipment arsenal.
For the price, it's not too bad. The Pertex fabric does a good job of repelling water, but it also leaks feathers. The bag is pretty warm although I am concerned about losing insulation over time. The lining of the bag is very soft and the compression sack that it comes with is awesome.
Great Bag ... even in winter.
over thanksgiving i was a little cramped in the family cabin/ranch house w/a dozen adults and two dozen kids so i took my bag & four season tent and ventured outside. we were just south of fish lake, ut w/ freezing temperatures. this bag held up nicely even in such cold weather. i'm 6'2 so the long bag was perfect length. i did layer up and have a pretty good pad to make it through the night, but nonetheless i was pretty impressed w/ the bag.
So, I went camping last year, in November, and had to take 2 sleeping bags because it was so cold, and my mummy bag wasn't cuttin' it. It was a 2 mile hike to the camp site, luggin' a light weight mummy, and a huge az flannel bag. Needless to say, it was no bueno.
This year, I went camping in November, to the same spot, and I took this lovely little bag. 1. It was 3 lbs. 2. It was only One bag. And 3. It was the most wonderfully warm night of my Life! I slept in a fluffy, warm bag, and not Once did I wake up because I was too cold. A. Maz. Ing.
I dare you to find a better bag for a cheaper price.
I love this bag. I found it on SAC for a super great deal, but the sale price here isn't bad either. If you compare the quality and features of this bag to any other on the market, you cannot beat this bag for this price. best deal around. hands down.

The bag is super lightweight and compressible. The 800-fill down is very nice and holds a lot of loft.

The bag material I have found to hold up very nicely. It seems to be a very fine grid rip-stop fabric. It is incredibly soft on your skin and very nice to sleep in.

I've also found this bag to be very warm, almost too warm for me because I tend to be a very warm sleeper.

I am 6' tall and 175 lbs. (I purchased the long) I find this bag to fit very well, with just enough room at the feet and around my body to stay warm and still be able to move around to get comfortable.

The front zip is a great feature that I like a lot. It allows for easy ventilation if you get too warm, and easy in-and-out if you want to sit up and do things in your tent, etc. I have had no trouble with the zipper staying in place. works great.

The hood and draw-strings work well for me. They slide easily and stay in place. lots of down all the way around the hood.

The inclusion of a storage bag and a compression stuff sack is awesome. both bags are very nice quality. the compression stuff sack works very well and it can actually hold a few additional items it you wanted to compress those down as well. the bag packs down very small and the straps seem to be very well made.

Overall I am very happy with my purchase. Like I said it is nearly impossible to find a bag of this quality, with these specs, for this price. (15 degree rating, 800+ fill down, included compression stuff-sack, rip-stop, super soft fabric, etc)

I dare you to find a better bag for a cheaper price.
Nice Late Summer/Fall bag
This bag has gone on 2 week long backpack trips with me, and it's really grown on me. At first I wasn't sure about owning a 'long' bag as I'm only 5'6" tall and 135lbs. I have a lot of room in this bag, so I'm not sure if it's fair to say that I really don't think the rating of 15 degrees is accurate. I used this bag for my late summer trips this year, and with my down jacket draped over me inside to fill in the extra space I stayed just comfortable when temps dropped into the low 30's. Maybe someone with some more girth and insulation who could fill up this bag would fair better? I'm also a cold sleeper. I love the center zip feature, it's great for reading at night before sleep, as you can keep it a little unzipped to have your arms out to hold your book but still stay cozy inside. It's also quick and easy for the 2am nature calls, to just unzip, bail out. The water bottle pocket is a little too far for my feet to benefit, but I did put our water filter in there at night to keep from freezing. It's a big pocket so I can foresee putting damp clothes in there if needed too, possibly with a hot water bottle to dry them out. The stuff sack is very generous, I was able to stuff the bag, my down jacket and light weight down pants into the sack. I love the fact that it's only a hair over 2lbs. It's a lot of bag for that weight.
Over-all it works for me. Keep an eye out on SAC for a good price. ;-)
Happy Camping.
Unanswered Question
What is the fill weight of this bag?
What is the fill weight of this bag?
Bob Loblaw's review has covered the specs. I have some similar comments, and a few extra. Like him, I found areas where I could easily see daylight through the bag but with a bit of shaking I was able to redistribute the down. But luckily I haven't found any panels devoid of down.

Pros:
- Center zip arrangement is neat, makes getting in & out simple.
- Plenty long and roomy enough (I'm 6'3" & 205lbs).
- Hood design is perfect (for me). When cinched down if covers my face just right, leaving a breathing hole over my mouth & nose only. Just right.
- Very light weight, love the 800-fill down!

Cons:
- Center zip concept needs work. Great idea but the zipper ends up right smack dab in my face. The pulls variously poke me in the nose or flop into my mouth, and the zipper is cold and hard against my teeth. It needs a cover of some kind. Desperately. This is verging on complete fail.
- Center zip needs to be a bit longer. It comes to waistband level on me, and this makes getting in & out an exercise in sliding up to the head of the bag. With a side zipper I am able to flop my knees to the side to gain some extra height with short zippers.
- Baffle over main zipper is only just adequate.
- Footbox zipper has a weird no-hem thing happening. It looks clean but I had a hard time getting the zipper to close without binding.
- No draft collar. Seriously? On a $350 bag this should be mandatory, especially for a heat rating at this level. You could say it's omission was in the interests of saving weight, but it's weight worth having. And there should not be corners cut to save cost at this price point.

I too have not taken this outside, but I got up to 98.6° super-quick, so it _feels_ reassuringly insulated. Bring on winter!

I bought this on SAC, and at that price it is worth me keeping it & trying to fabricate a zipper cover of my own. I would be sorely disappointed if I had paid full retail for this item.
is it goose or duck down? and which is...
is it goose or duck down? and which is better?
Its mostly a matter of preference..but generally Goose down is finer than duck and so it will be warmer, less dead air space to hold cold air.
gray goose down, 800 fill power. goose is the only 800 fill. duck can only be about 700 fill power.
Best Answer
Wow, I don't know where that information came from, but the whole point of insulation in a sleeping bag is "dead" air space. Then the heat from your body warms the air trapped between the insulation fibers. That's just how sleeping bags work. That's why they always talk about loft. You want loft.. It creates air space that you can then heat up.

Hence the reason down doesn't insulate when it's wet.. It all sticks together (loses it's loft) and there is no air space to warm up.
I ended up thumbs-upping woodenpickle because I had knee-jerk thumbs-downed it but can't just take it back and remain neutral. I would say woodenpickle is both correct and incorrect. Yes loft is the "dead air", but I think there is benefit to those air pockets being smaller rather than large. To take it to the extreme opposite of a wet bag that compresses all the loft out, if maximum loft vs insulation was best then we'd all just roll in inflatable sleeping bags (all air, no insulation). The Goatfolk must be referring to a sweet spot where the finer consistency of the goose down over the duck down allows for the loft and yet breaks that loft up in to smaller pockets of air that are insulated by the little walls of goos feathers.....something like that anyway.
Heat transfer as it relates to sleeping bags happens by two mechanisms, convection and conduction, with convection being the more important of the two. Andrew's point about sleeping bags utilizing only air not being efficient is valid because insulation comprised entirely of a liquid or gas which moves easily will subsequently redistribute heat easily. On the other hand, air does tend to have a lower conductivity value so it is useful in reducing heat loss via conduction. I don't know if the material down and feathers are made of has a high or low conductivity value, but the critical usefulness of these is in allowing air space while simultaneously minimizing air flow. A sleeping bag utilizing only air as an insulator would work much better if the air inside never moved. So, yes you want dead air space, in a sense, its just a bit more complex than that.