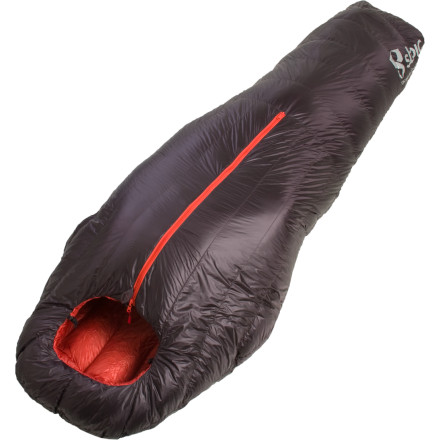 Detail Images

Videos

Community Images
Like an oasis of warmth amid the cold of the wild, the Stoic Somnus 15-Degree Down Sleeping Bag brings supreme comfort to your shoulder-season camping missions. Lightweight Pertex shell material fends off the bumps and bruises of a life lived in the woods, and 850-fill down insulation protects you from the surprise of an early-fall overnight frost. Stoic dialed in the fit-and-finish details of the Somnus with a center main zipper, vertical torso baffles, and a foot water bottle pocket because it's the little stuff that can make or break a solid night of rest in the backcountry.
Winter-weight, 850-fill down insulation provides supreme warmth without weighing down your bag
Down insulation is highly compressible to make packing a cinch
Pertex shell material creates a durable outer shell without a nasty weight penalty
Center-oriented main zipper makes it simple to get in and out of your bag without having to search around in the dark
Vertical torso baffles ensure that the down insulation stays put even if you sleep on your side
Draft tubes prevent chilly air from entering around the neck so your heat stays inside your bag
Zippered pocket at the footbox holds a hot water bottle to keep your toes toasty on frigid nights
Great Bag! Where's the baffle?
I love this bag, especially the center-zip! As a side sleeper, its really nice to have the center zipper. It also packs small and is so light! The only down-side of this bag is that there is no neck baffle. My friend came with me on a trip where he brought a TNF Blue Kazoo and his feathers were leaking all over my tent, while my Stoic bag didn't leak at all! It also packed down smaller. I would give this bag five stars if only it had a neck baffle.
When is it going to be back again?
When is it going to be back again?
Never, the Stoic brand is being "discontinued".
"Gorakshep is a frozen lakebed covered with sand in Nepal and the name of small village that sits at its edge at 5,164 m (16,942 ft) altitude, near Mount Everest.".....this being said, it is frigging freezing. just got back and thinking about gear used, this bag was a lifesaver at night. very warm and fully functional. only thing i would ask for would be a front pocket to keep headlamp, i-pod, ect.. wonderful bag for the price! good job stoic!!
Best 15 Degree Bag on the Market for Pri
Familiarity:

I've used it several times
The title says it all. If you have the money, buy the Western Mountaineering Versalite. It's warmer, same weight, and probably higher quality, but way more expensive. Nonetheless, this bag is killer. Mine weighs in at two pounds. For a 15 degree bag, this is one of the lightest I have found, and believe me, I did my research. It has 19 oz of fill, compared to the Marmot Helium with 19.5. This bag weighs 32 ounces, and the Helium weighs 34. One of the dumbest things that Stoic did is give an about 4 oz stuff sack for this ultralight bag. It doesn't even cinch down as much as the bag compresses. I used a Marmot Helium bag with the somnus and it worked great. The bag is warm, and while it doesnt have a draft guard, the face cinches up very tight if you need. The bottom water bottle pocket is nice, and though I've never used it, I put the stuff sack in there when I am sleeping. Occasionally feathers will poke out, I simply grab it from the inside and pull it back in, massage the fabric, and it's good as new. Once my tent blew into a stream and my bag got wet for who knows how long. I put it out in the sun for a few hours, and it was almost dry. Not only that, but I had a warm nights rest all the same. The center zip is nice and it saves a lot of weight and packing issues. I got mine on sale for 210$, and for that price, you will never find a better down bag. If you have the money, again, the Versalite, but if you are like the rest of us, buy this.
is it a googse down or duck down
is it a googse down or duck down
Outside Buyer's Guide - Spring 2012
Here's what Outside had to say about the Stoic Somnus 15 Sleeping Bag:

"BEST FOR: Side-sleepers, climbers, iconoclasts. THE TEST: Center-zip bags were designed for climbers, for the ease of threading a rope while zipped. But even non-climbing testers loved the simple entry and egress, and side-sleepers appreciated not grinding their hip bones on the zipper all night. Weight savings from the half-zip - combined with top-shelf 850-fill down and diaphanous Pertex Quantum fabric - kept Somnus's weight just under the two pound mark (the four minute mile of 15-degree-rated bags). And the zippered hot-water-bottle pouch to warm your feet is clever. THE VERDICT: A luxurious, incredibly light bag at a great price."
Great Bag
Familiarity:

I've put it through the wringer
This sleeping bag is amazing.

Many people have had problems with the center zip falling into their faces, but there is a flap that the zipper can be tucked into in order to avoid it becoming loose. The shell material works very well - water just beads up on it. The compression sack isn't great, so I might suggest getting a new one. I wouldn't spend the list price on it, but I got it for $210. I've slept down to 23 degrees F in this bag comfortably. Other bags with this fill weight are rated at 20 degrees, so I might rate it at that. Also, there isn't a neck baffle, which isn't a huge deal, I suppose. However, there is a zipper draft tube. This bag (in regular size) is spacious and luxurious - super silky feel.



One thing that I have found to be annoying is the cinching pulls around the hood. Those dangle in your face when sleeping.



Overall, great bag!
I am 6ft tall. Will I fit in a regular...
I am 6ft tall. Will I fit in a regular size bag?
You can fit in it but it says the maximum user height is 6ft tall. To be safe I would go with the long just to have that extra moving room.
Is there a draft collar? The specs say...
Is there a draft collar? The specs say there is however I do not see one in any of the pictures. Additionally reviews of other stoic bags indicate that there is none when the specs say there is.
I had the same problem with my Marmot Helium 15 bag. It says that there is a draft collar and there isn't. However, the face cinches down way tiny, so really, that could count as a draft collar. I don't have to worry about warm air escaping. It looks like this bag does the same thing, so I wouldn't worry about it.
I have had this bag for a while and I really like it.
The center zip does take some getting used to. Fully zipped the cold metal zipper has been known to fall on peoples' faces, but to me that is not the end of the world. This is a known problem though, so I'm not sure why Stoic hasn't addressed it.
The size of the bag works for me. I'm short, so the length is more than adequate. I move around in my sleep and have never had a problem with the width either.
I like how small this bag packs down. The included stuff sack is really solid.
Warmth wise this bag is good, but I can't say I would sleep in 6 degree weather like the previous reviewer. I sleep cold though, so maybe it's just me. If you're a cold sleeper as well, this bag should suit you down to around freezing. Anything below that and you should pick up a good bag liner as well.
Overall, this bag is light weight and a good value if you wait for a sale. Recommended.
I love this bag. I love that the zipper doesn't go the length of the bag. I roll around a lot. So, I never end up on the zipper. It's pretty epic! 850 fill = WARMTH! I slept out in 6 degrees with this and the Stoic medium sleeping pad and I was TOASTY warm. Even in my crappy man made shelter that had a constant breeze. I'm really hyped on this bag.
Bought this bag (2010 model) to take on a 5 day 4 night Backpack trip in the Cascades in Washington. It was early Oct, weather turned bad on Day 2. Low twenty's at night and snow. Bag excited my expectations. Not one cold night out of the 4! I did use a thermolite bag insert with sleeping bag. I am a warm sleeper. Bag was offered only in the 6'6" version.

Pros- Bag is Easy to get in and out of with the center zip.
Bag is light and compresses well.

Cons- Zipper has no tie down, so it will hit you in the nose or face in the night.
This model was only offered in 6'6". Lots of dead space in the bottom! I'm only 5'11" worked out alright as it was a great place to keep cloths for the next day warm.
That is last years bag's info, check the picture.

The stoicgear website is not updated frequently - backcountry.com has all of the updated and new styles.
850 fill that packs down to about 9 inches square and weighs a few pounds. Easy to carry and warm. What else can you ask ask for? Top zip is convenient so you can let out some heat from the top and not get chilled on one side of your body. I have used this bag on 20+ mile mountaineering trips in Colorado, sleeping at 11,000 feet with temps in the 30s. I was not in the least bit cold. Not tested at its rated temperature though. I would recommend this but not at full retail price. It seems to go on sale a couple times per year.
This is my second Stoic sleeping bag...
I love it. I now have the older 30 degree, and now this one. I love the weight of the bag, and the top zipper. The material seems pretty thin, but I have not had any trouble with my 30, so I'm guessing this will work just as well. I only sleep out under the stars with these bags, and with the weight savings on these super light down bags, I've somewhat turned into a very light backpacker. Love it! (I did get the bag on sale, thgouh)
Very nice bag. I got it on sale so I didnt have to pay the 350. I do have a gripe though. I noticed striations occurring on one side of my bag in the torso and the down is leaking out. I just sewed it up, but it only took about 3 uses and it was happening. Still a nice bag though, all in all.
I like the bag enough to keep it. It's warm and the tall is REALLY tall giving my 6'3" plenty of space to move "vertically." But it's pretty narrow meaning a back sleeper or a side sleeper option is really all you got. I tend to sleep with a bit of a jack-knife orientation - one knee out wide and I couldn't move much before reaching the max width of the somnus.

I also can't support the top zipper. In theory, it's a great idea to avoid sleeping on the zipper for a side sleeper. But I found it failed for a couple of reasons:
1. The bag doesn't always move with you. I could easily turn to one side leaving the hood flat on the ground and the zipper on top. I actually had to work the bag onto its side with me in it. This led to #2
2. The bag unzips easily. Unless I was diligent about getting the zipper all the way closed and then holding it as I shuffled, it popped open and let the chill in. I was constantly trying to rezip it.