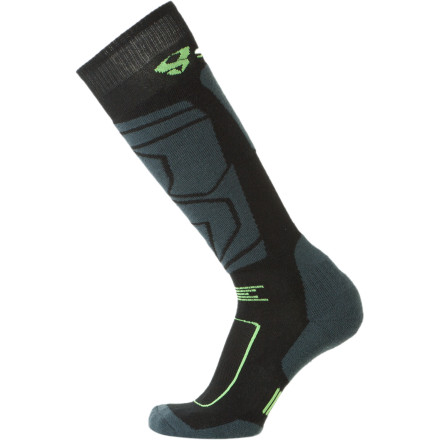 Detail Images
Whether you're kicking a bootpack along a knife ridge, or stomping a skin track just before dawn, the smooth, breathable Stoic Merino Ski Socks treat your feet to a little slice of paradise. Stoic gave these socks a touch of spandex to keep the fit close and used odor-resistant merino wool for superior comfort. Nylon and acrylic fibers provide reinforcement to increase the overall durability without sacrificing any of the benefits of merino. Reach for these socks when you need extra comfort for beyond-the-boundaries cliff hucking, summit-bid ski tours, or when you're ripping lap after lap on a hot tram.
Backcountry.com is the exclusive US distributor for Stoic products
I would wear all four of these socks at once. Nice comfy socks for skiing in.
Stoic Merino Ski Socks - 2 Pair
Best ski sock yet. The merino keeps my feet warm and they don't stink! Even after a few days skiing.
Really nice set of socks. High quality wool and solid fit.
Great socks for the price!
So far I these socks have been great. Holding up really well. Perfect balance of cushion and thinness for a great fit for me. Keep my feet toasty and comfy for all day riding. I will be getting more of these for sure in the near future!
I've been using this sock for the past few months. As of now it's holding up really well. I usually chew through a pair of ski socks in 2 months and these are still going strong. However they are a bit thicker that what I would like so just keep that in mind. If you like a thin sock this might be a bit to thick. But def worth checking out
Won't go skiing without them!
Bought some for myself, and for my boyfriend
These socks are amazing. I bought the Black/Excalibur for myself in a Small/Medium. I wear a women's size 7. I bought the Red/Black for my boyfriend in an XL. He wears a men's size 13. I wish the S/M were a teeny bit smaller, but other than that, we're both in love with these socks! I am 5'2" and the socks fit me right up to the knee. The cushion on the foot is amazing, and I feel like I'm walking on pillows. They fit my boyfriend up to just below his knee and he is 6'1". He raves about the positioning of the padding and that they never fall down at all, even while skiing extra hard. I would recommend these socks to anyone and everyone!!! I wear mine constantly. He said they are his only ski socks from now on.
I love backcountry.com, and want to love stoic products but found these socks to be a little lacking. The footbed and shin cushion are great but the socks have some work to do in the fit department. I'm 5'10" 165 and the large fits my foot perfectly, however the elastic at the top of the calf must be for someone with the smallest legs on the planet. By the end of the day I had a huge compression line digging into my calves and i dont even have big legs!

also i was a little disappointed they were less than 1/2 wool....but that is my fault for not checking...its pretty clear in the description

These socks deserve 3 stars but get a 4 because of Backcountry.com's legendary return policy. could not be any happier with the service.