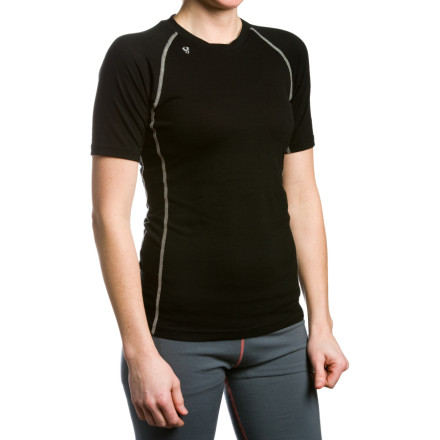 Detail Images

Community Images
Toss all your synthetic base layers in the trash and opt for the funk-fighting, moisture-managing Stoic Merino Crew Shirt this season. Employing 17.5-micron Merino wool from New Zealand, the Merino Crew Shirt ensures comfortable, dry days whether you're out for a mid-January dawn patrol or an autumn ride down the single track. Merino transfers moisture while your sweat is in its primary vapor form, so unlike most synthetic fabrics the Merino Crew Shirt begins to pull moisture away from your body before your shirt becomes saturated. And since wet usually means cold in the backcountry, warm Merino is the way to go. The athletically-fitted Merino Crew Shirt feels great against the skin so you can wear it during your ride and then to the pub, and your post-ride car mates will thank the powers that be for Merino's natural odor-shunning properties. A reflective logo hit on the Merino Crew's front neckline ensures a little more safety during your evening runs, and the thumbholes at the cuffs take the bunch out of layering.
Backcountry.com is the exclusive US distributor for Stoic products
I've had this shirt for 6 months, and wrote a review when I first got it. Since then, I've worn this as a base layer while skiing, hiking, air boarding / sledding, snow shoeing, mountaineering; also used while canyoneering, running errands, and as a quick layer for warming up when cold at the beach after kite boarding, or after a paddle boarding session.

Still loving it, has withstood many washes and still looking good. Looking forward to getting the long sleeve version of this.
I got this top because I really liked the V-neck version. I think I still prefer the v-neck because this collar seems kind of high, but it still delivers great performance. This particular one seems to smell a little 'woolier' than my other Stoic tops, but not enough to bother me. Overall, I'm sold on the all-weather use of wool tops!
Only T-shirt I'll climb in
This shirt is amazing! Fits perfectly (ordered a Medium and I'm 5'11" and 150 pounds, not really curvy), and looks great even after a bazillion washes. Awesome for layering or wearing solo. Light weight, warm, never smelly. I refuse to climb in anything but tank tops since most T-shirt sleeves constrict movement when reaching for holds. Not these sleeves- they stay exactly where they belong and never constrict movement. I've ordered several more.
I have the XS Shallow/White (turquoise). This incredibly soft shirt seems to be great, hot or cold. I put it on after being out in the water for several hours. Came back cold, put this on, and was instantly warm. Later, as the heat of the day caught up with me, I was surprisingly cool! Can't wait to substitute this for my old base layer next time I'm in snow.

Wearing it now, on a pretty warm Texas day. It's so comfy. Looks great on -- super flattering lines give a long, slimming effect on any body type. Contrasting stitching is solid. Love the raglan sleeve design. Great attention to detail not usually found in basics, my hats off to the designer.

Comes kind of long, which I wasn't sure I'd like given I don't have a long torso, but it falls great, just over my hips. The back side has a gentle curve to it instead of coming straight across. Pretty. Practical. What a great piece.
I ordered three of those and tried one out this morning on a rainy day hike. It feels so soft next to my skin and was warmer than I thought. If you are in need of wool tops, get these! :)
Bought this in 3 colors because I love it so much. Quick drying, lightweight, flattering, and breathable. This was my go-to shirt on a 3 week trip in New Zealand, and I'd often put it on and just go for a hike while it was still damp, letting it dry comfortably as I walked. Just be warned that the cream color is very sheer.
Great merino, stitching not so good
Ordered a few last year. Best merino around in terms of fabric. However, I found the stitching to be of poor quality -- at the hem and the thumb-holes in the long sleeve versions. I am going to order one of the new colors and see if this aspect has been improved on.
I have quite a few merino wool tops/t-shirts, but none in a light colour. Took a chance with the cream, and I love it! I wear it the most out of all my merino shirts. I thought it might be a bit too see-through, and it will be unless you wear nude bra, but it also works great as an undershirt to a hoody.

Very soft to the touch. I normally wear XS in Icebreaker and Smartwool (5'4"/112lbs), but opted for a small in this and glad I did. It fits without being skin-tight, and loose enough without it looking too big. Wears and washes well, no pilling after about a dozen washes so far. Great product!
This shirt rocks! It fits well, stays cool, and can go for days without washing. Perfect. I'm 5'2" (with a longer torso) and 36" around the chest. I ordered a medium and it fits perfectly. Plenty of room to breath and move freely, yet for fitting enough to look good!
I'm just waiting for my colours to come into stock so I can get another one! (or two, or three...)
the best backpacking shirt!
just got back from a 3 day high intensity backcountry backpacking trek and i have to say, i was SO glad that i bought this shirt for it.

we experienced both misty cold weather, high winds, and hot blaring sun during the trek, being that we were by the coast. this shirt aired out quickly, stayed dry, and was both cooling or warming depending on the weather. i am super impressed and would totally recommend this to anyone looking for a nice comfortable top for a trek. i wore this shirt all three days and it never smelled... it only smells of campfire from our last night :)

as for fit, i have a sort of large chest and short torso and this shirt was super flattering, comfortable and not too clingy. it fit true to size.

definite buy!
My favorite merino short-sleeve
I love this shirt! This shirt fits well and shows curves etc without being tight or revealing. The contrast raglan stitching on the sleeves is super cute.
this shirt is awesome. my absolute favorite. it looks good, feels good, works good. what more can i say? i bought two more after my first one, so hopefully i'm set for, like, ever.
Pretty true to the sizing chart that you can link to above. In comparison to another brand; similar to Arc'teryx but longer in the torso.
This shirt is amazingly comfortable! Way softer than the icebreaker merino shirt I have. It dries lightning face, stays fresh and doesn't pile after wearing under a back pack. I want a dozen more.
My first impression after getting the shirt was how silky smooth it was. The wool couldn't be softer. It's pretty similar in quality compared to the Icebreakers, except this shirt is made in Canada as opposed to the IBs which are made in China. I took it out for a day of riding in the mountains today - spring conditions and I was sweating quite a bit. But I would have never noticed - the shirt was pretty dry in most places at the end of the day. The slightly damp areas did smell like a wet sheep. But after airing out for half an hour after we got home, the shirt was smelling new and good again. I got the black, which looks very good. Hopefully they will make it in other colors too....
Nice, true to size fit. Very soft, fine knit merino, and a cute fit. Similiar to Icbreaker 180 weight w/o the pricetag. Got in pink and was slightly transparent though.
Nice, true to size fit. Very soft, fine knit merino, and a cute fit. Similiar to Icbreaker 180 weight w/o the pricetag. Got in pink and was slightly transparent though.
I have the charcoal in small. Took with me on a trip to Baja California. Ran several times in the desert with no washing, no problems, no stink. Heat management was great and it held up well to a hike to hot springs as well in 70-80F heat. I'm looking forward to trying it out in the heat of the Maryland summer... This is a great shirt (and long enough to cover my ape torso!!). I wish they came in several more colors... Agree with the previous post about the model, though. Rest assured, it looks good on girly bits too...
That model's a MAN BABY, YEAH!!!