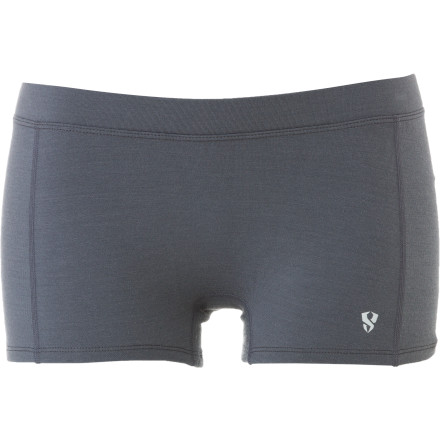 Detail Images
Description
When a thong just won't cut it, don the Stoic Merino Boy Boxer.
There's nothing manly about the Stoic Women's Merino Boy Boxer, except maybe the inspiration behind the cut. This short is designed to provide full coverage and the comfort you need to hit the skin trail or single-track in spring. Flat stitching and stretch fabric are ideal for high-output activities, while the stylish side panels add a feminine touch. Merino wool resists odor and transfers moisture vapor away from your skin, making the Stoic Merino Boy Boxer ideal for active women.
Backcountry.com is the exclusive US distributor for Stoic products
These are terrific
Familiarity:

I've used it several times

Fit:

Runs large
I love these from the first time I put them on. I thought they ran a bit large so exchanged a medium for small and that fits great. I hand wash for longer life and have put a few stitches in the waist elastic to prevent that from rolling but otherwise am very pleased. They are comfortable and feel great under hiking pants. I even like just wearing them around the house with a t-shirt. Almost forget to put anything else on since they are so comfy. I also bought Ibex boy short and am equally pleased. Bought these to try out for a trip to Spain to walk the Camino de Santiago and will buy more and will most likely wear them for some everyday activities as well.
Best. Underwear. Ever.
Gender:

Female

Familiarity:

I've used it several times

Fit:

Runs small
I've stopped in the middle of a backcountry tour to proclaim my love for these undies. I probably could have done with a size small, but the mediums are great for a bit extra coverage. And oh so soft and just the right amount of warm. They stay in place and aren't too bulky under most looser-fitting outdoor pants. I've been careful when washing them based on what other people have said, but so far, so good. And at $10, a total steal, so I now have 3!
These are so awesome! I wear them bikejoring, hiking, rock climbing, and camping. They are warm and moisture wicking, so they keep you comfortable and dry even in cold rainy conditions. Will definitely be buying more!
No wedgies ever!!
Familiarity:

I've put it through the wringer

Fit:

True to size
My fiancee loves to extoll the virtues of these boxers. She wears them on hiking/backpacking trips and under her scrubs. No riding up, breathable, softer than icebreaker, and they look great... why buy anything else?
Magical
Familiarity:

I've used it once or twice and have initial impressions

Fit:

True to size
So incredibly soft. Fits true to size. These are amazing. Definitely the most comfortable athletic underwear that I have ever had. I haven't had trouble with the band, yet, but I'm hand washing them.
So soft
Familiarity:

I've used it several times

Fit:

True to size
These are the softest, most comfortable underwear/boxers I've ever worn. No irritation or riding up, almost like butter. I read other reviews about the waistband twisting around, so before I even wore them I just put a few little x's in the band to secure the elastic. I haven't had them long enough to attest to the durability, but they are holding up. I've only used for lounging so far, but looking forward to wearing them this winter on hikes and the slopes! I wish there were other Stoic underwear styles available (thong or bikini), but I plan on buying more of these!
Stoic Merino Boxers
Familiarity:

I've used it several times

Fit:

True to size
I bought one pair on sale just to try them out, then turned around about bought another 4 pair. They have a cotton feel but do not ride up in the genital area (they stay in place!!) Excellent moisture wicking. I have used them in a very sweaty gym and felt dry the entire time. No chaffing.
I got these for hunting, camping and fishing. I travel with men and they get to walk around in their undies so now I can too and not have cheeks hanging out. I love these sitting in a tree, on a boat, & hiking, they are the best in heat and in cold weather. I ordered medium because thats what the reviews were saying for their size, but I returned and got small. I'm 5'4" and 140#'s but guess I'm shaped for 120#'s.
I bought these on SAC
Familiarity:

I've used it several times

Fit:

True to size
After the first washing the waistband elastic totally twisted inside the channel, so now they are "lumpy" around waistband . The fabric is decent, but honestly, at any price, I would not buy these again.
Sexy Wool Panties....
Familiarity:

I've used it several times

Fit:

True to size
I bought these to wear hiking in the Alps this summer and as it turns out, there was a heat wave.... Several back to back days in the 90s with no air conditioning at nut in the mountain huts.

These are very comfortable and kept me cool. I haven't had a problem with the waist band yet, but it's moving in that direction. I highly recommend these. I bought 3 pairs and love them.
Hand washing = no twisted elastic band
Familiarity:

I've used it several times

Fit:

True to size
After reading all the reviews about the awesomeness of these underwear, except their mammoth flaw, the twisted waistband, I decided to buy a few and be very careful.

These are so soft! And so good for my lady parts, breathable, not itchy, loose fitting, no chaffing! I use them daily, and have bought more since my first purchase.

I hand wash them and air dry to prevent the rolled elastic. After three light washes, so far, so good.

I probably should do as others did and sew a few stitches, but I do not have a sewing machine and am afraid my stitching will do more harm than good.
*If anyone has tips on how to sew them without damaging, please share!*
I have a couple different wool undies in different brands, but these are my go-to ones. I have two pair and in the winter I basically live in them. These are perfect for a day skinning up the mountain or to keep you warm when you ride the ski lift. In the shoulder seasons I use these when hiking or backpacking. They are a little too warm for long summer hikes. I have had my first pair for about two years and they still look the same as when I bought them!
Love, except the twisting waistband
Familiarity:

I've used it several times

Fit:

True to size
These are like wearing a cushiony cloud around your entire rump, each hiking step reminding you that you're swaddled in cozyness. They don't ride up, they don't pinch or pull anywhere.

I love them not only for hiking, but for biking. I bike to work, and when I wear these, I don't arrive with a big sweaty mess, as the merino is so absorbent. I especially love wearing them under skirts, as if the skirt rides up while riding, no big deal! It just looks like you have shorts on underneath, or maybe yoga hotpants.

My only complaint is what everyone else is complaining about...that darned waist band that twists. I keep meaning to just sew a stitch through each pair at a few places around the waist, to prevent this from happening. But at more than $20/pair, we shouldn't have to do this!

I love them so much that I'm still giving 5 stars, but only because so many people have already complained that it would be redundant to belabor it here by docking another star.
I love these. I bought them for running long distances and playing soccer when you just don't want to deal with riding up issues. These stay in place and are super comfortable. As for the elastic, I always cut it out with a small incision in the back. They still stay up perfectly, no twisting. These are all I wear now.
Twisted, But Good.
Familiarity:

I've put it through the wringer

Fit:

True to size
Would give it a 5 star rating if the waistband elastic didn't twist and bunch up. Would work better if the elastic was actually sewn into the underwear, rather than just looped through a "tunnel". Otherwise, great fit, dries quickly and does what it should be doing.
These are my favorite underwear and when I saw that they were on sale, I snagged a few more pair. Wool is the only way to go! Yes, the waistband still twists when you wash them. I am sure that you could easily tack it in a couple of places to fix, but I just use a couple of safety pins before I wash. Try them, you won't be sorry.

Ditto: Poor Waistband Design
I've owned 5 pairs of these shorts and I love them, but after one washing, the elastic in the waistband rolls and folds. Such a disappointing flaw in an otherwise perfect wool boy short. PLEASE REDESIGN!
Poor Waistband design
Familiarity:

I've used it once or twice and have initial impressions

Fit:

True to size
Theses wool boy shorts have a real problem with the waist band twisting making them very uncomfortable. I won't wear them on a hike. I am going to try and see if I can do something with my sewing skills to fix them. I would not recommend these to anyone who wants seamless active comfort on the trail.
Wanted in Every Color
Familiarity:

I've put it through the wringer

Fit:

True to size
I purchased these with the thought that maybe, just maybe I could find some comfy shorts for those long hikes that make you want to take your pants off after you've been on a solid incline for the better part of your day. These are that, and so much more.



I read the issues people were having with the waist band before I washed these, so I went ahead and sewed a few stitches here and there throughout the band and have not experienced the twist.
Lookin Good
Familiarity:

I've used it once or twice and have initial impressions

Fit:

True to size
I have tried these as a wool upgrade from the Patagonia active boy short. I am pleased with them so far. I was hoping that the leg of the boxer would be a little longer, but still far better then the run of the mill underwear. I really enjoy how light weight these feel and how soft. Also the seams are placed really well so that they don't chafe. I am looking forward to putting these through the ringer!