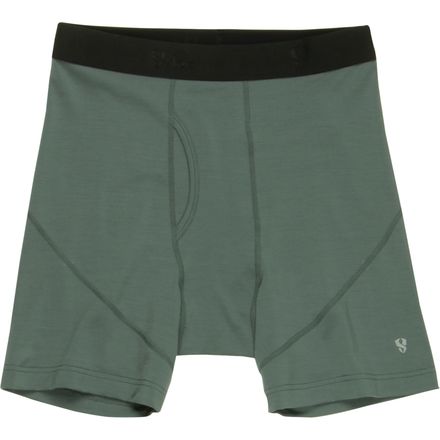 Detail Images

Community Images
Description
Make a flag out of your old cotton boxers.
It's here guys, a boxer brief designed for the active lifestyle—the Stoic Men's Merino Boxer Brief. Made primarily of merino wool, this natural fiber delivers moisture and odor-management and is exceptionally soft against the skin. Stoic's Y-elastic stitch technique makes a smooth, extremely comfortable seam at the waist and flat-stitch seams reduce rubbing. The addition of spandex adds the stretch you need to be comfortable whether you're on a skin track or bombing singletrack.
Backcountry.com is the exclusive US distributor for Stoic products
Warmth
Familiarity:

I've used it once or twice and have initial impressions

Fit:

Runs large
I needed to be warm for an upcoming sporting event where I knew I would be sitting for an extended period of time. I didn't want to go crazy with too many layers, so I bought these boxes. I made the right choice. They run a little large and have a strangely large elastic band. Wore then twice and will wear them during the upcoming ski season. Soft and warm. Picked the pair up at a nice price also. Thank you Backcountry.
Best underwear made.
Familiarity:

I've put it through the wringer

Fit:

True to size
I have several pairs of these that I have bought over the years. It is now all I wear for sport and daily wear so I pick up a pair or two when they're on sale or when my laundry duties are just not keeping up with my wear.

These last a long time. No holes or break-down after years of use. They are really well made. You forget they are on. For jogging or biking I like a little snugger fit than these provide, but for hiking, snowboarding and everything else I use them for...they're perfect.

On trips they are nice because you can get 2-3 days of wear out of a pair assuming you don't sh*t or piss in them. Do you do that? You should talk to somebody about that. Anyway, makes packing easier as you get some wear without any funkiness.

They're breathable in the summer and warm in the winter. I like them better than similar Patagonia underwear I have tried.

When Stoic stops making these I hope they give lots of notice so I can stock up for life!
Now I want more
Familiarity:

I've used it several times

Fit:

True to size
These are incredibly comfortable and true to size. The tag is indeed in a strange place, but so far it hasn't caused any discomfort. It's noticeable when putting them on for the first time, but is forgotten soon after. As with all merino wool products, these wick moisture very well and don't hold onto any funky odors that might be a result of a few days without showering.Pick em up before they're gone!
High quality merino
Familiarity:

I've put it through the wringer

Fit:

True to size

Size Purchased:

Med & Lrg
Great underwear for fall & winter. The boxers are very soft and can go for good price @ $22.50. If you are between sizes I'd suggest going down. I get 32" jeans and I can wear both men's M and L in these, but M fits more like boxer briefs. No issues with tearing or merino being too thin...it is good, solid med weight merino. Worked great as two of my few pairs along 5 day RMNP hike this past summer too. Own several colors now and bought set for pops too who's also impressed esp as someone who's always "chilly"
Unanswered Question
Are these being discontinued? If so, I want to snag a couple more pairs.
Do not buy these unless you are looking for a giant tag in your butt. Not sure why any company would put a tag there. This is my first pair of merino wool boxer briefs and I cut the tag off and BAM! Now I have a hole in them. I'm out of luck since I bought them more than 30 days ago. They are technically brand new but I cut the tag off so I can't return them. I can't even tell you if they are comfortable or not so I guess you will have to go by the other reviews. Very disappointed.
Hi, will these be available in a Medium again?

Thanks.
Unfortunately we won't be getting any more of these in a Medium. Feel free to contact me and I can help you with some alternatives.



Ben

brabinowitz@backcountry.com

801-746-7564
Well I see they have Medium again, 10/8/15. These are my favorite underwear, I really don't understand why you would stop selling an entire size..
My new favorite pair
Familiarity:

I've used it several times

Fit:

Runs large
I have tried Patagonia and Smartwool merino wool boxer briefs, and these are the only ones that fit me comfortably and DONT ride up like crazy. These fit perfectly, stay in place, and I dont think they sit too high up on the waist. Dont know what else to say about them. I will definitely take these with me when i go on my next week long backpacking trip, or rock climbing, or skiing on a warm spring day. I ordered two and might order a few more. They do run large, luckily I ordered one size down from what I normally would. I am 5'10", 153 lbs, and the size small fits me perfectly.
The Underwear I Keep On Buying
Familiarity:

I've put it through the wringer

Fit:

Runs large
Ive tried loads of other briefs mostly for working out and running, but for the price none are better than these. They are a little thicker than other brands of merino boxer briefs but i personally dont like mine to feel too thin and silky. Unlike many of the Under Armour products they also have a fly opening. The magic of merino wool cant be understated. Somehow keeps you cool in the summer, warm in the winter, and odor free unlike any other fabric Ive ever tried. Every time I wear a pair of these out, I buy two more. They run a tad large in the waist and length.
Almost there, wait for the next gen!
Familiarity:

I've used it several times

Fit:

True to size
Here are the results of my Camp Daniel Boone comparison tests.
Temps ranged from 60 to 80, humidity high, elevation 3,000 ft.

Underarmor vs. Stoic wool boxer briefs

Underarmour is great for support and wicking, although it is a bit high waisted and you have to turn the waistband down one roll to compensate.
They feel damp at high humidity, nowhere for moisture to go, but do a far better job than cotton for prolonged activity - especially over multiple days.
Durable and easy to wash, hang dry, no shrinkage.

I tried and returned two other brands of wool boxer briefs - short inseam meant they would ride up and cause, more than prevent, chafing of thighs.
Stoics have a longer inseam, like the underarmor 6", that overcomes that problem. Good!
They re so high-waisted that I rolled the waist band twice and the three times to get it to feel right. Too much bulk. Bad.
If under armor is a 9 in support, these are a 6 or 7 - natural wool has more give to it than synthetics, I guess.
The wool is thicker and warmer than the synthetic, which surprisingly led to a more absorbent and drier feel.
The natural antimicrobial properties of wool is also an advantage.
As Scouts learned in Mr. Stockton's Animal Science MB class, the better wool used for clothes is not itchy, and neither were these.
As a side note, these run true to size in the waist band; I tried hot water wash and even the dryer to get them to tighten up for more support, but no change.

Which for Philmont? No clear winner.
A cross between the two would be perfect!
Underarmor is great for support, Stoic is best for a comfortable fabric feel.
Too bad they are so high-waisted!
Give the dry air in NM, I will go with Underarmor again, but I am continuing the experiment there with a pair of the Stoics.
I have other Stoic trail clothing I depend on, and they will get it right next time out. Chop the waist, and go with some spandex blended in for more support, and give us the wonder of wool!
Very nice
Familiarity:

I've put it through the wringer

Fit:

True to size
These boxer briefs are very nice. However, they are a little thick compared to a 150 gram merino wool. Subsequently they are a little warm in hotter climates. I think they will be absolutely excellent in the spring and fall and quite acceptable in the winter. For summer months however they are ok but again a little warm.

To be fair, these are a pair of the most comfortable boxer briefs I've ever worn.
I Lived in These.
Familiarity:

I've put it through the wringer

Fit:

True to size
For 5 months, I lived in two pairs of these on the PCT. The best part? I didn't even notice! Light, SOFT, super comfy, not too tight, quick to dry, and NOT SMELLY.

I'm sure I can spare ya'll the details of how hot, dirty, sweaty, and generally nasty one can get when living outside for that long and hiking 20+ miles a day... But through it all, my faithful undies nary gave me a problem.

Both pair made it the whole way, and one pair did develop a hole but that was my fault, I put my toe through the leg...

But seriously. I didn't know underwear could be so damn good! I wish I had enough pairs to always wear these, but the two pair I own are relegated to outdoor trips for now!

It's been a bit over a year and I just bought another pair!
Love These
Familiarity:

I've put it through the wringer

Fit:

True to size
Just ordered my second pair, this is my favorite boxer brief by far. I am not a fan of the typical super tight boxer brief style that rides up super easy (for me at least). These have long enough legs and a loose enough fit that they do not ride up and you can't tell they're there. On top of that, the material is super soft and definitely stink-resistant thanks to the merino wool. You pay a premium for the merino, but in my opinion it is well worth it for the all-day comfort you get.

The fit is pretty spot on with the size chart, but probably on the big side. I'm a 34 waist and the Large fits great, but if you were a 33 waist or smaller I would definitely go with Medium. Large should accommodate a 36 waist no problem.

Get these! They are expensive so it's a bit of a commitment, but I definitely do not regret taking the plunge and look forward to adding a pair to my collection here and there as my wallet allows.
Loooong waisted
Familiarity:

I've used it several times

Fit:

Runs large
Great breathability, doesn't stink after 2-3 days of use on the trail. Only complaint is that the waist runs a tiny bit large I'm a 32-33" medium and they're just snug enough to not feel loose. Also they're really high waisted unless you want them low enough where you get zero support for the boys. I just roll the waistband over once and it addresses both of those issues pretty decently. I got 2 pairs on Steep & Cheap for ~$25/ea, so given the price, I'm pretty happy. Just wish the fit were dialed in a little better.
Got these as a base layer for skiing and hiking. Worn and washed them twice. Quality is good and fit is comfortable. Perfect for what I needed.
Run big/long
Familiarity:

I returned this product before using it

Fit:

Runs large
In smartwool, patagonia, etc always get a Medium, but these Stoic mediums are huge and fit loose.
Great Pair Of Drawers
Familiarity:

I've put it through the wringer

Fit:

True to size
Many reviews already written about these super affordable Merino wool boxer briefs. The fit is great, they are plenty thick, and very soft. I use these in the gym often and havent had any pilling issues yet. And, not to get too detailed, but the odor eliminating effects of Merino wool are for real. Try out one pair and I think you'll be making another order for several more soon after.
Love 'em, love 'em
Familiarity:

I've put it through the wringer

Fit:

True to size
Once again, stoic comes through with a great deal on merino.

Super comfy. Neither too hot nor cold, not stinky even when I am.

Good summer, winter, running and other active things, etc.

I'm a 31" waist with lots of junk in the trunk and muscly thighs and these things fit great with much less ride-up than I normally have.