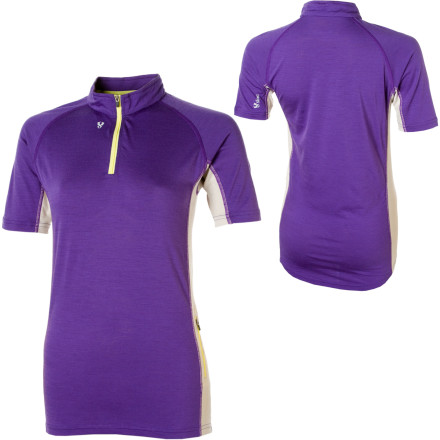 Detail Images
With its soft, naturally odor-resistant 17.5-micron Merino wool knit and ½ neck zip, the Stoic Women's Merino Bliss Lightweight Top covers you in functional comfort, minus the synthetic funk factor. We made this next-to-skin top with ridiculously comfortable New Zealand Merino, rub-reducing flat-locked seams and side panels, and a body-heat venting ½ chest zip so you can blow off some steam after a mean summit push or a tricky boulder problem. Merino wool transfers moisture while your sweat is in its primary vapor form, so unlike most synthetic fabrics the Merino Bliss Top begins to pull moisture away from your body before your shirt becomes saturated. And since wet usually means cold in the backcountry, warm Merino is the way to go. Stash your lip balm, energy gel, or other small items in the Bliss Top's side pocket for safe keeping while you're on the go. A reflective logo hit on the Merino Bliss Top's collar ensures a little more safety during your evening runs.
Backcountry.com is the exclusive US distributor for Stoic products
Love this shirt
Gender:

Female

Familiarity:

I've put it through the wringer
I have 5 of these. I hate the colors of almost all of them (except when they made a black), but they are my go-to shirts for the backcountry and working in the field. My favorite thing is the long sleeves. They're a little thin and can be sort of see-through, but they're not really an around-the-town piece anyways.
No Stink, Wicks like a boss
I wore this on an unbelievably sweaty and hot and cold 8 mile hike, got back to camp, and didn't feel the need to change -- I was dry, comfortable, warm, and stink-less. I am a merino convert.



I liked it so much I bought another!



I am 5'2, 115lbs, and usually wear xs-s -- I got a small and it was perfect. Just loose enough, and flattering.
Don't sweat it... no really
I love this shirt! It's super flattering, warm, wicks moisture away, BUT... after my first day running in it, I came home and everywhere I went something smelled like pee! I was horrified to realize it was me! The shirt is still great, but be forewarned, that if you actually sweat in it, you will want to remove it and wash it immediately afterward. Probably not the shirt for the gym or any stationary aerobic activity!
This is an extremely comfortable shirt that I wear primarily mountain biking. Wicks well, dries very fast and does not get stinky. Will buy another.
It is thin and warm at the same time. I own the crew neck and this one. Having the zipper really make this shirt extremely flexible. It is 90sF outside and the zip lowers the temp instantly. Walking into an air conditioned room, the zip warms you up right away. The cream color is not see through but may show a hint of your color bra, not too much at all. Feel comfortable walking around a store in it. The silver is a bit purplish matching the seam. All in all, a very versatile shirt for this summer even you are not outdoorsy type.
I love this shirt so much it should be illegal.
I bought one of these in cream as a work shirt for a summer of archaeology fieldwork at Mount Rainier -- so, rain, snow, cold, heat, sun, bugs, sweating profusely, hiking, hauling dirt around, bushwhacking, camping in freezing tents, falling into streams, and bending over screens in scorching sun. I've worn it every day for two months now and been comfy, ventilated, just the right temperature, dry, and un-smelly. I've also broken every rule of wool care: thrown it in the washer with my other clothes every week, scrubbed it in a sink full of warm water, worn it wet with a backpack over it, etc, and it still looks perfect and fits right (it's barely even got any snags from the bushwhacking). It's thin, but just solid enough to keep my tattoos from sunburning, and the shape and collar zip are perfect. I bought this one on S&C, but would gladly pay full price for another (and probably will).
...then this jersey has a refrigeration unit! How else could it feel breezy in 88 degree weather?
This is my first try with a merino jersey & after several tests both in hot & cool will not return to poly unless necessary.
Initially was hesitant about possible odor, itching, and temp regulation. All answered beyond expectations.
The tag does recommend care with Nikwax, which I was able to purchase at Gander Mtn. after locating on their site for about $5. It's worth the investment as it seems to gently wash. Following the instructions, the jersey came through nicely & what little sweat odor was trapped in the fibers disappeared.
I wear the cream which looks sophisticated with its black contrast stitching. The cream slightly leans to the sheer side but not enough to make an issue of. It is a lightweight merino after all.
Got for a steal on S&C & looking for more. From what have now read & heard Stoic does a fantastic job--right on par if not superior to Icebreaker & Smartwool.
Longevity is only question--have been using for about 6 weeks--both everyday & riding to test--and so far so good.
Don't hesitate--try one!!!
This wool shirt is comfy and fits perfect. Long length and love the zipper pocket. Would buy another, but the price went back up :(
Just as good as your icebreaker
This shirt is awesome; it's super comfortable and soft, absolutely no itch! My first trip with it was out in the desert, it worked great for layering as a baselayer to keep me warm at night but was also really comfortable to wear as just a tshirt. I love it because it has the feel and performance of higher brand name stuff but for less :)

warning to the ladies: it's not super sheer, but any color bra other than white is very easily identifiable.
I love this shirt. It's extremely comfortable, does not itch at all, and fights stink extremely well. I can wear it to a week's worth of workouts before I start noticing any smell at all. I love the long length, which makes it perfect for wearing with leggings. It isn't as soft as I/O Bio merino, but is on par with or softer than icebreaker. The heat regulation is fantastic, and the pocket is absolutely clutch--its also extremely well designed--I can use this as a base layer when layering without the pocket creating issues. I'm usually somewhere between a size small and a size medium for tops, and chose a small for this shirt--it is very formfitting on me, but I'm glad I chose the smaller size.
is the shirt sheer/transparent?
is the shirt sheer/transparent?
Its going to be more sheer than a mid-weight or a heavy weight merino. It shouldn't be transparent though. You wouldn't need to wear anything under it.
It was too sheer for my taste:(