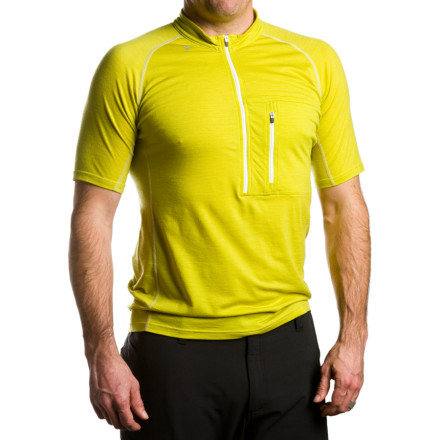 Detail Images

Community Images
With its soft, naturally odor-resistant 17.5-micron Merino wool knit and ½-neck zip, the Stoic Men's Merino Bliss Shirt covers you in functional comfort, minus the synthetic funk factor. We made this next-to-skin top with ridiculously comfortable New Zealand Merino, rub-reducing flat-locked seams and side panels, and a body-heat venting ½-chest zip so you can blow off some steam after a mean summit push or a tricky boulder problem. Merino wool transfers moisture while your sweat is in its primary vapor form, so unlike most synthetic fabrics the Merino Bliss Top begins to pull moisture away from your body before your shirt becomes saturated. And since wet usually means cold in the backcountry, warm Merino is the way to go. A reflective logo hit on the Merino Bliss Top's collar ensures a little more safety during your evening runs.
Backcountry.com is the exclusive US distributor for Stoic products
Unanswered Question
Please bring this shirt back!
Will these shirts become available again?...
Will these shirts become available again? Mine wore out and it's my favorite shirt I've ever had for hiking/backpacking.
While a BC employee will have a better answer, I can tell you that all Stoic products are being discontinued.



Some are being re-branded as Backcountry.com apparel. Seeing as this was a popular item, that's what may happen to this shirts. But again, I am not an official employee.



In summation: Not coming back as Stoic, may come back as Backcountry.com
Unbelievable Quality + Price
Gender:

Male

Familiarity:

I've used it several times
I have (4) of these shirts. The first I got off of DoG for a reasonable price. The other (3) I snagged off of SAC for $10/shirt. I think that's an unbelievably good deal for half zip merino t-shirts (with a pocket!).



As a lot of people mentioned, the citron is a weird color in real life. It's actually not THAT far off from the model pictures, just a little greener and not as bright. As if the color really matters that much?



These short sleeve shirts are perfect for hiking and biking in the late spring/summer/early fall. The half zip gives you a huge vent to dump air from. I use these for bike commuting and hiking and they haven't let me down yet.



The quality of the shirts is good, but the 150 weight is fragile so if you're going hiking in thorny areas you have to be careful or there will be some tears. Overall a great deal at a great price. A+
Comfy, well built and priced right. Would definitely buy again.
Great shirt for the money. I wore this shirt on a recent weekend hiking trip, and it performed great. weather was pretty hot, but the zipper is very nice to vent a little bit, or a lot. When we stopped and took off our packs it was pretty soaked with sweat, but within minutes had dried out. Liked it so much, I ordered another one in Grey. As I said before, it is a steal for easily half the money of other Merino products. Highly recommend this shirt for hiking.
The description really tells the whole story. It is light, soft, and really quite cool in warm weather. I have worn mine to the tops of the Wasatch and the depths of southern Utah in the greatest of comfort.
Best Answer
Depends on how you want to wear it. it stretches easily without getting tight so you can get away with it being a little small. I'm 6'1'' 175lb and have 2 of these in Meduim. The large would probably fit you well.
Got this on SAC and would not pay anywhere near full price for this.

The material is thin, though fairly comfy. There's quite a bit of extra nylon zipper material at the bottom of the zipper on the inside, which rubs annoyingly against my skin. Gonna have to trim that off...

Yeah it's merino wool, but the overall feel and quality does not justify $70. Perhaps buy if >50% off
I got this shirt off SAC back in June and I love it. I wear it for running - it's really nice because it feels dry even when I'm sweating and it doesn't get too hot, especially with the zipper. I wore it for a half marathon a couple weeks ago (with arm warmers underneath because it was kinda cold) and it was great. It seems to regulate temperature really well, because in the cooler weather it keeps me warm enough and in the hot weather it actually seems to keep me cooler. It does look pretty "technical" so I don't usually wear it for casual wear, but I've been known to on a few occasions. I got the blue color (I can't remember if it was called "denim" or "navy") and it's a nice bright blue. I don't usually use the pocket but it would be good for a gu or maybe chapstick or a key or something. Personally, I don't think I'd pay full price for this shirt, but that's probably just because I'm cheap. So if you're like me, look for it on SAC and you'll be glad you did.
I got this on sale at Steep & Cheep but worth every penny at $69. It is the toughest tee shirt I have ever had. Plus being wool it's great if you sweet or get it wet because it dries fast and holds little water. The zipper front is great on hot days and the pocket is nice! Love this tee shirt.
Best Short Sleeve for all occasions
I love them period!
I purchased two denim colors and wore them every weekend hiking, and they breath well, very soft, comfortable, fits snug but little loose below the chest and I particularly like the half-zip when it gets too warm.
It does get little wet on the back where backpack is skin close, but you don't feel the chill like the other fabrics.
It retains the shape of the shirt after little stretch, and didn't notice any abrasion where shoulder strap is crossed.
Overall an excellent shirt as both layering and short sleeve shirt on a warm day.
I purchased four more in Phantom color and one Silver, Phantom color I like the most and would've love to have couple Navy but they are gone in Large.
Wool you can wear all year
I gotta say I really love the 17.5 micron wool. It's thin enough to wear when it's warm and is great for layering during the cooler months. The only quibble I have is that the sleeves are tight. Not a horrible thing, but enough for me to drop it a little. Other than that it is everything I expect from a merino shirt.
This is an awesome shirt, not only because its merino wool so it's soft, doesn't stink and does the moisture wicking thing but there's a bit of style with it too. The zipper pocket is a great place to put some small items. And you can't beat the price compared to other makers of merino wool products.
I haven't had a chance to wear this shirt yet, but I like the way it's made. Breathable, lightweight, and and it has a handy chest pocket.
I thought wool was to keep you warm in winter. However, Marino Wool wicks perspiration away, doesn't establish or retain oder and, in the low thickness of this garment, is the best thing I have found to wear in the heat while recumbent trike touring. Ordered the dark blue (favorite color) and it needed to be another size so I returned it and ordered the lightest color they had to reflect the sun. I bought two and wear one of them every day as my only upper layer.
The BEST shirt I have ever owned. I once wore this shirt for a week straight; it didn't smell at all.
I bought two of these. A white one for alpine and rock climbs and a blue one for day trip stuff. I also have (2) I/O merino shirt/long-sleeves, Icebreaker and HH long-sleeve merinos. I do not buy synthetics any more. Ditch the poly-pro, it doesnt keep you warm when they are wet and it gets narly (u know what i mean). After sweating it out it starts to smell like a musty sheep...which makes sense. Nothing like the acrid smell of poly-pro. Excellent product. I have needed the huge front zip on approach climbs. In the sun it does not seem much hotter then a poly pro tshirt. I think it regulates temp very well. I would suggest getting the silver for hiking / climbing. If its hot enough that you are down to your base layer you want a light color that doesn't absorb the sun. One of the shirts has a a 1/10" hole in it. Ive beat the hell out of it though so I cant fault the quality. Im 6'1 165 lbs 42 chest and found the medium to be a good fit.
One you go wool you'll never go back
I'll never wear polypro ever again after wearing a merino wool base layer. It breathes like no other and absorbs more moisture than polypro but dries slower so you don't freeze in a matter of minutes when you stop what you're doing. Also, it doesn't retain smell, which is a godsend as polypro develops a funk that no amount of washing can cure.
Stoic's version is very nice and a great value, especially if you pick it up on SAC. Get one and you'll never go back to your stinky polypro ever again
Wish I could give 4.5 stars
Wore this hiking a few times now and the shirt has been fantastic. I'm 5'9" about 145 and the medium fits pretty tight around my shoulders and chest but tapers down nicely. I was extremely pleased that after a day of hiking with a 40 pound pack and I had no sweating issues on my lower back which is new for me. It definately out performed the sherpa and under armour shirts I also wore. The only downside for the shirt is the material is fine enough to where mosquitos can penetrate which was annoying in the mosquito infested Wind River Mountain Range.