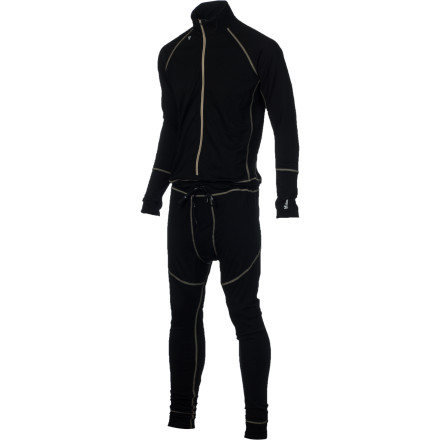 Detail Images
Rocking super-smooth fabric and a one-piece design, the Stoic Men's Merino 200 1-Z Suit will make you feel like a kid again, and it'll keep the snow from packing into your boxers, too. Merino fabric dries quickly, breathes away sweaty vapors, and serves as lightweight insulation next-to-your skin. Wear the 1-Z Suit underneath your waterproof outerwear, and suddenly you're a powder-slaying superhero—you can thank merino sheep for the costume.
Backcountry.com is the exclusive US distributor for Stoic products
Share your thoughts
What do you think of the
Stoic
Merino 200 1-Z Suit - Men's
? Share a...
Too itchy for my taste.
Familiarity:

I've used it several times

Fit:

True to size
I had to wear a shirt underneath to make this wearable. In terms of sizing, I'm 5"11, 170, and about a size 30 waste and the medium fit well.
Buying for my boyfriend. 5'11" 190 lbs...
Buying for my boyfriend. 5'11" 190 lbs average build. what size?
I wear a medium, and though I'm a tad bit taller and skinnier (6'1, 170), I would say a medium should fit him pretty well as well.
how do you go to the bathroom with this?
how do you go to the bathroom with this?
It has a fly in the front.
This base layer is pretty nice, I like the material and the fit. Its not super warm but definitely fights smell and breathes/dries super well/fast. I am 6'1" and 215lbs, and have an XL in paprika/midnight and it fits nicely. I do agree with others that the calf openings are a bit small, but not overly. No butt flap could be an issue for some (especially if you are really layered over the 1-Z). I tend to wear this on back country days more than at the resort. The thumb holes are nice and neck hole closes up tightly. Best feature of these? The locking front zipper, never falls down!
Real Nice - but legs a bit too tight!
Size MEDIUM
Male, 6'-0", 175 pounds. 14" arms. 38" chest. 21" upper legs.
by no means disproportionate lower body to upper body, but here's the fit.
arm pits are not tight, this is the biggest plus.
arms aren't skin tight stretch, and not overly baggy.
legs/calves are skin tight, fabric stretched just enough you can start to see the knit "opening up" a bit. because of this, it's mildly annoying. i can feel the "tight" and wouldn't be 100% comfy to sleep in.... too bad stoic didnt make the legs are bit larger diameter.
thumb holes are a good length, not annoying at all.... if they are, don't use them. rating them 4/5 because of the legs being too small to begin with IMO

Aces in places...
Gender:

Male

Familiarity:

I've used it several times
A friend once told me choose the right stuff for the job. Put your aces in places they work. This is an OUTSTANDING piece for resort skiing or anywhere you can take stuff off to use the restroom. DO NOT get caught deep in the drift when urgent business presses unless you enjoy being naked to handle your business. Yes I agree with everyone else put a flap on it, please.
lightweight
Gender:

Male

Familiarity:

I've used it several times
Decent for the price, but would appreciate a higher gram weight of wool for this garment. Introduction of lycra fiber to the wool would also be a plus.
Average
Gender:

Male

Familiarity:

I've used it several times
The quality is fantastic and it does what you want it to do. Merino wool keeps you warm, fit is true to size and is very comfortable. I just dont understand how in 2012 you could have manufactured a one-piece underwear garment without a butt flap haha. im sorry but lets face it, its not only necessary, its imperative we have this. so who is really making a one piece without it...bummed, and i should have read more closely.
Not for those with IBS
Familiarity:

I've used it several times
This is a great baselayer system, super comfortable and highly functional. Im 6'2" 200 lbs and the medium is a good fit. maybe a hair small on the arms. Even on the coldest days im suprised at how well this keeps me warm. The only negative side is the absence of a butt flap, or something like it. But, I figure it is a small price to pay for the functionality of the garment.
Great suit!
Gender:

Male

Familiarity:

I've used it several times
Feels great, warm baselayer, keeps any snow that may somehow make it past the outer layers off your skin, keeps moisture away.

Doesn't smell bad after a day of backcountry skiing while the midlayer fleece above it totally needs to be washed!

Only negatives are the lack of an easy way to go for a #2 and the fabric in the sleeve thumb holes tends to push on the skin between my thumb and index and it hurts my hands. This may be just me as I have larger hands.
I'm always looking to expand my merino collection and I've seen these every once in a while, so I decided to give it a shot. I was looking for a medium but small was all that was left. I decided to go with the small hoping they'd workout. I'm 6' 168 and this guy fits perfect! Length is perfect, nothing is to short or too tight with a fitted feel. I didn't want anything baggy for base layer use vs lounging in. Mission accomplished! Fits great and feels great! Will probably get another.
Warm, smooth and comfortable. Well made, 2 negatives: No butt flap and the thumb holes on the sleeves. Not fond of either, and the wife and I are working on a way to fix both problems. Cut and re-hem the sleeves pretty simple, butt flap will take some reengineering but for the price on sale, hard to pass up the deal.
At the price backcountry is blowing these out for, this is a no brainier. Just got my large suit the other day, and it is amazing. I am 6'0 180 and the large is a good fit. Even for friends who are 5'9 and up, as long as you have 165 pounds on you or so a large will fit finewithout being too baggy. Just use the sinch in the middle and tie up the waste nice and snug. Loved my suit so much I just ordered another in a different color. Anyone who knows anything about merino wool knows 50 dollars will normally buy you a short sleeve shirt, not AN AMAZING BASELAYER SUIT. At first based on other reviews I was worried when there wasn't a medium size left, but am glad that was the case and I got a large, very comfortable, and a steal at the price. Can't wait to take it to the mountain this winter!
I'm 6'2 and 250lbs (average built). Should...
I'm 6'2 and 250lbs (average built). Should I get an XL or XXL?
Strangely, though I normally wear an XXL, I went with an XL in this and it fits fine and I'm a bit bigger than you.
Feel like a tellytubby when I wear this on it's own but when I wear it as a base layer it works so well you feel indestructible. Great feel, well crafted and super protection from the cold.
I wear this for any winter activity. It is the perfect base layer for skiing, snowshoeing, etc. No snow gets in your pants, its comfy, light, breathable, and doesnt smell. I've also worn it around the house in the evenings and its quite comfy for that as well.

I will never wear another base layer again.
Wow! I put this suit on in November and haven't taken it off since! Well, okay, not literally, but this suit is perfect for so many things: lounging around the house; braving the cold and wet in a winter trip to the store; Snowshoeing up the side of your favorite mountain; lounging around the campfire; etc. It's merino so the funk factor is not an issue and it breathes so well as it insulates. The only negative is lack of a #2 hole. Not a big deal.
As with others, my only complaint especially for backcountry is, no crap-flap. All in all, the most comfortable "farmer Johns" i've ever owned. Big for sizing, so if your a "tweener", go smaller....its an under layer after all and plenty of room, unless of course you shrink everything in the wash!
Sizing question: Small vs Medium
5'10",...
Sizing question: Small vs Medium
5'10", 175lbs. Generally a medium, but sounds like these may run a tad on the large size.
I think you would be a medium.
Stoic almost hit it out of the park with this one. The suit itself is awesome. Great construction, warmth, comfort, everything you could ask for as far as the way the suit functions. The only drawback, and what lost a 5-star rating from me, is the lack of a buttflap. It's true that it's generally not THAT big of a problem but, for the cost it wouldn't have been that hard to put one on there. i actually cut my own flap and sewed velcro on which has really made it fantastic. if you go that route, just make sure to sew the velcro high enough up that you're not sitting directly on it when you're sitting down.

sizing: i'm about 6'2" and 165-170 and the large fits me great. at first i thought it was too baggy but once i cinched up the waist strap it fits great.