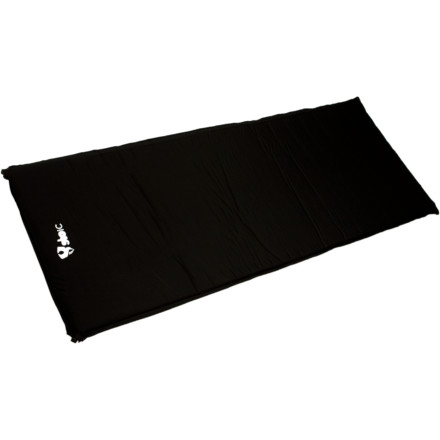 Detail Images
Stoic's MDWT Long Sleeping Pad induces deep Z's in any season, and the full-length size fends off frigid feet. Weighing in at 5-pounds, this sleeping pad signs on for car camping trips, no-rent-for-a-year transient experiments, and any other time you need plush, thick, say-goodbye-to-shivers sleeping pad.
Perfect for back problems
Familiarity:

I've used it several times
I broke my back twice over the years, so having a pad that is comfortable is a key factor when camping. It's best to use this car camping due to how massive it is, and how it can't be easily rolled down and stashed.



Once you have it set up, it's hard to wake up - it's so freaking comfortable haha.
Very nice sleeping pad !!!!!
Familiarity:

I've used it several times
This sleeping pad is great ! If you are Tall or short you will have no problem on this pad . Held air with no problem . Thinking about buying one for my old lady .
Awesome pad! Buy this
Familiarity:

I've used it several times
These pads are great! Almost better than my home mattress ! 2 days on these camping and slept great. Would highly recommend.
Comfy for the Car Camping
Familiarity:

I've used it several times
This pad is pretty bulky to use for long distance backpacking, but on trips where you wont have to carry it too far the extra comfort is well worth it! I would highly recommend this either to the recreational camper who doesn't care about marching 20 miles to their campsite, or to the avid hiker who wants a secondary pad to bring on the occasional car camping trip with friends.
Like sleeping on memory foam
Familiarity:

I've used it several times
This sleeping pad is bulky and takes a while to blow up, but IT IS SO WORTH IT! If you are car camping, this is definitely the pad to bring. It seriously feels like you're sleeping on memory foam. I would definitely not recommend it for ultralight backpacking... for very obvious reasons, but if you have the space for it, use this pad.
, ☃bcs_badge_alumni_label☃
Love It!!!!
I purchased the Stoic Midweight Sleeping pad in long and I love it. A little larger than I had originally expected but the extra room is definitely nice. I am about 5'10 and went with the long. Stoked to be sleeping on this badboy from now on!!!!!
How quick does this pad dry if it was to...
How quick does this pad dry if it was to get wet? Like REAL wet... thinking on using these on a rafting trip instead of the WAY more expensive versions of the PVC paco pads typically used. Does it have inner material or is it all air when blown up? If so what is this inner material?
Best Answer
It is an inflatable pad, no inner insulation, save for air. Being airtight, it is also waterproof and the nylon will not wick or hold water very well. It should dry quickly.

It doesn't pack down very small so it's not suited for backpacking, but it should serve well for your intended use.
This pad is definitely worth the money. I've slept on tons of others with no comparison. It doesn't fill up the best on its own but its easy to inflate further and it holds the air. It is big but it is light. The material is comfy as well. You could definitely drag this out to the woods beyond car camping and not regret it. Great buy!
Love it so much that I bought a second one.Now both the wife and I both have one. Don't be mistaken this is for car camping only. If you are staying at a friends this is more comfortable on the floor than a couch or crappy bed.
For sleeping in the back of your rig..
Gender:

Female

Familiarity:

I've used it several times
My husband and I sleep in the back of our expedition when we go camping/mountain biking/ climbing on the weekends. Two of these side by side fit nicely with just a few layers of overlap. It is quite luxurious, no sore spots when you wake up in the morning. Keeps you toasty as well.
Big Comfy Pad!
Gender:

Male

Familiarity:

I've used it once or twice and have initial impressions
This pad is great for car camping or at home use. Not so good for bacpacking as it is HUGE! It is super wide and thick! I Love this pad! Keep in mind that you need to store the pad unrolled with the valve open so it will "self inflate" when you are out camping. You will still need to blow it up a little to get it firm.
Big pad, comfortable sleep
Gender:

Male

Familiarity:

I've used it once or twice and have initial impressions
These pads are big and you cannot compress them as others have mentioned, but they are very comfortable to lay on. I'm new to camping, but this pad was great to have on my first trip. I can see why it would not be a good idea to take them backpacking since the pad is bulky, but for what I did, it was awesome (the car was basically parked outside the tent, so it was easy to take all the gear we wanted).
What is the packed size for the pad?
What is the packed size for the pad?
The sized of this pad when rolled up, is: 30.5 in (height) by 6.5 in (diameter).
Good comfortable pad for car camping
These are not backpacking pads as they are big. I have five of them that fill up my six-person car camping tent. Very comfortable and quick to set up and take down.
This thing is pretty awesome as long as you don't have to carry it a long ways. I use it to sleep in the back of my honda fit and have had plenty of good nights of sleep thanks to it. It self inflates well, and is a lot cheaper than the equivalent pad from thermarest.
I like it. It is super comfy. It is durable. But dang it is big. I can't use it for Back Packing, it would be like a tank on my pack. Use it for car camping or short hikes that stop at a base camp and lead to light weight day hikes from there. Four stars only because it is so big; advertised for 4 season backpacking and camping. I would remove that back country description. Enjoy it for what it is.
This Beefy pad will help you sleep HARD! Not a pad I would hike with. I love this!
Slept 5 nights now on this pad and love it, the 5 nights were spend on the cold wood floor of a cabin and I stayed warm and comfy all night. It takes a little effort to fill up but really not bad at all. There are two valves so a friend can help at the same time. Im 6'3+ and I fit fine on this pad and its wide enought to turn onto my side and not fall off. I will be car camping in Vermont over New Years and will post a follow up with pics after. It is bulky and slightly heavy so wouldnt really recommend it for hiking/camping but if you dont mind carrying it you def will sleep much better than anyone else in camp. Quality seams good so no worries about that, Cheers Stoic!
I slept on this pad last weekend at the Gunks on a climbing trip. Way too big to bring on a backpacking trip, but great for car camping. Not the fastest to fill up but very thick and comfortable. They are big, two of them almost filled a 3 man tent. Great pad, just very big and heavy.
how long does this pad take to inflate for...
how long does this pad take to inflate for the first time? i opened both nozzles and its been over and hour and doesn't seem to be making too much progress...
You have to blow it up yourself. Sorry. It usually takes about a minute. The seal on mine wasn't perfect, and it slowly deflated every time I used it. The glue also came undone in time. Hope this doesn't happen to yours...