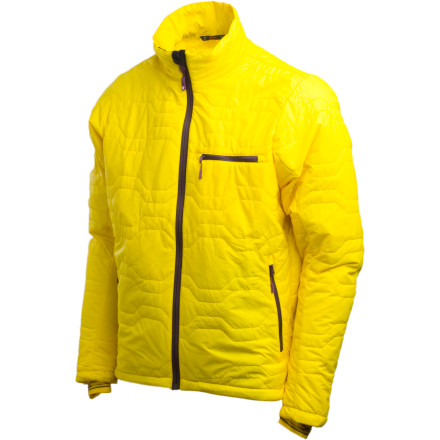 Detail Images

Community Images
From the Sierra's to the Cascades, the Stoic Luft Insulated Sweater serves as a highly-packable insulating layer for staying warm when cold, wet weather threatens to soak you to the bone and freeze you to your core. Stoic outfitted the Luft with 100-grams of Cirrus synthetic insulation that's toasty enough to end pre-dawn chills and capable of retaining warmth even when damp (down insulation turns to mush in the face of moisture). And in order to balance warmth with comfort Stoic gave this sweater highly-breathable Pertex Microlight 30D fabric to control sweaty vapors underneath, and a 3-D ergonomic fir which means uninhibited movement whether you're climbing, skinning, or trekking through chilly weather.
Backcountry.com is the exclusive US distributor for Stoic products
I paid about $60 for this jacket on SAC... I'm pretty impressed. I use it by itself around town on colder days, totally warm enough for days around 30 degrees with a light wind. Packs down great and super light and warm for a synthetic, and for the price.



I had a problem with another Stoic jacket and their service was fantastic: these guys are willing to stand behind their stuff.
this is my first STOIC piece and i love it. i am 6' slim build 147# and the small fits like a glove. i love the vibrant color and the ultra light weight. i look forward to using this jacket allot.
Nice insulating mid/outer layer
Great jacket, sizing is better now than in years past, and pretty true to size.

Stitching is good, Pertex shell is great... it feels good and is fairly water resistant. This jacket is deceptively warm for its lightweight feel.

My only complaint is subjective, which is that the 'deep' color is a horrific teal color. It is genuinely nauseating. I put it on and my friends had to avert their eyes as they implored me to take it off. A few years ago they had a nice, bright orange called tangerine. Wish they'd bring that color back... not that it matters, I still have it and it still looks brand new!
Does the job, looks great.
Overall, I'm happy with the jacket so far. The construction quality is very good (a few stray threads here and there. Nothing a scissors can't fix), it's nice and warm and very durable and for the price there are really no other jackets that compare. My only complaint is with the elastic wrist gaiters. They're a little tight for my liking, and require some effort to squeeze my hand through the sleeve opening (large-XL size hand) which doesn't affect the performance of the jacket in any way, but does make it a little inconvenient to throw on whenever I'm using it as a casual light jacket. The fit was a little bigger than I was expecting (I usually wear a Medium, sometimes a Large in similar jackets. The large in this jacket has plenty of room to spare), but the 3-D ergonomic fit makes the jacket look great, and not so "boxy".
How warm is the 100g cirrus compared to...
How warm is the 100g cirrus compared to 60g of primaloft?
Is this jacket warmer than the Patagonia Nano puff?
Thanks.
Best Answer
100g Primaloft is warmer than 100g Cirrus is warmer than 60g Primaloft.
Thanks Dave.
Is your info based on personal experience?
I have a 60g primaloft pullover that leaves me feeling cold if I am not moving. I thought this would still be low profile enough to fit under my softshell and also warmer.
cheers.
This is a super light and warm insulating layer from stoic. I primarily use it underneath my softshell and it plays an important role as a mid layer on those cold days. Did I mention that it's super light and packs down pretty small? The sleeves have the perfect cuffs so that they stay in place when layering and the inside pocket is set so that you can use your mp3 player with headphones.
Its a nice jacket. Its well designed and cut. I am 6.2 and 195 lbs and M fit me very nicely. Its fitted. If you want to layer up then go up one size. Its not a super warm jacket for negative temparture but under a shell its good insulation.
This looks like a great alternative to my...
This looks like a great alternative to my heavy parka, but I'm curious about its wind blocking ability and temp range.
Pertex Microlight does a good job blocking wind. The Luft should keep you warm to just below freezing on its own and even lower with a shell.

If you're looking to replace your parka with a single jacket, this may not be the best choice. It's not going to be waterproof. You may want to explore the Insulated Bombshell or similar items.
Does the filling come out of the seams...
Does the filling come out of the seams like it did in previous version?
Yes - but only a little in my experience. Totally acceptable amount for price paid.
Buy this! It's warm, it looks sweet (I've gotten many-a compliment on it) and did I mention you should buy this?

I'm 5' 10", 155 lbs and the medium is perfect. Like most Stoic stuff, they're generous on the sleeves. But I like that, since it makes the jacket perfect for winter bike riding, climbing or anything else that requires you to move your arms around.
5'11" 175 lbs - went with medium and it rocks. Super light weight, breathes well, basic pockets, ability to cinch closed at the bottom. I use this around town and haven't ever been overheated or cold, always just right.

I use this as my mid-layer skiing and love it - it still breathes well and doesn't bunch anywhere. I especially like the wrist gaiters as I can tell exactly where this ends and my shell cuffs begin. Makes for a nice "second seal" as well if you're adjusting your gloves or jacket on a colder day.

A+, lovin' all my Stoic gear.
Great fit; great quality. Totally rocks
While I'm waiting for this to hopefully...
While I'm waiting for this to hopefully pop up on SAC again I'm wondering how well this holds up as an outer layer? It doesn't appear very lofty but with insulation a little can go along way. I'm planning on using this as a winter around town, holiday traveling, football game attending outer layer. Or is it best suited as mainly an insulating layer?
I've been skiing a bunch of times in this, which always includes a handful of falls. Also, I've subjected it to a dozen or so wintry climbs and backpacking trips as an outer layer. The jacket has held together nicely! No rips or anything. Even with all the stitching, which I thought would be an issue, not even a single loose thread after 1 1/2 years of use and abuse.

It sounds like this jacket would complete your life.

My conclusion: You need this jacket.
This jacket I love to bring with me into the backcountry as a warm layer. With the Stoic shell and this, its the perfect combo.... Although if you are looking for a lighter coat for your bc kit, then I would recommend the Hadron Down jacket. It also looks great if you are just crusin' in town as well!! I got the Graze black and I love the color!
How does this compare in terms of warmth...
How does this compare in terms of warmth and compressability to patagonia nano puff.
Comparable - I bought a hooded like version and it is right on par with my das parka - not quality wise though, but for the price, VERY nice jacket.
One of my favorite layers actually. Bought it on sac for pretty cheap on a whim and was pleasantly surprised. I'm 6'-0, 160, and the medium fits me great. Works well as a midlayer, or by itself in cool weather. Overall a great piece, I'd definitely recommend it!
Any first-hand fit reviews? I'm at the...
Any first-hand fit reviews?

I'm at the top end of medium in the Bombshell and Hadron (I own and love both), but the sizing chart says I should be a large in the Luft.
Best Answer
I'm 6'-0, 160 lbs, pretty lanky build. Wasn't sure what size to get, decided on a medium (after chatting w/ the bc help) and it fits great. Not baggy, good length for arms. Hope this helps
I'm 5' 10/11", 155 lbs and the medium was good. I'm kind of slender, so it erred the TINIEST bit on the side of too large. But I also like my clothes kind of snug.
I use this as a midlayer for touring on the colder days. It's worked wonders so far. Keep it coming Stoic.
Recently lost my GoLite synthetic down...
Recently lost my GoLite synthetic down jacket that I keep in my pack. Would this Luft Sweater be a good replacement or would something from the Hardon collection be more appropriate. Pretty much looking for something lite/packable and warm with no hood.
Chris - This Luft Synthetic jacket would be a good replacement. Light weight, warm, good fit - maybe not uber-compressible.

I'd recommend the Hadron if it's compressibility and light-weight you're after. The Hadron styles pack away into their own kangaroo pouch and are very warm for the weight. The 850FP down cannot be surpassed, as long as it doesn't get soaked.
IF YOU NORMALLY WEAR A LARGE IN JACKETS...
IF YOU NORMALLY WEAR A LARGE IN JACKETS WOULD IT BE THE SAME FOR THIS ONE? OR DOES IT RUN SMALL?
The Lufts do not run small. If you're typically a large - I'd go with a large for this style.