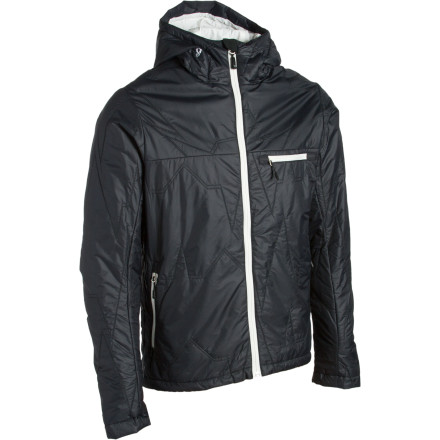 Detail Images
Brave early morning tours and frigid missions on the trail with the Stoic Men's Luft Hoody Insulated Sweater stashed in your pack. Highly-breathable shell fabric keeps this techy sweater low on weight, and easily compressible. Stoic designed this techy sweater to take over where your midweight softshell leaves off, taking Mother Nature's bitterly cold test of your mettle in stride.
100-gram Cirrus synthetic insulation provides ample warmth, maintains its insulating properties even when wet, and compresses easily
3-D Ergonomic Construction offers a fit that's close, while still allowing room for light layers underneath
Wrist gaiters and an adjustable hood provide extra protection from deep snow and frigid conditions
Any chance we will be seeing more of...
Any chance we will be seeing more of these?
Nope - no more Stoic product on the way to Backcountry.
Stoic Luft Hoody, Great Comfort and Warm
Hey Goats,



I recently purchased this item before it became unavailable. Excellent comfort and great warmth, the fabrics feel great. It's more of a thermal layer than anything and won't protect you super well from precipitation but I'm very happy with it. Great for climbing, biking, hiking, or camping. Excellent mid layer under a tech shell.
I dig this jacket. It's a functional piece with a clean look. I don't know how many compliments I've received on it from people wanting to know where I got it. I personally bought it for those awfully cold days to throw under a shell, but it's main use has been apres and bar-hopping...go figure. Not the lightest, sickest, most baller coat on the market, but it's pretty rad.
The Stoic Luft Hoody is a pretty sweet midweight. I wore it the other morning in mid-30's degree weather with a decent wind, over just a merino base layer, and I was very comfortable. I was surprised too, since it's so light. I got the Metal/Metal color, which is slightly darker than the pictures on the backcountry.com site, (I had gambled that it would be, because it looks almost white in the pictures). I was surprised to find that the sizing was big. I had to return a Large for a Medium, and I'm 5'10", 170 lb, probably a 39" chest and 33" waist. Stoic stuff usually runs smaller I've found, normally in other clothes I'm a medium, but I have the Stoic Welder Lo coat in a large which fits me well. This luft hoody seems slightly boxier. However, the medium is a success. I'm happy to own another great Stoic product.
I love this jacket. It is extremely warm and comfortable. It is super light and packs down decently small. It kept me super warm on my weekend winter backpacking trip recently. The arms are a bit long for me (5"11" 165 lbs) if I pull them down, but they fold at the elbow naturally, which doesn't look or feel weird so it doesn't really matter. I got a medium and it fits very well. I don't think it looks boxy or anything. I can layer with a thin to medium thickness shirt, but when I tried a fleece, the arms were a bit tight. Not that you need to layer for most activities because it is SO warm! The cuffs at the wrists hold in a lot of heat! Overall, I would definitely recommend it to a friend.
Sweet Jacket, whose head?
This is an amazing, lighter-weight luft jacket. I love the way it fits, feels, and it's incredibly warm, too. The only downside in my opinion is that the hood is extremely oversized, which really doesnt matter too much. I can see how this would be helpful when mountaineering, although it makes it semi-impractical around town or camping.
This jacket is great. Breathes very well and keeps me really warm. Skiing, layering, or just wearing it around this jacket does it all. I got the large and I'm 6ft 170lbs. The length hits the waist and is a little boxy but you can adjust that. Also the hood is big enough to fit a helmet underneath but that also is adjustable.

Overall, solid jacket.
, ☃bcs_badge_alumni_label☃
the sic0126 uses a different quilting pattern for 2011, and some color changes - otherwise same size and materials.