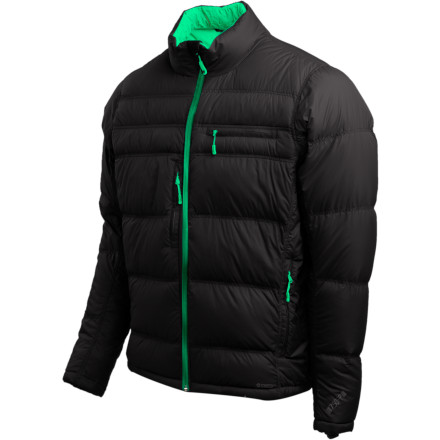 Community Images
As if sent from on-high to guard you during your winter quests, the Stoic Luft Down Sweater offers highly compressible, lightweight, and nigh-impenetrable protection from winter's most frigid onslaught. Contained within the highly-breathable Pertex Microlight 30D shell, 750-fill goose down powers this on-the-go oven which warms your core and arms from the freeze. Light on weight and easy to pack in a tiny corner of your trekking pack, this close-fitting, cold-crusher turns chilly days in the wild into just another day in paradise.
750-fill goose down maintains its loft better than synthetic insulation and provides superior warmth and packability
Pertex Microlight 30D fabric makes this jacket highly-packable for easy storage in your pack, and the fabric breathes easily so you aren't stifled underneath
3-D Ergonomic construction offers a fit that's athletic but won't reduce your range of motion
Go with your standard size if you're using the Luft Down as a layering piece, but if you're looking to layer underneath, you may want to consider sizing up
Backcountry.com is the exclusive US distributor for Stoic products
I wanted to like this jacket, I really did. And as a matter of fact I did like it, it was light, super warm, had sweet cuffs that locked your wrists in nicely, and over all had a nice look to it.

Where it fell short was the sizing... I am thoroughly confused by stoics sizing. It varies across pieces, and does not seem to have any rhyme or reason. I have a stoic lo welder in medium, one of the best fitting jackets I have ever owned. Bought this is medium and it had enough room or a whole extra person in the torso (6'1" and 170, thin and lanky). I know, I know, you want dead space to increase thermal effectiveness, but I wanted to wear this primarily under the welder, or by its self, and I was kind of swimming in the thing. Would have loved to return for a small, but they are all out... hopefully I can snag one of the smalls when the restock in the fall.
Hi. Your Stoic Luft Down Sweater - Men's,...
Hi. Your Stoic Luft Down Sweater - Men's, shows two sizes are available - L and XL but both state the same chest size of 98 (45). Is that right?
Thanks.
Arthur
Arthur,
The 98.45 is actually the price for both the Large and XL Sizes. Here are the dimensions for the large and XL (they can also be found in the SIZE hyperlink directly under the select options drop down box. Large is 38.8-41.6in, XL is 42.8-45.6in. I think I see the confusion though... the Large chest size measures 98.5 centimeters. good luck!
Awesome, but not for rock climbing !!
No negatives about this jacket. It is small, lightweight, warm enough, water resistant .... but not for rock climbing. I went climbing at Vantage this weekend and it was pretty chilly and windy on Sunday morning. So, I put on this jacket and it did keep me warm. But the downside was that it got buffed up from the winds and was bulging at the stomach so much that I couldn't see my footholds down. It was really annoying on the overhanging routes not be sure of where your foot is. I am 5'11 and 160 lbs and got a medium. I am gonna return this and may be try the patagonia jackets.
I bought this in large although I am only 5' 7" but 180 lbs. It fits very well. The only downside is that the collar does not have much fill and as a result the wind can get cold around your neck. The wrist gaiters are pretty tight so it's difficult to see your watch but your arms are warm. I wear it around town, no hiking or climbing (I'm 72) and i'm perfectly happy with this sweater/jacket. I think it's warmer than a U.K. Rab down jacket that I have. Would I recommend this sweater - I certainly would.
I am 5'10'' and about 155lbs.

5 stars means I love this jacket and I really do! This quickly became my go-to jacket for braving the cold: much lighter, warmer, and easier than the fleece and heavy shell combo I had been using before. I've tested this jacket in 10 F weather wearing nothing below it but a t-shirt, and while I wouldn't say I was toasty warm I was certainly well within my comfort range. Very nice! I've also used it comfortably up to about 40 F. I LOVE the cuffs on this bad boy. They hug your wrists to keep the warmth in and the sleeves from getting in your way. They're also super stylish! MUCH much better than the cuffs on any of the competing jackets from Patagonia or TNF.

One thing that took some getting used to was the hand pocket insulation. There is a fleece-like lining (might be actual fleece) only on the outer side of the pockets. On the side that is closer to your body you just have the pertex fabric, which feels less cozy than the fleece. Not really a big deal and once I got the right size (see below) the problem vanished entirely.

A note about sizing: I first got a medium, which was a decent fit, but a little large for my tastes. The main issue was that the jacket was a little long and stuck out beneath all the raincoats I had. I managed to snag a (the last?) small and it fits me like a glove. A really well tailored glove. With the chest on the small a little closer in the weirdness I was experiencing with the hand-pockets went away because the jacket keeps my hands snug against my body. The picture here is of me wearing the small and the second picture is of me in the medium. Note that the medium fit isn't bad, but that the small fit is great.

tl;dr A super warm, super fly jacket that has awesome cuffs. Seriously, the cuffs rock.
Live in the Portland area where layering is order if the day. This jacket is light, and very warm. There's nothing like the comfort of down. Well constructed, and many handy pockets. With this jacket I don't need to layer and am comfortable wearing it in doors as well. Thank you Stoic and Back Country.
I love this jacket. I did get 2 defective jackets at first, one with a rip in the down when it arrived, and one where a down panel was missing, and then when I finally got the jacket correct it was the wrong size. :(

On to the good. Now that I have the jacket it is so warm. I am 6'2" and 185 pounds and I am wearing a medium for a tight underlayer fit. I wear it under my shell. I originally got a large, but it was a little too long to wear under a shell because how the back is tapered a little longer than the front. When I wear it under a shell it is a great warm jacket for skiing, in fact it is probably a little too warm, I get way too hot in the jacket. I ski in Utah, and the weather here has been kind of warm, but on days where the wind chill sends the weather below 0 degrees it still holds warmth.

The purple jacket is great. I have received many compliments on the color and the jacket. Like I said once you get a jacket that works it is a great jacket. I believe that nobody else ever experienced the problems like I did, but even with having to get replacements for the defective products I would still buy this again over the Rab I was looking at and the Patagonia micro-down.
Is this jacket waterproof? If not can it...
Is this jacket waterproof? If not can it be spayed with waterproofing.
Not waterproof. Water resistant nylon. There is no way to waterproof something aftermarket. You can add sprays and such to increase water resistance, but waterproofing is something built in to the fabric.
Phenomenal Jacket, Killer price, worth every penny
Once this puppy arrived on my doorstep and I opened it up it immediately became my favorite jacket. I wear it every day around town, walking the dog, on my way to work. It is incredibly comfortable and every bit as warm as you would imagine. My advice...buy more than one!
This jacket fits my needs. It is very light, but very warm. It is like an instant heater when you put it on. Plenty of pockets for storage. The sleeves are plenty long and the stretch cuffs keep cold air out. Awesome.
Exactly as described, not puffy and not a ski jacket. Absolutely heavenly for casual wear & apres-ski outdoor beer drinking or safety meetings. M is a snug fit for my 5'11" 170 frame but length is perfect and can be deployed as mid-layer insulation. Love the knit sleeves and extra pockets. Outer fabric does not seem super durable or waterproof but this keeps the weight low.
I liked everything about this jacket, except for one particular aspect about the fit. The forearm area of the sleeves was to tight, which is odd, I am no big weightlifter. It was just uncomfortable, so I had to return it.
I haven't really taken this jacket into the elements yet. It's been my daily coat for the winter. Keeps me warm with no outer layer in the teens and 20's (that's Fahrenheit for my Canadian friends). I really like some of the little features. Down sits outside the pockets so whatever you have in there will stay warm. There's less loft on the underarms and at the side so you don't look like the Michelin man. I'm 6'1" 180lbs and the large fit well. I could get tight fitting layer below it, or could layer on top of it if needed.
This jacket is super comfortable. It has just enough space to do a little layering underneath. I like to layer this underneath:
http://www.backcountry.com/stoic-breaker-fleece-hooded-jacket-mens
Does this sweater zip in to any shells?...
Does this sweater zip in to any shells? I'm trying to piece together a layered shell with this sweater and prefer to zip in.
, ☃bcs_badge_alumni_label☃
great idea! to keep weight and bulk down on bombshells we do not add the extra zipper, but is a great feature for future!
OK silly question, but why is the Stoic...
OK silly question, but why is the Stoic Luft Down Sweater - Men's, called a sweater? My son is stationed in Washington, DC which is alot colder than Texas and he wanted a very warm coat. I ordered him this for Christmas and hoping it will work for him, but for some reason, didn't see the word "sweater".
It's called a sweater because it is cut like a sweater and does not have quite as much insulation as a down coat. It should still be pretty warm, especially when layering.
This jacket is awesome. I am 5'6'', 150 lb, athletic build with about 40" chest and 32" waist. The medium fits like a glove-close fit so perfect to layer under a shell, but too close to layer much under it, so if you want to do that size up like they recommend. Awesome construction, lightweight, super warm, not constricting. I love how Stoic tops fit-baselayers, jackets, etc, perfect for the athletic build types.
Flexing my new downy soft muscles
Black luft in medium. I am 5' 10" and 165 lbs. Those with longer arms may need to go up a size because I feel that it is just the right length for me. So measure your ape index. All around excellent fit. I was worried that it would be too tight but it is form fitting (not close though) just enough to feel like something is around you.