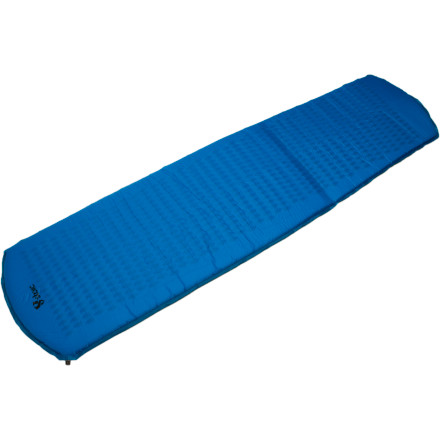 Detail Images

Community Images
Ready for the fast and light, the Stoic LTWT Step Sleeping Pad likes the ascetic life, but still appreciates a good night's sleep. This 1.5-inch thick pad signs on for ultralight summer peak bagging, overnight ski touring, and anything in between. Weighing in at only 23-ounces, you'll barely notice the Stoic LTWT Step Sleeping Pad in your pack.
Good, not great
Gender:

Male

Familiarity:

I've used it several times
I found this pad meets my needs, but there is room for improvement. I would be comfortable on this pad if I slept on my back but i often sleep on my side and with this pad my hip feels pretty raw by the next morning. That being said, I feel like it's comfortable enough for me to get a good nights sleep. In addition, you wont get top quality comfort with most self-inflating pads. When you weigh this with its compact-ability and competitive price it is a good buy. I just wish it could be a bit more comfortable, at least it is more durable than most pads.
I have used this pad probably 50 times with no problems at all. It stays completely inflated the whole night. It packs down relatively small (could be smaller) and it also relatively light weight.
Great till it stopped staying inflated.
Familiarity:

I've used it several times
Seemed like a great deal, but the pad doesn't stay inflated more than a couple hours.This after 6 months of moderate use.
I wasn't expecting much from a $47 sleeping pad, but it's worth every penny. I found it even more comfortable than my roommates more expensive pads. Packs up light and tight.
this is a great pad. comfortable after a long day hiking
Poor quality control! Pad developed 7 inch high bubble in less than 10 uses
Initial impression of this pad was that it was very light, good quality, and a decent value for less than $50. Camped on this pad for 8 days and it developed a aneurysm like bubble about 1 foot in diameter and 7 inches high rendering the entire pad useless. In other words the external pad material separated from the honey comb foam material causing a huge bubble up towards the middle of the pad. If going on a serious camping trip I would not trust this pad and go with a more trusted brand like thermarest.
Unanswered Question
Stoic doesn't list an R-value for this on...
Stoic doesn't list an R-value for this on their site either. Would this be the same as the Therm a rest prolite plus give or take .1? Thanks. I currently have 2 prolite's but am going to return them since these are half price and mine didn't come with stuff sack when I bought them.
Before using the pad stoic, always slept in traditional foam pads, is very big change for me, my nights are more comfortable, I'm 6'4 "and 211 lbs and had no problems at all. I like that it is self-inflating , has good size, I like the design of the part where the legs go, the thinner thickness helps to reduce weight.
use this pad for three nights, is comfortable, fairly comfortable, I liked it
Used this pad for a week long rafting trip. I loved it. It stayed filled the whole night and I don't think I've had a better sleeping pad.
What are the dimensions of the pad in its...
What are the dimensions of the pad in its stuff sack?
The dimensions of the pad rolled is 4.75"x11" .
I got this for a really great price so I couldn't pass up the chance to buy it. I finally got to use it recently and I'm impressed. I slept really well during my trip. It does everything a sleep pad should. Plus its light and packs up to a decent size. For the price, its hard to say anything bad about it. Get one, you wont be disappointed.
Better than my Therm-a-rest Prolite 4!
I am a huge fan of Stoic and This pad beats my Therm-a-rest Prolite 4 pad out of the camp site! It is the same quality you would expect from Therm-a-rest but has thinner foot area because your feet don't need padding when you sleep, but it is nice to have it so Stoic made this pad so it packs down as if you had a Short pad, but you actually have a regular! Thanks Stoic! You've done it again! :)
Great, Simple, Comfortable
This pad surprised me, I got it for a 4 day backpacking trip from June Lake to Mammoth Lakes. It performed very well, as others have said I did not feel the ground at all even when sleeping on my side. Also the valve seems nice and sturdy, comes with a patch, and packs up nice, light, and small.
I upgraded from a half length Pack M@ solid cell inflatable foam pad I got on SnC and it was well worth it. This Stoic one weighs about a half pound less :D AND packs down to the same size! I'd say it even works as well to keep you insulated from the ground as my other pad due to its longer length, even if it does have a criss cross cutout patten (to save weight).

Be careful with the length of this pad as it's about as long as my tent. Definitely overkill for me at 5'11'', but not a dealbreaker due to it being lighter than my other pad.

The material on the bottom (grey color) feels more durable and possibly more water resistant than the top material (blue color), but I haven't tested it enough to verify that. The top material feels softer and reminds me of the Stoic WPF Compression Sack a bit.

Overall it's a great pad, very plush, and keeps me off the ground even on my side. Seals are great all around, haven't had any leaks and the bag/patches it comes with are a cool little bonus, but it's much larger than the rolled up pad needs. It did take 24-48 hours to fully inflate after I initally opened it up.

I Heart Stoic!
Five days, 10K feet, down to 5 degrees
Well, it's light, it's compact. Finished the inflation in about 30 seconds by blowing up. Temp range outside tent was 5 degrees to 35 degrees. Snow outside, but not under tent. Warm, comfortable. Must be good, cause when I rolled off in my Marmot 15 deg. bag, there was a big diff in temp from pad to ground. I recommend this pad. Packable, comfortable and did well.
Great pad!
Gender:

Male

Familiarity:

I've put it through the wringer
Grabbed this off SaC, great price on there. I love it. It compresses pretty small and doesn't take long at all to inflate if you leave inflated during storage. I love the length, it works perfectly for hammock camping. It seems pretty sturdy, and includes a patch kit. I like to give it a few puffs of air after it has filled itself just to give it a little extra, but it's fine without it. The pad keeps me so much warmer than I was before with my other pad. I've used it in about 40 weather at the lowest so far, but will definitely use it in colder soon. With it I was incredibly comfortable in the stoic down 15 degree bag (If I wasn't then there would be a problem....). It's a solid pad for the price, and it's inexcusable to not get it if you see it on SaC.



EDIT: after several uses this guy seems to have got a few holes. the bottom left seem has a lot of leaks at the foot of the pad and there were 2 pinholes on the body of the pad. I treated the pad really well so I'm not sure where they came from. I patched them up and it seems to be working better but I definitely still lose air.
I sleep on my back, side and occasionally stomach. This pad is just thick enough that I never feel the ground. Can't really ask for more, and the size and weight are plenty acceptable for the comfort. The shape works for my mummy and semi-rec bags alike as it tapers only a bit toward the foot. It isn't as thick at the bottom starting at about the calf, but unless you have some seriously heavy cankles you won't notice.
This is just an out-of-the box review, but I'm super excited about it. Because I haven't actually used it yet, I can really only verify the specs. It weighs (with the two straps but without the included stuff sack and patch kit) 21 and 3/8 ounces (just under 1.5 pounds), and measures 4.75" x 11" when rolled! This is WAY smaller than I expected, but I think I might just pay more attention and take more time to roll things smaller than most. With it rolled so small, the velcro straps don't quite line up because the strap ends up wrapping all the way around and covers the "loop" side of the velcro leaving nowhere for the "hooks" to hook up. The stuff sack is too big for this bag, and I don't think I'll be using it much. Perhaps I can stick some long johns in there with it or something, but I just don't see myself using it much.

It was either this pad or the Big Agnes Insulated Air Core pad, and from a money perspective, this is such a great deal (from the SAC anyway). It is nearly equivalent in every way. The quoted weights are practically equal, the packed sizes are comparable, and although the R-Value of the BA is a bit higher, I'm going to be bring a foam pad along with me when it really counts anyway (Thermarest Z-lite), and I on't need too much more than that (I read somewhere that this pad has approximately 2.9 average R-value).

I'm very excited, and I can't believe how inexpensive this was for the product.