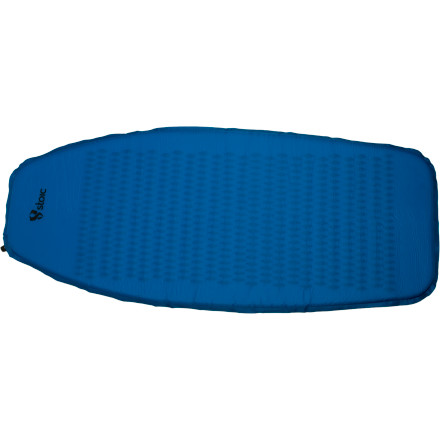 Detail Images

Community Images
Ready for the fast and light, the Stoic LTWT Short Sleeping Pad likes the ascetic life, but still appreciates a good night's sleep. This 1-inch thick pad signs on for ultralight summer peak bagging, overnight ski touring, and anything in between. Weighing in at only 12-ounces, you'll barely notice the Stoic LTWT Short Sleeping Pad in your pack.
Great little pad.
Familiarity:

I've used it once or twice and have initial impressions
Bought 2 of these for my wife and I before doing Buckskin gulch. Slept on it 2 nights and I was impressed. For the price/size/weight, it's awesome.

I think it has decent insulation against the ground too.
The best
Familiarity:

I've put it through the wringer
I've used a number of other pads, and nothing beats this one for the right combination of light weight and comfortable for sleeping. I use it by itself all summer and winter, from 3000' to 8000'.



Just don't leave it inflated in your car on a sunny day or you'll find yourself ordering a new one.
Could someone who owns this pad and has...
Could someone who owns this pad and has used similar products provide a comparison of insulation effectiveness? I assume it would insulate comparably to a Thermarest Prolight. Planned use is on top of full length foam pad for winter camping from 0 to -20 C.


Best Answer
Danp,



Back in October of 2011 I bought two of these, one for me and one for my cousin. This has been a great sleeping pad!



In regards to the insulation value of this guy compared to the prolite (i also have one of those), the Pro lite will have a slightly better insulation but not by much. When I tried that, it was middle of winter and the low temp for the night was -17 F so about -27 C I had a -20 F rated bag and was more than fine, but there were some cold spots from the sleeping pads.



I'd be hesitant over using this from 0 to -20C I've tried my Prolite (3/4 length) on top of a women's prolite (full length) and the sleeping pads slide apart while your sleeping. For winter camping I'd recommend getting a stand alone that will do the proper job.



This particular sleeping pad is great for summer outings where it's fairly warm.



Hope this helps.



Jared D.

Gearhead

800.409.4502 ext 4055
Hey Dan,

I've used this, by itself, on some fairly cold nights, and on snow, and slept comfortably. I was using a zero degree F bag with it. I will say that I run hot, so take that into consideration.


So mine doesn't self-inflate..which is fine since it takes less than two minutes to blow it up by air. Super comfortable, plenty wide and long enough for my torso and half my upper legs (I'm 5'11), and definitely worth the price (got it for $19 off SAC).
Have used this half a dozen times backpacking and I've never been anything but comfortable. I am 5'4" and the length is fine for me. Packs down very small!

Tried using on a wooden bunk bed and that was not comfortable, so keep it on the ground :-). Ended up putting a foam pad under it and slept on that for 5 weeks while living abroad and it has held up.
This pad is excellent. It is surprisingly comfortable for how thin, light weight and compressible it is. Other pads that provide the same level of comfort are much larger and often involve strapping the pad to the outside of your pack. This pad compresses to the size of a nalgene and weighs less. So far no durability problems but for this price I would probably just buy another. Throw it in your pack, forget its there and go to bed with a smile on your face.
can't argue with the price
I actually got this pad for my little Stafford bull terrier to use when we camp. I wanted something that would keep him warm and protect the floor of my tent. For $25 bucks I couldn't go wrong. Im glad i pulled the trigger and picked this up. the first time I inflated and he realized the pad was his he started jumping and rolling all over it. I think the material will hold up well, if it could hold his weight and take his rough housing it will hold up with no problems. It packs down small and still covers a decent amount of space. I could see myself going to this pad in an emergency. I thought about getting a second one for that reason but with the thickness I don't think its really worth it. For me a 1 inch pad just isnt going to cover up or protect me from the ground. But if your under 200 lbs and shorter then 5' 10 this might be great option!! I give it 5 stars because it filled all my expectations
Used this pad for a few backpacking trips. On the last day of one of my trips, about 2 months after purchase, the pad EXPLODED. And I mean exploded. It sounded like a gun shot in the early morning. They said this was a warranty breaker, obviously, and no one else has complained of the issue. I'm going to try the pad one more time, because it was so lightweight and pretty darn comfy, I'll post back up for durability.
great for a lightweight pad!
Gender:

Female

Familiarity:

I've used it several times
Is this pad an ultra comfy, ultra insulating sleeper sofa? No. But if you're looking for a very lightweight, very packable pad, it's fantastic. I wish I would have bought this years ago. There have been several backpacking trips that I have gone without a pad to save space and weight, but no more now that I have this guy! The negligible weight and space it takes up in your pack (especially if you only use one velcro strap and skip the stuff sack) make it a no brainer to bring it. And getting it on sale made it even more of a steal! I found it to be surprisingly comfortable too for a pad this thin. I can't fully attest to its durability, but after a handful of times being used directly on the ground in the desert, it's still holding up great.
More comfortable than a ridgerest, just as light, and packs very small. Those were my hopes and they were fulfilled. Not convinced that it will be super durable, but thus far it's held up. It's not miles more comfortable, but it's definitely a noticable improvement. I'd be curious what the R value is. I wouldn't be surprised if it's a bit low. However, I've used this plus a full length ridgerest on snow more than once and been quite satisfied. Overall I'd recommend, especially with the low price.
No Excuse for Shoddy Workmanship
Picked this up for a 3 week backpacking trip in AZ. Wasn't expecting much, just a light weight minimalist pad. After the second night, 2 holes show up around the valve, right on the seams. Disappointing, but it comes with a repair kit, so no big deal, right? Wrong..
The repair kit is an utter joke. A tiny tube of "glue", and a little piece of plastic to cover the hole. The glue was absolutely worthless. Luckily a friend had some seam sealer that was able to patch it for the remainder of the trip. You couldn't pay me to hike with this thing again..
The unbearable lightness of worthlessness
I get it; this pad is very light and compact and that means compromise. I received a few days ago and plan to take it out for an overnight next weekend for a first run so expect that this reveiw will be appended.
Just from my initial home set up and trial, I am wondering whether is this 10 or 12 oz worth even carrying. This is not like a Thermarest where most of the inflation is done by the expansion of the internal baffeling. Once inflated by my own hot air, I tested with a few small things underneath and you can feel them all. I don't know of an outdoor environment where this pad would provide a benefit over sleeping on the ground. Maybe a cold but flat rock. The skin does not seem tough enough for any abrasion. More like a mylar balloon with some light foam in it.

So, initially, very skeptical but I am also pleased with all of my BC/Stoic gear experiences so we shall see.
The light weight rivals pads 3 times the price. It is also compact and comfortable for only 1" of insulation. The warpmth (R-value) is similar to a foam pad like a z-rest. But with that light weight you also sacrifice durability. I WILL NOT take this alpine climbing because it is too much of a liability. For a similar weight and warmpth (but more bulk) a foam pad is much more reliable and fool proof. The one I have seems to have come with a built in leak and won't hold air for the full nights sleep. If you can get it cheap on sale, like I did, then it is great for use inside a tent (where the floor will protect it) on a backpacking trip. But on cold snowy multi day climbing trips where your life depends upon your equipment not a prudent choice, take the bulky pad.
Great for trips where you are covering distance.
If I need to cut weight this is my go-to pad. I have slept on this this on rock, sand, and everything in between. Packs down to the point where it isn't even noticeable. You obviously give up some comfort because of the length but you should know that going into buying a short pad. If you see this pad on Steepandcheap.com then buy it without a second thought.
This pad rocks! Comparable in weight to foam pads, but packs down to nothing. I've been through a lot with this pad, and it hasn't let me down! Well, except when I put a big cut in it with a sharp point sticking out of my cooking-kit, but a little duct tape saved the day. If you want to get a sleeping pad, and you like to go light, but you don't want a bulky foam pad dangling off the outside of your pack, this pad is the best choice.

See photo below: This definitely wasn't the pad's fault! Taped up and good to go! Turns out my patching job was a little leaky (pad gets soft by morning) so I'm going to get the same pad again! Nothing beats the Stoic LTWT Pad!
People who are complaining about this are missing the point. This is NOT a BA air core, it's not meant to sleep on a bed of nails and insulate you below 0. It's great for summer and warm spring/fall trips and really keeps the weight down.

It does what it's made for, and does it well. But dont take this winter camping, or if you're sleeping on gravel.
I own the full size version of this pad and I gotta say...plush! If you don't mind the extra weight over a foam pad this is a great place to start. You might be able to find it with some patience on steepandcheap.com for over half off like I did. No holes, packs down tight, fairly light, solid pad.
You buy this pad because your <5' tall, or your looking to shave ounces. This actually weighs in at Just 10.75 oz without the stuff sack or cords (rubber bands work just as well).

I got this pad because it has the same specs as the prolite short, but a lot cheaper. For being only 1" thick it's pretty comfortable as long as you choose a rock free campsite. I can sleep anywhere on my big Agnes insulated air core, but this is half the weight so it's well worth it.

Like other reviews of this and the regular sized version say it takes a while to inflate the first few times but slowly gets quicker. It doesnt puff up as fully as a thermarest, but I think that actually makes it more comfortable (you can always put a few breaths in there if you want).
I tried this out after coming from my Big Agnes full size pad, and my experience was not good. It doesn't inflate very thick, but the small amount of air it does hold seems to hold through the night. It was just a small layer of cushion which was only a slight improvement over the ground.
I'm not sure how this works but my full size Big Agnes packs down smaller than this.