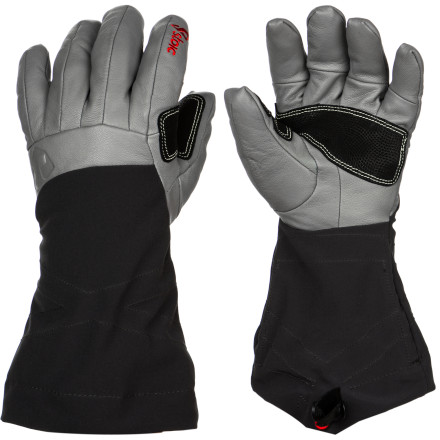 Detail Images
Stoic built upon the Forge Glove's already-powerful weather protection by extending the wrist closure to fit over the sleeve, thus creating the flexible and burly Forge Gauntlet Glove. The dexterous softshell and goat leather shell, a waterproof bladder shuns wet snow and weather during in-bounds lift laps or out-the-gate ski touring. Slide your hand inside this wool-lined winter armor, cinch down the elastic-pull gauntlet, and charge into the deepest storm-cycle days without heed.
Softshell and goat leather shell allows for superior dexterity, without sacrificing rugged durability
Wool liner insulates and retains its warmth even when soggy, coastal snowpack threatens to soak you to the bone
Internal Sympatex waterproof bladder stops further wetness from reaching your hand
Gauntlet closure pulls over the cuffs of your sleeves and cinch down in order to lock out snow with absolute certainty
Backcountry.com is the exclusive US distributor for Stoic products
They're ok
Familiarity:

I've used it several times
I'm from the midwest so it's really cold in winter. These gloves do not hold up to the temperatures and my hands are usually freezing. They might be cutting off the circulation to my fingers because I have the small pair. If you buy them definitely make sure you have the right size.
Eeeeee Haaaa!!
Familiarity:

I've used it several times

Fit:

True to size
I just love these gloves. I took a gamble with the sizing but it worked. I'm more of a L size hand wise but the Medium fitted. It's a little snug but all good. It's a very very comfortable glove and a classy looking also. The cuff works very well. The insulation is perfect and I never froze in these gloves. Even when they are wet they work great. It's a simple, well constructed, though glove. The smooth leather offers a good dexterity for the finger compared to canvas gloves. Some people complain about lining coming out of the fingers. The solution to this is when you remove them, just clamp on your finger tips with your other hand and the liner will stay put, thus allowing you to smoothly put your fingers back in. I can't believe I actually need to explain this.
Sizing question! If i typically wear a...
Sizing question! If i typically wear a size small golf glove, would a small be best, or a medium? Thanks!
I wear a small golf glove also, but that size is generally too large for my hands. I have tiny hands and according to the sizing chart I would wear a small in these gloves. But the small was too big even with liners, and I ended up exchanging for extra smalls. You would probably be better off with a small.
i wear size medium to XL depending on the brand. your best bet is to use the measurements provided. measure from the wrist to the tip of your middle finger and compare against the sizing chart.
The wool liners aren't that soft but they doa good job keeping the glove warm. The lacing system throughout the glove offers great support and there is no way snow is getting in. The draw string clip broke when I tightened the glove the first time but I got the glove replaced no problem
I picked up these gloves because I saw the wool liner. I have several other stoic products, so I knew the brand and had high expectations for the Forge Gauntlet. They didn't disappoint. They do a great job keeping my hands dry and warm. AS other have noticed, the liner fingers do sometimes come out, but it's not a huge deal to me.
Great glove
Familiarity:

I've used it several times
I wear wristguards underneath my gloves, and often have trouble finding a glove that fits. These fit perfectly, are super comfortable, and I love the blue contrast. My friends tell me they can find me easily because of them, which is cool.



Every once in a while the lining in the fingers gets pulled out of the finger a little bit, making it a little bit difficult to re-insert your finger, but it's not a big deal.
Run Somewhat Small - Great Feel
Bought these when they were on sale and got a size M (my usual). The fit is nice and snug but somewhat smallish so, I'm returning these for a L. The quality seems pretty good and the dual cinch is nice, finger dexterity is amazing. They also seem a bit "thin" or lightweight so I hope they're warm.



Have not used these on the slopes yet but will update when I get a chance. Hoping they are as waterproof as advertised.
My 9 Yr Old Son Luvs These!
Gender:

Male

Familiarity:

I've used it several times
Bought a pair of these for my son, he luvs them. Really warm, the gaunlet keeps the snow out, and they are made well. He is able to make awesome snowballs and has pelted me in the face a few times too! We also made some snow forts and dug a snow cave with these gloves on. The little "STOIC" red logo is placed in a cool place too. These are perfect for the little grom! My son fit into a XS size.
Stylish and durable
Gender:

Male

Familiarity:

I've used it several times
I've used the welder gauntlet glove for a few years, and was ready for a new set, but went for these since the welders were gone. I only ding them a star because they are more expensive, and have a bit softer leather than the welders did. That being said, they are very well made, and will hold up for years of more casual use if properly treated. One item I would purchase along with these, or any leather glove, is the nikwax glove proof product. Allowed to soak in properly it quickly waterproofs leather, and I use it at the first sign of wear liberally.
They're worth $40...
Gender:

Male

Familiarity:

I've put it through the wringer
I got them on SAC for 60 some % or more off. The leather is supple and seems to hold up, they seem to be warm, even when soaked with rain and a cold front coming in. The liners are not suppose to be removable, but the fingers of the insulation seem to come out quite easy and they go in with quite a bit of effort.



Leather gloves from a surplus store with cheap swiss army wool liners do everything I need 90% of the time. When I want a fancy looking glove for the ski hill, I grab these.
Great Patrol Glove - Warm,Durable
Gender:

Male

Familiarity:

I've put it through the wringer
I got this glove on a good deal from S&C. I needed a quality glove that was not just warm for skiing, but also durable and dexterous enough for use on ski patrol.(Which regularly requires handling small objects, tying knots, handling straps, etc. etc.) This glove has met or exceeded ALL of my expectations to some degree. They have a very natural fit, and while very well insulated, still give you some degree of feel and dexterity in the fingers. There are plastic "splints" on each side of the gauntlet to prevent it from riding up. While I saw someone complain about them in a review, I found them to be excellent, and they never dug into my arms. They just made the glove easier to put on and remained in place. My biggest concern was how waterproof the leather would be. Even after a long day in the snow working on patients, skiing, digging and hauling in wet snow, my hands remained warm and dry, even when the leather was starting to saturate later in the day. Also, the pull-strings to tighten the gloves criss-cross your wrist, and while being comfortable, also prevent any warmth getting out and any snow or cold getting in. By far, the best design I've had on a glove. I guess my only word of caution is on the color. On their website the colors are very vibrant, but in reality are much more subdued. It worked out fine for me, as I didn't want crazy bright gloves, but just a word of warning. These gloves are awesome, especially if you score a good deal on them.
Great gloves for my kind of work, up on a roof in the cold. The index finger of my righthand glove was a bit misshapen, but I chalked it up to perhaps my feelings, not the factory production. So unfortunately, the gloves now each hold a 5 pound dumbell and rest on a subwoofer in my basement training area, so as to deaden the resonant buzz that comes from the sub at certain frequencies. The texture and padding of the gloves does a great job at that task. But, it wasn't finger friendly for me. The gloves sound great!
These gloves have a bar on the side to keep it bunching up on the arm side. They push into your hand are a real pain. I will be returning mine
Just got them in the mail
Got a set of these today, in the white/orange. They seem to be super sweet, fit true (XL, I have big hands. A little tight but I think they'll wear in just right) and the feel of the wool is awesome. As other reviews have noted, dexterity is amazing- I'm drinking from a crystal wine glass effortlessly with them on right now.

The orange is actually has a touch more brown/gold in it than they look like in the pictures here. IMO they look better IRL than in the pics.

Without having used them yet, they seem like an excellent glove. For $140, competition with these gloves is very steep. There are excellent choices from First Ascent, MH, BD, OR, etc, I'm hoping these Stoics live up to that price- but I'll bet you can get them on sale here or at S&C for quite a bit less.

-I do wish the gauntlet bit went further up my arm- I'd say its on the smaller/mediumish size of the 'gauntlet' class.
-No dummy straps or loops, which is kinda lame.
-There is a 2 stage cinch strap system, which you can just barely see in the stock photos. One cinch is where you'd expect, at the very base of the gauntlet. The other does a boa-wrap kinda thing further towards your wrist. I don't know why they don't advertise this, its a really great feature.

I will update when I use them to destroy some of this La Nina, however S&C sent me TWO RIGHT GLOVES, so I'll have to wait until they can fix that little boo-boo which I'm sure will be soon.
Pretty sweet gloves. One thing the description doesn't mention is there are flexible stiffeners in the gauntlet that make it real easy to get over your sleeve. After an hour skiing in the rain at Snoqualmie water was moving from the gauntlet up into the palm, but hey, who wants to ski in the rain? They look cool, they're pretty bomber, not super warm but ok.
Are these insulated with Primaloft like...
Are these insulated with Primaloft like the old Welder gauntlets, or is it just the wool liner?
Hi James,
I was told that these gloves don't have any Primaloft - only the wool liner. Primaloft would have been nice, though!
revising my answer. I would never trust these gloves above 10k'. I consider them 'in between gloves' which are very useful here in the PNW where we get cold, wet days in the 20s. My hands tend to run cold.

There is only wool here. It is unbelievably comfortable for wool, I don't even think about or notice it compared to my synthetic fill gloves. They are more impervious to dampness with the wool than primaloft.
I don't know if these have the same finger cut as last years design. The finger tip dexterity of these gloves is my favorite feature. They are not quite warm enough for me, but I have cold hands. Very functional design and materials although the goat leather took a beating over a long winter.

If you have warm hands and want a glove thats good for a workload in the backcountry, check these out.
what other gloves are these comparable...
what other gloves are these comparable to?

do they include dummy straps?
Got them, no dummy straps. See my review for more info.