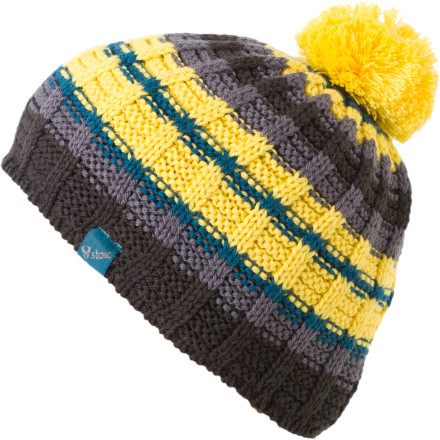 Detail Images
Swap out the pom on top of the Stoic Men's Conversion Beanie and keep your color-coordinated kit dialed for days when you're trying to look like a champ for the camera. A fleece lining keeps your head and ears from freezing solid on a storm day, and acrylic-merino blend helps your head breathe a little better when pull a classic beanie-on-in-the-hot-tub maneuver after a long day on the hill.
Killer Beanie for the Price
This beanie is as comfortable as a roaring fireplace during a blizzard. Warm fleece on the outside and pretty stylish too. Would have given it five stars but the interchangeable poms come off the hat too easily.
I'm a bit of a beanie aficionado and this has been my favorite find in a long time. Great style and the replaceable pom gives you a ton of options if you want to change up the style.
Super comfy stylish and warm
This hat was instantly my favorite beanie the minute I tried it on. So soft and comfy! Fits my head perfectly (7 1/4 hat size)and super warm.

Hope it holds up because I'll definitely be putting some mileage on it this winter over the next few months.
Super comfy stylish and warm
I bought the beanie as a Christmas gift because I liked the colors and that it had a fuzzy ball but no ear flaps. It's not too hot and has fleece-lining so the hat doesn't make your head itch. The only down point is that the fuzzy ball is interchangeable via button and immediately started falling off- so I sewed that bad chicken on. End result: awesome, practical, and stylish-just sew the fuzzy ball on.
This beanie is awesome, vintage knit exterior with a little stripe of fleece around the interior for the bottom 2 inches. Fits nice, comes with inter-changeable poms, which is awesome, but why I give it 4 instead of 5 stars. The poms are attached with a little button that doesn't really stay, I had to rig some safety pins. But I love it.