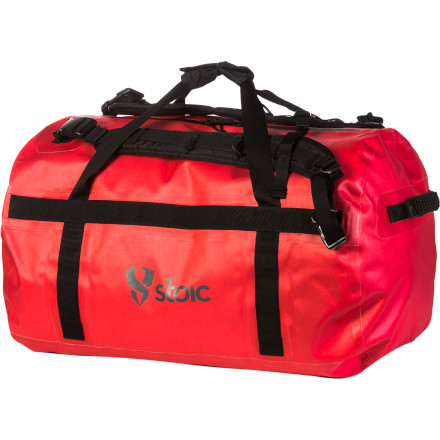 Detail Images
Sure, the Stoic Burls Welded Duffel would love to get dragged through mud, across rocks, strapped to pack animals, and tossed in and out of sketchy cabs in foreign countries—that's what it was made for. Heavyweight shell fabric resists all the abuse you can deliver, and water-resistant coatings keep moisture from soaking your duffel, inside and out. Did we mention the welded construction? Yeah, Stoic went for the high-end seam solution first, which is pretty sweet.
Heavy-duty 840D nylon shell material is highly resistant to abrasion, punctures, and your abusive outdoor travels
External PU coating repels water, and the light TPU-laminated interior offers additional protection against water
Internal TPU coating makes it easy to slide gear in and out of this bag quickly
Fully welded construction eliminates the need for taping at fabric seams, without sacrificing weatherproofing
Backcountry.com is the exclusive distributor of Stoic products
Gets four stars due to price
Gender:

Male

Familiarity:

I've put it through the wringer
Given its cost relative to Black Hole bags and TNF duffels this thing is great. If you're packing larger items you may need to look at the TNF bag with a bigger opening. The bag is likely not as tough as my Black Hole bag, but its also not showing any holes (can't say that about my Black Hole Bag). For the price - and its often on sale, it can't be beat.
Bulletproof gear bag
Familiarity:

I've used it several times
Great bag, straps work well, love the overall construction. I haven't tried to fit my tent or anything inside this bag, but it's great for my assorted ski gear. It's my go-to bag that I grab when I want to head to the mountains after work on a Friday. I have enormous ski boots (Scarpa TX Pro) and have no problem getting any of my things in there.



I suppose the next generation Stoic duffel could use a U-shaped zip-around top that doesn't compromise the seams on either end. That should let people fit their tents and sleeping pads without lengthening the zipper. Or make the zipper diagonal across the top. No one's done it--doesn't mean Stoic can't change things up.
Not 85L
Familiarity:

I've put it through the wringer
Not my favorite. Opening is way too small. Bag is way smaller than 85L. Go with TNF.
Not a fan
Gender:

Male

Familiarity:

I returned this product before using it
Not a fan of this item. It is smaller than listed, definitely not 85L. The zipper opening is very small. I was wanting this to transport my tent, air mattress, and shade canopy. It just will not do.
opening not big enough; otherwise great
Familiarity:

I've used it several times
I really wanted to love this bag. The price is right, the backpack straps made it really easy to carry around heavy loads, and the bag material seems bomber and keeps its contents dry in wet conditions.

HOWEVER, the opening is not big enough! Doesn't sound like a big deal, but after a few trips with this bag, it was infuriating how relatively small the opening is for a bag of this volume. Ultimately it was a dealbreaker for me and I returned it. Really wanted to keep it, but I knew in the long run that I would pick other bags I already own over this one. If you're someone who empties their bag when you reach your destination(s), then it could work, but I found living out of this bag (for only 2-3 day trips) nearly impossible.
vs patagonia black hole
Gender:

Male

Familiarity:

I've used it once or twice and have initial impressions
120L my arse. must be the european sizing as my patagonia black hole 90L is pretty much the same size. & the yellow color is actually really dull ... more like mustard. compared to a patagonia black hole, the fabric is water-resistant (even on the bottom, where the patagonia isn't) but definitely cheaper. originally intended this to be my backcountry skiing duffel but i'm afraid to put hard goods (ski boots, crampons) in it so now it holds my surfing softgoods, i.e. boardshorts, wetsuits, flip-flops ... patagonia black hole is still the backcountry ski bag. i have a hard time believing the regular price on this is $129 ... i could see it being $51.58 regularly.
Unanswered Question
How big/size in the Stoic duffle bag
How big/size in the Stoic duffle bag
It's NOT red, it's more like PINK
This bag just arrived the other day. I ordered the medium size in Red. I thought based on the picture that the bag was going to be bright red. Seemed pretty cool to me. Well, it's not even close! It's like a red bag that been faded by the sun and now it looks pink or salmon colored. Buyer beware. As far as the bag itself goes, the construction seems good and the size medium should be small enough to get through airport security as a carry-on, but big enough that you'll probably have to gate check it, especially if you fill it up. Good price for this type of travel water resistant gear bag.
Haven't received mine yet but I've ordered 2, one from S&C the other backcountry.com, the backcountry bag was cheaper and came with free shipping. Kinda defeats the purpose of steepandcheap doesn't it? I'll change the stars once I get a chance to test them out.
Stoic Burls Duffle......TNF substitute
Gender:

Male

Familiarity:

I've used it several times
I purchased this on SAC and I am pleasantly surprised. I pulled it out of the box and I thought "oh NO, thats a little smaller than I was thinking. I was looking to replace a canvas duffle that I have traveled with for more than ten years that finally gave up the ghost. Having the Welded duffle and the burls duffle side by side i have to say the welded duffel looks bigger. Alas after a few times packing the Burls duffel it does fit everything I need and then some.



As with other reviews, the zipper opening is just too small. It needs to be the 'D' opening. I would sacrifice water proof-ability for larger opening. Also an exterior pocket would be nice. Nothing to big but just something small.



Overall it is a great bag for the price. I plan on snagging the 120L when it shows up on SAC. As for a TNF substitute.... for the price on SAC I think it is worth the small design flaws.
Good Bag
Gender:

Male

Familiarity:

I've used it once or twice and have initial impressions
Overall, I think it's a really good bag. I picked mine up on SAC and it is totally worth the money I spent on it. I would love it, but there are two things I would prefer were built into this bag. First, I wish it had a "D" shaped flap for packing in. There is only a straight zipper across the top. Although this contributes to the Burls' overall water resistance, I think it would be easier to pack if it was easier to get in to. Second, I was hoping for at least one exterior or interior accessory pocket- something to put a toothbrush or glasses in. Other than that, I am completely in love with the bag. My favorite parts are the removable backpack straps. It makes the bag really easy to take on an airplane, because they simply clip off and you can shove them in the bag. I have the 85L and it will easily carry my 0 degree bag, pad, clothes & small tent. It is exactly the size I was looking for. The slightly waterproof feature is a bonus for me. I have suggested this bag to others, and think that it is a great bag.
What are the dimensions of the duffel?
What are the dimensions of the duffel?
The dimensions of the duffel are 12x12x29 for the 120L and 10x10x25 for the 85L.


Really? I assume your 12x12x29 is in inches, which works out to less than 70 liters for the "120L" duffel. I had not seen this before ordering. If these really are the dimensions I'll be sorely disappointed.
Arthur, your measurements give for the 120L gives 68L (4176 cu in) and for the 85L I get 40L(2500 cu in). Do you or anyone else have the true measurements?
If it is a true duffle then you need to take the volume for a cylinder not a rectangle. That would be pi times (radius) squared times the length (height) or 3.14 x 36 x 29 which equals 3290 cubic inches which is much less than 120 liters.


These are the true dimensions I got from the warehouse the other day. I understand that the Liter measurements don't make sense and we are looking into that right now.
Unanswered Question
How much does this bag weigh for the 120L...
How much does this bag weigh for the 120L and the 85L?
Unanswered Question
Looking forward to seeing some reviews for...
Looking forward to seeing some reviews for this item. The Stoic welded duffel I have (older model) has held up pretty well over the last year, but I am hoping (and it looks like) this newer model has a more rigid design, more like TNF's basecamp duffel.