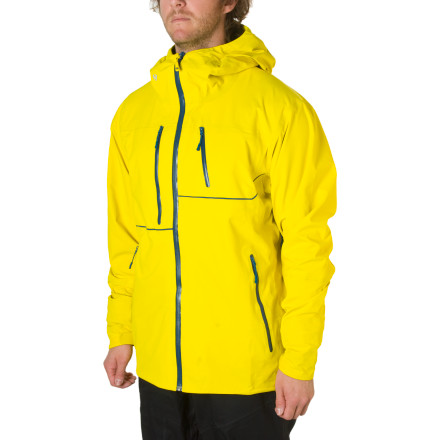 Detail Images

Community Images
A tried-and-true workhorse among storm shells, the Stoic Men's Bombshell Jacket allows Utah Avalanche Center forecasters, ski photographers, and outdoor professionals thrive amidst Old Man Winter's brutal assault. You might have a closet full of jackets designed for foul weather, but this jacket's three-layer, highly-waterproof breathable fabric makes those other jackets worthy of the yard sale. Fully-welded seam construction, underarm vents for comfort, a Recco reflector for safety, and a generous, ultra-mobile fit set the Bombshell apart in a mountainous arena where details matter. Set your sights on the mountains and let this uncompromising hardshell handle the rest.
3-Layer Bombshell fabric offers 20K-rated weatherproof protection and supreme breathability so you're comfortable, not stifled, underneath this shell
Mechanical stretch fabric construction keeps this shell flexible so your mobility isn't hindered when you're fully-layered and battened down
Fully-welded seams increase the Bombshell's durability over standard taped-seam shell
Mesh-lined underarm vents banish excess body heat during long boot packs
3-D ergonomic fit offers uninhibited mobility without drowning you in excess fabric—if you tend to like a roomier fit, size up
Recco reflector in the upper arm aids Recco-equipped search and rescue parties should disaster strike and you require rescue
Removable powder skirt and wrist gaiters complete the seal from the elements
Backcountry.com is the exclusive US distributor for Stoic products
Great deal for the money
Familiarity:

I've put it through the wringer

Fit:

True to size
This is my every day riding jacket for almost all conditions. I am doing lots of deep, really deep carving turns often touching the morning corduroy with my gear (yeah, it's like sliding a grindstone) and usually I change pants and jackets once a season due to rips and even through holes. I am using the Stioc jacket for the second season in a row and no signs of wear this far!



Good venting scheme, wrist gaiters, detachable powder skirt, huge hood that works just fine with my helmet.



I'm 6'2, 230 lbs. I wanted to be able to have lots of layering options and no movement restrictions so I ended up ordering size XL and it fits just like I wanted.



Several cons: thumb holes in wrist gaiters are terrible and causing pain after some time, so I don't use them and the snow skirt is waaay too big, I have tightened it up as tight as possible, but it is still too large.
From Mountains to Streams
Gender:

Male

Familiarity:

I've put it through the wringer

Fit:

True to size
The Stoic Bombshell jacket will keep you protected and comfortable anywhere you go and anytime you make it there. I like wearing it all year round.



I love to hit the slopes in this thing with my matching Stoic Bombshell Pants, real head turner of an outfit. Excellent waterproof and breathability rating keeps you warm, dry and comfortable in any conditions on the mountain. I'm a big fan of the powder skirt and the pit zips, both go a long way to keeping you comfortable.



Once you're done shredding pow, why not hook some hogs?! I love to fish in this jacket for all the same reasons I like to ski in it. The ergonomic fit makes wading through water and casting a breeze. Wrist gaiters keep the water out of your sleeves when you reach in the water to pull out your monster fish.



Great year round piece for a variety of conditions and activities. I'm about 5'10" 185 lbs and I have this in a large, fits great, more of an alpine/technical fitting piece as opposed to a comfort fit.
From Mountains to Streams
Bomb Jacket
Familiarity:

I've put it through the wringer

Fit:

True to size
this jacket is killer. styling is on point. sharp on and off the hill. waterproof to the max - you can run a facet over it for min+ and it beads right off. ive been in it 3-4 days a week for the past three months, and no tears or bruises - and ive put it through some paces. i would't be surprised if the waterproofing drops out by end of season - but at this price...i could really care less.



if you are on the fence on this one...don't be a dummy, and just buy it.
Aptly Named
Familiarity:

I've put it through the wringer

Fit:

True to size
This jacket makes for a great shell. Penetration by the elements into this jacket is non-existent. It fits great while allowing ample room for layering purposes. It has also been very durable even after a couple run ins with some trees. I highly recommend this shell.
GREAT JACKET, but returned it.
Familiarity:

I returned this product before using it

Fit:

True to size
Great looking jacket. Not nearly as warm as I'd hoped. I knew it was a lighter coat, however, it was lighter than I was hoping. Very comfortable and fit true to size for me. I purchased a LARGE. I'm 6'1" without shoes on and 176lbs.
Great jacket, fits great, I'm happy
Familiarity:

I've used it several times

Fit:

True to size
I wanted a lighter coat that provided shelter from rain and snow but mostly for me to use leisurely and in snowy conditions with some layers. I didn't want insulation which this jacket doesn't have. No crazy performance expectations like other so no big skiing, snowboarding, or hiking. And the jacket performs great. I wear a sweatshirt with a t-shirt underneath and I am pretty warm given the jacket's performance. 25-30 degree weather is good (I live in MD). Anything lower, I would need more layers which is what i was looking for anyway.



The only two things I would change is the hood and maybe the spandex/elastic wrist/hand portion. The hood is made to fit with a helmet so it is larger than any hood I have ever had from a leisure/normal coat standpoint. I used the elastic in the hood to try to improve my experience and it helped. The wrist and hand portion is tight so it will probably loosen over time. Your watch can get in the way of it but I got use to it quick. It is keeping the heat in the jacket where I need it so it's not bad.



I am 6'1" and 200 lb, wear a 42L suit jacket with a 35x32 pant and the large fit perfectly. It is slightly bulky around the stomach area like people have said but I think that is fine as it is slightly loose and comfortable, and allows for more layers.



I would rate this jacket 4.5 stars out of 5 and would definitely pay around $100 for it again.
Great technical shell
Gender:

Male

Familiarity:

I've used it several times

Fit:

Runs large
Really great shell for skiing. Blocks the wind and moisture really well. Nice and big pockets to fit lots of things. I wear a medium and I am 5'10", 195 pounds and it fits great. There is still plenty of room to comfortably wear several layers underneath for frigid days. Also, the hood fits over my helmet really well. The only con is the same thing others have said.. the wrist gaiters are no good. It is extremely stiff and hurts the area of my hand between my thumb and pointer finger. Really odd. I just don't use them and it's no problem.
Unanswered Question
Where is the care tag located and what...
Where is the care tag located and what does it say?
Best overall/looking technical shell imo
Familiarity:

I've used it several times

Fit:

Runs large
I am 5'10 160 lbs. with a sleeve length of 30 and a chest measurement (with a t-shirt on) of 39.. I got the Medium..It fits perfectly..These definitely run large..This thing is better than my old Arc'teryx sidewinder...seriously.. My only beef is the wrist gaiters are not perfect, so I might cut them out. This jacket is so well made took it out on a snowshoe mission in the RimRocks of Billings MT. We ae getting sustained 30+ mph winds and it's a little chilly.. I wore a t-shirt with a wool Pendleton (the original wicking shirt) beneath and it was perfect..I actually got a little warm so I opened the pit zips..I bought this jacket as my go to utilitarian jacket for my outdoor activities.. I did not think it would be too stylish but I was wrong..The length is nice and long and the sleeves are not nearly as bulky as i expected after hearing other reviews..I am definitely wearing this downtown..I have had this thing for two days and I already had a random stranger ask me where i got it and i told him backcountry.com. If you are about my build I would highly suggest the medium..If the jacket was any larger it would be too large..Get this jacket. The price is unbelievable!! If there were other colors I would have purchased 2...One more thing that is great; the arms are just long enough so when you reach or use a full range of arm movement it does not pull..It accomplishes this feat without the arms being too long...sweet!!!
Good fit. Wrist gaiters are laughable.
Familiarity:

I've used it once or twice and have initial impressions

Fit:

True to size
I'm 5'8" 160lbs and the medium fit just fine. As others have said, the wrist gaiters are a waste of time. The thumb holes have this stiff grommet around the edge that makes them small, rigid, and painful. They're curiously positioned on the top of my hand rather than the side where my thumb is. I'll probably cut my own hole or cut them out entirely. Other than that, the jacket fits perfectly. Can't beat the price.
Awesome
Familiarity:

I've put it through the wringer

Fit:

True to size
Such an awesome jacket. Wish it wasn't discontinued. I would buy more in various colours!
Must-Get Jacket 10/10
Familiarity:

I've put it through the wringer

Fit:

True to size
I've gone through my fair share of jackets. I've tried everything from the North Face to Columbia, Down to Synthetic, and this jacket wins all. I bought it last year for backcountry skiing in Whistler, and it was perfect. It has great ventilation for hiking to backcountry gates, but it also kept me very warm when the weather got rough. I've zipped past trees and branches with this jacket and it doesn't have a single sign of wear. I had one bad spill coming off of a couloir where I ended up in some rocks. Still not a scratch on the jacket.



I was torn between this non insulated bombshell and the insulated bombshell, but decided to go with this one. It's just big enough that I could fit any layers underneath, but isn't baggy so I can wear it around town as a casual jacket.



In the end, get this jacket. It's literally my best ski purchase ever. Its a sexy jacket that will keep you warm when you need to be warm and cool when you need to be cool.
Round 2
Familiarity:

I've put it through the wringer

Fit:

Runs large
I bought my first Bombshell in 2010, and just purchased another. I will say that I have put this coat through all sorts of trauma and it has taken the beating quite well. The front zipper eventually (after 3 years) gave out.



One word of advice, the newer range of coats run slightly larger than the old ones. I am 5'10, 165lbs and I have a large. Its a bit big but will be good for layering under. It is no longer a technical fit, like the previous seasons, but the fit isn't excessive. If you are skiing, or causally wearing this coat, my large is great (for my build), should you want to go climbing or alpine and want a more technical fit, be cautious of the sizing.



GREAT COAT.
Incredible jacket...mostly
Familiarity:

I've put it through the wringer

Fit:

True to size
I purchased my Stoic Bombshell Jacket last season and used it at least once a week from the end of December through the beginning of April.



The jacket is made extremely well. I spend most of my time skiing through the trees and often brush up against the sharp branches. So far, I don't have one rip/tear in the jacket. It is very durable and will hold up well to whatever you can throw at it.



The only thing I don't really like about the jacket is how the wrists are designed. The wrist gaiter is very uncomfortable. After using it for a few hours, the part of your hand between your thumb and index finger will start to get very sore. I don't even bother using it anymore. The actual wrist part of the jacket also seems to be very small. It's not really that big of a deal but it is pretty uncomfortable for me (and I have some small wrists).



Overall, avoid using the wrist gaiter and you'll be happy with this jacket. I look forward to using mine again this season.
Ridiculously Good Value
Familiarity:

I've put it through the wringer

Fit:

Runs large
I got this a year or so ago while it was on sale. The reviews were good and I figured it'd be worth seeing if it worked well as a storm shell for some mountaineering and climbing use.



A year later... I'm MINDBLOWN this only cost me $150. It's insanely durable (you can climb offwidths with this and not worry about damaging the fabric), offers fantastic protection from the elements (no perceptible wind or water leakage), tons of mobility (you can free climb like a monkey in this!), and is pretty breathable for the weight.



A few caveats:

-The wrist gaiter is really annoying and I cut out part of it. The velcro plus a tiny part of the gaiter are enough to keep the wind/snow out.



-The fit is a bit strange. I'm 5'8 175lbs and got a medium. It's kinda long for me (not a big deal when wearing a harness over it) and a bit baggy in the arms but it fits ok in the waist and chest. I'm guessing if you're tall and very skinny this will fit you perfectly.
I'm 6' and 155 lbs. I've been looking at this jacket online for months, hesitant to place an order because I'm not familiar with the brand. The price for the Large dropped to a really low price so I gave it a shot. The jacket is of incredible quality for this price point. In fact. I would put in on par with jackets costing 3X the price. I ended up returning the Large and exchanging it for the Medium. The Medium was a bit more expensive (I guess they're clearing out the Stoic inventory and pricing by size/color) but I was so impressed with the quality that this didn't bother me. It's still an incredible value.

The Medium fits well. I have long arms that are sometimes a problem in medium jackets, but not this one. Even the thumb loops (which I probably won't use much) are not too tight with my arms bent. I'm pretty thin and there's plenty of room for layering but this is not a baggy jacket.

It's 95 degrees and humid in NY. I won't have a chance to truly test this jacket for months but the quality is fantastic. The hood is a good size. I'd like one more internal pocket but I know many are concerned about adding weight so this is a tradeoff. Some have complained about how heavy this jacket is. I would say you need to compare it to other jackets with similar features. This has a built-in hood, zip in powder skirt, lots of pockets and pit zips. All this stuff adds weight. If you want lighter, you will need to sacrifice some of this. It's not a flaw with the Bombshell. For a jacket with these features I'd say the weight is fine. The zippers are a little hard to operate but that can be said of the waterproof zippers from other bands as well.

The Stoic brand may not be well known. But you will never feel like you cheaped out with this jacket. It just feel like a well designed and well made piece.

My brother saw my jacket and immediately purchased an Insulated Bombshell (same thing with a thin layer of insulation). It is also a nice jacket and an unbeatable price.
This coat has been great! From skiing pow to camping in the backcountry. Really happy with this purchase.
After I bought my wife the womens version of this jacket I had to get one.

Love the features and the technical fabric. Bretahble and waterproof with a little stretch.



Everything you need...helmet compatible hood, wrist gaiters, pow skirt..

I am about 225 6' and the XL fit great with plenty of room fro layering underneath.
Great Jacket; awesome deal
Love this jacket; fits awesome - slim fit (5'8" 145lbs - size S). Water proofing is well done, so are all the features, like the hood, wrist gaiters, powder skirt, etc. My only semi-complaint is that the sleeves are a bit long/wide, but I think that's the style.