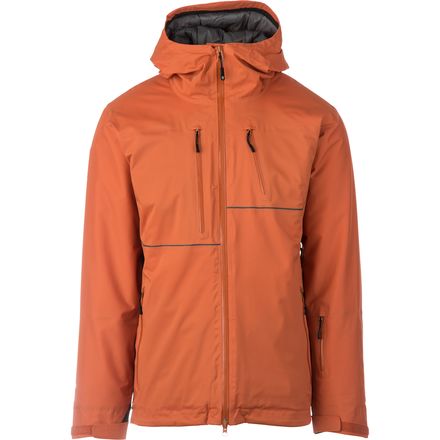 Detail Images

Videos

Community Images
Description
Better than big guns and models.
To a skier, the word "Bombshell" generally conjures two distinct images: a Lange girl (early '70s, of course), or the thunderous echo of a howitzer pumping rounds into bowls of creamy powder. There's a newcomer to the the bombshell party, though, and it's threatening to relegate Lange girls and artillery to second-fiddle status: that's right, the Stoic Bombshell Men's Insulated Jacket is grabbing all the headlines and intruding on the old-fashioned dreams of ski models and avalanche control.

It's not really a surprise, when you get down to it. Models might be able to keep you warm, but they can't compete with the Bombshell's synthetic Cirrus insulation, nor do they offer 3-layer, mechanical-stretch fabric that stands up to serious abuse without feeling as heavy as a suit of armor. Equally, while howitzers may give you a warm, fuzzy feeling, they don't have the 20K waterproof rating or fully-taped seams of the Bombshell, and, accordingly, will not keep you very dry, unless you hide underneath one all day, which will definitely interfere with your skiing.
Unlike big guns and babes, the Bombshell also has essential features to make in-bounds powder stashes, sidecountry cliff hucks, and burly storms tremble in fear. The wrist gaiters and removable powder skirt seals out snow no matter how big your bombholes are, and mesh underarm vents work with the Bombshell's 15K breathability to keep circulation maxed out when you're seriously shredding or hiking to lines, so you're completely prepared to rip the bejeezus out of them when you get to the top. And, at the end of the day, all the ladies will be impressed, which is why you're up there in the first place, right?

20K waterproof/15K breathable membrane
Cirrus synthetic insulation
3-D ergonomic fit and mechanical stretch
Mesh-lined underarm vents
Fully-taped seams
Removable powder skirt
Wrist gaiters
Recco reflector
Incredibly Warm
Familiarity:

I've put it through the wringer

Fit:

True to size
The Stoic Bombshell is incredibly warm. I wore it today skiing with nothing but a Capilene base layer and I was cozy. By the way it was -4 F. There is a nice stretch to the fabric as well.
Perfect jacket
Familiarity:

I've put it through the wringer

Fit:

True to size
This might be the perfect jacket for winter use. The hood actually works, it's waterproof but breathable, and all the details are great.



Only cons:

The shell is a bit fragile. I snagged it on a tree branch and ripped a huge hole in it today.

The thumb loops are too constricting, and the wrist gaskets would work better without them.

The underarm vent zippers get stuck all the time.
Simply the Best
Familiarity:

I've put it through the wringer

Fit:

Runs small
This coat is about as good as it gets. Warm, waterproof, and windproof. Not only does it handle the elements but it can take a beating.
Great jacket
Gender:

Male

Familiarity:

I've used it once or twice and have initial impressions

Fit:

True to size
Used once on a heavy storm day at Vail and jacket performed great. For the price (I actually bought on steapandcheap for $109), this is a deal. Some specifics:

- I'm 5'9". 177lbs, athletic/crossfit type build. I was worried the medium would be too tight but it fit perfect with 2 layers underneath (long sleeve and thin hoodie). I also ordered the large and it fit OK, but it was a bit too baggy

- As everyone says, the thumb holes are too tight and kinda hurt

- Great pocket features without being bulky

- Hood was great over the smith variance helmet, snug, but not too snug. did a great job during the 7"+ dump we got

- Powder skirt is good, but could fit a bit tighter, would prefer 2 size options

- Jacket is unreal light, barely weighs anything compared to my bonfire jacket

- Insulation was good, but not too much. With vents open and a t-shirt underneath, this could even work as a spring jacket

- Material doesn't seem to feel the toughest, but until it rips or has an issue, I won't complain

- I bought midnight/agave and color is true to the picture

Happy shopping
Very good looking jacket!
Familiarity:

I've used it several times

Fit:

True to size
I got this ski jacket for my husband and it looks great in it! It's kept him warm up on the slopes and he hasn't had a single complaint. My husband is 6'2" and 195 lbs. I got him and XL and the fit is perfect. Five stars on this jacket - he loves it!
Very Versatile and warm jacket
Familiarity:

I've put it through the wringer

Fit:

True to size
I have had a few of these, from the first year (when the fabric was burly) to the current version. I use it most days, until the temps start hitting 35 degrees. It is lightweight for having 100 grams of synthetic insulation and a hardshell. It does not look puffy either. It is very convenient having the insolation already in the jacket, just grab it and go. I use it for snowboarding with a 150g or 200g merino base layer and am perfect from 0-35 degrees. The pit zips help when it reaches the higher temps. The fabric feels thin, but has withstood seasons of use. The fit is great, not to tight or baggy. I am 6'1" 200lb athletic and the XL fits perfect. Its my go to jacket and always in my truck ready to be put to use. I supplement this jacket with the Stoic Welder lo for days when I know it wont rain or snow and might get above 30 degrees. For the price, you won't find a better jacket.
I really like it I have two of them but
Gender:

Male

Familiarity:

I've put it through the wringer

Fit:

True to size
I bought original Stoic Bombshell jacket , black with red zippers; I loved it it was very warm, right fit and great color combination. I was able also to buy matching ski pants black with red zippers . All 5 stars for the combination. However, this year I tore the fabric on one of the sleeves. Backcountry was great and replaced the jacket with the new Stoic Bombshell. The new jacket is different. It has slightly different cut (bit smaller), feels more bulky and has different zipper color (bull' s blood ?) that does not match any available ski pants colors. The jacket is also not as warm as the old one although it should be the same. I decided to buy another jacket, red with blue zippers. It looks much better with old black/red stoic pants. Now I have two of them. I still like very much the jackets, I would buy them again however the older models were much nicer color,cut and warmth wise. I am not sure why Backcountry/Stoic decided to change the jackets for this year model and why they came up with color combinations that do not match any available pants. I am giving it 4 stars mainly because the jackets are not as good as the last year models. Just one more piece of information, I am 5'10", 200Ib, rather muscular than fat, and large size fits me quite well but I would prefer so the jacket would be an inch or two shorter.

I share the photo (it was really cold); Stoic gloves, Stoic pants, Stoic jacket, Stoic dawn vest (can't see, under jacket).



Janusz12
Overall a nice light, warm jacket.
I don't claim to be a great outdoor person. I haven't scaled any mountains or gone skiing or snowboarding in the jacket. I've just used it for the last month as a warm jacket to wear while waiting for the bus or train to commute to work in Salt Lake City. My last off-brand coat was heavy and didn't seem to breathe well, so I bought this one. I like how light and warm the jacket is. It seems very waterproof. It does fit quite snugly around the waist. I'm 5'10" and 195 lbs and the large fits me without much extra room around the waist and hips. Also, the wrist gaiters are too tight at first, but they stretch out after a while. The thumb loops in the wrist gaiters are too tight on your hands/thumbs to be comfortable. I'll have to use them more to see if they stretch out. Sometimes the double front zipper is a little difficult to get started. So far the zipper has been fine, but it doesnt' have the kind of sturdy feel I would expect out of a zipper. The hood can be adjusted so the brim is where you want it and you can still see.

Overall, I'm happy with the purchase.
I'd like to get this jacket for my husband....
I'd like to get this jacket for my husband. He's 6'2" and weighs 190 lbs. He usually gets an XL, but I don't want to get him something that will end up being big and boxy. What size would you recommend?
Stoic Bomshellers are a close fit. Being over 6?3, I have more than adequate length/room for my torso. Backcountry maintains a friendly customer experience if, for some reason, the piece doesn?t work out for you (I?ve returned items). XL will make your hubby happy!
I'm 5'9, 170lbs, fairly broad chest. ...
I'm 5'9, 170lbs, fairly broad chest. Medium or large?
GPS,



For a broad chest and shoulders at your height and weight, I'm be leaning towards a medium. I'm 6'0" 175 lbs and typically get a Large for shells and Medium for base and mid layers.



The Medium in this might fit but I'd say chances are it'd be far too tight in the shoulder during movement and activity.



Jared D.

Gearhead

800.409.4502 ext 4055
im 5'10 and 165 (most the time)



and i had the Large in this jacket and it was awesome.
Love this jacket!
Familiarity:

I've used it several times

Fit:

Runs large
Very warm and highly functional jacket that comes with a lot of features mostly found in higher-end and more expensive jackets. Zippers are nicely laminated and the hood fits over a helmet, but don't expect to be able to pivot as if the hood wasn't there (it is not that over-sized). Wrist gaiters are a nice touch and get looser over time, so don't worry if they feel constraining at first.



My one complaint is that the powder skirt needs to be tightened to get a secure fit, and it rides up when I'm strapping into my board. I'm coming from a jacket and pants that zipped together so that was never an issue. Hopefully I can correct the issue I'm having by either getting a pair of pants with a powder skirt or fine tuning the skirt on the jacket.



I'm 6'3 and weight 185, and I went with an XL. The L was slimmer than I would have liked around the chest area. I have the midnight/agave and love the splash of brightness that the agave color adds. The orange was a little too bright for me so I returned it.
Unanswered Question
I recently bought the Paprika/Midnight in...
I recently bought the Paprika/Midnight in small. When I put my hands thru the wrist gaiters the thumb holes are over my index and middle finger. If I place my thumbs in the thumb holes and have my arms at my side, the gaiters twist causing the jacket sleeve to twist. In order for the sleeve to lay straight, my palms have to be facing forward. The gaiter seems to be placed incorrectly, is this normal?
Excellent Jacket. Feels Warm, but light.
Gender:

Male

Familiarity:

I've used it once or twice and have initial impressions

Fit:

True to size
-I just thought I would add my 2 cents to the mix. Got mine in today in the paprika color. The color in the picture is a little darker/less neony than real life, but I would say it is very close.

-The wrist gaiters are a little tight around the thumbs as some have mentioned, but I can tell they are stretching out a bit. After a couple of wears this should be fine.

-The outer material feels a little thin, but I trust the other reviews here that it is durable.

-The drawstring system for the hood seems a little cheap. It uses a little foam plug to prevent the string from loosening. It seems like a few rough pulls and this could tear.

-Overall the jacket is very warm, but I've only walked around outside for a little bit with it. I plan on testing it this weekend on a ski trip. The weather report says rain is possible so hopefully the waterproofing is up to the task.

-For sizing, I am 6', a size 42 regular, and weigh around 180lbs. This jacket fits perfectly in a Medium. I usually ski with just an underarmour baselayer, but am able to fit a Northface fleece jacket without problems. (I should clarify I'm 180, but usually sit around 170-75).
Hi, in the tech specs says that waterproof...
Hi, in the tech specs says that waterproof is 15,000 gr/m2 and breathability is 20,000 mm but it is the other way, waterproof is 20,000mm and breathability 15,000gr/m2. Am I right?
You are correct. The waterproof/breathability rating for the Stoic Bombshell Insulated Jacket is accurate in the product description above, but it has accidentally been switched in the products spec to the left. Thanks for catching that. We will get that updated.
Great Jacket!
Familiarity:

I've used it once or twice and have initial impressions

Fit:

Runs large
Got this jacket recently in midnight/agave size small. The jacket is really nice and lightweight, kept me warm while it was 15 degrees in Vermont. I had 2 layers (one being a mid layer fleece zip-up) and was running pretty hot. I can't say anything regarding longevity as it's only been a few weeks. I ordered a medium at first and normally my tops would be medium however, this jacket felt a little baggy for my liking. I'm 5'9" and 160lbs, this jacket was a little had more fabric in the waist and arm area so I sized down to a small for a more fitted look. Overall, I'm pretty happy with the jacket.. it has all the comforts that you'd want (waist skirt, gaiters, fully taped, 20k waterproof, etc) and is very lightweight.
Hi, could you please tell me where the...
Hi, could you please tell me where the Recco reflector is located in the Stoic Bombshell Insulated Jacket?
Just bought this jacket, it's a quality jacket for the price. The Recco reflector is located on the right arm roughly where your bicep and tricep is. Hope this helps.
Tore the sleeve on day 3. Love the jacket....
Tore the sleeve on day 3. Love the jacket. What's the recommended patch material?
I'm not sure what Stoic will say but I tore a small hole in my Patagonia Down jacket. When I called Patagonia, they recommended Tenacious Tape. I bought some in clear and it seems to work great and it doesn't look all that bad. The bonus is that it can be removed if you ever want to have it repaired.