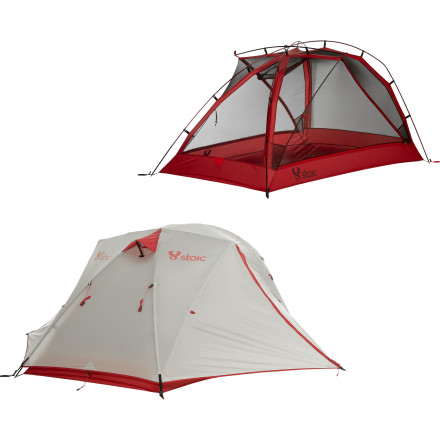 Detail Images
You and a partner don't always need a month to plan a backpacking trip, because you can head out into the desert and pitch the three-season Stoic Arx SL2 Tent whenever you please. Sure, it can shelter you and a companion during your ten-day treks, but this double-walled, freestanding dome's easy setup also accommodates more spontaneous escapes from society. With its double door, double vestibule design and generous dimensions, you don't have to worry about bumping elbows during a trip of any length off the grid.
All the tent's seams are taped to eliminate rain penetration during spring and summer storms
Durable nylon ripstop fly and floor repel moisture and withstand abuse during long treks into the heart of roadless areas
Simple dome design uses two pre-curved Yunan aluminum poles, one carbon fly brow pole (to save weight), and clips that are easy to assemble day or night, rain or shine
Two doors and two vestibules give both backpackers easy exits during nighttime bathroom breaks, as well as provide protection for packs and boots
Lots of floor space and a 38-inch ceiling provides comfort during long storms
Breathable mesh walls and two fly vents expel interior condensation during muggy summer nights
Guy loops let you tie down the tent during high winds
Vestibule can be closed completely with a zipper but one side also rolls up to use the space as a shaded porch
When split between two backpackers, the 4lb 3oz trail weight doesn't feel like much during multi-day trips
With its included stuff sack, the tent packs down to 18 x 7in so you can easily attach it to your pack
Best Answer
This tent is manufactured in China.
Solid tent with one problem
Familiarity:

I've used it several times
I liked the tent, easy to set up, relatively light, 2 doors, etc. Very good for the price. My only beef is that it has a fabric bottom (the same fabric that is part of the walls of the tent). I'm not sure whether that was in its description or not. Either way, I prefer a tarp bottom, even if its a little extra weight, because it provides protection against flooding and wont tear as easily when set up on rough terrain. I'm nervous I'll rip the bottom when getting up in the middle of the night.
Is it possible to buy spare poles for this...
Is it possible to buy spare poles for this tent? Some sheep invaded my tent and broke several poles... :(
Hey,



I really suggest you get in contact with our customer service department at 801.409.4502 so that we can get this taken care of for you. This would ultimately have to go through warranty to see if we can get those poles replaced and talking to one of our Gearheads is the first step in the process.
Used for my Appalachian Trail Thru Hike
Familiarity:

I've put it through the wringer
My boyfriend and I brought this tent on our Appalachian Trail thru hike. We used it almost every night for 6 months in all weather. We used this tent in 2 feet of snow, in pouring rain, in the middle of summer heat and it lasted through it all. At one point, a downpour left us sitting in a couple inches of rain and our gear stayed dry. Others replaced their tents multiple times with broken poles and leaking rain flies, but this tent held up great. I highly recommend it.
Great Deal!
Familiarity:

I've used it once or twice and have initial impressions
This tent has worked out great! Used it twice in very rainy conditions and it never leaked! Inside of the rain fly will get a little damp so just be aware of that as you're entering/exiting the tent. The shape is a little interesting - it gets narrower/shorter at one end and you cannot sit up without hitting your head. But on the larger end - there is plenty of space! Tent is also really easy to set up even by yourself.



Tent is small enough and light enough for backpacking, yet large enough to fit 2 adults semi-comfortably. Floor is wide enough for two sleeping pads side-by-side and there's room your feet for gear. (Unless you're 6'4'' then you might have a problem).



One negative would be the abundance of ties hanging off of the rain fly. They're great if you pitch in a grove of trees, but if you're on a barren campsite, there's not much to tie them to and they end up becoming tangled when you roll up your tent. Not a major issue, but can become an annoyance.
Borrowed Once
Familiarity:

I've used it once or twice and have initial impressions
I borrowed this tent from a coworker for a trip to Colorado. Unfortunately we only ended up using it 1 night, and it didn't rain and wasn't excessively windy or anything to put this thing to the test. That said, my initial impressions are pretty good. I really like the ease at which this thing went up. We put it up in the dark with headlamps for the first time and it took less than 3 minutes to have the whole thing erected with the rain fly on. I was pretty impressed by that, as my old "backpacking" tent takes forever and is really frustrating, even with two people.

The material was notably thin. Definitely had concerns that I was going to tear my buddy's tent on something. This is probably unfounded, its just that my tent has very thick (HEAVY!) material that seems pretty bomb proof, though it also weighs like 13lbs.

The tent fit 2 adults comfortably. If I was to be making the purchase I might go with the SL3 just to get a little bit of extra floor space and headroom. Really impressed with how small this thing packs down. With the current sale price ($180) taken into consideration, this tent simply has to be a 5 star. At full price I might be inclined to remove a star...
Can't stand up to Alaska
Familiarity:

I've put it through the wringer
I used this tent on a 5 day float trip in the Alaska Range. This is literally the worst tent you could ever take with you into the backcountry in Alaska. The tent itself does a great job keeping you dry...once you are inside. The zippers are designed for someone who has 5' long arms. Once you open the fly you nearly have to lay on your stomach to reach the zipper(s) of the tent. The rain fly builds condensation very quickly and anytime you go in and out of the tent you better be wearing rain gear. To make matters worse, the flap that is supposed to protect the fly zipper gets caught every time you open and close the fly, so to complicate matters you have to reach outside the tent and pull the flap out of the zipper every time you come and go. The final straw was drawn at about 3 am this morning when I had to open the tent to fire a warning shot off to get the bear out of our camp. I opened the tent, then unzipped the fly and as I leaned out the small amount of motion and me squeezing through the fly drained all of the condensation that had built up onto me and my tent mate, we were so wet we had to leave the tent and climb in with our friends. And yes, I had the vent on the rain fly wide open. Sadly...this one is going back to Backcountry ASAP. I've been very happy with all my other Stoic gear but the designers of this tent missed it big time on this one.
Still having trouble finding the matching...
Still having trouble finding the matching footprint for this tent. Or if anybody knows another footprint that works? Thanks.
I would recommend hopping on the BC live chat and asking them...
I fit well in the tent at 6ft and partners have had no problems either. Plenty of room and a good vestibule for gear and packs. Worked well on snow with the footprint and have not had an condensation issues even in West Coast rain. The tent is pretty quick to set up and not complicated. Its not the lightest and doesn't seem to be the most durable but for low key trips and car camping it is great!
Does the fly and floor have any PU...
Does the fly and floor have any PU coating?
It does have a thin coating, but I cannot say if it's PU or silicone.
Does anyone know where I can get a footprint...
Does anyone know where I can get a footprint for this tent? Backcountry is sold out and I can't seem to find any online!


Best Answer
Backcountry is the only place to buy Stoic brand gear (it's their house brand)... so if they don't have it you will want to make your own.
Can someone tell me more about the vestibules...
Can someone tell me more about the vestibules on this tent? Will boots, big packs (60-80L), rain gear all fit in them without blocking use of the door?
Nope. That would take up a big chunk of space but it would not stop you from getting out.
Worth every penny
Gender:

Male

Familiarity:

I've put it through the wringer
I used this tent every weekend and so far it's been awesome. The stakes it comes with I broke or bent basically 1 or 2 a week but that's my only complaint. Last weekend it we went through a heavy rain and lighting storm and it held up fine. Everything stayed dry under the fly even my shoes that were outside the actual tent.
Awsome tent
Gender:

Female

Familiarity:

I've used it several times
I bought this tent to camp with the boyscout troop my boys are in. I have been through down pouring rain and everything in the tent stayed bone dry. Others people in my troop have maromont,rei and other backpacking tents and this rates right up there with them. It is easy to set up. We are normally setting up in the dark and I can have this tent up in a matter of mins. I would recomand this tent to anyone that wants a good backpacking tent.
will this comfortably fit a 6 foot 3 inch...
will this comfortably fit a 6 foot 3 inch sleeper? The length is advertised at 83 inches but that may include floor length up both walls. What is the true floor length (where you sleep)? thanks
According to the Stoic website this will accomodate a person 6'8". The front and back walls are almost completely vertical and the side walls go up pretty steeply as well. You shouldn't have a problem if you're 6'3".



http://stoicgear.com/home/equipment/tent/arx-xl-2-tent/
Good tent, awesome tent for the price
Gender:

Male

Familiarity:

I've put it through the wringer
Great tent, have used it in all seasons, have been caught in high winds, snow, heavy rains, and the tent has performed fantastically.... I've used it for about 100 days now, and it is still in great condition, definitely exceeded my expectations. I bought a 140 dollars tent, and it is a bit heavy, but who cares, it has survived like a champion.... Definitely exceeded expectations.
Are the walls vertical? I've been seeing...
Are the walls vertical? I've been seeing some Mt.Hardware tents and they're getting walls vertical, making more Floor space . What are the walls angeled?
Steep angle, Plenty of head space in my opinion....
I'm 50yrs old, 6'2" and 240lbs, and yes I...
I'm 50yrs old, 6'2" and 240lbs, and yes I still like to get in the back country. But do you think this would be big enough for me and say my son, someone 5'9", 170?
Definitely, its a pretty roomy tent, at least for what I think of as far as 2 person tents go... You can always buy their 3 person version....
Lightweight and very well made!
Gender:

Male

Familiarity:

I've used it several times
I have both this Stoic tent and the Stoic Suite 4. The 2-man tent is fantastic for my son and I to share on our weekend backpacking trips. It is very light at only 4 lbs and super well made. Seems and overall construction is top quality all around. This is also a great size 2-man tent with room for both of us and our gear. The Suite 4 is also an incredible tent but only useful standard camping due to the 15 lb weight. These Stoic tents are well worth the investment.