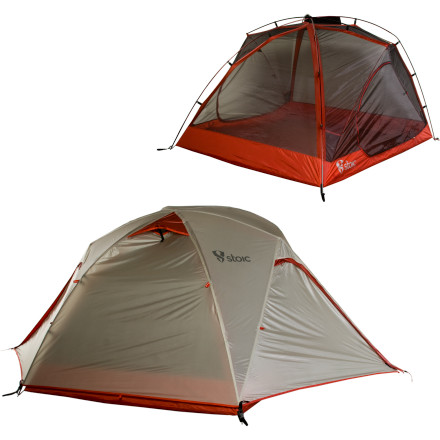 Detail Images

Community Images
The Stoic Arx XL 3 Tent gives you and a couple buddies a lightweight tent option with more space. Whether you're a couple traveling with a ton of gear, trail buddies who need room for a dog, or three people on a fast-and-light backpacking mission, this lightweight tent protects you from the elements and has ample room for everyone to slumber soundly inside. Dual vestibules and doors, mesh venting, and a quick-setup design mean that you'll spend less time worrying about base camp and more time living large in the outdoors.
Long-and-wide dimensions make it easy for campers up to 6 feet 8 inches to stretch out comfortably, and a kink in the corner poles creates more room for your head
Strong, ultralight aluminum poles create a sturdy structure, and a carbon brow pole gives the vestibule added headroom without adding weight
Two doors and two vestibules give each camper room for his or her gear and separate access so you won't have to climb over each other to get in and out
Clips quickly connect the lightweight canopy to the ultralight aluminum poles for easy setup
Guy-out tabs let you batten down your fly with lines when the wind and weather are particularly nasty
Included gear loft hangs over the interior to give you an out-of-the-way place to stash small essentials like a headlamp or a snack
Editor's note: trail weight is defined as the canopy, fly and poles. Packed weight of this tent is 5lb 11oz
Sick tent
Familiarity:

I've put it through the wringer
Great shelter love it.. very waterproof and windproof. Lots of room and the weight isn't bad for the size.
Perfect size tent.
Familiarity:

I've used it several times
This tent is great. This tent is large enough for three people, but is a great size for two people plus some gear. One person setup is easy, the ends of the poles are color coded, the trickiest part would be getting it into the bag nicely folded, but if that doesn't matter to you, packing it is super easy. One suggestion is to have something to pound the stakes in.
What type of coating is on the rain fly...
What type of coating is on the rain fly and tent floor fabric?

I've been trying to find this information but can't seem to hunt the info down. Is it silicone or polyurethane or dwr or something else?



I ask because I am also experiencing the water leak issue at the grommets holding the fly to the carbon brow pole. I can only assume that the water is leaking through where the grommet is sewn to the fly. I want to know what type of coating is used on the fly fabric so that I van match it with the same type of seam sealer to attempt to fix it. I also want to know the floor coating should in ever need to recoat it in the future.



Has anyone else had any success fixing the leak? Or perhaps have any tips on how to setup the tent so that the leak does not occur?



Thanks.
Best Answer
I'm not 100% sure about the floor - I suspect it's polyurethane coated. The fly, however, is definitely a silicon-nylon. I used a silicon seam sealer (I used Sil-Net, but any brand should be fine) to cover the outside of that area and haven't experienced any leaks yet.
Many thanks CatSplat!



They carry Sil-Net at MEC up here in the great white north, so I'll go pick that stuff up!
Good price (Color is Gray)
Gender:

Male

Familiarity:

I've used it several times
I got the Arx as a backup tent for my Eureka K2. Contrary to other reviewers, I had no problem figuring out the color-to-color setup, despite the brief instructions. However, all the pics make the tent look like it is white & red; it is actually GRAY and red. White would have made for better lighting. The gray fly makes everything look drab - and the day is already drab enough if you've got the fly on! Pretty moronic if you ask me. The tent is roomy, with plenty of space for two plus gear, and it's sturdy in the wind with plenty of tie-downs. It's a bargain for $150 -- but it should've come with a white fly.
I loved the price, being that it is a...
I loved the price, being that it is a 299.99 tent paying 150.00 is a great deal, though, the 299.00 price makes you believe that this tent is worth that price. I am not so sure. I do like the tent but seems the material is cheap, though I am use to the older tents so maybe this material just seems cheap and is not.



I set up in back yard before a rain storm, and what is happening is the little black tabs inside the rain cover on both sides are filling up with water and dripping down into the mesh, and into the sides of the tent. I looked to see where it was coming from and looks like the little black tabs are soaked on both sides so not just one leak. I am confused why this is happening.



I believe I have put the tent together right, the directions were bad, but I have put tents together before matching colors. I really need a dry tent. Also the doors on both sides are low, I wonder how they would hold under flowing water from hard rain?

I have a climb in a few weeks and wish I didnt have to do a return and spend more money not sure what to do at this point, any ideas? Any advice?


See in this image that little black loop, it is soaked, and once become drenched even more, it creates a drip, that drip hits the mesh and runs down into the tent creating a puddle. NOT GOOD. It happens on both sides of the tent.
Best Answer
I experienced the leak as well and from what I can tell is that there is a significant amount of sewing that secures that black tab and the water is going through all the thread holes. I've done some research and it sounds like others have had success stopping the leak with some brush on sealant.



I confirmed with someone that the coating/fabric of the fly is sil-nylon (Silicone coated nylon), so the best thing to use is a silicone sealant to match what's there.



Sil-Net is one brand of such a sealant. If you're in Canada, you can purchase it at MEC: http://www.mec.ca/AST/ShopMEC/HikingCamping/MaintenanceRepair/PRD~5002-946/mcnett-silnet-silicone-seam-sealer.jsp



If you're in the states, I'm sure REI or Cabelas may carry it. As you can see it just comes in a tube with a brush. Brush it on both the inside and outside where the black tab is sewn on.



As for the material. I have to agree that it is seems really thin compared to many other tents, but that's what happens when you want a 3 person tent that's under 6 pounds. The weight has to come off somewhere.



As with any lightweight backpacking tent, the materials just aren't going to be as durable so you have to be a little more gentle with your gear. If you want something that you can be rougher with, those tents are available and tend to be cheaper which is a bonus! But they also tend to be a lot heavier which is unfortunate.



At least the fly is made of ripstop nylon which is good; it helps prevent any tears from spreading.



I will have to say that I am disappointed with the taped seam across the middle of the floor; why not just cut a piece of fabric the whole size of the floor? They did for the footprint; just seems a little silly. Not overly concerned though, if it does fail it's easy enough to repair out in the field.
I did that and it works nice. I brushed on some sealant from EMS and was caught in a down poor a week later at 4000 feet, I was impressed by how the tent held up. Got hit with 35mph winds as well, tied down the tent and faced the front into the winds, held nice.
Tons of room in a small package
Gender:

Male

Familiarity:

I've used it once or twice and have initial impressions
First use; arrived after dark, easy to set up without instructions; it rained for the better part of two days; we stayed dry, the vent in the fly is a great feature (I wouldn't use it in the wind and rain); plenty of room for me and my five year old boy and all of our gear. The dual doors and vestibule's are a great feature also.
Max Headroom
Gender:

Female

Familiarity:

I've put it through the wringer
Pros:

- The steep walls and extra headroom really are nice to have. My boyfriend has made comments that he prefers the headroom in this tent vs my TNF Rock 32

-This tent is light and packs small for it's size. I always double check that I have the 3-man because it's so small/light.

-two doors and two vestibules so two people have their own entry and storage space.



Cons:

-during a major windstorm near Moab, the tent was pretty much flattened and the carbon brow pole broke, and the rest of the poles are a little bent now (I am actually amazed it survived as well as it did). I have been using a pole splint on the broken spot and just make sure to guy out every point to retain shape. It made it through a few more weekend trips and a full week in Oregon.

-The gear loft must have been sewn in crooked by accident, as others have noticed... it's crooked and most things will slide out of it. It can still be useful if you need to hang clothes up to dry on the inside of your tent though, and there are other mesh pockets around the bottom of the walls.
Awesome Tent!
Gender:

Male

Familiarity:

I've used it once or twice and have initial impressions
My wife and I went camping in the Unitas and got hailed on in this tent and it kept us nice and dry with plenty of room. Great lightweight tent and easy to get up.
I found the tent was really resistant to water. My experience in camping is a little different to some of the other users here because I'm from Puerto Rico so the weather is very hot and humid, i went camping with it just a few days after it arrived and as regular caribbean weather had a lot of heat when it was not raining. It was very comfortable and easy to enter and exit the tent (i had a pinched nerve on the back that week) considering that is very comfortable the only thing i did not like is that the tent closed its hot in the tropical weather. Thats the only flaw of the tent if not i will have given it a 5 star. PS. I fell in love with the carbonfiber pole wish all of them were carbon
Just a few initial thoughts on the Arx XL3 from first-run setup and testing.

The instructions, as mentioned by another reviewer, are quite spartan. Really, they're just a few lines on a slip of paper. Fortunately, the instructions do include the most important part - the tent is designed on a colour-coded basis. The "red" (well, kinda purple) ends of the poles go into the grommet holes in the red body tabs, while the black ends go to the black tabs. Same goes for the fly - red buckle tab to red, black to black. This even remains true for the footprint, so setup really becomes very straightforward. The poles are nice, but I do have durability concerns about the carbon brow pole due to owners of the Arx XL2 reporting breakage problems. In a stiff wind I could see that pole being put under a fair amount of stress. So far so good, though, and I've never had a tent with carbon poles so I don't have much experience in that area. The brow pole pushes against the fly fabric at the ends, and since it's stressing the light (30D) silnylon a bit, I can see how this could lead to moisture passthrough. I will likely sew and seal a small 2-layer patch of 70D silnylon onto the contact areas to mitigate that.

The tent body is nice and roomy for two people and gear! (three people might find it a bit snuggly) The bent-pole design is really good at opening up the headroom, so sitting up for a game of cards is nice and comfortable - between the large interior space, the mesh walls, and the white fly, this is probably the most open-feeling 3-person tent I've been in. Vestibules are of average size (great for boots and smaller packs, larger packs would perhaps be a bit tight) and the mesh doors can be opened nice and large. The vast amount of mesh should make for excellent summer ventilation - although that would also make it rather chilly for early and late-season camping. The top vent is a nice addition, but it has to be opened/closed from outside the tent due to its location above the main body.

Unfortunately, as mentioned by other reviewers, the mesh gear loft is comically useless. It's tiny and is oddly angled, so anything you put in there is going to immediately fall out. A slight redesign (deeper mesh, relocated attachment points) would make this item usable, but since there are mesh side pockets built into the main tent body I'm not too sad about leaving the loft at home.

Now, the specs say "no" for the Fast-pitch option, but upon erecting the tent I was surprised to see that the fly has a number of Velcro tabs designed to attach it to the poles independent of the tent body, indicating that a Fly-only+Footprint setup was possible. A little fiddling later (and again with the help of the handy colour-coded grommet tabs on the footprint) I had the XL3 free-standing and secured without the main body. Anyone attempting this will want to guy it down well, as a stiff breeze picked up and really tugged on the fly. Also, the footprint does not have the clips for tensioning the fly that the main body does, so the guy-outs become doubly important. Setup in fly-only mode wasn't nearly as easy as using the main body, but quite doable, and likely fairly easy if you have someone helping you. I also suspect it's quite possible to (in the case of setup in heavy rain) to set it up as Fly-only+Footprint first and then erect the main tent body underneath the fly, thus keeping the main body dry. The reverse should also be possible, for situations where you are taking it down in the rain. That's something you'd definitely want to practice in the backyard first, though!

So, initial impressions on setup are mostly positive. Things like the silly gear loft design are knocking it down to a 4-star tent at this point. That said, for $150 one could do a lot worse for summer backpacking. I love how light it is for a full-featured 3-person tent - split between two people it's counting for only a few pounds per pack.
Bad warranty for broken pole
I have contacted stoic and backcountry who both claim a lifetime warranty but have given up on ever hearing back from them. One aluminum pole broke after very light use. I had a light rain that came in through the ends of the brow pole. The leak could easily be fixed with a bit of sealant but the pole seems tough to find a replacement and I am quite unhappy at two companies both claiming a lifetime warranty and neither standing behind it. Reminds me of Tommy Boy selling his brake pads. People feel good about being told there is a warranty...
Great backpacking tent for a small family
Was deciding between this tent and REI Quarterdome for my family's 22 day trip on Iceland's Ring Road. The ARX XL appealed to me for the additional head room which makes this tent feel quite a bit roomier than its floor space. That's important to my 6'4" husband! Fits our crew well...but our two kids are still pretty small (5 yr old and a 14 month old). Sets up quickly/easily despite the very simplified instructions. I was a little worried about leaks, as the mesh panels run practically down to the ground, but I haven't experienced any issues yet.
It's decent but design needs work
Well for starters the instructions, well, stink. It's basically lay out tent, insert poles, good luck. Yes, I know most of us are competent enough to figure out a basic 3 pole tent but it took some thought on this one. First off the 2 main poles have a bend about 1/3 of the way down, no where in the instructions does it say which end of the tent needs to have the bend. So I've tried it both ways and it worked, but neither seemed to have an advantage so... Backcountry any suggestions?? Yeah... then you get to the rain-fly and this is where I think they wanted to mess with people. You would think that the Stoic logo is printed on the side that faces out right? Nope because if you look at it the logo is backwards, so while pondering the reason behind this I noticed the rain flaps for the vestibule zippers and figured out that printed logo side actually faces the inside of the tent. I'm guessing this was done to extend the life of the printed logo and give a ghost effect?? Backcountry???... Ok so now lets go to the actual use of the tent. As others have stated their is no privacy in this bad boy, so if you're ok with your body then this is the tent for you. Now for us in the real world I like to change clothes in private so this basically means you'll always have the rainfly on. In the summer well that makes this tent a little hotter than you'd want. Yes you can adjust the rainfly slightly where it ties in to the tent and raise/lower it a few inches but air flow is not the greatest unless you've got those vestibules open. Also another negative was the zippers, on the rainfly I constantly had to baby the zipper away from eating the rain flap. And the door zipper was a bit of a problem at times and kept me from closing it with one hand. As others have said the gear loft included probably wasn't real-world tested enough because nothing stays up there. My headlamp fell out and tagged my 9month old while he was playing, good thing it wasn't the old monster headlamps of long ago with the giant battery packs! Ok enough bashing, i mean, reviewing... here's what's good about it during my recent trip to Cades Cove in the Smoky Mountain NP.

The tent is a nice size for me, wife, and small infant, heck our dog could easily squeeze in but he's small. I'd say large labs are a no-go in this one. The added carbon third pole does make for additional headroom and was easy to install. A nice improvement from my old 2-person Sierra Designs Clip Flashlight. The included 4 guide lines have reflective thread which I believe should be standard on every tent. But I do wish it had included them at all of the guy-out tabs instead of just the main four points. The door tie-up points are useful on both the tent and vestibule. The stuff sack has compression straps & a handle which is nice. The vestibule space is decent for shoes and small pack but a 5000 cubic inch pack would probably be sticking out. The included stakes are the sturdier Y-beam style. Again it's got a lot of space and headroom so if you had to retreat to your tent during bad weather I think you wouldn't get cabin fever at least for a couple hours.

If I could I'd probably return this tent for another but since I bought it through a backcountry discount and it's been used once it probably wont happen. Overall it's decent but this version I think needs another update before it's a solid performer.
Used this tent last night in the North Georgia Mountains. Setup is very easy as the poles and tent corners are color coordinated. The rain fly is also color coordinated as is the foot print. So far so good. The third pole which spreads out the rain fly is attached by two brass grommets which locks the pole. After a heavy downpour the water started to drop down from both ends.
Because the sides have mesh all the way down to the floor the water drips into the tent.
The small Gear loft is very small and anything you put in it tends to slide out. No side gear which would have been nice. The space is good for two people but tight for three. The fact that the sides have mesh all the way down doesn't allow for any privacy if you don't have the rain fly on. So I would recommend this tent if I can get the wate leak issue taken care of. If not I will return it.
More Spacious and Lighter Weight than Templum 3
Took the Arx XL3 out this weekend in Eastern Idaho/Western Wyoming. We had some fantastic weather, so didn't end up using the fly. Nights were perfectly clear, and the mesh-heavy design on the body of the Arx XL3 was perfect for star-gazing in safety from the mosquitoes. I really like the additional head room created by the 3rd (brow) pole. I've used/liked the Templum 3 tent from Stoic as well, but really liked having some more room above when sitting up inside. Felt less confined - no fly probably factored into this as well. The length of this tent is also a bit longer than many comparable tents, which is nice for +6' guys.
As with most tents, the 3-person rating is generous. You could get 3 adults in there, but it would be cozy. Our 2 wider 30" pads fit nicely in the XL3.
Setup was easy and fast - even in the dark. We were still able to identify the color-coded poles and webbing with headlamp aid, and had the tent set up and ready in less than 5 minutes. The clips, instead of sleeves, design is an improvement over the Templum 3.
Overall, really liked the no-hassle set up, additional head room and length, and lighter weight of the Arx XL3. A good 2-person + gear option or cozy, 3-person weight-saving option. I'd highly recommend for late-spring, summer, and early-fall use.
Still have the plastic clips that hold the...
Still have the plastic clips that hold the fly down... I don't think I like that. Any chance of getting metal hooks or something in the next version?
So far I'm very satisfied with all the Stoic I have but those clips just scream failure to me
A few of ferrino tent have a plastic clips and have dont failure. I'm sure the Stoic will live for years to came. all of my Stoic gear work just great
I wouldn't worry about them. My MSR has the same setup and they have never given me any trouble and I have cranked down on them pretty hard to get the rainfly taut.
, ☃bcs_badge_alumni_label☃
ARX tent in city of rocks, midnight moon
the arx tent in city of rocks. staying up late taking photos
The size/shape of this tent is pretty good, but it's extremely similar to (if not a rip-off from) my Quarter Dome T3 from REI, which is not only cheaper and made of a stronger fabric, but is lighter AND has a fast fly set-up.

I love bc.com, but don't get this tent. REI is the way to go.

http://www.rei.com/product/761895/rei-quarter-dome-t3-tent