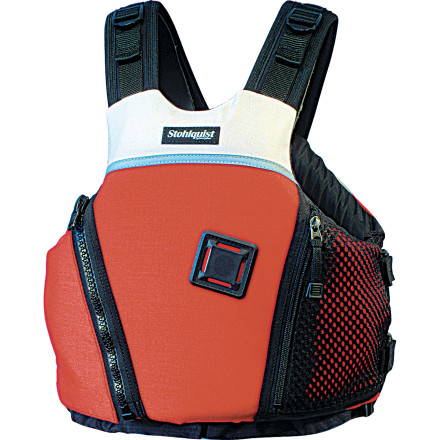 Detail Images

Community Images
The Stohlquist WEDGE-E Personal Flotation Device's low-profile design allows full freedom of movement when you need it for a class-V rapid. This PFD pack 16lb 14oz of flotation to make your swim a little less scary if you should happen to end up in the drink. A front zippered pocket holds essentials like sun screen and a flip line. A four-way tab holds a knife or whistle. The Stohlquist WEDGE-E Personal Flotation Device has become a favorite of whitewater kayakers and rafters who want easy movement without giving up too much flotation.
Size? I have another Stohlquest PFD. ...
Size? I have another Stohlquest PFD. They size "small/medium" - "medium/large" - large/extra large" NOT typical sm -md - lg - XL. So if I want a "large/extra large" what size do I order? The drop down is small, medium, large, etc.
That is really going to depend on the PFD you currently have because the GETaWAY, Fisherman, eSCAPE, Trekker, and Ebb are all 42-54 inches for the Large/Extra Large. The FLOWTer, DRIFTer, Rocker, and Descent are all 40-46 inches for the Large/Extra Large. This Wedge-e will be in comparison 40-44 inches for a size large and 44-48 inches for the Extra Large.



I really hope that helps.
Summer of Guiding
Familiarity:

I've put it through the wringer
This was my first PFD that I bought for river guiding. The vest held up very well for about 3 months and is now fading from it's original glory. It allows full range of motion, I never had it get in the way, and is very comfortable.

The problem I have with the vest are the zippers. The pocket zipper has begun not to zip, and the zipper to close the vest is difficult to zip up but is still functioning.

I don't like the side entry. I felt like it wouldn't really matter, but if you're wearing a hat, it does get annoying to put it on and take it off every time.

In the end, this is an excellent PFD for a weekend warrior or for vacations. But for professional use I would go for something else.
Unanswered Question
does this have non slip panels, or what...
does this have non slip panels, or what ever, to keep it from riding up?
Classic for a Reason!
Gender:

Female

Familiarity:

I've put it through the wringer
This has been a top-selling PFD for about 10 years now. It hits the sweet spot between being comfortable, functional, and economical.



I bought mine in 2002 and it has held up well over the past 11 years, even with some summers of heavy use and a lot of UV exposure, plus sand, silt, saltwater, etc.. The only wear and tear has been color fading due to sun exposure, which is to be expected after multiple seasons in high-altitude Colorado and the beaches in California. Even after 10 years, nothing has torn or broken. I also love the side pocket, which is big enough for an asthma inhaler, chapstik, Cliff bar, nose clips, and keys. The side zipper makes the vest easy to take on and off, and I have never had problems with either the pocket zipper or access zipper jamming or breaking.



This vest is fairly good for short people. I'm 5'0", and I originally bought this vest because its cut was lower, which meant I wouldn't get the dreaded "chin chafe" after a day on the river. The shoulder straps are adjustable, which further let me shorten the torso length. It never felt too big or bulky. I do have a fold in the straps because I had to shorten them so much.



I just bought a new vest this week, but the only reason is that I read that boaters should replace vests every 3-5 years because the foam gets a little less buoyant after awhile. But I'm still going to keep this vest as a back-up because even after 10 years it still is completely functional.
put a pfd on it
Gender:

Male

Familiarity:

I've used it several times
sweet vest, use it for mostly canoeing rivers and lakes. this is my first real pfd, it's so comfortable i no longer fuss with taking a vest on and off, leave it on for the whole day.



great fit and best of all keeps you floating without riding up and putting you into a wwf style headlock.
Great low priced PFD for most Whitewater
This PFD looks great and does the job for most whitewater. I have purposely jumped out of the raft many times in Big Kahuna and Lunch Counter and am under for a few seconds but come right back up most of the time. I have had a couple times where I was under for around 8 seconds (a long time in whitewater) when the undercurrent catches me and holds me under. I had to swim back to the top instead of float back to the top like most of the time. Like I said. This works great for most whitewater, but if you are going to be getting into some pretty nasty stuff I would suggest spending some more money and getting a higher end PFD.
I dragonboat & this PFD is very comfortable & easy to manuever in while paddling. I like the location of the zippers (out of the way) & the design of the vest w/ the arm holes low in the ribs.
I Love this PFD. I just finished my raft guide training and used this pfd the whole time. I am a pretty big guy, 6'4 285lbs , and it floats me better than the patron vests that we use. it is very comfortable and it is very easy to move. swimming, paddling, rescuing and being rescued. i have no complaints what so ever.
is there a number to tell me how much...
is there a number to tell me how much floatation each pfd has? I'm new to kayaking, bought a whole set up minus a PFD. That in mind, I want one on the cheaper side and relatively more floaty than other more advanced jackets. I'll definitely be taking a few swims with my first PFD and I want to make sure it will keep me afloat through the sh*t. Thanks!
PFD floatation is measured in pounds. The Wedge-e has 16 lbs, 14 oz of buoyancy. That's the highest Stohlquist offers.
Fits men well....women, not so much...
Got this for my girlfriend for xmas, but its too big for her in a medium. I used the sizing chart too, but unisex might be one sex in the case of Stolquist. I like it, and almost kept it for myself, its sweeet for the price. But I THINK THIS PFD IS BEST FOR MEN. Other than that it is comfortable, and basic, but never got it wet, its going back....
I want to order this item for my nephew....
I want to order this item for my nephew. He's about 5' 7" and weighs about 135-145 lbs. What size Wedge-e PFD should I get?
Best Answer
Hey there, tough to tell without a chest measurement... depending on his age and build, I am going to assume a medium would work...
Using the Stohlquist Wedge-e for laser sailing
I picked up a new Stohlquist Wedge-e for competitive laser racing. Its a life jacket and I haven't needed it to save me from drowning, so I can't speculate on how it performs in its primary function. Here's what I can tell you (warning: nautical lingo ahead).

Lots of room for arm motion. I never catch the back of the PFD on my boom blocks when tacking and gybing. Rides a little bit high on my torso, and allows for good flexibility as I reach in to adjust control lines while straight legging in big breeze. Torso straps allow for fine tuning fit and feel. Mesh pocket is good for storing a rigging knife and some electrical tape to use in minor repairs on the water.
Good fit... haven't been on the water yet
I ordered this PFD after my last one (Astral) disappeared or was stolen. I am 5'8", 119 pounds, a 34B. I ordered a small and it is a snug fit, which is what I wanted. It doesn't seem to ride up as much as my last one (although not yet river-tested). I can't imagine this jacket would be comfortable for someone with a big bust, but it works well for me. It also seems to give a nice range of motion and, with adjustments, fits over a long-sleeved shirt and light jacket.

I haven't been able to test it on a river yet --- which may be a different story, but so far I'm pleased with the way it adjusts and fits. It is also less bulky in the front than my last PFD and seems to work well with a spray skirt on my Dagger Zydeco. This one I might actually wear.
Low profile, high quality
Overall Stohlquist has made a good product. Extremely low profile means this jacket will not inhibit your range of motion, great for paddlers and especially kayakers. You get a decent amount of float considering the minimal cut, and I had no problems with the jacket riding up. I am about 6' and 175 lbs and the Large was perfect. With this particular model I'd say it's safe to err up a bit on sizing and cinch down rather than get something too small and constricting.

My only real complaint with the jacket is that the pocket doesn't hold much. I wanted to carry my camera and a relatively small knife and had to cram them in there.

Ultimately a high-value product; a good jacket at a great price.
I had the rescue version, which is the same cut. I really liked the freedom of movement and it allowed me to tuck way forward on the deck of my kayak. It fits nice and snug around the core when properly adjusted but isn't great for anyone over a B cup in the chest. Downside - you go freaking deep when you take a big swim, which can be a good thing sometimes but it usually just sucks. Its low profile with minimal floatation and doesn't provide much back protection.
Wedgees are good sometimes...
Good pfd for dinghy sailing. Also use it windsurfing. Low cut allows great arm movement and the bulk is in the front and back down low so it doesnt restrict movement either. 1 million Fully adjustable straps keep it snug and in place, doesnt ride up and floats my 225# body well but the plastic tensioner clips have gotten snagged on lines before so I adjusted the straps where i wanted and put a bit of tape to hold the tensioners down and smooth them over...problem solved.

I wish there was a little more than just the piece of cordura that the zipper flap is made out of so its more rigid...then it would be easier to thread the zipper with one hand. Nothing wrong with it perfect strong, solid, and easy to use...just not like my old one. The mesh pocket seems pretty durable but is pretty tight so it wont hold more than a knife and a powerbar...

Overall very satisfied with product quality and price. This is a paddling pfd that works well for dinghy sailing...just those little things that annoyed me but Im over it now.
What is the main difference between the...
What is the main difference between the Brik and the Wedge? Any women that have bought this, any comments about the jacket? Does it run big or small? I've tried on the BeaSea and i fit a L/XL, but not sure of the Brik/Wedge since they are unisex sizing.
Best Answer
The Brik has an extra strap that goes across the front and diagonally down the sides for added fit adjustments. It also sits lower on the body than the Wedge. The Wedge comes up much higher on the chest and back, which helps hold in "the twins". I find this to be much more comfortable than the Brik, which ends in the middle of my chest, squeezing me in all sorts of directions (picture someone wearing a corset that is too small on them). I've never tried the BeaSea, so I can't compare these to it, but these two are specifically whitewater jackets, while the Bea is not. All that said, I'm a size 6 (with a medium-sized chest) and wear a Medium in the Wedge and love it. I recommend it!