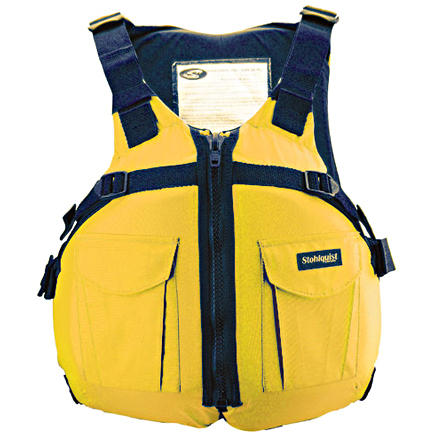 Community Images
Stohlquist created the GETaWAY Personal Flotation Device to give recreational paddlers a comfortable fit and storage pocket for all their goodies. With 16lb 2oz of flotation, this type III PFD keeps your head well above water should you go in the drink. The GETaWAY Personal Flotation Device's high back makes it comfortable to wear with both sit-on-top and cockpit-equipped, flat-water kayaks. Stohlquist outfitted this PFD with a front cinch strap to keep it from riding up and large arm openings to allow for easy paddling.
Easy on, no binding, easy to paddle my kayak! Best of all--it works well! Like the pockets and adjustability .
My only complaint is that I ordered the blue PFD because it's not as annoying as the yellow but still light colored. However, the color of the PFD is much darker than pictured - not quite what I expected.

The PFD itself is awesome though! It has the perfect amount of padding to keep you floating but the high back allows you to sit back comfortably in your seat. Your arms stay free and it is easy to move around unrestricted. There are several well placed straps on this thing to adjust it to your frame perfectly. I'm 5'10" 175lbs and the S/M size is perfect for me. I feel that someone a little bigger or smaller would still have no problem adjusting the straps to their size.
This vest is easy to adjust in a thousand different directions (ok, maybe not quite), so with a quick flick I can put it over a t-shirt or layers for warmth.
Can this device be used for recreational...
Can this device be used for recreational sailing?
Best Answer
Hey there, Yeah this would be completely fine for recreational sailing... the only difference between these types of PFD's and say a boating type is that the kayak style (which this is) has a shorter torso length so that when you are sitting in a kayak, the kayak seat back will usually ride just below the end of the PFD so that you are not pressing the PFD between your back and the seat... so basically this has all the flotation of standard PFD's but its thicker and will probably stop above your belly button...
I really cant complain. I haven't found any comparable PFDs that aren't covered in tons of useless pockets that I would consider to be an upgrade. I say comparable because many people (and MANY retailers) seem to overlook the importance of the high-back for sit-in kayakers. This is, obviously, what keeps the PFD and seatback from interfering with one another. I've paddled 5 foot swells and white caps while wearing this thing. The adjustments keep it right where it's supposed to be. I would recommend this as a good entry level PFD for any beginner/intermediate paddler.(on a side note, would it kill them to dial the bright colors back a little bit? The oranges and yellows make me look like some sort of fluorescent fruit cocktail paddling down the river. I mean I get that its for visibility, but then why are jetski PFDs easier on the eye? Just a thought for any manufacturers that might happen to read this. LoL)
I am looking for a PFD as a gift for a...
I am looking for a PFD as a gift for a would be serious canoeist, does anyone have som advise for me as to what to look for?
the stohlquist drifter PFD would be a sweet gift
I'm new to Kyaking and just bought an SOT. None of the usual sporting goods stores had anything I liked or thought was suitable. Then I discovered this brand and its' many choices. This one sounded the best for my purposes, and it is - it has big pockets, multiple adjustments to make it fit just right, a high back that doesn't interfere with a kayak seat, does not interfere with paddling and excellent quality. And the price is right. Don't pay $50 or more for a multipurpose, on size fits all pfd from a big sporting goods store when you get this purpose made pfd for little.
Very comfortable, not too bulky
I've got the same question as the last...
I've got the same question as the last guy...how do you find the right size? The name GETaWAY is not on the size chart. Thanks....
Here's the sizing info from the Stohlquist web site for the men's GetAway Hi-Back Vest:
Size:
Small/Medium fits 30" - 42" chest
Large/Xlarge fits 42" - 54" chest
Universal Plus fits 30" - 54"+
Best Answer
Here's the sizing info from the Stohlquist web site for the men's GetAway Hi-Back Vest:
Size:
Small/Medium fits 30" - 42" chest
Large/Xlarge fits 42" - 54" chest
Universal Plus fits 30" - 54"+
How is this item sized??? I am looking at...
How is this item sized??? I am looking at the size chart and can't find this PFD
Best Answer
It is sized by the circumference of the wearers chest.
S/M
30-42in
(76.2-106.7cm)
L/XL
42-54in
(106.7-137.2cm)
Universal Plus
30-54in
(76.2-137.2cm)
note that Universal Plus encompasses both size ranges. While this is true; if the primary user can wear the smaller one, that is the one to buy. Else, the excess strap length may be troublesome. you should NOT cut these straps to fit length. Rubber bands can be a good temporary fix for excess straps or roll them up and put a single or two spaced stitch to get them out of the way more permanently.
I like the bright color, it's really easy to be seen. It is comfortable and does not interfere with my paddling, the ventilate back does a great job keeping my back cooler. I think it could use better reflective surfaces and quick release fasteners on the top and bottom of the zipper to hold it while putting it on or removing it.
Very speedy delivery - great service! This life jacket is great for kayaking. It's very comfortable, doesn't get in the way of paddling, and has plenty of adjustable straps. I'm very sensitive to how uncomfortable wearing a PDF can be, and I hardly know I have this one on. Highly recommend this site and the Stohlquist GetaWay!
Great fit; comfortable; unobtrusive when paddling a kayak. Both my wife and I purchased the same Stohlquist GetaWay life jacket and could not be happier with the quality and practicality. Great choice for any paddler!
Life Jacket Fit The Needs Perfectly
The minute I started paddling with this Stohlquist life jacket, I believed whoever designed it had done lots of paddling. It is totally unobtrusive. Upper torso felt very well ventilated as I paddled. And it stayed above the seatback without riding up against my neck and chin.

I also use life jackets for risky snorkeling situations and found that it did not ride up against my chin and neck like the previous jacket I had.

Previously, for the past 12 years, I kayaked with a knarly, difficult to put on life jacket that crowded my chin, was hot, and interfered with my kayak seat back.

Look, this new jacket may give me a bit of a pot belly in appearance, but it puts that bulky flotation material where it will stay out of the way.

How much nicer my previous kayak trips would have been had I used a properly designed jacket. The Stohlquist web site impressed me that they put real life factors into their designs, and now I see they were exactly right.