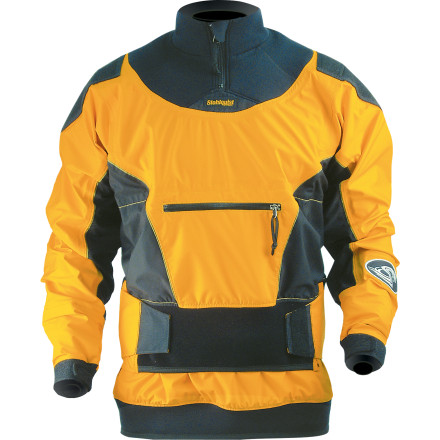 Never ones to sit around and pat themselves on the back, the folks at Stohlquist kept working and made the already-awesome FreeFALL Men's Dry Top even better. The comfortable, highly ergonomic fit is the same, but it now includes the new four-layer Twin Sensor fabric that features both hydrophobic coating and hydrophilic laminate to offer the ultimate in waterproof, highly breathable protection.
New Duraseal latex gaskets seal out water at the neck and wrists and offer greater UV- and abrasion-resistance
Titanium neo-outer collar has front zip for easy on-off
Self-draining cuffs release trapped moisture before it accumulates
Nail-cloth-covered neoprene padding is added at the shoulders and elbows, where most impact occurs in a roll
All seams are either double or triple stitched and fully taped for no leaky surprises
Inner waist tunnel with textured Grip-Loc keeps water from entering your kayak
Wide, adjustable Gripp-Loc outer waistband seals to spray skirt
Ergonomic 3D FREEdom cut for total range of motion without binding
Nice Top
Familiarity:

I've used it once or twice and have initial impressions
Would recommend this top without reservation. Had no issues. Paddled it in typical conditions rolled it several times and the top performed. Noticed no difference with my old bomber gear top mice got into it, anyhow no hesitation top is solid, have yet to meet a top that keeps me totally dry.
This is a vid from when I was learning - but the Stohlquist out performs my paddling buds' dry tops for one main reason: reinforced shoulders and arms. Their tops get ripped when they flip and scuff rucks, mainly on their shoulders. That is why they have drippy duct tape hanging off their tops.



(If you get bored FF to the end, but don't miss the ending ;-)
More of a wet top
Familiarity:

I've used it once or twice and have initial impressions
First time I used this top I ended up soaking wet - both in my arms and my back. I never rolled - just typical splashing. Figured I must have been careless with the gaskets. Second time same result. Third time - well there was no third time as I returned it. I have been using dry tops or dry suits since 1985 so it isn't that I don't know how to put these on or care for them or have unrealistic expections. This was clearly a flawed suit but I can see from other reviews that I am not the first person to have this problem. It was also my second try with Stohlquist and second time I ended up disappointed. That won't happen again. I replaced it with an IR which I am totally happy with.
Seals tighter than a frogs azz
Gender:

Male

Familiarity:

I've used it once or twice and have initial impressions
I wore this for the first time a few weeks ago on an NC river. I T boned a rock hard enoug to dent my bow, and then promptly swam. When I made it to the bank the rocks were coated in ice, but my upper body was dry as a bone. My lower body was wet (pants from another company)- so I may return those 'leaky britches' and get some Stohlquist ones. I couldn't be happier with the shirt. The rest of the paddle was quite enjoyable with my core all warm and toasty.

I love the design - the reinforced shoulder/arm areas is bomb proof.

Cheers,



I'll update as I use it more.


Poor quailty try another brand
I expected a dry top and got a Free fall wet top. It leaks like a sive. Couldn't believe it. So turned the sleeves inside out sealed the cuffs and filled the arms with water. A gentle squeeze was all it took for water to stream out through the material. The only waterproof part are the sealed seams. I would not touch Stolquist gear again! I got no response from questions sent to Stolquist - go for Kokatat!
The Jacket just turned up and I couldn't be happier, It's the quality I have come to expect from Stohlquist, its tough and well made.