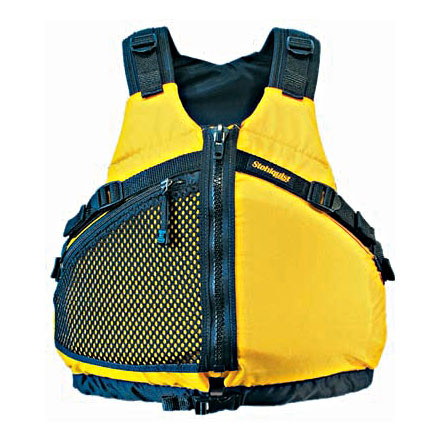 Detail Images
If you need a high-quality PFD for sea kayaking and don't want to drop a lot of dough, the Stohlquist FLOWTer Personal Flotation Device is an excellent choice. The low-profile FLOWTer has a minimal 16lb 8oz flotation that's perfect for paddlers who are not likely to spend much time out of the boat and want good freedom of movement. The large front pocket stores everything from sunscreen to a flip line. The FLOWTer's high waistline won't interfere with your spray skirt, and the cross-chest strap keeps this front-entry PFD from riding up. The Stohlquist FLOWTer provides high-end performance without the high cost.
FLOWTer PFD
Gender:

Male

Familiarity:

I've used it once or twice and have initial impressions
My wife and I just bought 2 and they worked great on our first tandem kayak outing.I personally tested the floatation in my pool prior and it did as needed.The PFD's were both mens style and just sizing up for my wife was good.They supply a good range of adjustment and what I like is only 1 strap in front,not like the PFD's with multiples up the front.The arm range for paddling is great no rubbing or obstruction.Great PFD's at a reasonable price.
This is a good PFD overall. It has lots of adjustment points and fits comfortably. The high back is perfect for my high seat back on my kayak. Like the nice blue color too.
The fit on these PFDs were good for both my wife and myself. We purchased a small/med for her and a large/ for me. I am on the high end of a med, but the generous adjustment allowed mine to fit wonderfully. I also liked the light weight and minimal bulk.

We're very pleased!

Thanks!!
I'm hesitant to order this because the...
I'm hesitant to order this because the medium is only available at this time in fireball red (my granddaughter's kayak is hot pink). But my real question is whether it will be comfortable for a well proportioned female.
Nancy, I would suggest sizing up one size because there is plenty of adjustment to get the fit that makes you comfortable. If in doubt you could look at the women's version.
This Jacket was just what I was looking for, it fits nice and tight with lots of adjustment. I'm a pretty good size, square shoulders and a 36" waist and it fits me just fine.
Write your question here...Hi, I am an...
Write your question here...Hi, I am an older, slightly heavy, woman who enjoys recreational and river kayaking. Is it importamt to get a woman's jacket? Does the flowter have a high enough back that will not interfear with the kayak's seat back? I have a Dagger Blackwater 10.5 that i got about 8 years ago.
Best Answer
Write your answer here...I've had no problems with the Flowter PFD. Very light, and non-restrictive while paddling. It does ride high enough that it does not bother with my seat back (I have an Eddyline Journey). I bought the men's PFD, as that was on sale at the time I was shopping. It has enough straps to adjust the fit at various spots that I don't think you'll have to buy a women's PFD.
The back of this PFD is very comfortable and should not interfere with your paddling or kayak seat. I also agree with Jane that there is plenty of strap adjustment to get a custom fit.
Write your question here...If I order...
Write your question here...If I order today, can I receive it before Christmas?
Yup, you've got 2 days left of free shipping by Christmas.
Good range of adjustments, comfortable when snugged up, did a great job in recent capsize - didn't ride up. Storage pocket pretty limited - good for flat objects.
Light weight, comfortable, easy movement, so comfortable, you forget you are wearing a PFD.
Does this jacket have adjustments on the...
Does this jacket have adjustments on the sides? I have somewhat of a wide gurth and need something that can expand.
Yes, it has adjustments on both sides.
Stohlquist FLOWTer Life Jacket
This jacket works awesome. light, small and I purchased this because it had a large side pocket.