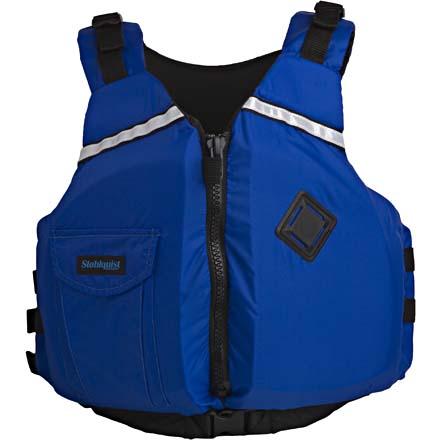 Description
Save cash and stay safe with the Stohlquist eSCAPE Personal Flotation Device.
The Stohlquist eSCAPE Personal Flotation Device is for paddlers who'd rather spend their money on gas to get to the water than drop it all on a new PFD. With a solid, clean design, the eSCAPE Personal Flotation Device takes care of you while you're on the water without getting in your way. This Stohlquist PFD has a front pocket to stash a map or small camera and padded adjustable shoulder straps to make it comfortable to wear all day.
Share your thoughts
What do you think of the
Stohlquist
eSCAPE Personal Flotation Device - Men's
? Share a...
About the only negative thing I can say about this PDF is that it lacks sex appeal as it is very chunky and basic. But, if you don't care about that, it is an excellent value for the price and does its PDF duties (keeping you afloat, nice little pocket, easy adjustment, etc.) quite well.
PFD is very affordable, easily adjusted and fits well. Not too bulky; great for lakes, rivers. Well made, as expected from Stohlquist. Was a great buy for a back up PFD.
sizing chart doesn't match the sizes listed...
sizing chart doesn't match the sizes listed - what would be recommended for 44 - 46 in?
Go XL, I wear a large, and I have a 38 inch chest with a just a little room to spare
I guess it's a fine pfd for the price but it seems to fit a little high and tends to ride up above my love handles, which isn't a good feeling. I'm not going to go through the hassle of returning it (costs 6.99), but if I could do it again I'd go try on a few jackets at a store. These are the hazards of online shopping, I reckon.
pocket, check!
shaped for paddlers, check!
zippered front, check!

That's all i really wanted. The foam is that gooeyer kind rather than some super cheap styrofoam, so that makes it a little more comfortable. I'm sure there are a lot of other features I'm missing, but they weren't as important to me as the one's listed above. (This did not come with a whistle by the way)
great jacket not too bulky
I bought 2 jackets, the other one is for my wife. The material is nice and soft and quality seems good. There are lots of adjustable straps. I'd recommend this to people who are quite serious about kayaking, but who are not pros.
I was somewhat leary of the jackets that are not just a single size (ie this one was a M/L, but this jacket has many adjustments and fits well. Does not ride up, and the extra spacious arm sockets meant No Chaffing! I will attest to the pockets ability to not stay closed, but I would recommend this jacket to any Kayaker!

bf - Gadsden, Alabama
Needed this for my 12 yo son 5' 95 pounds. He is outgrowing youth and too small for some adults but this is so adjustable it is perfect.
on the sizing chart it says my chest size...
on the sizing chart it says my chest size (40) is a size l/xl and the choice for the mens yellow Stohlquist eSCAPE Life Jacket - Men'sItem #STO0004 was xl/xxl. will this one fit me? btw- I am a woman.
Best Answer
I'd go with the M/L, being a lady and all. Even though you're a 40 on the chart, the 40 would still fit a man smaller. I hope that makes sense.